The Mining Guild's TIE fighters have a major advantage over their Imperial brethren in that they are immune to their greatest enemy: Asteroids. Eat your heart out Dash Rendar – the Mining Guild has you beat!
Star Wars: X-Wing 2.0's second Wave of ships is on the horizon. We caught a look at them at GenCon 2018 and we're excited to see the return of the Resistance and The First Order factions. However, one ship caught my eye thanks to it's offensively bright yellow paint job – the Scum and Villainy Mining Guild TIE. It looked like a TIE, but yellow – and it also had some panels missing. Intrigued, I decided to do some more digging.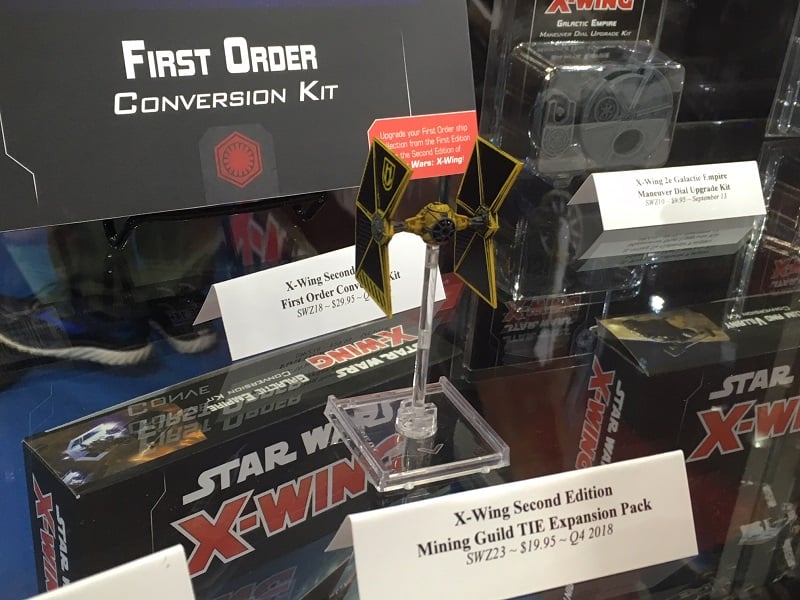 The back story of this TIE is that it's designed for Mining Operations – hence the construction bot yellow paint job. It's missing panels to improve the pilots visibility. However, the loss of panels means a loss of power in the engine department. But the trade off in speed is a major bonus to the pilot's ability to dodge rocks which is handy when you're job is mine asteroids. That's reflected in the ships signature ability:
Notched Stabilizers: While you move, you ignore asteroids.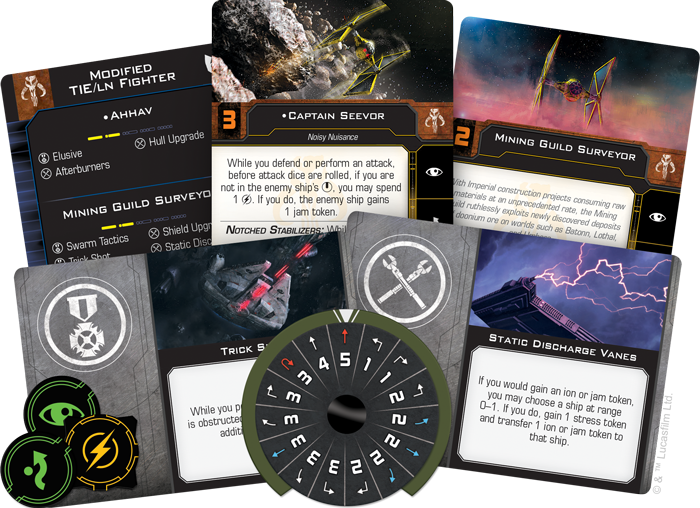 Uh…Yeah. That's straight-up bonkers! Combine with Trick Shot and you've got a ship that can fly through rocks and take pop-shots all day long. I know this plan works because I'm a huge Dash Rendar fan (from Shadows of the Empire, before he was cool). It's an entire class of ships that can ignore one of the most pivotal parts of the game. If you're used to watching TIEs flame out and crash on asteroids, think again.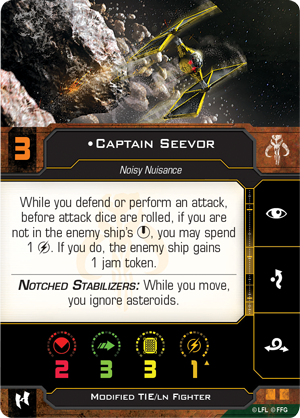 Captain Seevor was one pilot that Fantasy Flight Games showed off already. The captain's ability to Jam opponents will be pretty handy. We don't have a point list for this new ship yet but if it's a TIE I would expect it to be fairly cheap. At the same time I think the Notched Stabilizer's ability alone will make it more expensive than an Imperial TIE of the same piloting skill. They should pay a premium for that ability.
Keep an eye out for Wave II to launch in Q4 of 2018!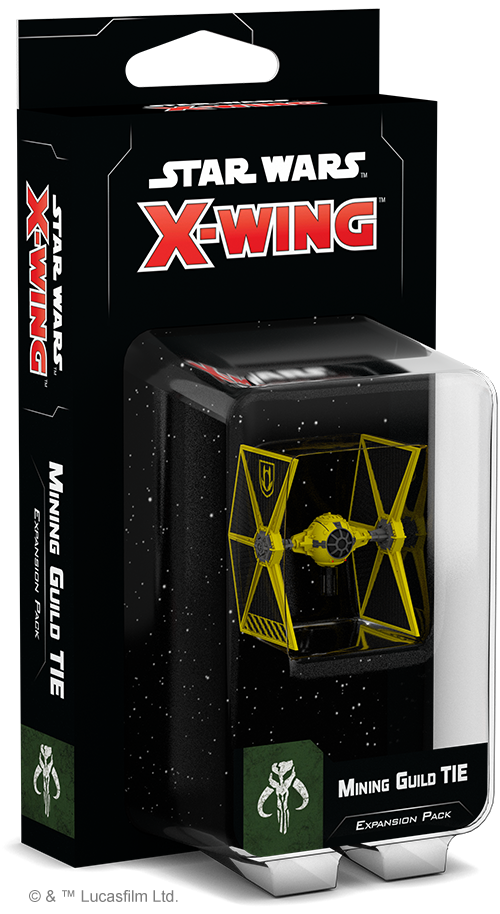 The Mining Guild's collaboration with the Empire gives it access to state-of-the-art Sienar Fleet Systems technology, including modified TIE/ln fighters. The removal of two solar panels reduces the craft's power output in exchange for a much-needed boost to peripheral vision when weaving through treacherous asteroid fields.

Within the Mining Guild TIE Expansion Pack, you'll find everything you need to supplement your own mining operations and keep the profits flowing. Six ship cards—including four unique pilots—are ready to take the controls of the beautifully detailed, fully assembled Modified TIE/ln Fighter miniature. Meanwhile, five upgrade cards invite you to further customize your Mining Guild TIE to suit the unique needs of your Scum squadron. Rounding out this expansion are a maneuver dial and all the tokens you need to experience this classic starfighter in a whole new way.
"Can I get it in Safety Orange?"