Space Marine Scouts have become the go-to troop choice for a lot of Adeptus Astartes armies. This is a trend that makes sense of paper – but that's the problem. We've got some ideas on how to curb the rise of the Scout!
In every edition there are rising and falling stars. Space Marines Scouts have become the defacto troop choice for many marines due to a number of factors. They are cheaper that Tactical Marines and they are just about as effective as well. Due to their efficiency in both points and practicality, taking them has become the best option for the troop slot – this needs to change.
This needs to change because it's bad for the game when a single option in any slot becomes the defacto option. This is called a Dominate Strategy and can lead to, well, very boring and repetitive play. "But they are just scouts! What's the big deal!? I'm a fluffy-player anyways."  Well if you're truly a player that cares about fluff, you should also be pretty ticked off.
Bad Based On Lore, Too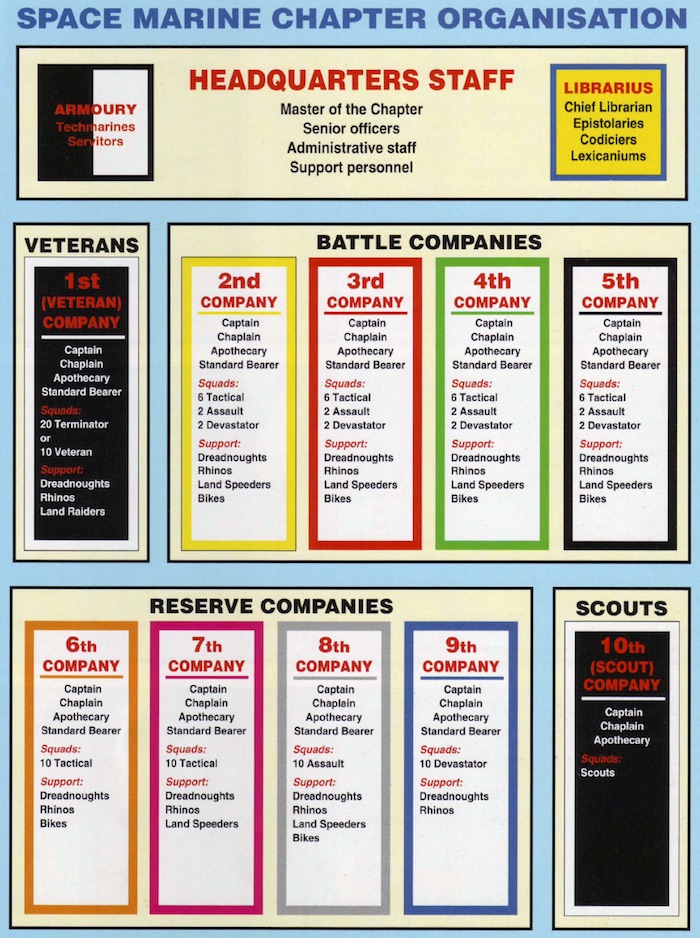 Here we have a chart that shows the standard template for a Chapter of Space Marines. As I'm sure you're aware Mr. Fluffy, there are 10 Companies in a Chapter, and each Company consists of approximately 100 marines. The Scout Company is the 10th Company and it's generally assumed that they have around 100 Scouts based on the needs of the Chapter.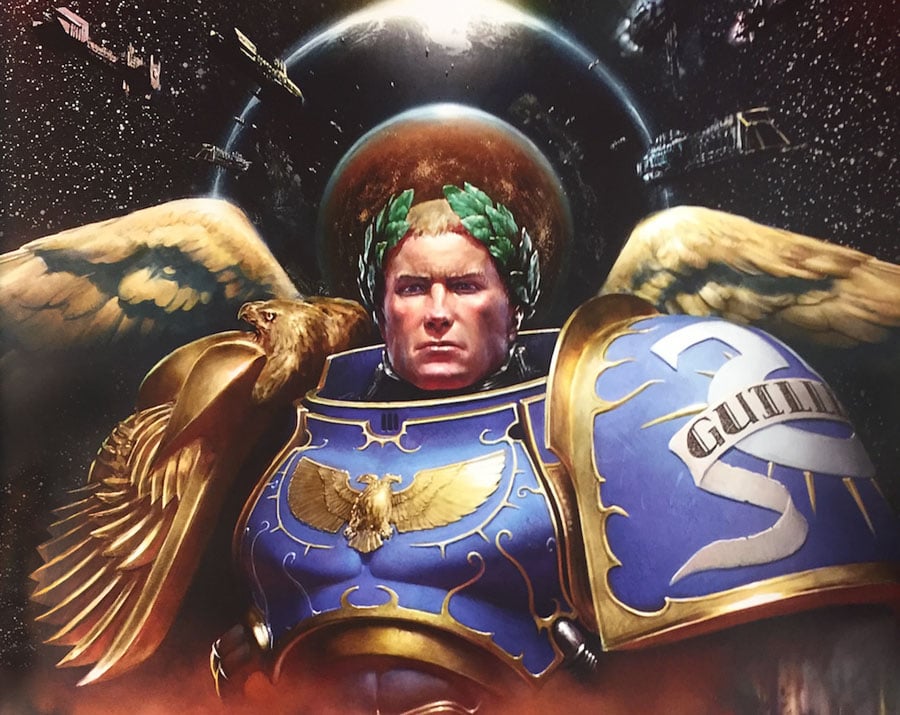 I see you've read my work…Good.
By doing some simple math, it's very easy to see one thing very clearly: There are way less Scouts compared to Tactical Marines. In a standard Space Marine Chapter, there are 44 Tactical Squads compared to "10 Scout Squads" -However you slice it, this is still roughly a 4:1 ratio of Tactical Marines to Scouts. So if you really are a "Fluff-player" this should be your standard when looking at your own army.
Simple Fixes…Mostly
While it may seem like we're piling on the Scouts – we're actually glad they are getting their time in the sun. For a very long time folks past-up this unit completely but, thanks to the the detachment rules and their points efficiency, they have become a great alternative option to fill Troop slots. So our first solution address that issue.
Move Scouts From Troops To The Elites Slot
"Wait, didn't you just write an article about how Reivers should move to the Troops slot because they are Scout analogs for Primaris?!" Yes, it's right here. This first fix is an "either/or" option – one of these units needs to move and be parallel to the other. They either BOTH need to be Elites or they BOTH need to be Troops. If Scouts DID move to the Elites slot with the Reivers, then that does impact the "cheap" Patrol Detachment issue…just tossing that out there.
Change Their Stats
Did you know that Scouts used to have worse stats than Marines? Because right now, they are basically the same as Marines with a 4+ armor save for fewer points. I say, drop their stats to make them objectively worse compared to they fully trained and fully armored Space Marine brothers. They should probably get a points adjustment downward to reflect that as well. What stat changes? These:
Change the Scouts to 4+ WS/BS  – That would represent their lack of training compared to their fully fledged Battle Brothers.
Cap Leadership at 7 – They haven't been fully indoctrinated as Marines either.
Now you've got Scouts who are slightly worse that Tactical Marines, but hey – they are cheaper for a very good reason!
Limits of Scout Squads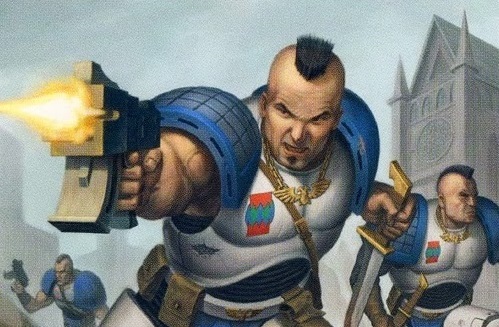 Scout Squads, as mentioned above, should have a roughly 4:1 ratio vs Tactical Marines. Plus they are still "in training" – so how can we represent that on the tabletop? With a new rule that limits how many scouts you can actually take based on the number of Tactical Squads you have. Would this be a Tac-tax? Yes. And I'm okay with it.
Call this new rule something like "Under Watchful Eyes" or "Training Day" or something Grimdark appropriate. But this rule should function similar to how the Black Templar Crusader Squads work – only instead of models we do it based on units. For each unit of Tactical Marines in the detachment, you can take one unit of Scouts. Boom, now we have at least a 1:1 Ratio vs the 0:Infinity ratio we're seeing on the tabletop now.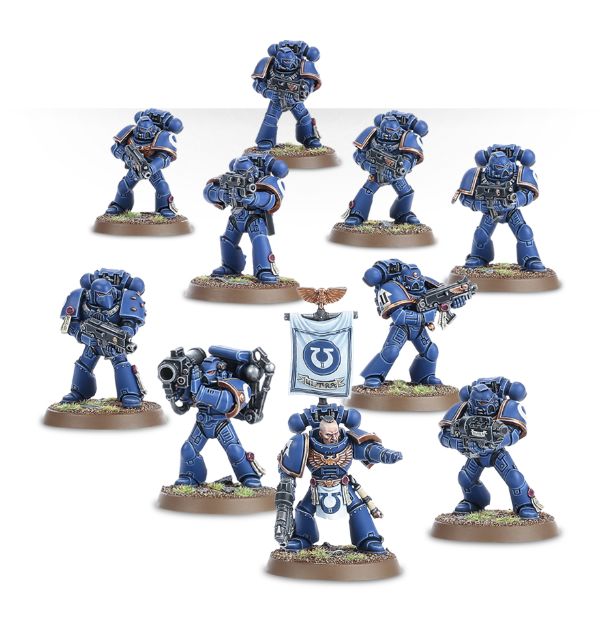 Tactical Squads? What are those?!
Should all of these change be impliemented? Well maybe not altogether – but if two out of three of them happen, I think Scouts would be in a more appropriate spot. Plus it's a ninja buff to Tactical Squads – suddenly they start to get used again by everyone. That's not a bad thing in my mind.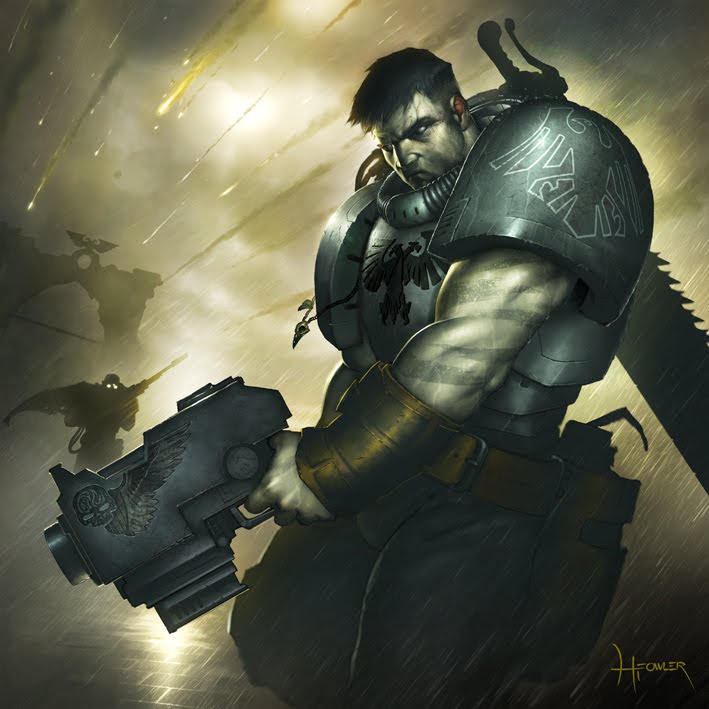 So what do you think? Should Scouts get hit with the nerf bat or are they perfectly fine? How would you tame the rise of the Scouts?