Check out the new Exemplar Menoth Warcaster as we break her role down on the battlefield!

Cyrenia is fresh out of the barracks ready to smite Menoth's foes.  She is a mainly a support caster who specializes in exemplar models specifically.  She is not doing to much work by herself as she is only a POW11 weapon master.  Using inspiring words she can drive exemplars to great feats of bravery or have them tough through the strongest of blows.  If you like exemplar lists and Kreoss2 is getting boring maybe try out this new chick that kicks butt.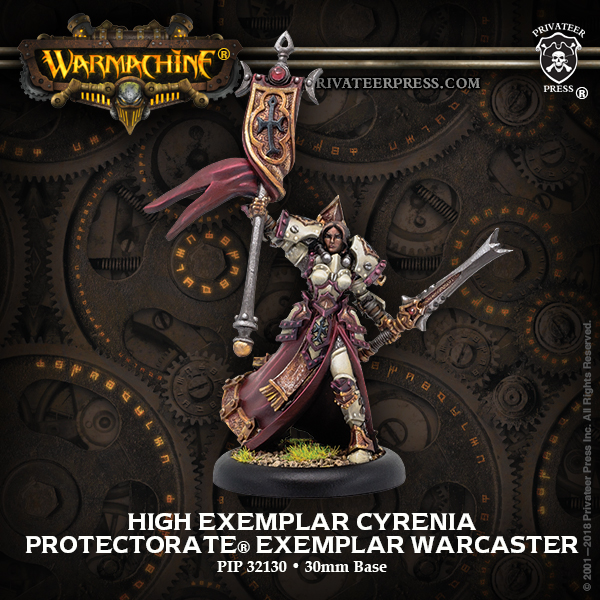 Vigilance of the Faithful is Cyrenia's feat that gives a defensive bonus to all models in her control and allows warriors to move when another menoth dies.  It is similar to Vyross2 feat so if you know how that works you have the basics down. +2 defense is pretty strong but, the move is not for warjacks and it is not immune to free strikes.
Dash:  This is a 1″ threat extension or lets shooting warriors engage to keep firing.
Hex Blast:  This can get rid of annoying spells like Admonition.
Inviolable Resolve:  This is great to put on Cenorator's to make their ARM absurd.
Positive Charge:  This can get your lights to extreme power levels and gives your heavies the colossal removing power.
Rock Wall:  Combined with the feat you can get some crazy high defensive stats.
Cyrenia Example List
This list gives you high armor Cenorator's that is a great target for Inviolable Resolve to hold important zones and objectives.  The Knight Exemplar and Bastions are going to rely on the feat and Rock Wall to make it across the board.  Gravus and his 'Desperate Pace' combined with 'Dash' give you good threat extension where you need it.  The jack marshaled Sanctifier with 'Positive Charge', 'Flank', and a few souls is a mighty scary beat stick.
Protectorate Army – 75 / 75 points
[Theme] Exemplar Interdiction
[Cyrenia 1] High Exemplar Cyrenia [+28]
Fire of Salvation [14]

Repenter [8]
Repenter [8]
Hierophant [3]

Exemplar Bastion Seneschal [0(5)]
High Exemplar Gravus [8]
Vassal Mechanik [1]
Vassal Mechanik [1]
Wrack [1]
Choir of Menoth (min) [4]
Exemplar Bastions (max) [15]
Exemplar Cinerators (max) [13]

Exemplar Cinerator Officer [0(5)]

Knights Exemplar [9]

Knights Exemplar Officer [4]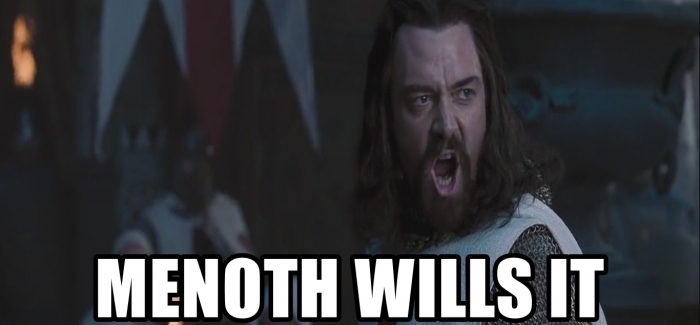 What do you think of Menoth's new caster Cyrenia?  Will she put the fear of Menoth in the hearts of her enemies?  Share your comments below.