We're excited about the changes in X-Wing 2.0. We're just as excited ChahDresh's hallucinations didn't make it into X-Wing 2.0.
An edition change is always an unstable time, for players and developers alike. Just as players experiment with new list and ship concepts to fit new rules realities, so do developers play around with new or changed rules to see how they feel. We don't know what the FFG devs tried during their development time—but their experiments can't be worse than these ones I imagined.
Presenting:
Rejected

2.0 Rules Changes – By ME!

-All actions can fail. Example: Did you answer the phone while executing a maneuver? Clearly you aren't concentrating very hard. Forfeit your focus token.
-In order to add further granularity to card pricing, multiply all prices by an additional five-ish. A standard game is now 1000 points.
-In every game, no player may barrel roll until a third party proffers this advice. Once someone has declared "Do a barrel roll!", this action is compulsory for all capable ships for one game round.
-When a ship equips a Dorsal Turret, it may elect to equip a second Dorsal Turret. If it does, the turrets are treated as a single entity (the "Twin Dorsal Turret") which makes two three-dice attacks at range 2-3. We are confident this will not be overpowered at all.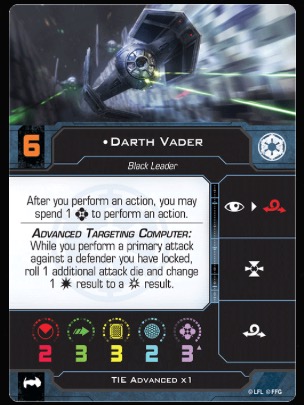 -In order to remain faithful to the source material, Darth Vader may only be damaged by overlapping ships and obstacles.
-Five factions is clearly insufficient. Even seven leaves the game with "faction envy" compared to other tabletop games. Accordingly, we are introducing the following sub-factions:
Mandalorians
Saw's Renegades (reintroduced as separate faction because they're too hardcore)
Admiral Zaarin's Traitor Fleet (including all the named TIE Defender pilots except Maarek Steele)
Not-Mandalorians
Lothal Rebels (including Sabine Wren (A-Wing), Sabine Wren (Y-Wing), and Sabine Wren (crew (alternate)))
Grand Admiral Thrawn's Fleet (all the same ships as the Empire but 50% more competent and 100% more expensive)
Possibly Mandalorians
We believe this gives the game more "flavor" with stronger "faction identities"… ha ha just kidding now we can sell twice as many ships.
-Howlrunner has been muted. She is now Talkjogger.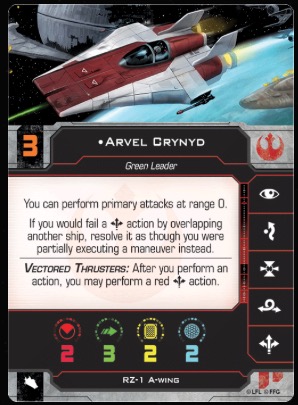 -When Arvel Crynyd boosts into range 0 of any ship, if that ship has no active shields, both it and Arvyl are destroyed.
-Arvel's cost increased 200%.
-Because the TIE Defender's action bar still looks sparse for such a technological marvel, it gains the following actions: Jam, SLAM, Coordinate, Calculate, Cloak, Reinforce, Reload, and Rotate Turret. None of these actions are linked to anything.
-Whenever a new action is introduced by future expansions, the TIE Defender retroactively adds that action to its action bar.
-The TIE Aggressor is now up for adoption for use in other games.
-It has come to our attention that point costs are now too large and cumbersome for easy understanding. Divide all point costs by 10.
-Dials have been re-colored. Blue maneuvers are now green, white maneuvers are now yellow, and red maneuvers are now plaid.
-Actions have also been re-colored to yellow and plaid to match the new maneuver dials.
-All game activities now use the color system to reflect difficulty. Is an enemy ship's base partially outside your firing arc? That's a plaid shot, take a stress token. Seismic Charges are yellow to drop or launch; Proton Bombs are plaid; Connor Nets are double plaid.
-The orange number printed on ship cards is now called Player Order. When Player Order is tied, the tiebreaker will be known as Pilot Skill.
-This is the official alternate art for Jamming Beam.
-Due to a printing error, all point costs for this edition are rendered in binary. We'd fix it in future releases but then we'd lose consistency, so we're just gonna roll with it. A standard game is now 01100100 points.
-Ignore the last patch note. The droids love a good practical joke.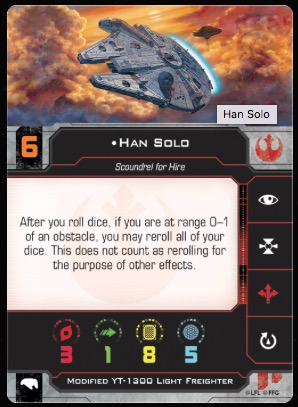 -Han Solo may not equip Force users as crew or gunners. Hokey religions and ancient weapons are no match for a good blaster at your side.
-With 2.0 we are introducing the new medium base, and we are pleased to announce even more base sizes are coming: bite-size, "junior", extra-large, and jumbo. Field all large-base ships and get a 5% cost reduction; all extra-large ships and get 10% off—just say "Hutt-size me, Commander".
-The Empire, which already has a Duchess, Countess, and Baron in its ranks, will be receiving new pilots to fill out the peerage. Coming soon: a Viscount, two Marquises, and several Baronets, but definitely no knights.
-The list of "objects" a ship can lock has been expanded: to include friendly ships, obstacles, devices, the corners of the board, other locks, upgrade cards, and your opponent's face.
-To prevent the meta from stagnating, all ship costs will be adjusted in the app on a monthly basis.
–The method of adjustment will be rolling 2D6 and randomly adding or subtracting the result.
-To further our goals of uncluttering cards and increasing our flexibility with tuning, the following attributes will be removed from ship/upgrade cards and moved to the app: upgrade bar, points cost, action bar, pilot ability, ship ability, hull, shields, attack, agility, Player Order, faction restrictions, and card name.
-App development canceled.
-Failure to mark a ship that has suffered critical damage now causes that ship to suffer an additional critical damage. In addition, any ship that "forgets" to roll for Console Fire damage is automatically destroyed. We're on to you, [name redacted].
-When Player A performs a bonus attack, if that gives Player B an opportunity to perform a bonus attack, Player A may declare "no backsies". If Player A does, Player B must forfeit their bonus attack.
-Errata: remove the examples of the Ability Queue from the rulebook. The idea is simple enough everyone should be able to "get it" without all that extra text.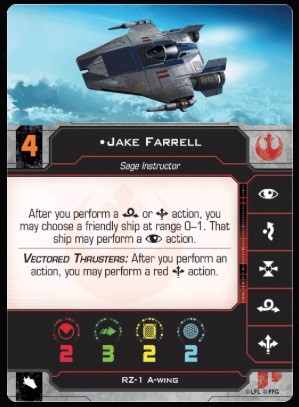 -On a completely unrelated note: Jake Farrell is banned from tournament play. Why? Oh, no reason. Just 'cause.
-In this edition we use Range 0 to refer to entities that are "physically touching"; we have also asserted that ships are at Range 0 of themselves. Our PR guys have informed us that this is a family game, and implying that a ship is "touching itself" is inappropriate. Accordingly, we have introduced Range -1. Ships are at Range 0 of other objects they are touching, and Range -1 of themselves. Example: "Choose a ship at range 3- -1."
-The Scum and Villainy faction has been gently disinfected and is now suitable for handling. It has also been renamed "Villainy".
And, last but not least,
-Double the cost of your favorite ship.
~Anything you wanted but didn't get in X-Wing 2?