Pathfinder's new maps (and one derelict starship mapset for Starfinder), are indicative of the fact that a Wizard did it. Come explore a Wizard's Dungeon, a Desert, or a Ghost Ship.
Paizo makes some amazing maps, whether you're looking for something to fit into your campaign or for something to build a campaign around, these map tiles mean you've always got a dungeon ready at hand when you're planning the next leg of your campaign. Come find three exotic locations–though really, in a high fantasy game, or a sci-fi game, can any location really be said to be exotic? Crystal planets, swamps of acid filled with magic portals to other planes, these are all fairly standard, really, so who's to say. Maybe an exotic locale would be just like an office park, or a three-bedroom with an open plan kitchen in Winnipeg.
via Paizo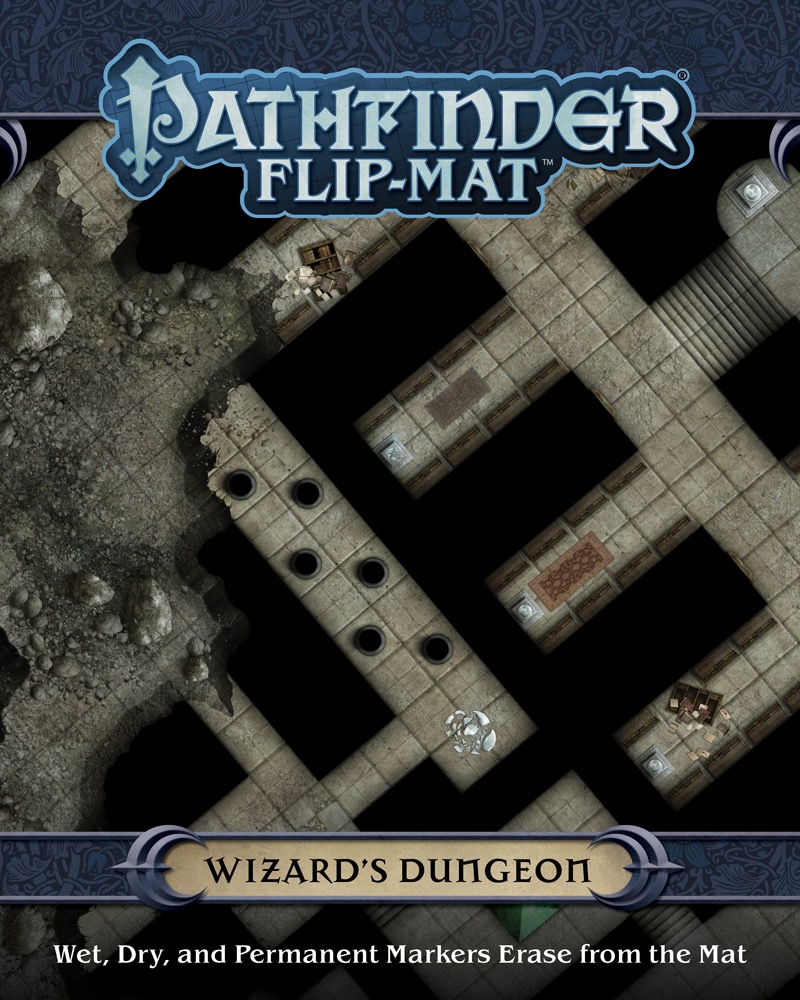 Delve the Arcane!

Whether your players are on the hunt for magic items and dusty tomes or on a quest to rid the world of fiends, Pathfinder Flip-Mat: Wizard's Dungeon has you covered. Each side of this Flip-Mat details two different wizard's dungeons, one a long-abandoned haunt filled with magical dangers, while the other is a maze filled with magic circles, binding powerful outsiders within. This portable, affordable map measures 24″ × 30″ unfolded and 8″ × 10″ folded. Designed for experienced GMs and novices alike, and usable with both dry erase and wet erase markers, Pathfinder Flip-Mats fit perfectly into any Game Master's arsenal!

Don't waste your time sketching when you could be playing. With Pathfinder Flip-Mat: Wizard's Dungeon, you'll be ready next time your players want to meddle in the affairs of wizards!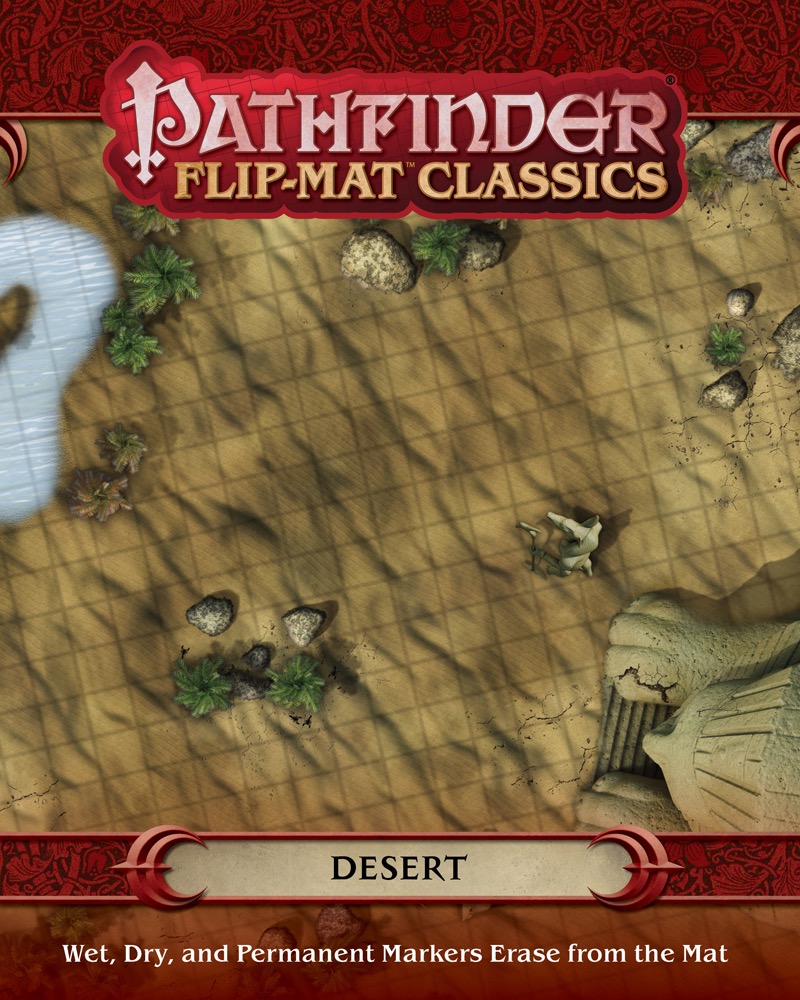 Desolate Wastes

Brave the blistering sands with Pathfinder Flip-Mat Classics: Desert! This durable Flip-Mat provides two ready-to-use maps on which adventurers can explore sunbaked lands, fight desert monsters, test their mettle against deadly hazards, and explore timeworn ruins. Prepare for an expedition and pack plenty of water when you delve into Pathfinder Flip-Mat Classics: Desert!

The most-popular Pathfinder Flip-Mats in history return! These fan-favorite maps feature versatile adventure settings—city streets, forests, ships, taverns, and more—and now they're back for a repeat performance. Durable and lavishly detailed, these essential adventure set pieces are sure to bring excitement to your game table for years to come!

A special coating on each Flip-Mat allows you to use wet erase, dry erase, AND permanent markers with ease! Removing permanent ink is easy—simply trace over any permanent mark with a dry erase marker, wait 10 seconds, then wipe off both marks with a dry cloth or paper towel. Each Flip-Mat measures 24″ x 30″ unfolded, and 8″ x 10″ folded.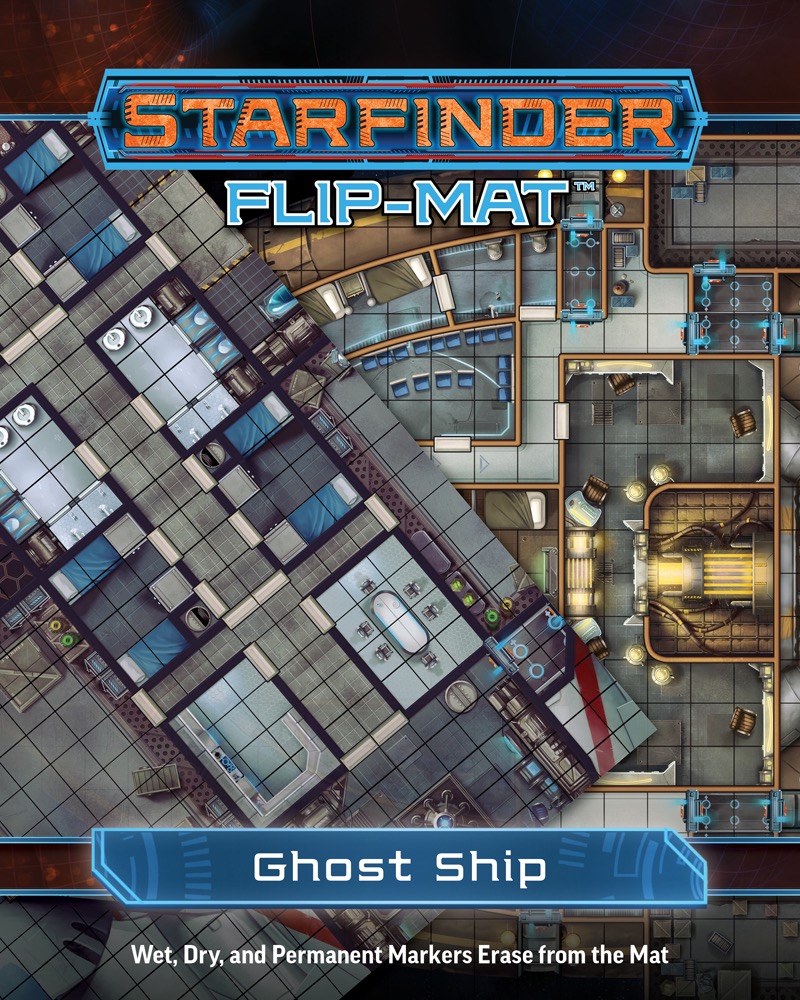 Adrift in the Void!

You never know when you'll come upon a mysterious derelict vessel during your space explorations! Whether you're salvaging an abandoned starship adrift in space or exploring the ravaged interior of a scuttled wreck, no Game Master wants to spend time drawing every compartment and bulkhead. Fortunately, with Paizo's latest Starfinder Flip-Mat, you don't have to! This line of gaming maps provides ready-to-use science-fantasy set pieces for the busy Game Master. The double-sided map features a deserted tramp freighter on one side and the derelict hulk of a science research vessel on the other, each one ready for your players to board and investigate.

Don't waste time sketching when you could be playing. With Starfinder Flip-Mat: Ghost Ship, you'll always be ready next time your players find a mysterious ship!
Happy Adventuring!