RPG: Judge Dredd And The Worlds Of 2000AD – BoLS Exclusive Preview


Take a journey to the worlds of 2000AD where adventure awaits prospective Judges, Apes, and other, stranger things besides. Come take an exclusive look inside the upcoming Judge Dredd and the Worlds of 200AD Roleplaying Game.
I am very excited to present this exclusive preview. Judge Dredd and the Worlds of 2000AD is an amazing looking RPG. Built atop the What's Old Is New (W.O.I.N.) engine, and powered by the same action-packed, satirical, over-the-top world of the comics of Judge Dredd. See the worlds of the Robot Wars, Strontium Dog, and then some as you dive inside an adventure that feels pulled right out of the pages of 2000AD.
via EN Publishing
EN Publishing, under license with Rebellion, are developing a range of Tabletop Adventure Games and supplements based on the iconic characters and worlds found in the legendary British comic 2000 AD.

The first release will be Judge Dredd & The Worlds of 2000 AD Tabletop Adventure Game, a full colour hardcover book which contains the core 'Worlds of 2000 AD' rules as well as setting information enabling the players to not only play Judges, but also civilians and perps, in Mega City One.
This isn't the half of it. In the preview pages we've got to show you, you'll get a look at some of the different player options there are out there. Whether these are Excorcist Judges, Interrogators, and Holocaust Judges…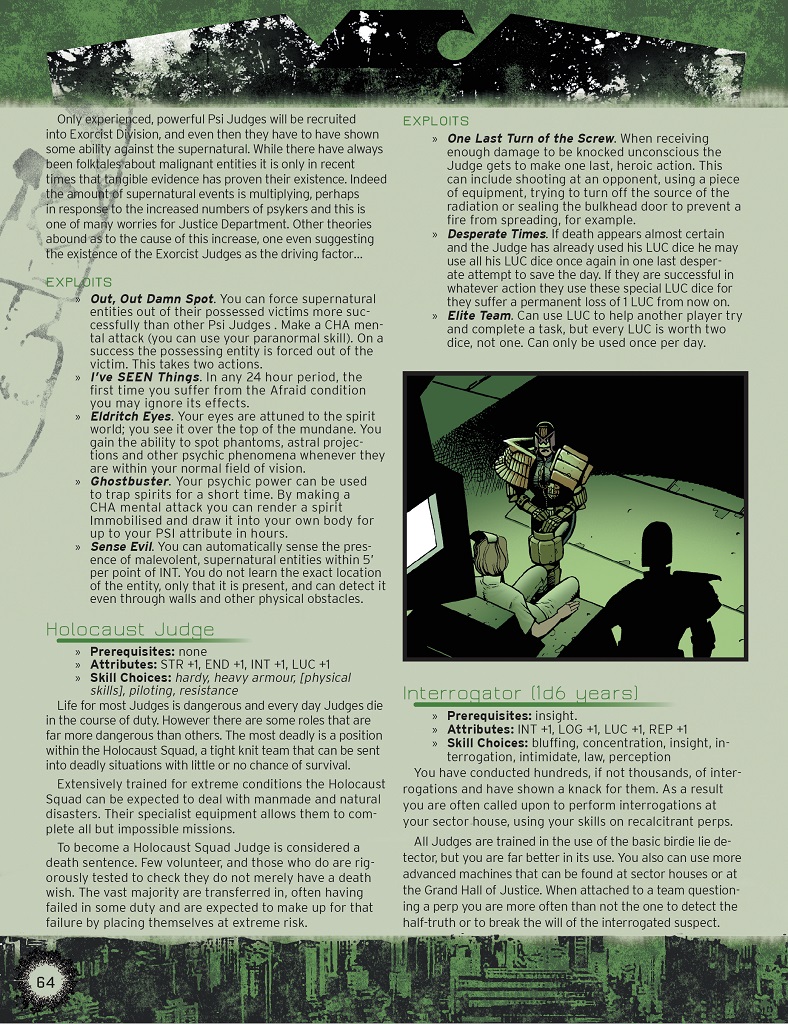 Or if you'd rather not play a Judge, perhaps you'll find one of these to your liking.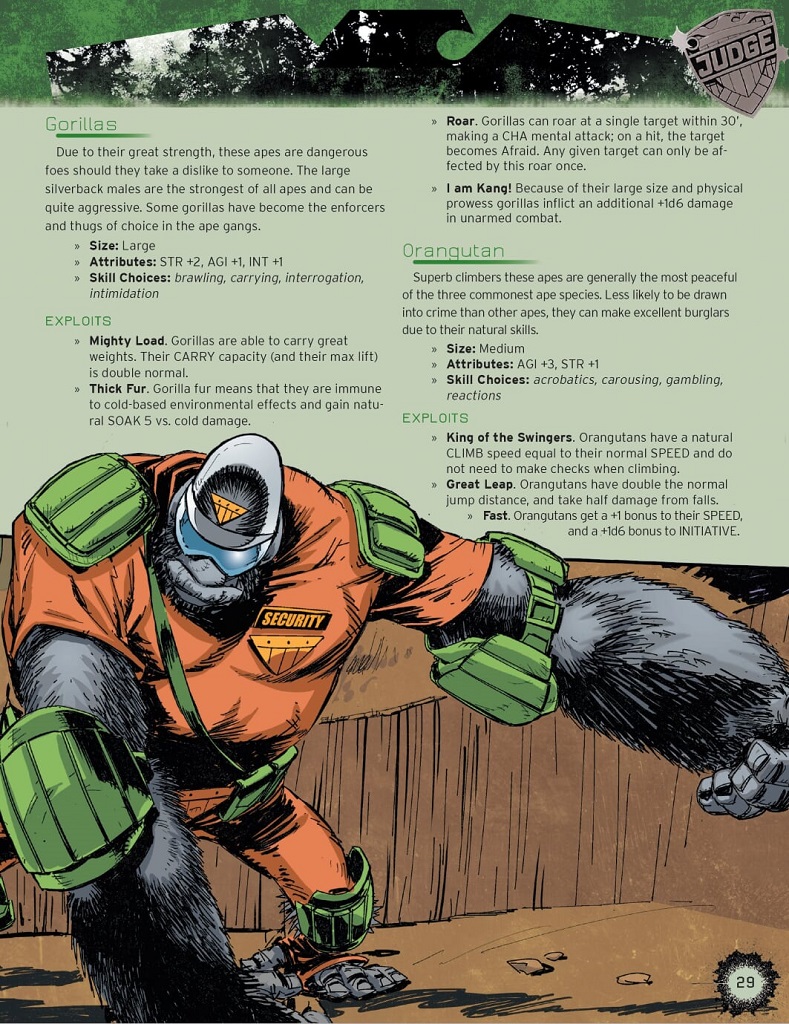 I am now more on board with this game than any other game I've ever seen in my life. I just want to play a Gorilla and jump into combat and throw foes against a wall. Or to play an Orangutan and be the King of the Swingers, yeah, a jungle VIP.
But what will you throw, you might be wondering? And if you weren't, well you'll have an answer anyway, because here's a look at the objects you can toss foewards.
Subscribe to our newsletter!
Get Tabletop, RPG & Pop Culture news delivered directly to your inbox.
If you're familiar with the W.O.I.N. system, this all makes sense, and if not, you can still see how easy the system is to pick up. The Health, Defence, and Soak are all tied to the makeup of the world. These are stats you'll realize for running every kind of enemy. Be they perp, or convict, or criminal.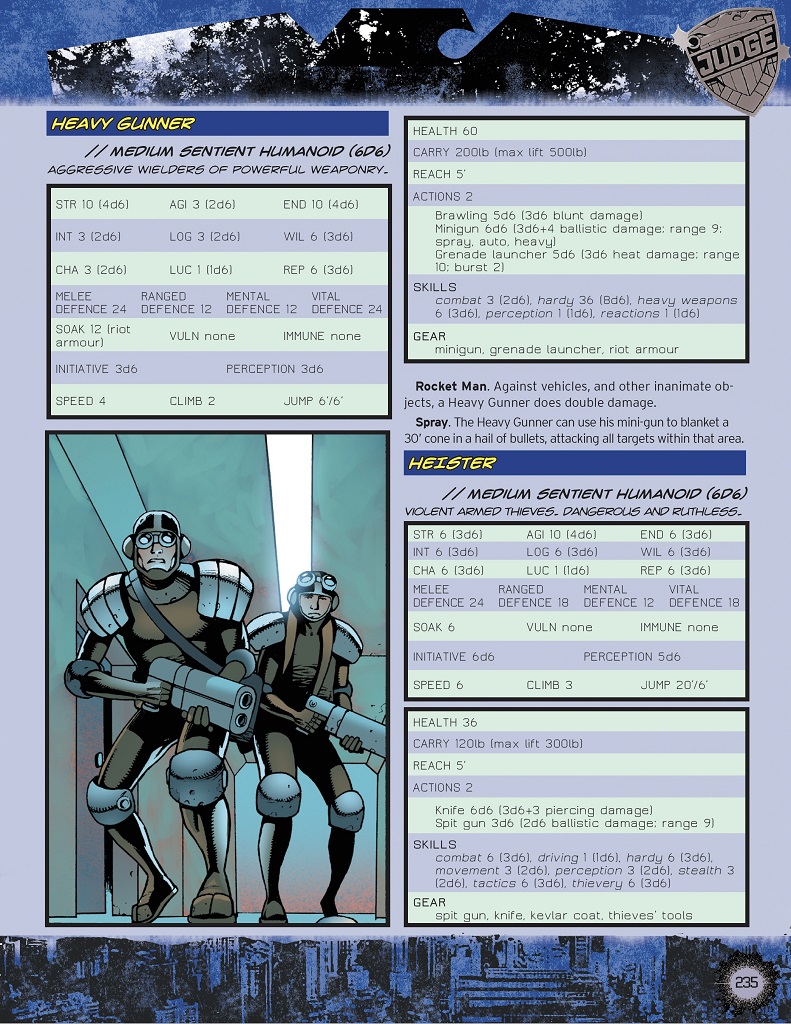 At any rate, the worlds of 2000AD are dangerous places. And the sapient NPCs you find yourself fighting are only half of the danger. The environments themselves can hold all manner of dangers…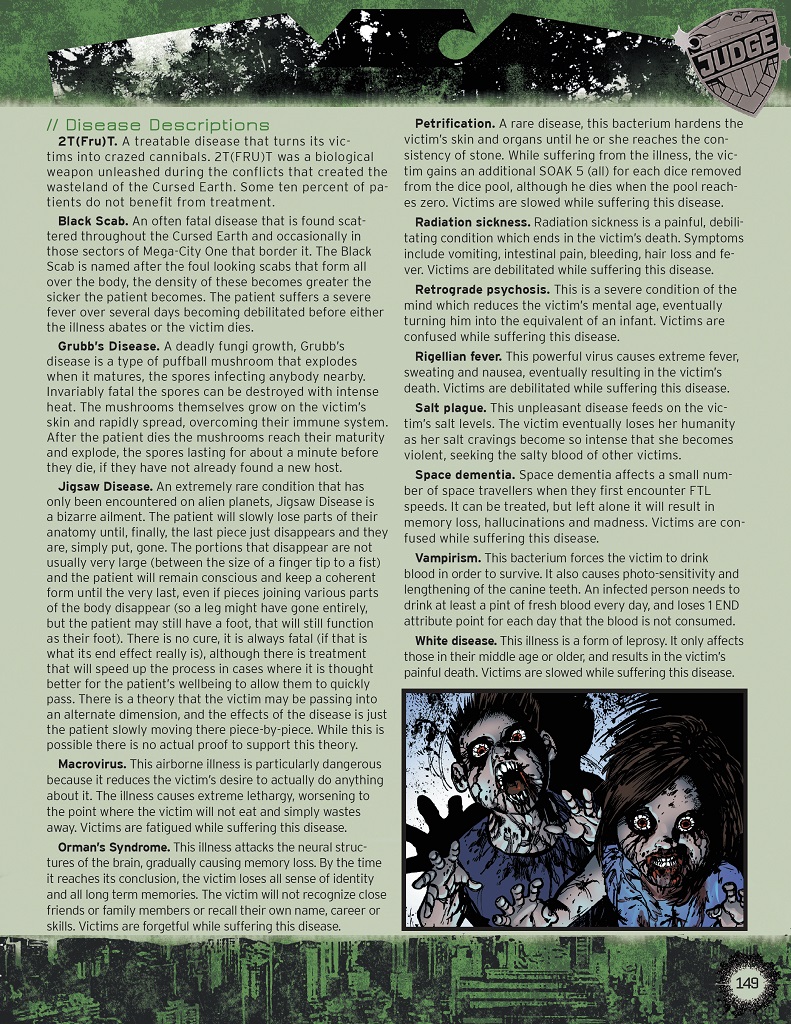 Anyway. There's a deeper look into the Worlds of 2000AD. Get ready to explore even more as soon as the Kickstarter goes live–we've got a few more glimpses into the worlds of 2000AD planned for you. So keep an eye out folks.
Okay but some of these diseases don't sound too bad. Which ones do you think you could endure?