Speed Freeks will be up for Pre-order this weekend and GW is showcasing the rules and more all this week. Today we're taking a look at one hot-rod that can spit hot-fiya – It's the Kustom Boosta-blasta and it's ready to roll!
Yesterday, GW showed off the roolz (or rules for all you non-orks out there) for Speed Freeks. It's probably a good idea to check those out first before you dive into how the new Kustom Boosta-blasta works. Or maybe you just want to jump into this 2 ton death machine and slam the gas to see what happens – that's what an Ork would do! So let's get into it with the rules for the Kustom Boosta-blasta!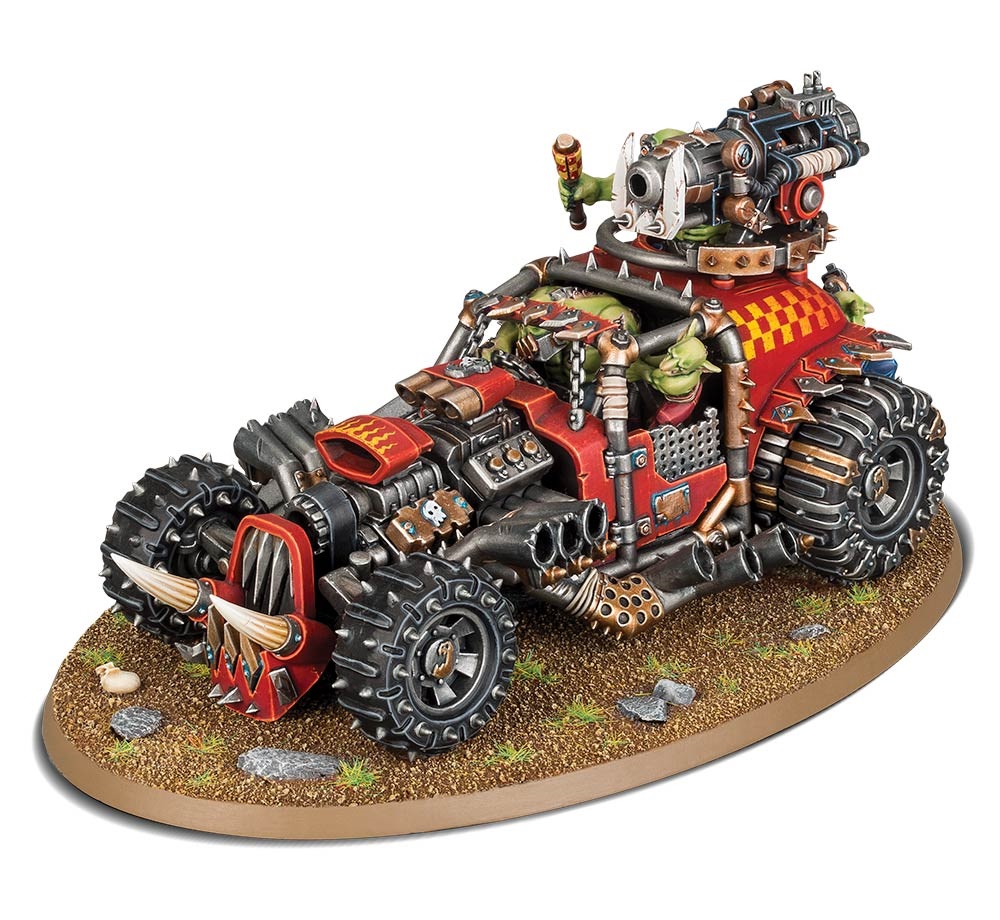 The Weapons of the Kustom Boosta-blasta
The main cannon of this orky hotrod is a "huge rivet" cannon. This device is normally used for installing metal plates on Stompas and Gargants but it also makes a terrific weapon. Firing foot-long metal lances at high speed is an effective way to shred targets of all shapes and sizes. The clean-up, however, is not so fun. But this buggy is also packing heat!
 Its hot rod design is augmented by huge exhaust manifolds that flank its chassis. Should the correct concoction of fuel be applied (via the medium of a big red button), these exhausts can be coaxed to gout forth roaring flame to incinerate nearby rivals.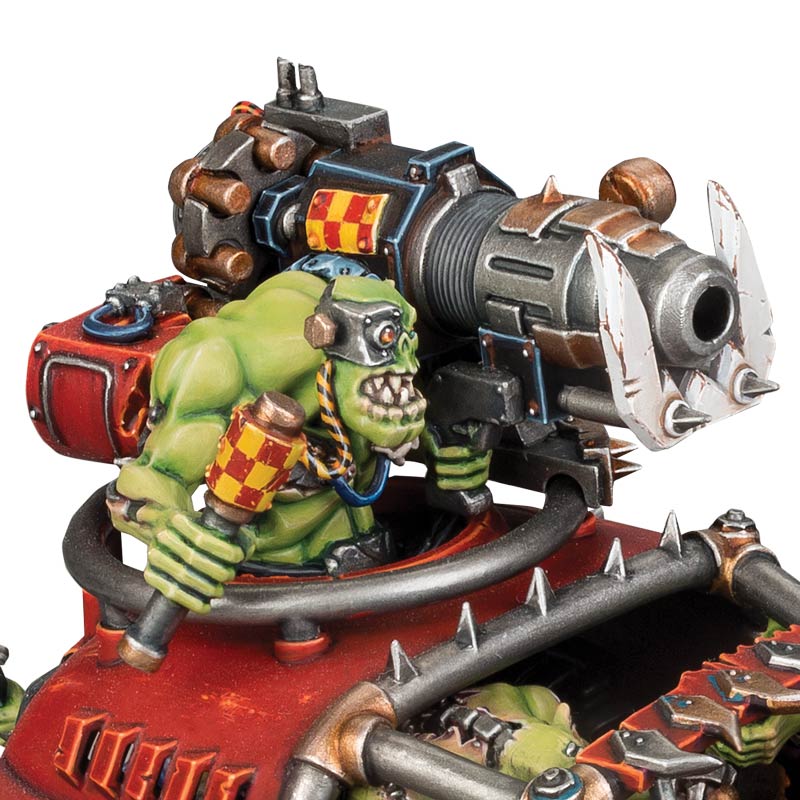 One of the biggest advantages the Kustom Boosta-blasta has in Speed Freeks is that it's weapons can be used in many directions. The Rivet Cannon can be used 360° – so as long as the target is within 12″ it doesn't matter if it's in front or behind! Plus it packs a punch with 2 damage – and hits that penetrate are going to make their marks know.

Those exhaust flames are no joke either! If you get in close with this warmachine, you can unleash gouts of flame all over your target – from either side! Talk about a flaming broadside…

Additionally, this vehicle also comes with a Spiked Ram. Hey, these are Orks after-all and Ork races are a contact sport. If you line up your ram, you'll be able to plow through just about anything:

The last trick up this Kustom ride's chromed out sleeves is the ability to hit the Turbo – a TWIN Turbo in fact. When you really need to boogie and get out of harms way, hit the button and Go-GO-GOOO!!

Implications For 40k
Okay – so I know most folks are looking at these rules and they are probably thinking "Cool. But what does that mean in 40k?" Cause we all know this bad boy is going to cross over and cause mayhem on the 40k tabletop, too. Well, let's consider the weapon options for a moment – they look like pretty straightforward translations to me.
The Rivet Kannon has a 12″ range, 3 shots at 2 damage. It also makes the opponent re-roll successful saves when they are within 6″. That statline really just needs an AP value plus a strength stat and you can use it in 40k already. I'd guess somewhere between strength 6-to-8 and AP -2? That seems reasonable. Maybe -1 cause of the "special rule" but other than that, fire away!
And speaking of fire – the Exhaust sounds a whole lot like a flamer. Each side has 2 shots, so that would be 4 flamer attacks. We know in 40k Ork Burna Boys typically get  D3 shots and auto hit as well and have an 8″ range. Maybe this vehicle does the same. Then again, the range is only 6″ – maybe that's a factor, too.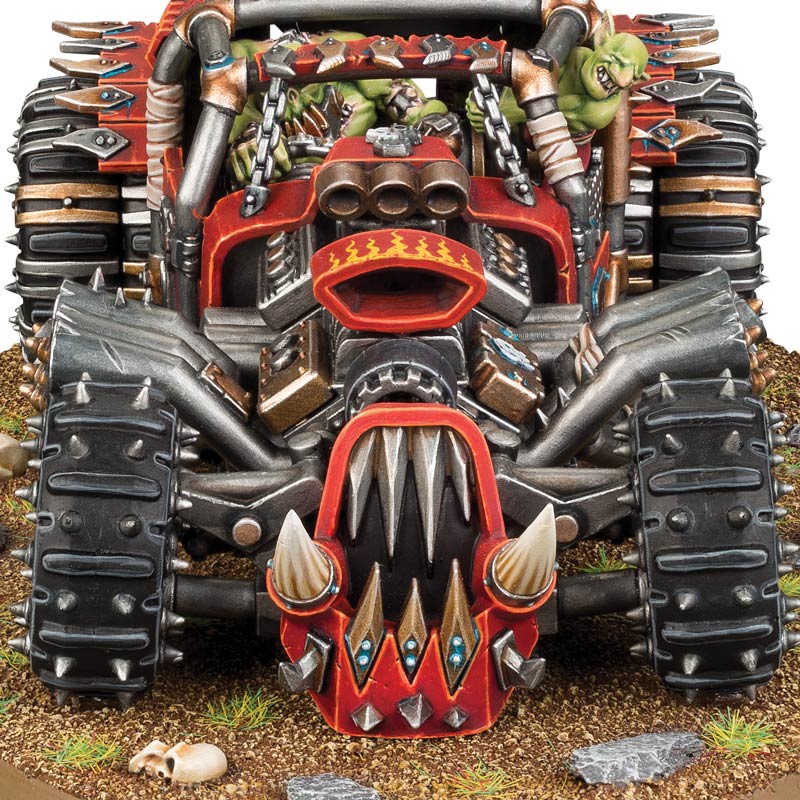 The Spiked Ram could easily just cause a Mortal Wound on the charge – like many other objects in 40k. Or maybe it's a 4+ die roll – there are lots of examples of these attacks in 40k. The Twin Turbo could also be something like "3d6 when you advance, drop the lowest result" which, again, we've seen similar examples of in 40k.
A fast-moving buggy that can do some serious damage up close and is even a threat in close-combat? Yeah, that seems pretty orky to me!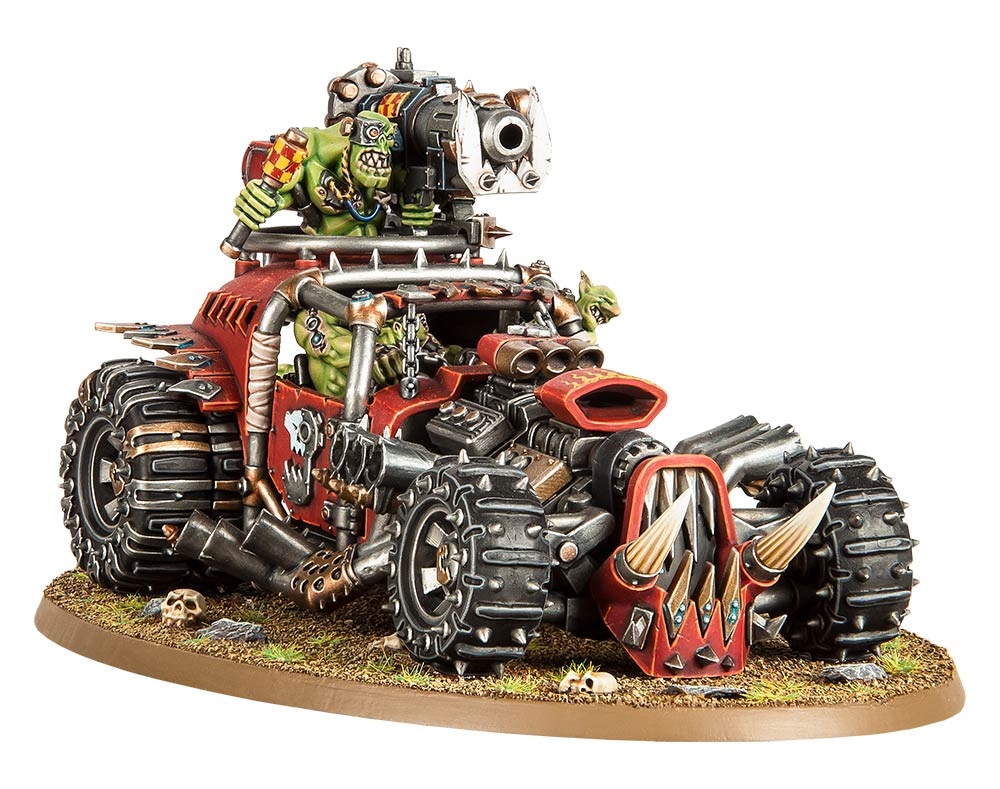 Well Internet, what's your take? Are you revving up for the Kustom Boosta-blasta? Speed Freeks is hitting pre-order at full throttle!