The Silver Twilight Lodge is up to something as the Investigators head back to Arkham in the next cycle for Arkham Horror: The Card Game. The next adventure awaits!
Fantasy Flight Games has announced the next Mythos Cycle for Arkham Horror: The Card Game and I'm thrilled to see this one. The Circle Undone brings the story back to the city of Arkham as the Silver Twilight Lodge takes center stage. One of the "not-so-secret" societies in the city, they appear to be a social club of wealthy elites. However, they have some dark secrets that you'll be digging into with this latest expansion.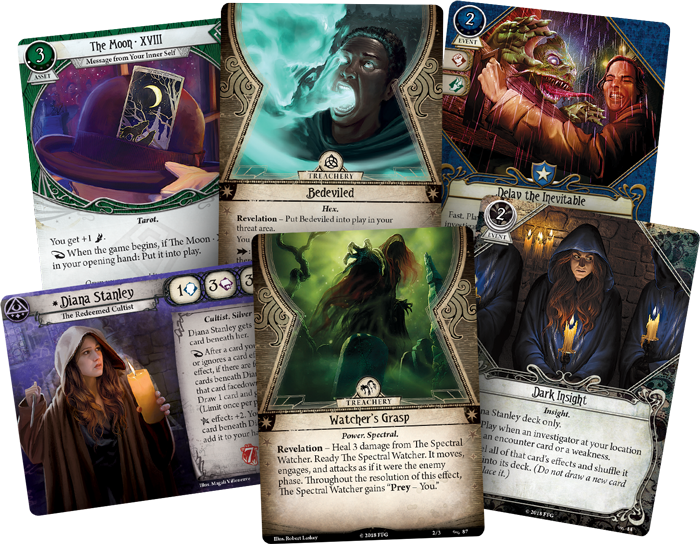 Fantasy Flight Games is proud to announce the upcoming release of The Circle Undone, a new deluxe expansion forArkham Horror: The Card Game—now available for pre-order at your local retailer or online through our website!

Within this deluxe expansion, you'll embark on the fourth cycle for Arkham Horror: The Card Game, and your path draws you back to Arkham itself. The Silver Twilight Lodge is bound up in something sinister, witches and strange rituals have been heard on the lonesome hills around Arkham, and the spirits of the dead do not sleep easy. New investigators and a wealth of new player cards arrive to expand your decks—and you will need them. Arkham has always been troubled, but of late it seems positively haunted…
Diana Stanley – Redeemed Cultist
The first investigator revealed in this expansion is Diana Stanley. She was an up and coming entrepreneur who joined the Silver Twilight Lodge to expand her business connections. Her admittance really helped out her fledgling store front and the success was good…and then it start to get weird. The Silver Twilight Lodge meetings took an occult turn as they started to become more bizarre. Each week the rituals became stranger and then the sacrifices started. Now she knows too much to leave – but refuses to stand by and do nothing. Her mission is to stop the cult from the inside…if she can.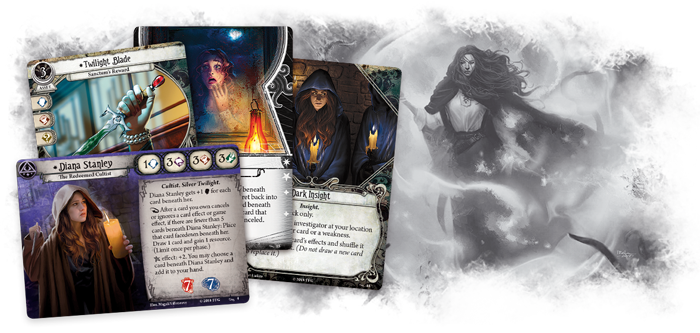 Stat-wise she's actually very average but she does have a very low Willpower at the start. Probably due to her exposure to the Lodge. The good news is that she's got a chance to turn that around.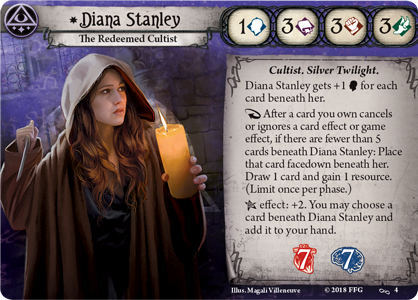 Her innate ability allows her to store cards that were used to cancel or ignore effects underneath her investigator cards. For each card that is in that pile (up to 5) she gains +1 Willpower. That combos nicely with her unique cards – Dark Insight and Twilight Blade: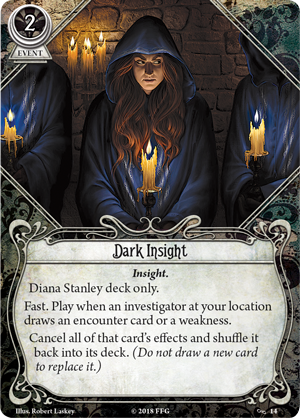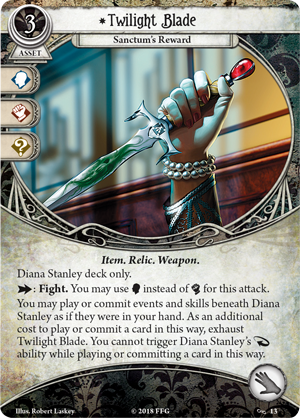 Dark Insight allows her to cancel a card from the encounter deck. That will boost her Willpower and prevent that card from impacting the players that turn. The Twilight Blade is a great way for her to turn the tables on the Silver Twilight Lodge – the more powerful her Willpower gets, the stronger the attack becomes. However, her terrible secret card will wipe out her stored Willpower and could turn the tables on the investigator: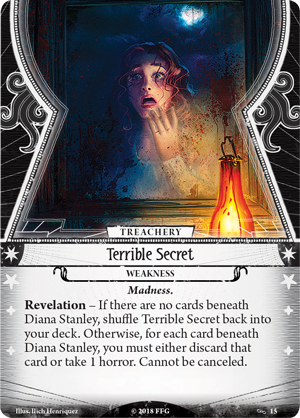 Not Your Typical Start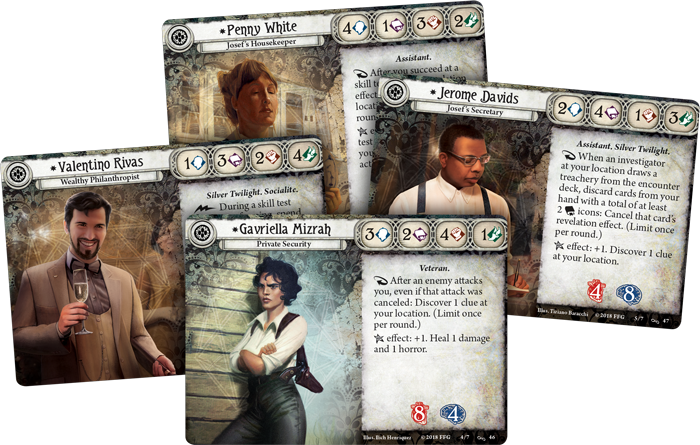 In this scenario, you won't be stepping into the shoes of one of Arkham's investigators just yet. Instead, you will play as one of four people who attended the ill-fated event and who you will only ever play during this prologue. Each of these characters offers their own unique abilities and skill sets, as well as a starting play area and opening hand, but no deck of additional cards. These unfortunate souls are not investigators, merely people who in the wrong place at the wrong time.
When players kick off this campaign, they will start as one of four people – these aren't the prepared investigators that come equipped with a deck of cards either. They only come with a handful of cards and their wits. It does not bode well for them…
Personally, I really like that there is a prologue scenario for this campaign. It introduces the players to the game in a very different manner and I really like that. You get a glimpse of what Arkham is like for the "average Joe" who lives there – and it's not always pleasant. We don't have a release date scheduled yet, but the current Mythos Cycle – Forgotten Age – is winding down. The Circle Undone is up for Pre-order now from FFG and your FLGS!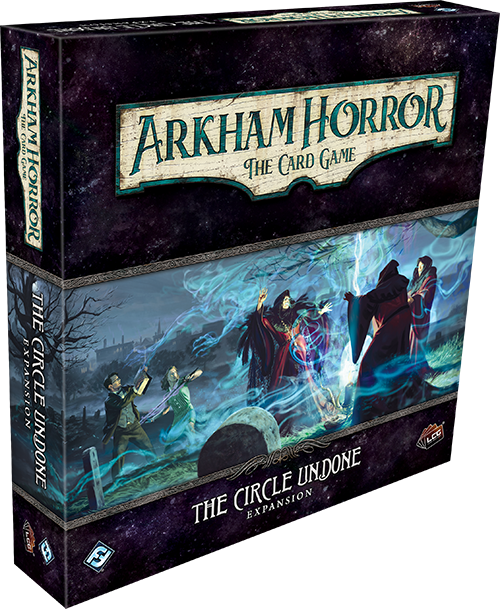 Judgement. Temperance. Justice. The Tower.

The soothsayer's tarot wove a tale of a grim future, hard to put out of your mind. But when you learn that four people have disappeared without a trace from an estate in French Hill, you begin to wonder if this cruel fate is meant only for you, or for the entirety of Arkham…

The Circle Undone is the fourth deluxe expansion for Arkham Horror: The Card Game. Here, your team of investigators delve into the mysteries of Arkham's past, uncovering its macabre history and the motives of those who dwell in its shadows. This expansion contains a playable prologue, first two scenarios of The Circle Undone campaign, as well as new investigator and player cards to further customize your investigations in the world of H. P. Lovecraft's Mythos.
Lodges. We don't need to stinkin' Lodges!