Fear Reveals the Truth is an adventure series designed to introduce players to the noir and magitek-rich themes of a proper Eberron adventures, and this one is helmed by its creator.
That's right folks, Keith Baker, the creator of Eberron–one of our favorite settings here at Bell of Lost Souls–is releasing an adventure that aims to capture the feel of what makes Eberron so different. Set in Sharn, this adventure is full of rich noir textures, including chases through city streets, hunts for clues, fights with cultists kidnappers, and intrigues where nothing is quite what it seems. If you want to give your players a taste of why you should play in Eberron and what makes this world so distinct from the others, then this adventure is well worth checking it out.

In case this picture doesn't explain everything for you
Curtain Call is part one of Fear Reveals the Truth, which is followed up by Trust No One–there's more on the way, but these are both great examples for players–and especially for DMs–of how to run intrigue and mystery and all the rest. Interestingly, each of these adventures is broken up into Scenes. In Curtain Call, Scene 1 has some interesting prompts to bring the players into the game:
You are contacted by Max Murlock, an old acquaintance of yours. It is up to you whether you are actually friends, but you have certainly crossed paths a few times. Tell me about how you and Max met, or something about a previous interaction you have had with Max…
They're left to determine how they know the NPC that drags them into the adventure. I love this prompt because it gets the players into the world right away. How do you know Max–or what kind of impression has he left on you. It invites more of a personal stake in the matter. From there we discover that their old acquaintance has been masquerading as a Private Eye to try and "impress the ladies" to varying degrees of success, and is now in over his head when faced with solving an actual mystery from a distraught noblewoman whose husband has been kidnapped by cultists.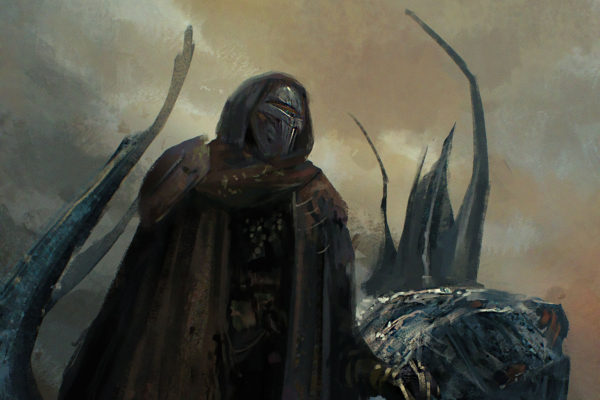 From there players must find clues–and the challenges can come from trying to find them, but once they're found, skill checks can help players put the clues together. It's an interesting system that culminates in a race to rescue the kidnapped noble before cultists can finish a dark ritual. All in all a thoroughly fun adventure that says "this is what Eberron is about."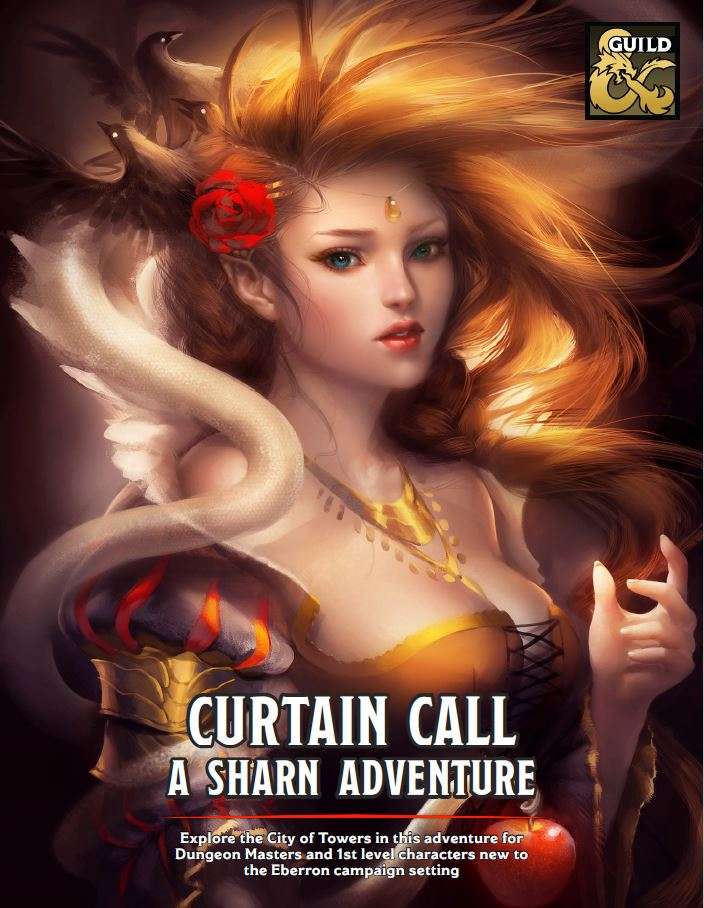 Curtain Call: A Sharn Adventure is an introductory Eberron adventure for 1st to 4th level characters. Written by Keith Baker (creator of Eberron), Robert Adducci (Guild Adept), Wayne Chang, this is a great adventure for new Dungeon Masters to Eberron and includes sidebars to help DMs and players get familiar with the world of Eberron.

A paying job in Sharn to find out what happened to a missing noble turns into a myriad of street chases, personal grudges, spy agencies, cultists, and charlatans as you take an exciting tour through the City of Towers.
Trust No One is the followup adventure to Curtain Call, and it's even more my cup of tea. This involves the high fantasy and dark intrigue elements of Eberron even more. Assassins, the Gnomish spies and Trust of Zilargo–this is a pulp adventure to the core, and you will find no better blueprint for building your own. When reviewing the copy I kept finding moments that I wanted to run for my own players. Or wishing that I hadn't spoiled everything so I could experience this adventure from the PC perspective.
Characters find themselves embroiled in the Draconic Prophecy and dealing with the Gnomish Secret police this time around, as they continue to do battle with the Cult of Shaped Nightmares–the antagonists of the previous adventure. They'll find themselves drawn into the underworld this time, as an adventure contact sends them into an auction of illicit items. But if they want to win this battle, they'll have to wage war from the shadows.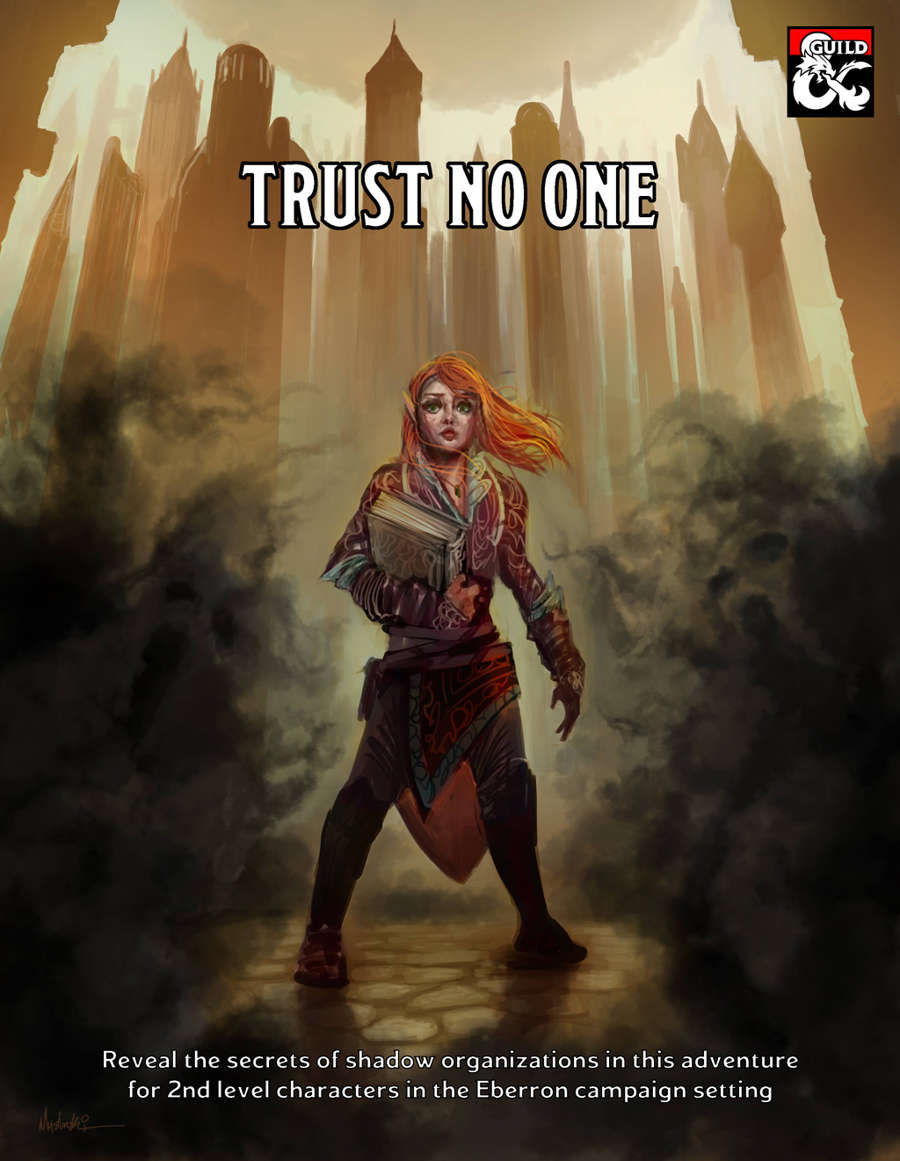 House Tarkanan and the Trust have embroiled the Sharn underworld in a silent war, the result of which has dire consequences for Zilargo. The characters must fight their way through assassins, aberrant dragonmarks, information brokers, and fancy parties in this conflict between shadow organizations.
I love that this adventure involves so many of Eberron's Shadow Factions. Fear Reveals The Truth really is shaping up to show off all the disparate parts that make Eberron so great. All that we need now is an adventure that deals with dino-riding Halflings and the Lightning Rail and you've got, well part of it–there are still aberrations up from out of the Mournland, and unexplored Xen'drik, okay look, there's a lot to Eberron. But the point remains, this is a great guide to what makes the setting work, and it has the advantage of being one of the better pre-written adventures I've come across. You can get both of them from the DMs Guild today, and stay tuned for more.
Happy Adventuring!