PP& FFG: MiniCrate Subs Are LIVE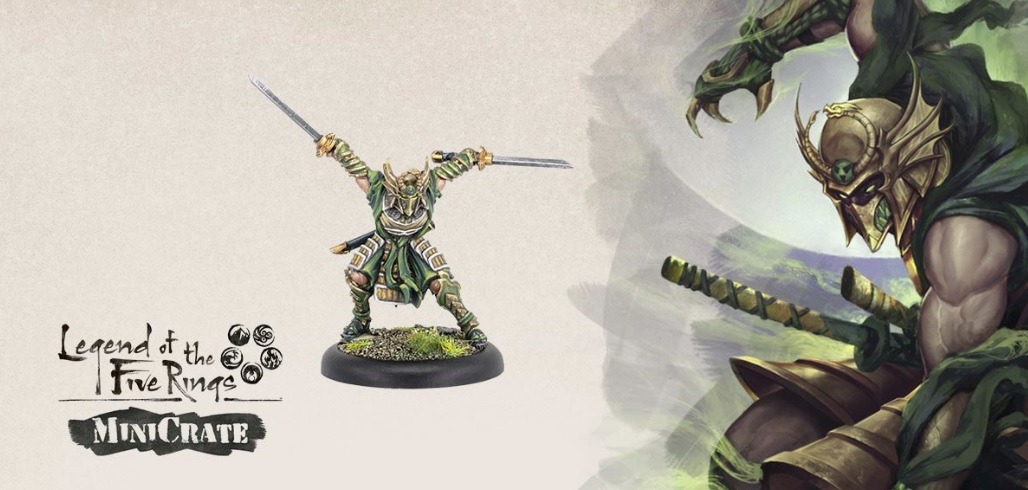 Privateer Press and Fantasy Flight Games have teamed-up to bring you an all new MiniCrate Subscription program. To start off, we're heading to Rokugan with Legend of the Five Rings Miniatures!
We got a peek at these miniatures at GenCon and were blown away! Now your chance to own these miniatures is finally here with the new Legend of the Five Rings MiniCrate Subscription from PP and FFG!
via Matt Wilson, Fantasy Flight Games
---
We are pleased to announce that Legend of the Five Rings MiniCrate subscriptions are now available!
To begin your collection of the most legendary heroes and villains of Rokugan, just click here and choose the subscription option that best suits you. Each month, a new miniature will be sent to your mailbox. But don't delay—each MiniCrate miniature is only produced once, and after they ship, the molds are destroyed so the mini will never be produced again!
Subscriptions are available in the form of a month-to-month plan or a 6-month VIP subscription that includes an exclusive FREE bonus mini, available only to VIP subscribers!
Subscribe before December 5, 2018, in order to receive the first mini in the Legend of the Five Rings subscription: Dragon Clan Champion Togashi Yokuni. Yokuni will begin shipping in early January 2019, and all VIP subscribers will also receive the Naga Hunter FREE in that first delivery.
Future MiniCrate shipments will feature a variety of characters from the Legend of the Five Rings pantheon, including the much revered clan champions, notable samurai like Matsu Tsuko and Hida Tomonatsu, powerful shugenja like Isawa Tadaka, and many, many more. Don't miss out on a single one—subscribe today!
Below is a selection of 3D renders, and concept art for the upcoming Legend of the Five Rings MiniCrate miniatures…
Togashi Yokuni
Subscribe to our newsletter!
Get Tabletop, RPG & Pop Culture news delivered directly to your inbox.
VIP Exclusive: Naga Hunter!
Matsu Tsuko
Hida Tomonatsu
Daidoji Uji
---
These miniatures won't be around forever – so get them while you can from PP, FFG and MiniCrate!