"Interest detected in player! Player alert! Player alert! Entertain the player!" are a few of the phrases you might utter if you got a little too into the roleplay aspects of your retro board game night with Berserk.
Berserk was a popular arcade game back in the 80's for a few reasons, the revolutionary speech quality and the fact it killed someone! Today we find out how the board game adaptation holds up. Initially, Berserk was popular for its (at the time) astounding sound quality and speech synthesis. Berserk was one of the first video games to have in-game speech. The English version of the game had a vocabulary of 30 words and it is estimated each word cost developers about $1,000. The villainous robots within the game would shout and exclaim as they battled the nameless humanoid controlled by the player.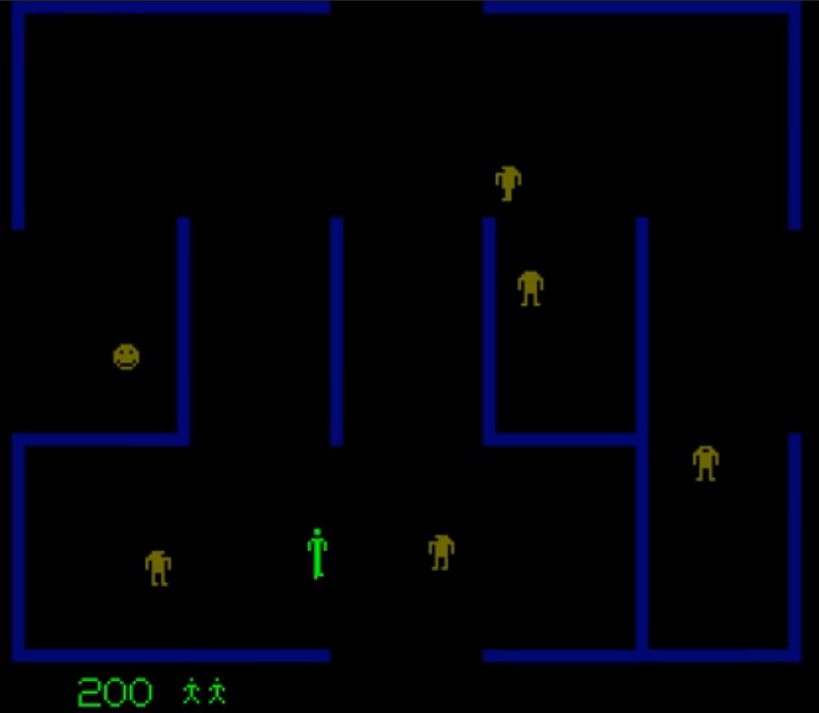 "Intruder Alert! Intruder Alert! Kill the humanoid!"

The gameplay was pretty typical for an arcade game. You would move from room to room, shooting robots, getting points, avoiding getting hit and asking your mom for 1 more quarter before you went home. However, to make things more difficult the dreaded and unkillable Evil Otto would come after the player keeping the game moving.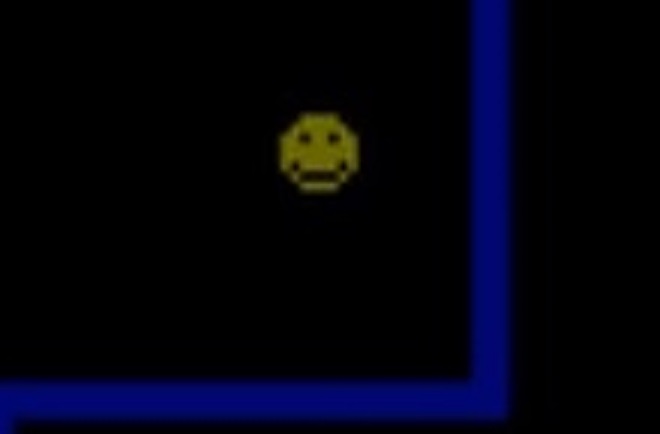 What sort of person could fail to succumb to the unknowable horrors that Evil Otto hath wrought?!
But like many arcade games, you play until you die. Unless you can really manage to live throughout the game's 65,536 rooms. There doesn't seem to be any definitive proof of a high score, but forums posts on TwinGalaxies make claims of attaining a score of 325,270 points after reaching board 706. If you're willing to tackle that challenge and take on the game that is on every "Most Difficult Video Games Ever" list, here's a hint for you: Play the board game instead. At least it won't literally kill you.
Even if you've never played the game, you may have heard about the supposed deaths caused by this game. There seem to be 3 deaths reported which are linked with Berserk. However, while this isn't much better, it seems only 1 death can be attributed to having played Berserk.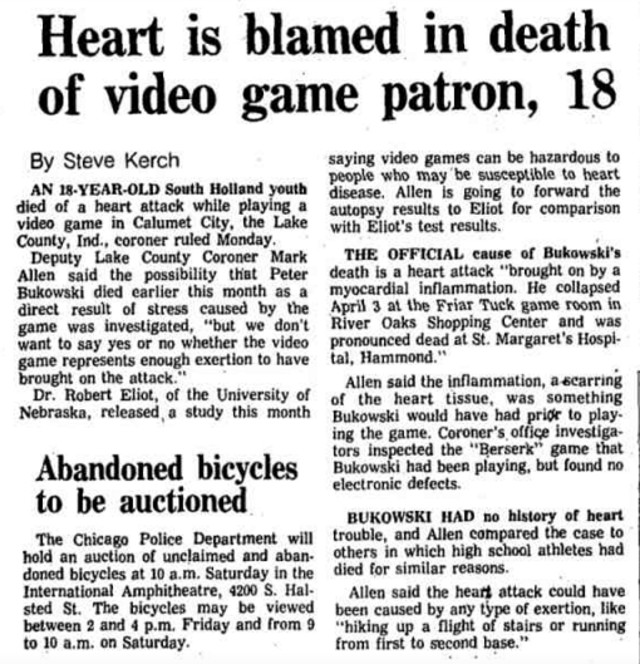 From the Chicago Tribune, April 27, 1982 
Admittedly, it's stated that the game itself wasn't any more a killer than "hiking up a flight of stairs or running from first to second base". It's the stress that is really what got to young Peter Bukowski, who had a preexisting condition which had nothing to do with playing Berserk.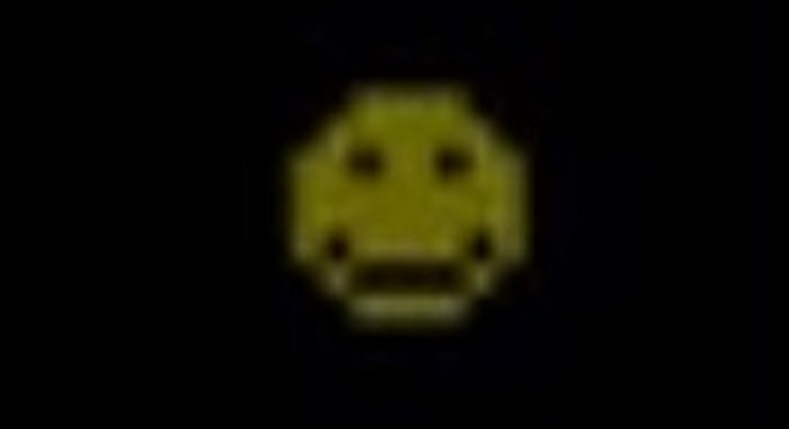 Or did it?
Anyway, that's a lot of hoopla about the video game Berserk, but this isn't a video game history site. Although….Hmm…. Nah. Let's talk board games.
For a tie-in game from the 80's (which have a terrible track record), this one is actually pretty good. It maintains a not often seen asymmetrical gameplay but in a way that's nice and balanced.
Berserk is a 2 player game with roll-to-move mechanics. The game is played over 3 double-sided rounds, meaning within each round each player will play once as the Humanoid and once as Evil Otto. While each player controls the Humanoid, they score 10 points for each Robot they destroy and earning bonus points if all 6 robots are destroyed during that round. The Humanoid escapes the maze by landing on Evil Otto's starting space. Once that occurs, players switch sides and the Evil Otto player now controls the Humanoid, and attempts to score as many points as they can. Once the 3 full rounds are completed, whichever player has the most points wins!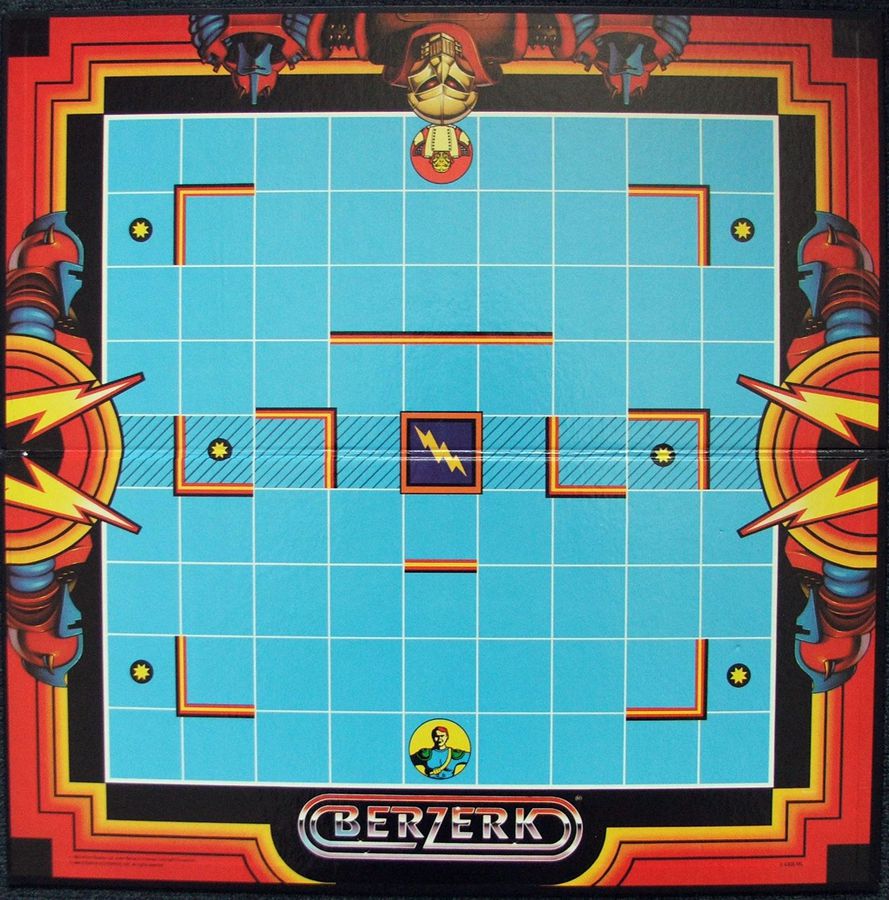 Plus, lookit that super rad retro artstyle!
The Humanoid, Evil Otto and the robots all move through a simple roll-to-move. Evil Otto has the option to divide his rolled movement across multiple robots. If the Humanoid can land orthogonally adjacent to a robot, the robot is destroyed, earning the Humanoid player 10 points. However, if a robot lands in the same square as the Humanoid, the Humanoid returns to their starting space and loses 1 life. If either player loses all 3 of their lives, they do not get to play as the Humanoid for the remainder of the game, and will have to hope they earned enough points up until that point.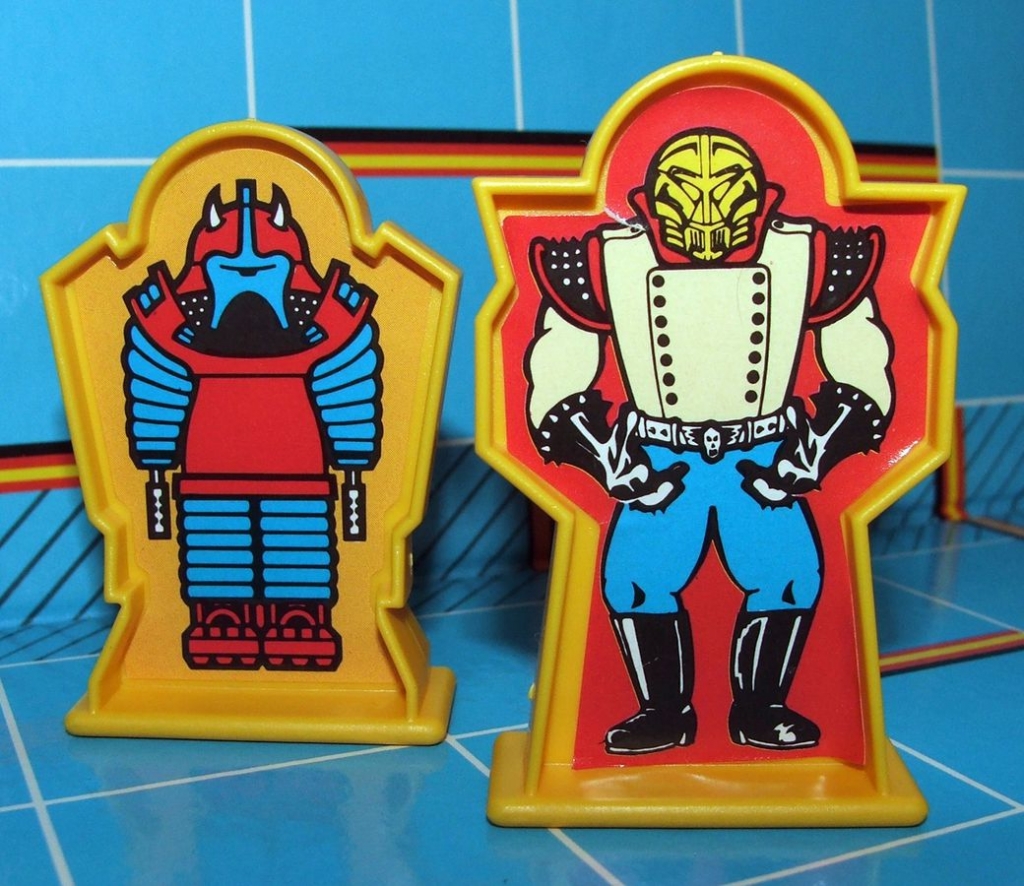 Oh wow…. Their vision of Evil Otto did NOT translate to digital media very well.
Evil Otto is where the game gets more dynamic. Evil Otto has the capability to move through walls, he can not be killed and he has much further movement options. Unlike any other character on the board, Evil Otto can move and attack diagonally. Additionally, as the rounds continue, the restrictions on when and how Otto can (and must) move will change, which prevent him from simply waiting on his starting space.
For a video game adaptation board game form the 80's, Berserk is actually pretty solid. Because destroying all 6 robots earns the Humanoid 60 bonus points, Otto could move one of them to the far corner. Then it's up to the Humanoid to decide if it is worth trying for and risk losing a life.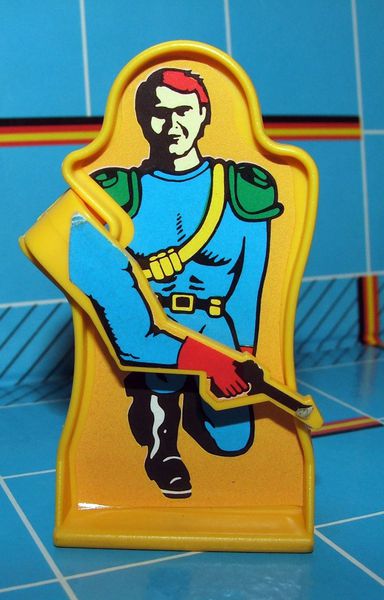 The Humanoid figure has a swinging arm so you can knock down the robots. Pointless and almost entertaining!
Or maybe it's better to simply swarm the player. Sure, you'll lose some bots in the process, but each Humanoid death returns him to Start and if you can do that 3 times, they lose their ability to even score any more points! Any game which offers multiple and seemingly viable strategies, playing more offensively or more defensively, is a good thing. For as simple as the gameplay within Berserk might be, it's actually a pretty well thought out little game.
Thanks for reading! Did you ever play Berserk in arcades?