Star Wars X-Wing: First Order Card Preview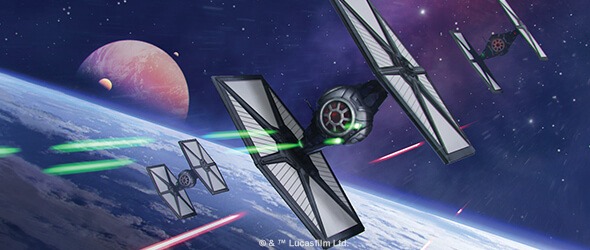 Fantasy Flight Games has another X-Wing 2.0 preview out there and this time we're looking at the First Order and their new bag of tricks.
Last week FFG showed off a preview of the Resistance and their new conversion pack. We saw some familiar faces with a new look. Today, we're taking a look at the other side of the coin with the First Order.
The First Order may fly newer versions of Imperial ships into battle, but this isn't the only connection it shares with the Empire. Many members of the First Order's chain of command can trace their roots directly to members of Empire and this new generation is eager to put their ruthless ambition to use in X-Wing.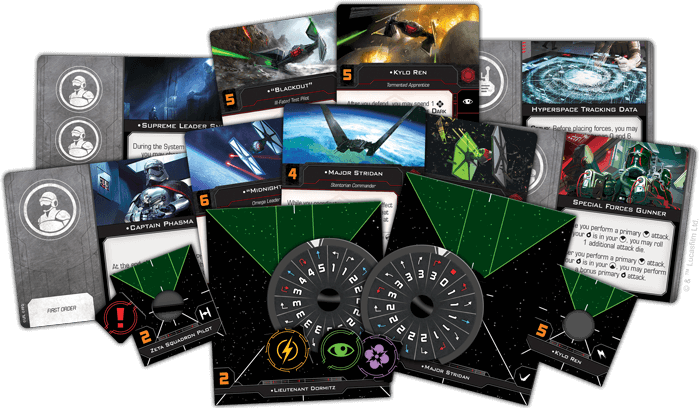 What Upsilon?
First off, we're going to take a look at two of the new Upsilon-Class versions that will be hitting the tabletop.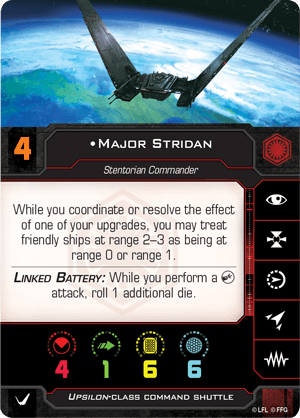 The command shuttle is back and it's packing some heat with a 4 die primary attack for starters. It's also got quite the command bar as well! Linked Battery is the innate ship ability and I'm pretty sure we're going to see First Order players use that to great effect. Aside from that both Major Stridan and Lieutenant Dormitz have some interesting pilot abilities as well.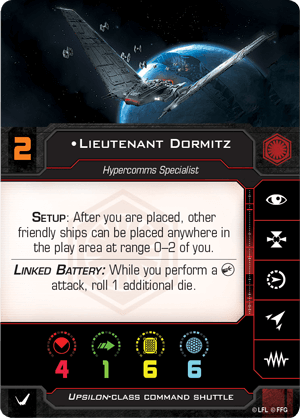 Both of there abilities can throw off the normal flow of the game. While Dormitz's ability works at the start of the game it can still mess with setup. Stridan's ability can trigger some upgrade abilities when your opponent isn't expecting them.
Bring On The Crew
The First Order has a TON of crew to showcase from FFG. It's a list of villains that you're not going to want to square off against anytime soon.
Subscribe to our newsletter!
Get Tabletop, RPG & Pop Culture news delivered directly to your inbox.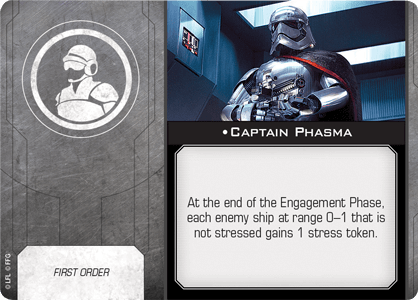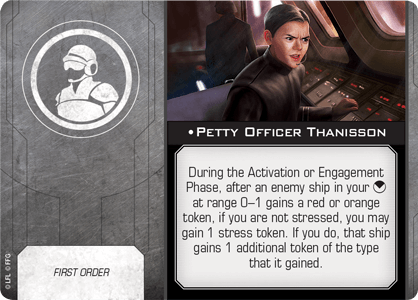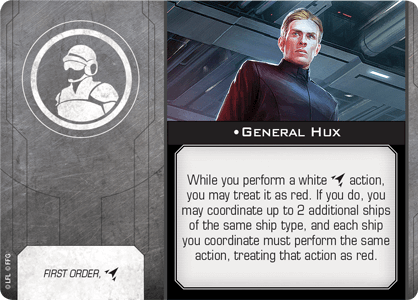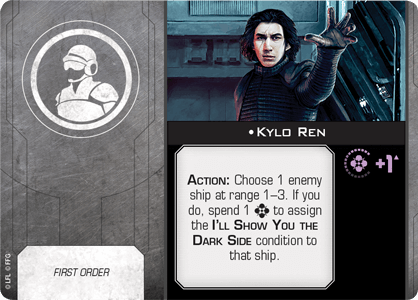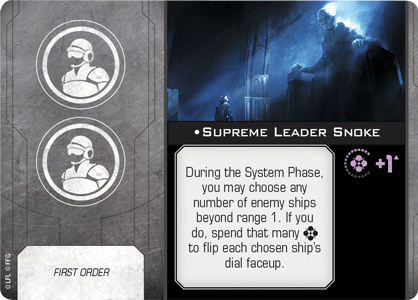 From Force Users to just plain ol' mean abilities – the First Order has a wide array of crew members to add to ships that will just mess with your opponent. The First Order will be dishing out stress and causing problems all over the place. From Captain Phasma's "Hey take some stress" to Supreme Leader Snoke's ability to reveal ship dials – The First Order will have more than enough tools to disrupt your opponent's game plan.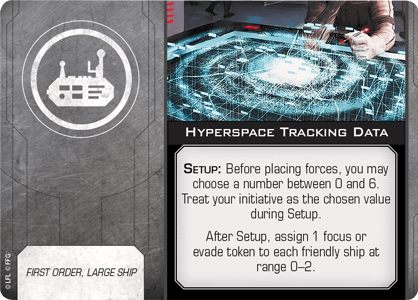 The last preview is the Hyperspace Tracking Data tech upgrade. This card pairs insanely well with Dormitz in the Upsilon-Class command shuttle.
"These tokens might not seem very useful with enemy ships all the way on the other side of the play area, but this changes completely if Lieutenant Dormitz  is the one equipped with Hyperspace Tracking Data. If you place her first, the rest of your ships can be placed anywhere in the play area within Range 0–2 of her Upsilon-class shuttle, including far enough into the play area to swoop in on your opponent's ships and launch a vicious attack in the very first round."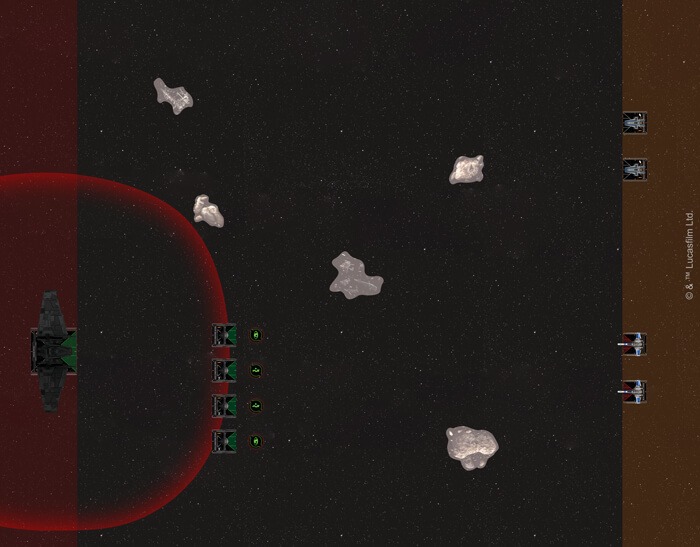 Change your deployment around, give all those ships a focus or evade just for being around, AND get a possible attack run of on turn one!? Sounds good to me!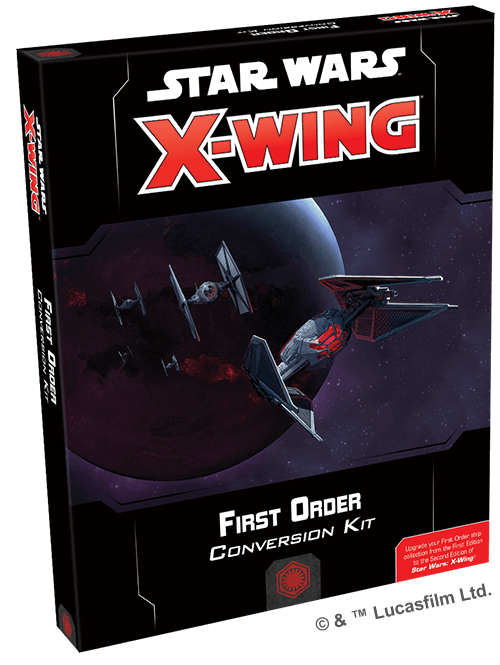 As you might expect from the successor to the Galactic Empire, the First Order fields a variety of starfighters based on classic Imperial designs. Far from simply rehashing these older ships, though, First Order fighters feature a number of refinements that give them the edge in their fight against the loathsome Resistance. The First Order Conversion Kit makes your First Edition versions of these ships immediately available for use in your X-Wing Second Edition squadrons.

Within the First Order Conversion Kit, you'll find everything you need to strike fear into the heart of the Resistance and take your squad into the future of X-Wing, including a wide variety of new ship cards and tokens, including some of the most celebrated pilots in the First Order, such as Major Stridan, "Backdraft," and Kylo Ren himself. These pilots are accompanied by more than one-hundred upgrade cards and new maneuver dials for your TIE/fo Fighter, Special Forces TIE, TIE Silencer, and Upsilon-class Shuttle ships, giving you plenty of tools to bring back the glory of the Empire.
Both the Resistance and First Order Conversion kits are expected in Q4 of this year – get ready for the next wave of X-Wing coming soon!