Games Workshop has some new units for Adeptus Titanicus and a new book for all your Middle-Earth Battles! Check it out.
via Games Workshop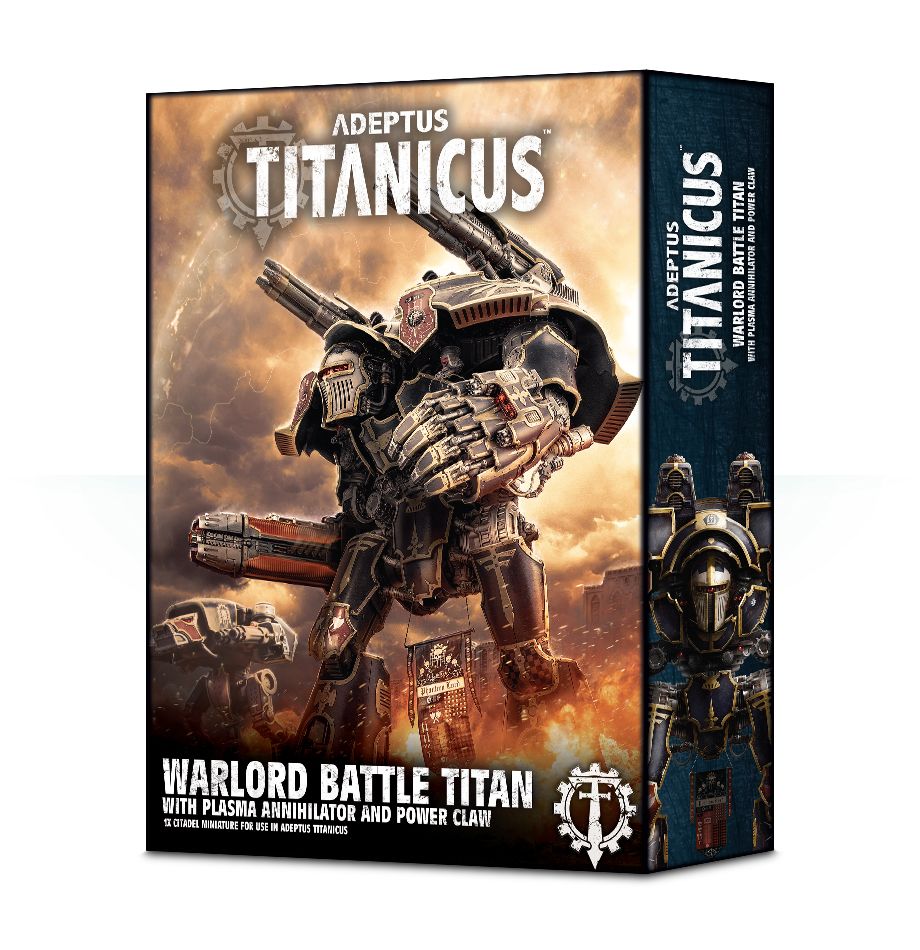 Warlord Battle Titans stride over the battlefields of the Imperium, their thunderous tread heralding the destruction of the enemies of Mankind. A mainstay of the Collegia Titanica, Warlord Battle Titans are among the largest and most powerful war machines ever devised by the Mechanicum.
Standing approximately 6" tall, this representation of a colossal god-engine is unbelievably detailed and posable. It is made up of 144 components – while it is possible (and easiest) to assemble this miniature in the pose depicted in the comprehensive assembly guide, the advanced hobbyist will find that the hip, knee and ankle joints can be modelled in virtually any position imaginable. As a result, no two Titans ever need be built in the same pose.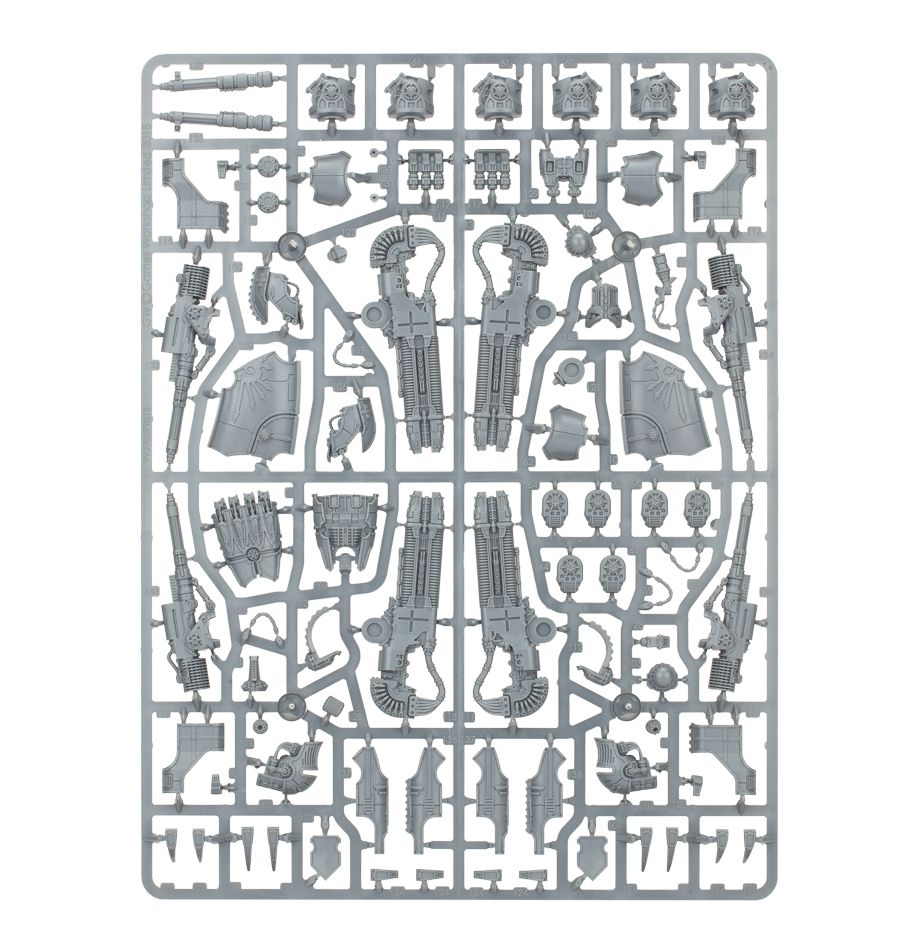 The components for the Warlord Battle Titan are split between 3 frames: 1 featuring the inner skeleton, leg and torso assemblies, 1 frame of carapace and armour plates, with Great Crusade and Age of Darkness armourials allowing you to display your models' allegiance (blank examples are included) and a frame of weapons – this variant boasts 2 sunfury plasma annihilators, which are an integral part of the arm assemblies, a option for an arioch power claw (which can be modelled with fingers closed or open) and 2 carapace-mounted laser blasters. The kit also features a choice of 2 heads.
This kit comes as 144 components, and is supplied with a Citadel 120mm Oval base. Included is a transfer sheet with heraldry for the following Legios: Gryphonicus, Fureans, Astorum, Atarus, and Mortis.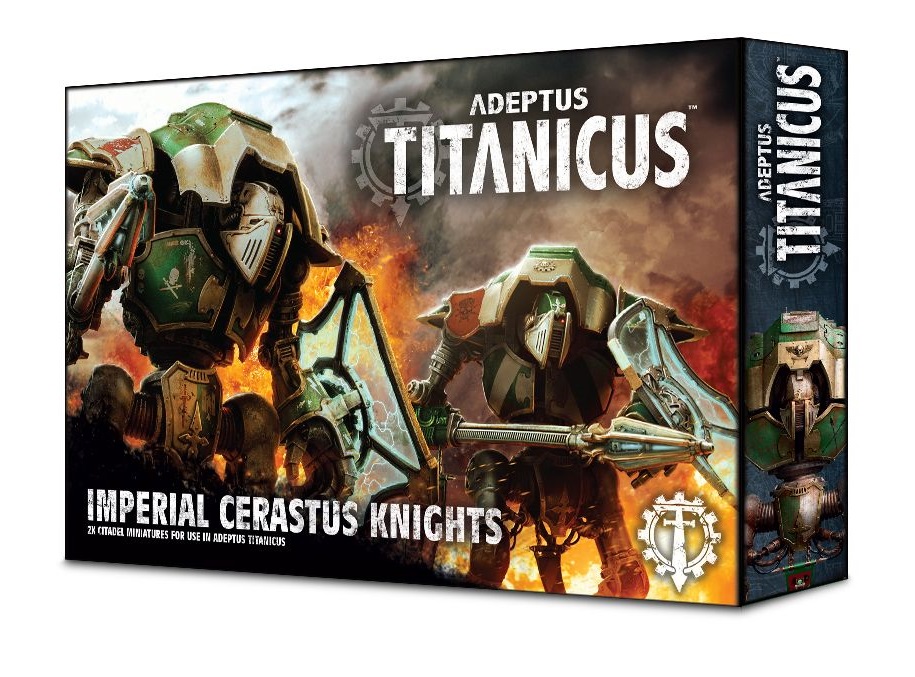 Cerastus Knights are employed as weapons of extermination, designed to inspire fear in their foes. Nothing will sway their attack until the enemy is utterly crushed, never to rise again from the flame-scoured ruins of their strongholds.
This multi-part plastic kit contains the components necessary to assemble 2 Cerastus Knights for use in games of Adeptus Titanicus. Each of these machines is armed with a Cerastus shock lance and an ion gauntlet shield. These are highly detailed Adeptus Titanicus-scaled miniatures are every bit as impressive to behold as their larger brethren – included are 6 heads of 3 different designs, allowing you to add some variety to your Cerastus Knight banners.
This kit comes as 58 components and is supplied with 2 Citadel 50mm Round bases along with a Cerastus decal sheet that features heraldry for Houses Makabius, Vyronii, Malinax and Coldshroud.
The Armies of The Hobbit™ is an expansion for the Middle-earth Strategy Battle Game that enables you to recreate your favourite scenes from The Hobbit™ Motion Picture Trilogy with your collection. The 160-page hardback book includes all the information you need to take control of all the Heroes and armies on the tabletop:
– 13 army lists for the forces of Good, including a brief background, points values, characteristics, special rules and Heroic Tiers for the following: Thorin's Company; Army of Thror; The Iron Hills; Erebor Reclaimed; Army of Lake-town; Survivors of Lake-town; Garrison of Dale; Rivendell; Halls of Thranduil; Radagast's Alliance; The Misty Mountains; The White Council; Wanderers in the Wild;
– 7 army lists for the forces of Evil, including a brief background, points values, characteristics, special rules and Heroic Tiers for the following: Azog's Legion; Azog's Hunters; Dark Powers of Dol Guldur; Dark Denizens of Mirkwood; Goblin-town; The Trolls; Desolator of the North;
– 11 Narrative Play Scenarios based on pivotal battles: Destruction of Dale; Battle of Azanulbizar; Roast Mutton; Hunting Party; Escape from Goblin-town; Out of the Frying Pan, and into the Fire; Flies and Spiders; Fire and Water; The Fall of the Necromancer; Battle of the Five Armies; Battle for Dale;
– A full Allies Matrix, showing which factions can work together;
– Army Bonuses for every faction;
– Profiles providing rules for your favourite Heroes, Villains, Monsters and Warriors.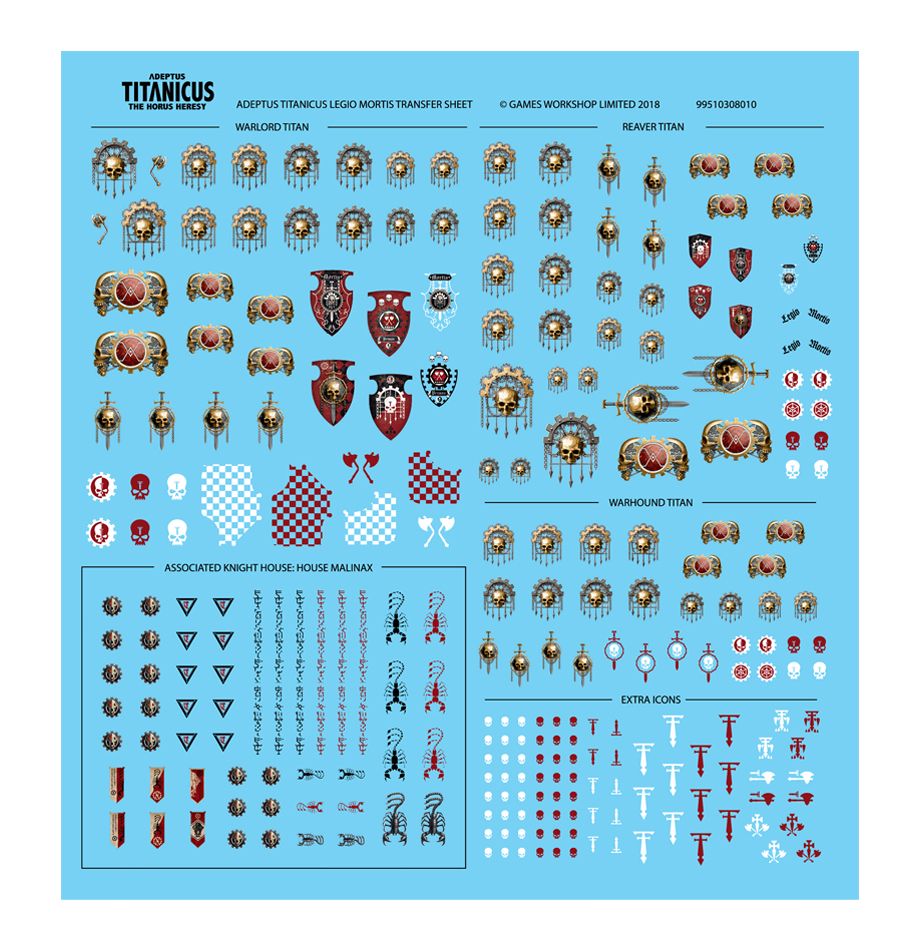 Decorate your Adeptus Titanicus Warlord, Reaver and Warhound Titans with this set of full-colour transfers depicting the icons of the sinister Legio Mortis, known and feared across the galaxy as the Death's Heads. These are added to carapaces and armour plates to enhance your paint job and demonstrate the fealty of your maniples. This sheet also includes transfers for the Knightly House Malinax, close allies of the Legio Mortis, plus a host of kill markings and campaign badges.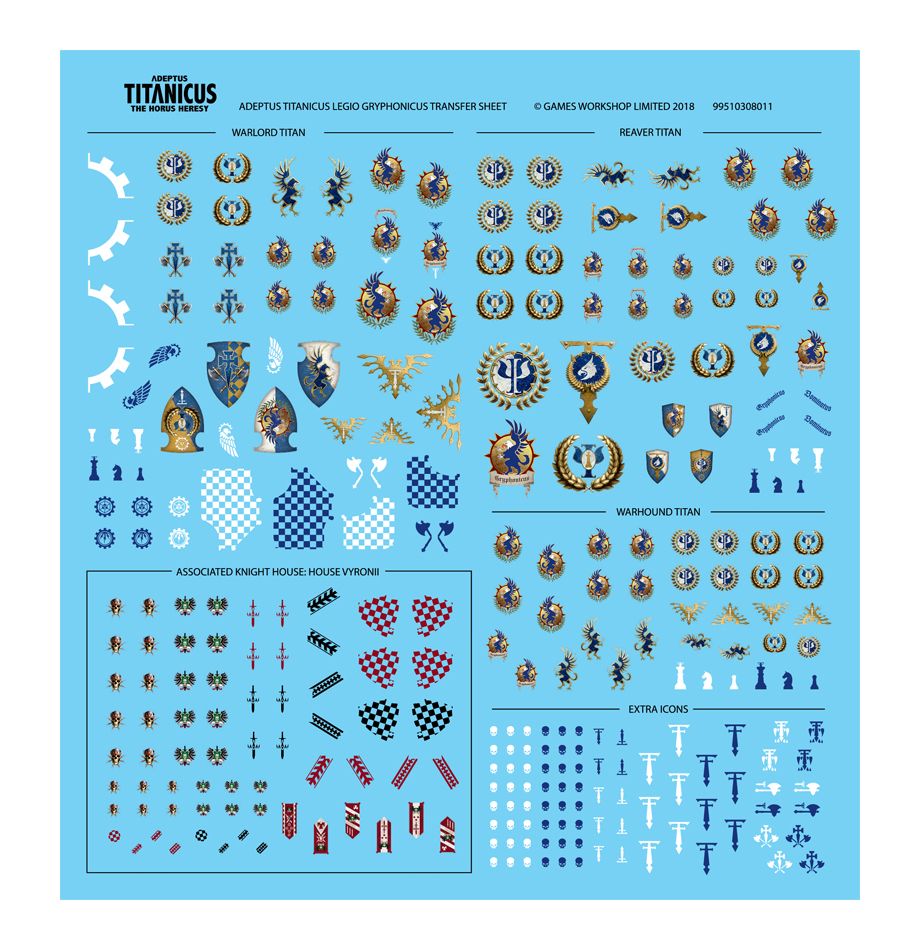 Decorate your Adeptus Titanicus Warlord, Reaver and Warhound Titans with this set of full-colour transfers featuring the iconograhy of the Legio Gryphonicus, the mighty War Griffons. These are added to carapaces and armour plates, enhancing your paint job and demonstrating the fealty of your maniples. This sheet also includes transfers for the Imperial Knights House Vyronii, who are closely associated with the Legio Gryphonicus, alongside a host of kill markings and campaign badges.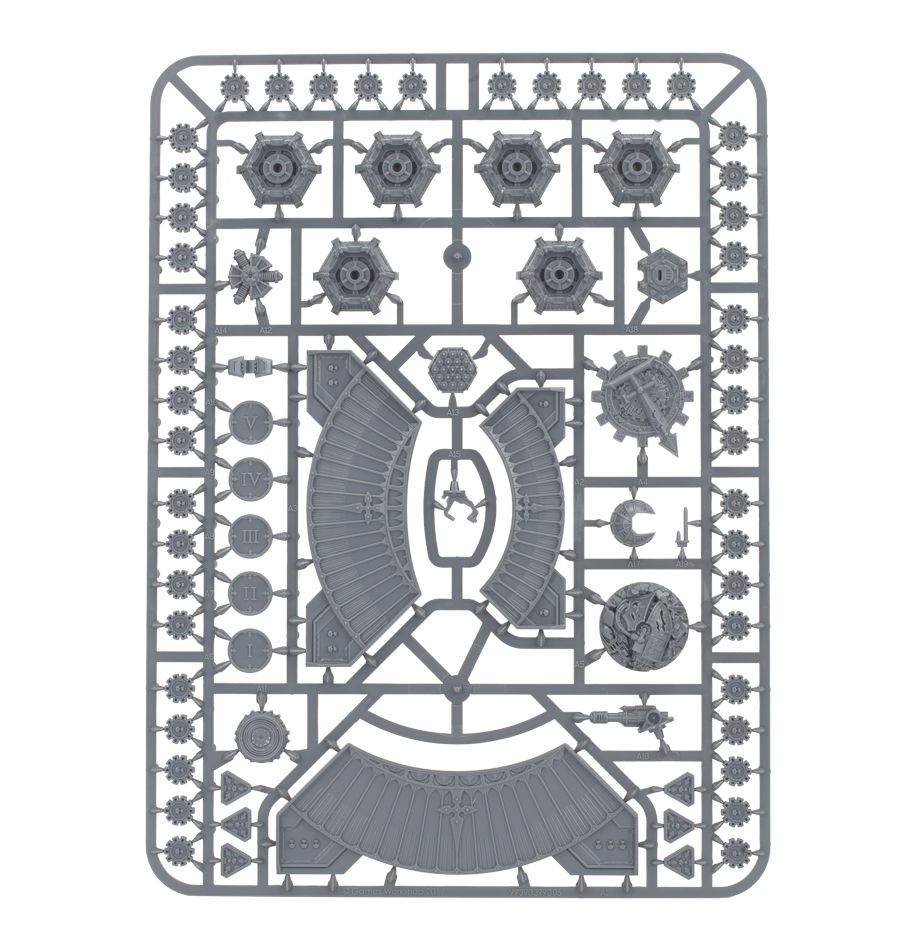 Keep track of vital statuses and objectives in your games of Adeptus Titanicus: The Horus Heresy with this packed set of essential gaming accessories. It includes:
– A set of Battlefield Assets: 6 plastic miniatures to represent Stratagems in-game including 1 Macro Cannon Battery, 1 Apocalypse Missile Strongpoint, 1 Command Bastion, 1 Plasma Generator, 1 Communications Relay and 1 Void Shield Relay
– An Opus Titanica to show which player has initiative
– A plastic wrecked Titan head, to be used as an objective marker
– 50 status markers, for your Titan's command terminals
– 6 designation markers to number the Titans under your command
– 3 arc templates, for determining the firing arcs of Titan weapons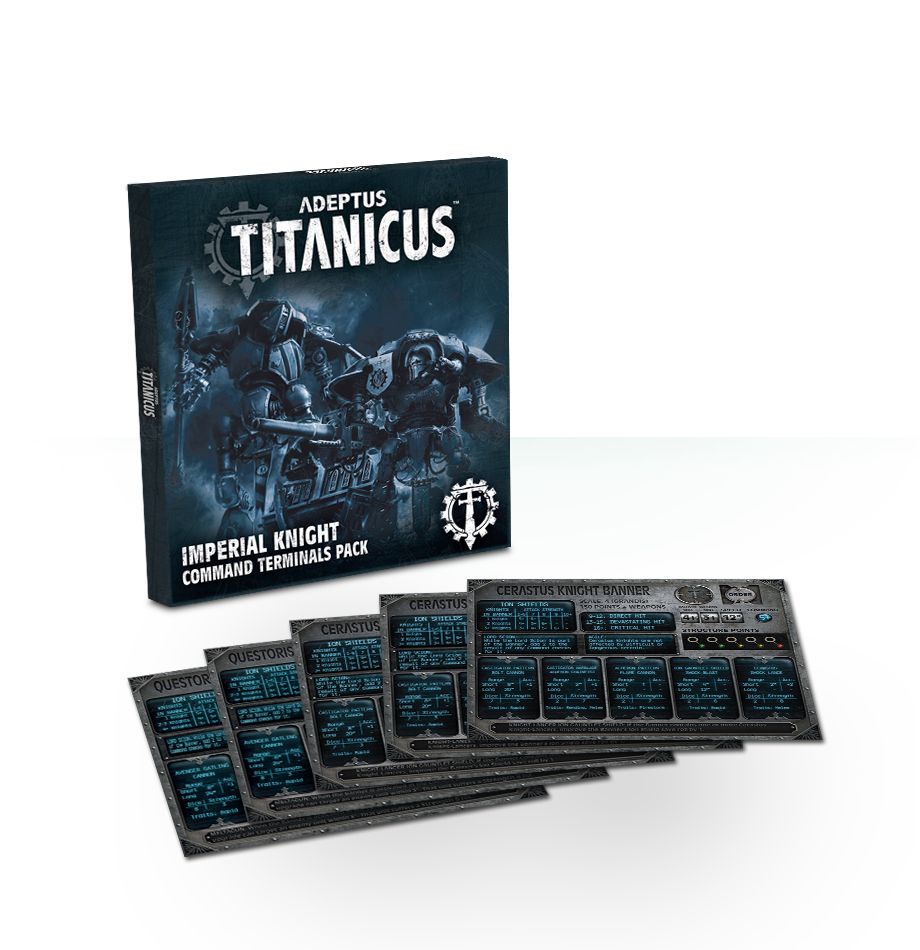 Banners of Imperial Knights are the perfect way to add to your Adeptus Titanicus battlegroup. A pair of Cerastus Knights, or a trio of Questoris Knights, form a single unit and operate together on the battlefield in support of your Titans – and extra Knights can be added to the banner as well to enhance their battlefield effectiveness.
For each banner of Knights you field, you require a Command Terminal, which provides a detailed surface on which to track the status, damage and weapons of your Knights, as well as the Orders you've issued to them each turn. This set of five large-format card Command Terminals includes enough to add several banners of Knights to your games of Adeptus Titanicus.
CONTENTS
– 3 Cerastus Knight Command Terminals
– 2 Questoris Knight Titan Command Terminals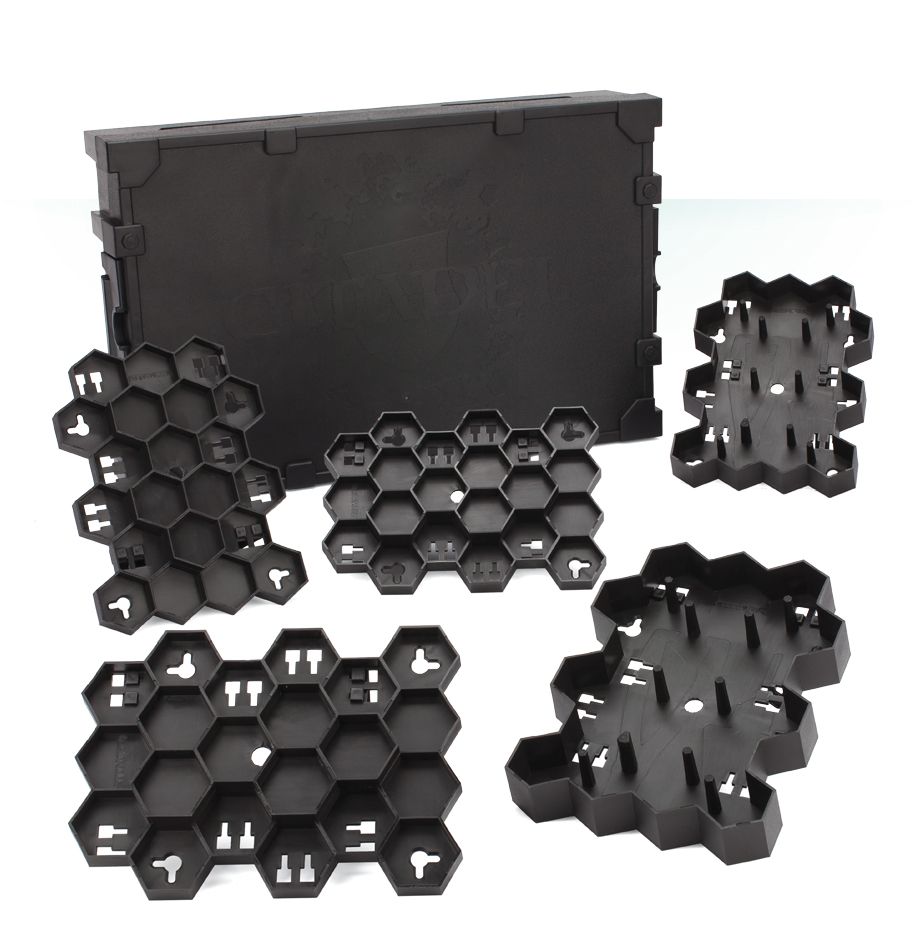 Looking for a way to safely store and transport your Citadel paints, brushes and tools? Look no further – we have just the thing. This hard-wearing plastic box features 3 racks that each securely hold 21 pots of Citadel paint, with space for a further 56 in the bottom. There are also two tool racks which hold cutters and glue, space for a rolled-up painting mat and even an area for your brushes. It also fits perfectly into one of our Crusade Cases!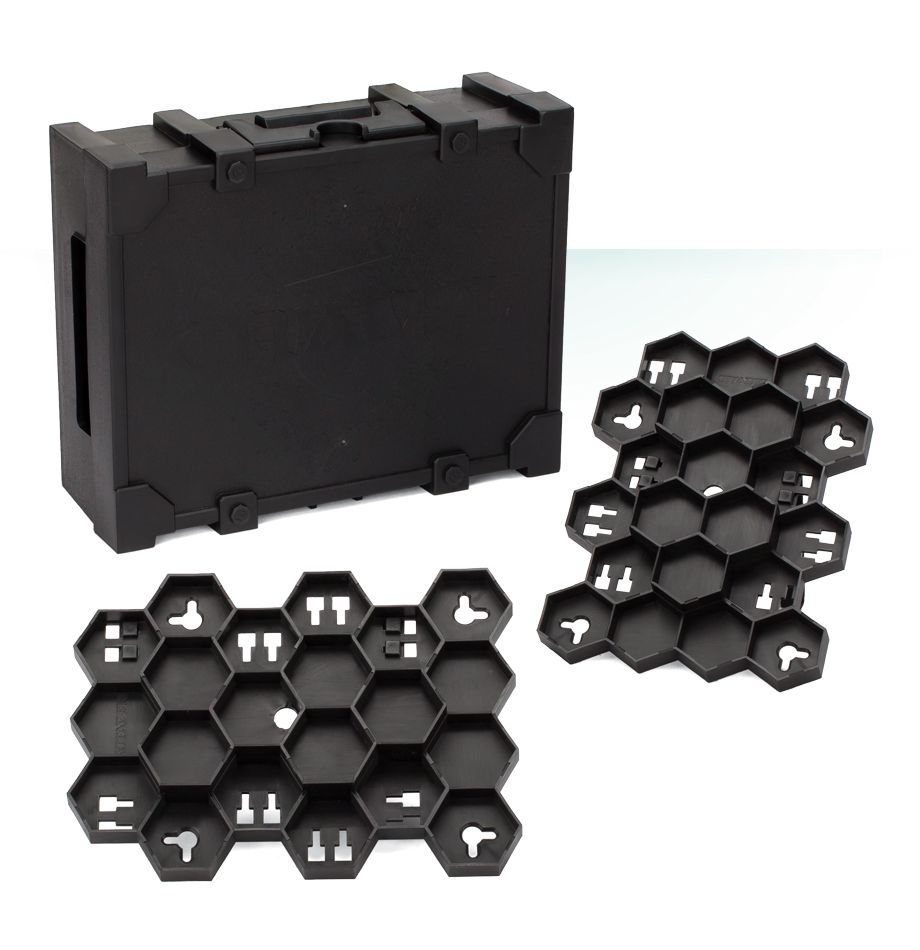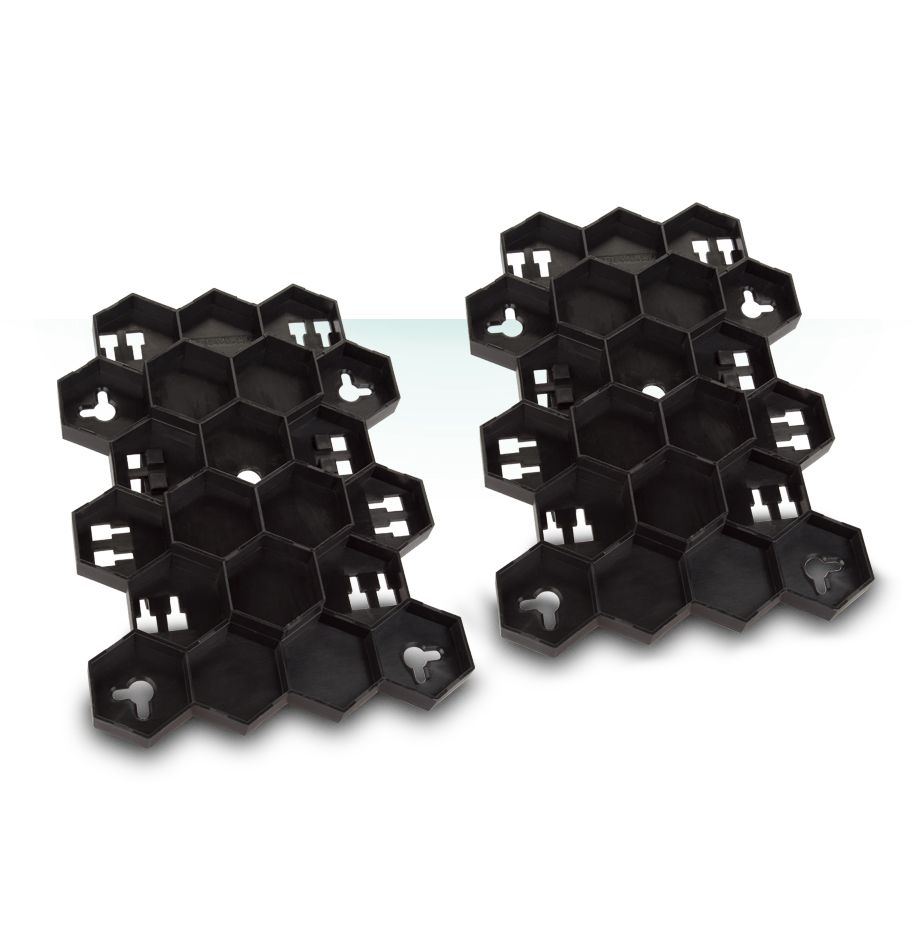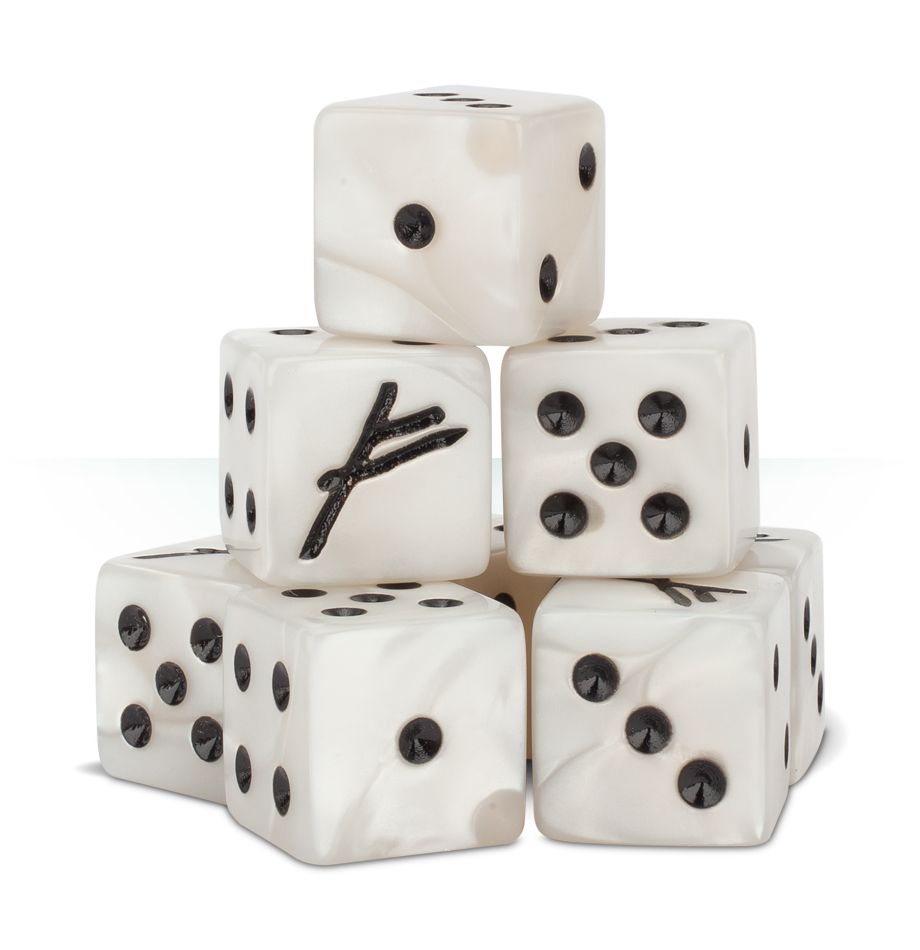 This set contains eight six-sided dice for use during your games of the Middle-earth™ Strategy Battle Game. Themed to represent Gandalf the White, these dice are coloured an appropriately pearlescent white with black markings, and Gandalf's rune picked out in place of the 6.