What on Terra does the latest Ultramarines Teaser Mean? Here's our educated guesses and thoughts from the clues GW left behind.
GW is clearly in the ramp-up phase to the their big Vigilus reveal this weekend.  They have been hyping it the last few days and hours ago we got this video:
So let's break this down and see what we think it means: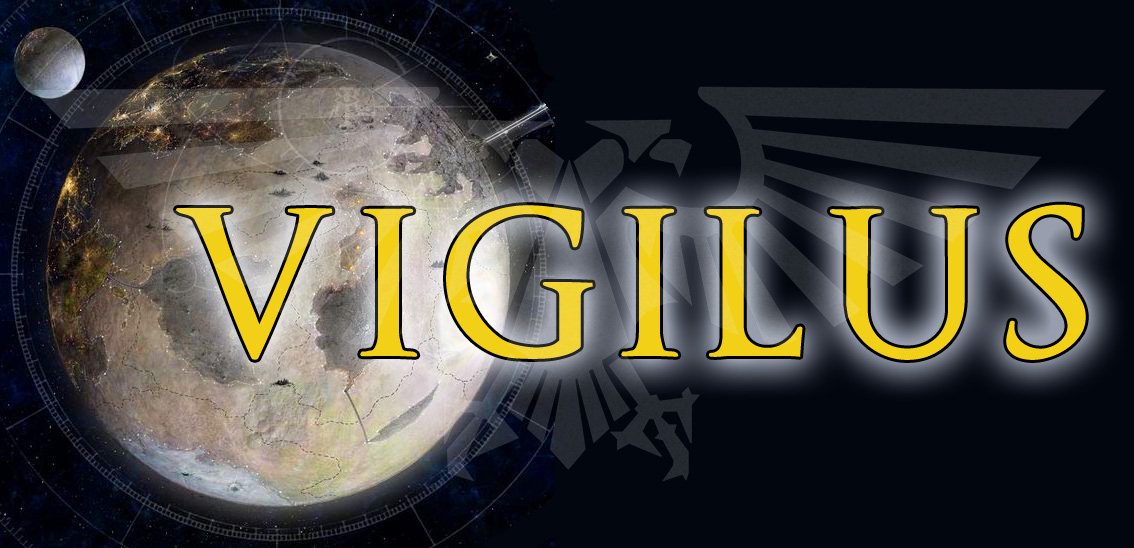 Vigilus – I think this video is tying into the continuation of the Vigilus story. The latest part of the story of Vigilus is in the background book from "Wake the Dead". In there we learned the following:
An Ultramarines relief force was sent to Vigilus via an extremely long warp jump straight from Macragge.
The force was "gathered from the Battle Companies of the Ultramarines and several of their Successor Chapters".
Marneus Calgar is personally leading the force.
The force has arrived on Vigilus, imposed martial law, and is running the defenses via a new Ruling Council consisting of Calgar and 4 other Chapter Masters.
Onto the Video
OK, so about that banner. It's this one, first seen in the 4th Edition Space Marine Codex (2005).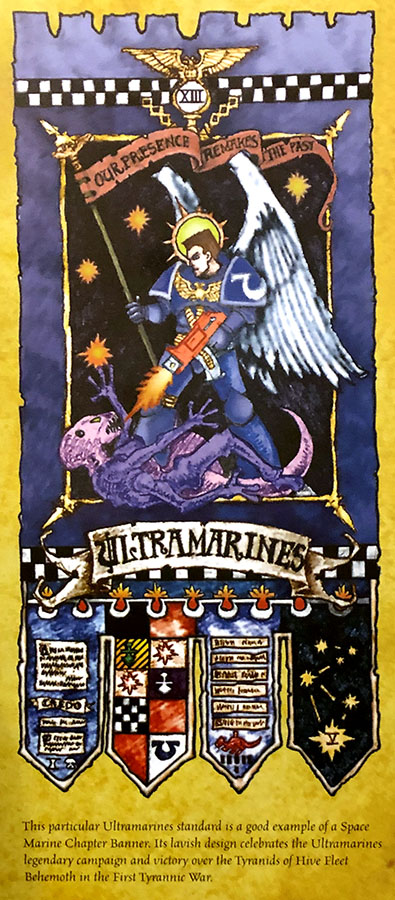 "This particular Ultramarines standard is a good example of a Space Marine Chapter Banner. Its' lavish design celebrates the Ultramarines legendary campaign and victory over the Tyranids of Hive Fleet Behemoth in the First Tyrannic War."
Then we get the words:
Only in Death does Duty End
Death is Not the End of Duty
What Does It Mean?
So what is going on with this video and what does it point to? I thing we can all safely say we are dealing with the Ultramarines, something that involves death and duty beyond death, and something to do with fighting Tyranids. We also think GW isn't going to make any more classic marine stuff, so anything new will somehow be tied to the Primaris model line.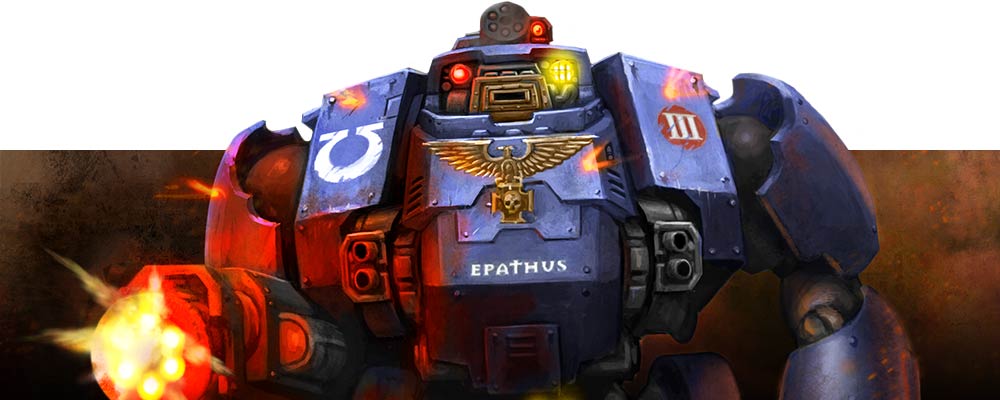 Something Dreadnought Related – I think there could be a new dreadnought, or perhaps even a new Character (Redemptor) Dreadnought coming for the Vigilus campaign. But of course someone has to die (or have died earlier) for that.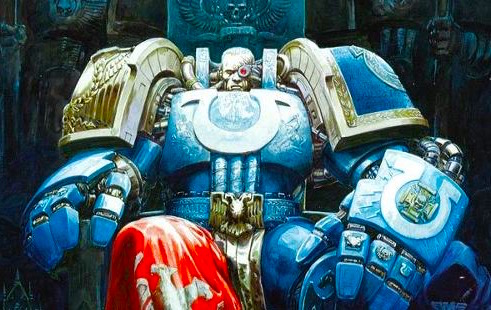 Something Marneus Related – He's the man in charge and his miniature is ancient. I could see him getting a new mini, or maybe even being killed and coming back in dread form.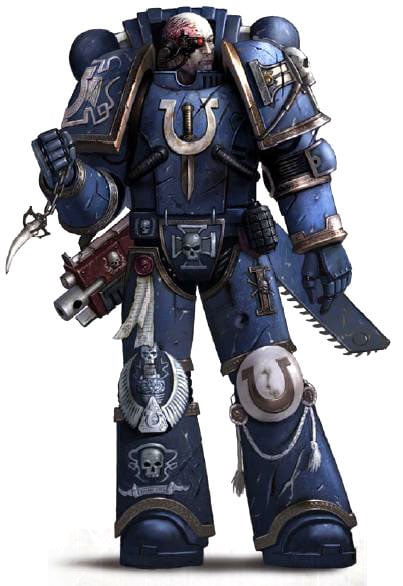 Something Tyranid-Ultramarine Related – We know there is Genestealer Cult activity on Vigilus from the Tooth and Claw boxed set. Also note the first Marine codex that banner appeared in also introduced the Ultramarines' Tyrannic War Veterans. I could see an updated Primaris version being super useful at kicking Genestealer Cult butt.
Captain Saul Invictus Reborn? Captain WHO you say? That banner celebrates the Ultramarines campaign against Hive Fleet Behemoth and features the words "Our Presence Remakes the Past". At the climax of that war, the chapter's entire first company of terminators was killed defending one of Macragge's polar fortresses. The man who led them was Captain Saul Invictus – a pretty important guy who used to have rules back in the 2nd Edition Space Marine Codex: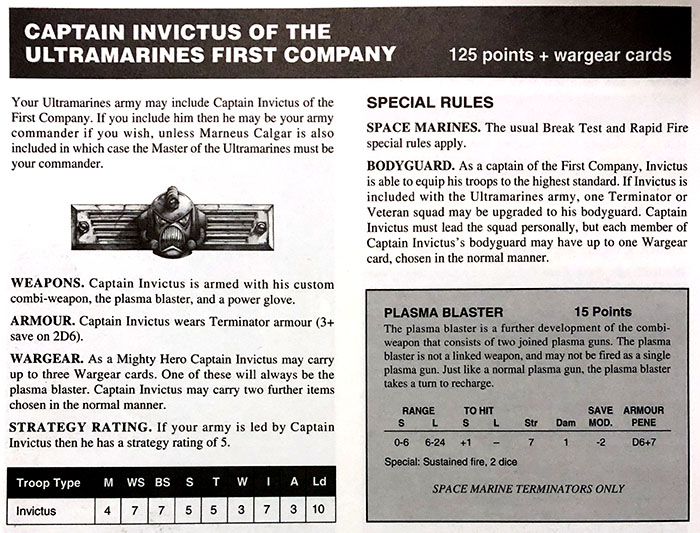 If Roboutte can be brought back to life, I'm sure GW could retcon Invictus back to being interred in a Dreadnought and brought to Vigilus to impart his intimate knowledge of fighting the Tyranids. He would be most wise council – even for Marneus.
Bonus – It's Blankets!? – Or maybe we're all completely wrong and GW is bringing us a selection of Ultramarine blankets for all the famous banners – available in Twin, Queen and King sizes.  I'd buy one.  It's cold outside.
~What Ultramarine thing do you think is coming to Vigilus this weekend?