The Retribution of Scyrah's latest weapon harnesses the power of gravity to propel itself–and friendly troops–across the battlefield while also unleashing arcane lasers on all who stand before them.
The Retribution of Scyrah make magic into science, with the Arcanists of House Shyeel harnessing gravity and kinetic energy alongside arcane currents, making them the owners of some of the most advanced weaponry ever seen in or around the Iron Kingdoms. And the Dawnguard Trident, commissioned for the Dawnguard and designed with House Shyeel advances, this is a mobile fire platform that brings troops with it wherever it goes, fires heavy thresher cannons, and can presumably use them up close and personal too.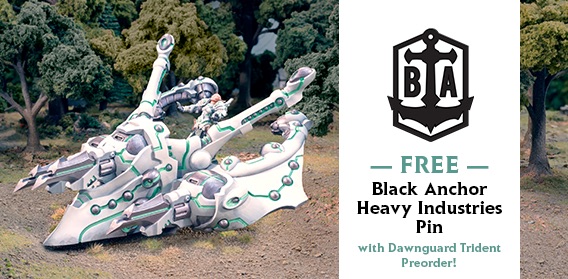 With a sleek design, a massive frame, and abilities that combo well with ranged Warcasters and units that want to get up close–the Dawnguard Trident is a powerful addition to any Retribution Player's arsenal.
via Black Anchor Heavy Industries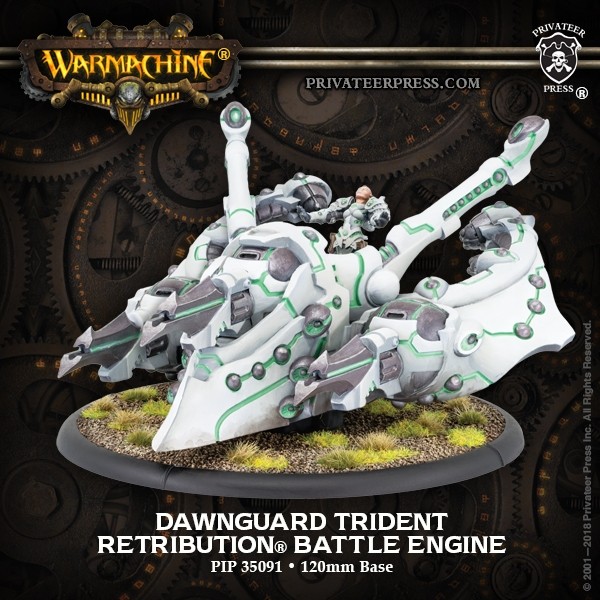 Built expressly to serve as an armored assault platform for the Dawnguard, the Trident
unleashes a blistering barrage of fire. Utilizing advanced gravity-mitigating fields first
developed by House Shyeel allies, the arcanist guiding the Trident can impel it forward at
great speed, also accelerating accompanying myrmidons or warcasters, before delivering its
weight with ramming force. It follows this crushing assault with an onslaught of its primary
weaponry—a trio of heavy thresher cannons, each crewed by an expert gunner.

Gameplay

The Trident is an excellent ranged piece that also provides utility to any Dawnguard army.
With its ability to place friendly models as it moves, it can pull friendlies out of danger or
increase threat ranges of key models to ensure they get where they need to go. Its massive
thresher cannons can output an impressive amount of firepower when combined with some
of the ranged-centric warcasters of the Retribution such as Ravyn, Eternal Light and Lord
Arcanist Ossyan.
You also get a sweet pin when you pre-order, so get your model from BHI today!