A mysterious organization known as the Shadow Sun Syndicate has emerged to protect Earth from the Monsterpocalypse, and profit along the way. Today were taking a look at Zor-Maxim, a cybernetically enhanced ninja warrior ready to battle with the Destroyers.

The Shadow Sun Syndicate uses advanced biomechanics and cyber enhanced suits to transform humans into gigantic weapons of war. Zor-Maxim is ready to take to the battlefield and protect the interests of the highest bidder. Lets see how we can make the most out of his abilities.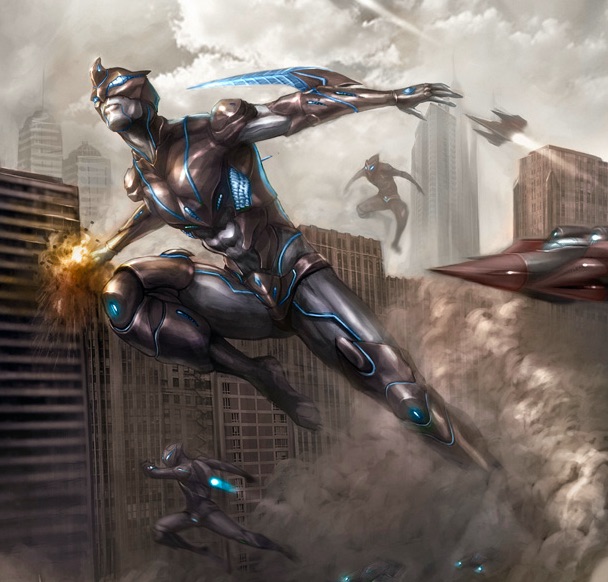 Alpha Form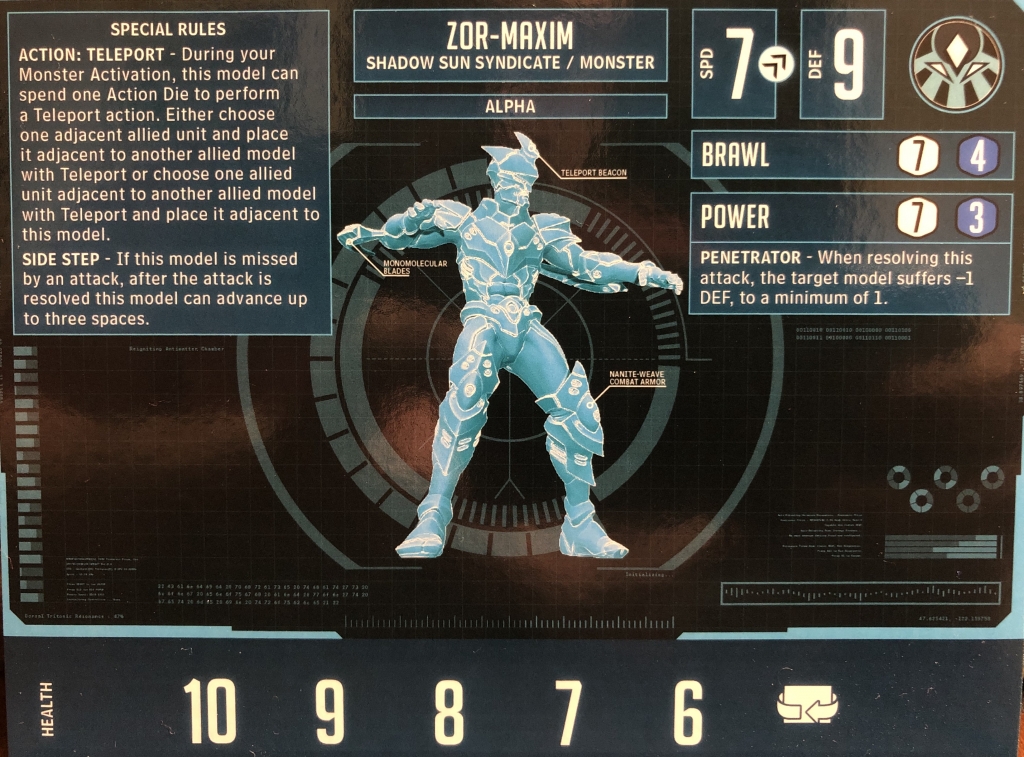 Zor-Maxim boasts one of the highest Alpha form speeds, tied only with the Ares Mothership. This combined with High Mobility means Zor-Maxim will quickly get across the map, avoiding all buildings and models in between.
DEF 9 is an excellent stat, currently the highest of any Alpha form Monster. This combined with Side Step forces enemies to use more dice to hit Zor-Maxim, as a miss might derail an entire follow up attack if he is able to back out of range.
As you might expect with a nimble high defense fighter, Zor-Maxim isn't as survivable as other monsters. With only 10 health, Zor-Maxim is currently the lowest health monster in the game. So if he does get caught, he'll go down a little quicker than others.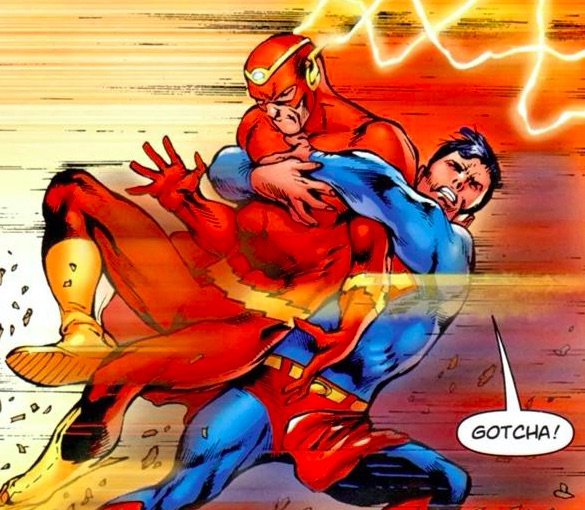 Limited Options
Zor-Maxim's alpha form doesn't have a ranged weapon, so he'll need to use his SPD to make it into melee in order to get work done. While this is a downside, he makes up for it with the Penetrator rule on his Power attacks allowing him to more easily hit his targets.
Teleport
Teleport allows units to move around the board in some very interesting ways. Teleporting does take some planning to pull off though as you need two models with teleport on the field and then a unit adjacent to one of the Teleporters. One of the best uses for this is blocking off another monster from easily getting aligned with Zor-Maxim.  This also allows Zor-Maxim to sneak a unit onto a key Power Zone, Negative, or simply content a spot on the board your opponent didn't see coming.
Hyper Form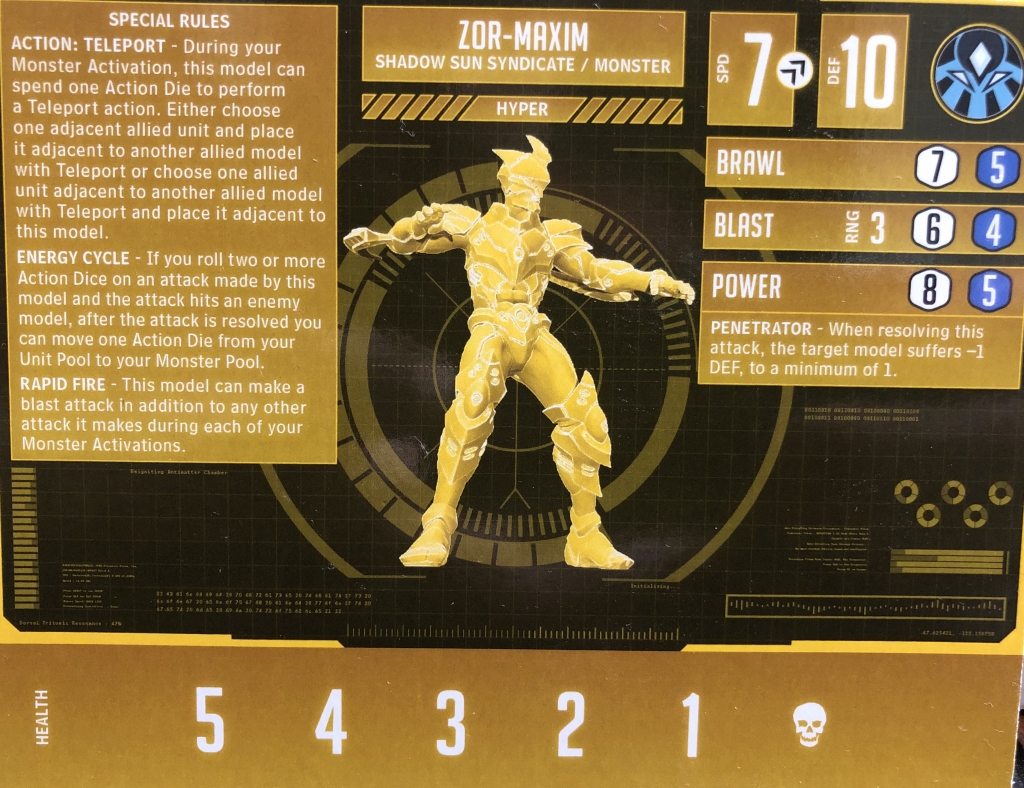 Zor-Maxim loses Side Step but gains a ranged attack, +1 DEF, Rapid Fire and Energy Cycle, when pushed into his Hyper form.
Pew Pew Pew
A Blast attack is nice, but it's especially powerful with the Rapid Fire rule. Being able to attack twice is super powerful and incredible rare! This pumps up the potential damage output of Zor-Maxim and gives him some neat options.
Is the enemy monster being screened by a unit? Shoot that unit and the Step into the spot to do that Body Slam attack. Short on Red Power dice? Shoot a building or unit to gain some extra dice! Is there a pesky enemy unit around that would gain your opponent some Power up dice? With 4 boost dice you have a decent shot to destroy that unit without spending much.
Recycling is Good!
Energy cycle gives  Zor-Maxim the potential to move dice from the unit pool back to the monster pool during his activation. Not only does this allow for more back to back monster activations, getting an action die back can let Zor-Maxim have more dice for his 2nd attack(thanks to Rapid Fire) or take a extra step back at the end of his turn.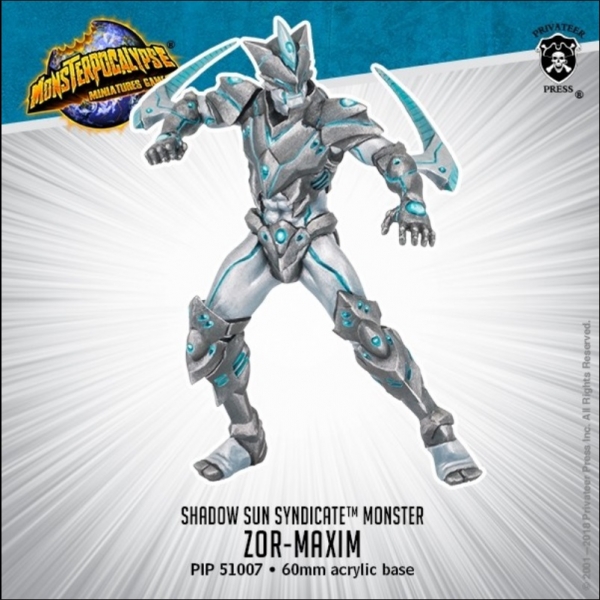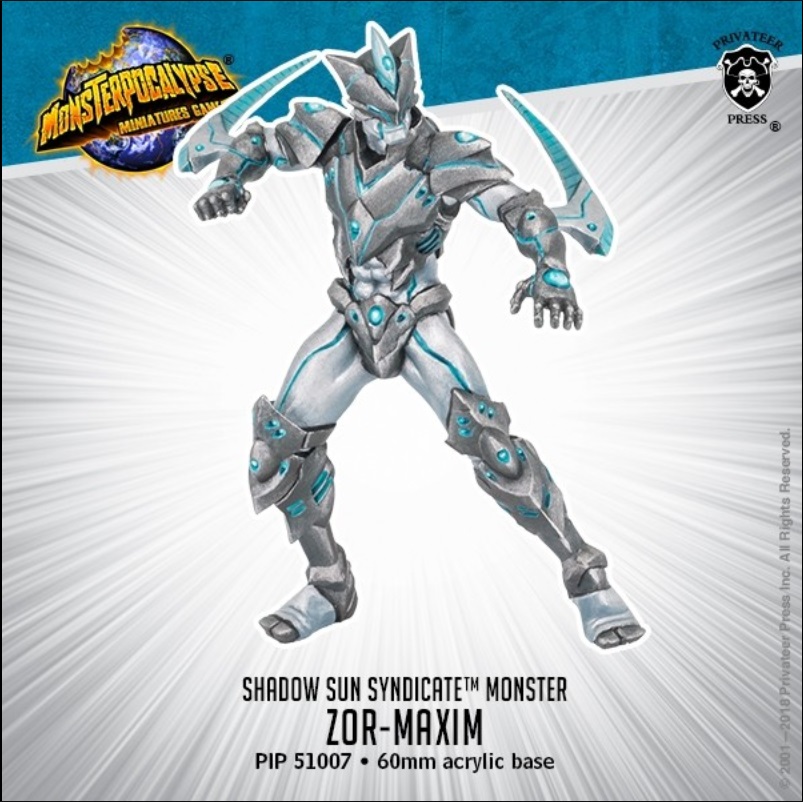 Wrap Up
Zor-Maxim is a unique monster with higher DEF and SPD than most, but the the fewest hit points and no initial ranged attack. However his damage output and great special abilities make up for his downsides, making this Cybernetic Ninja warrior a formidable opponent on the battlefield.
What do you think of Zor-Maxim? Who is your favorite Protector to pair him with?