Games Workshop is taking a spotlight to Xenos Special Detachments and is highlighting some of the new abilities, stratagems, and keywords that are coming with them. This one is for all you Xenos players – come see what new tricks you're gaining!
We've gotten a pretty good idea of what these new Special Detachments (aka Formations 2.0) are bringing to the tabletop. Today, GW is giving us more details about them, explaining what they are, and showcasing the Xenos side of the house. Let's dive in!
For starters – what the heck are these Special Detachments anyways? Games Workshop has a pretty good primer so here's the important stuff:
The Specialist Detachments that feature in Imperium Nihilus: Vigilus Defiant represent a selection of the military formations that have been fielded by those fighting there…
 Specialist Detachments can be freely used in open, narrative and matched play in any setting, provided that your army is Battle-forged.
Specialist Detachments are 'unlocked' by using the associated Stratagem and applying it to a Detachment of your choice when choosing your army.
Specialist Detachments do not come with any special rules or abilities – instead, once activated, certain units or unit types within it will gain a keyword that interacts with a new Warlord Trait, relic and some additional Stratagems.
Basically, if your army is Battleforged, you can spend a Command Point to unlock new keywords for a specific Detachment. Those new keywords interact with new Warlord Traits, Relics, and some new Stratagems. Pretty simple so far, right? Now let's look at some specific examples starting with the Genestealer Cults.
Genestealer Cults: Anointed Throng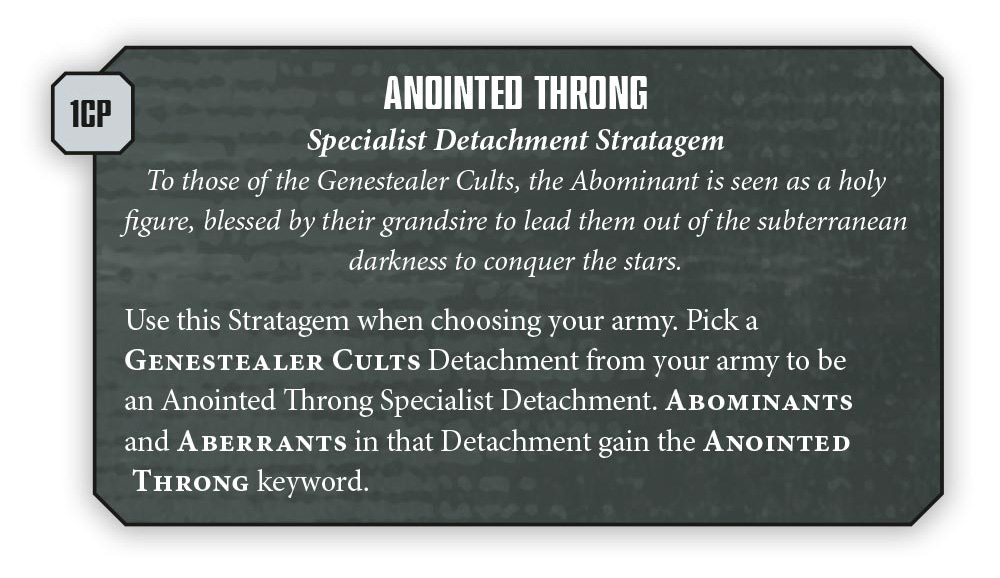 First up Anointed Throng is 1 CP. This Stratagem is used when choosing your army (so before the game starts). You pick a Genestealer Cult Detachment in your army and all Abominates and Aberrants in that detachment gain the Anointed Throng keyword. Again – this does nothing by itself but it still costs you a CP along with meeting the other requirements (Battleforged and you probably want to have some Aberrants or Abominants in that detachment, too).
So what does this open up for you? Well if you choose to give your Warlord the Anointed Throng specific Warlord trait, you can add 1 to charge rolls made for nearby Anointed Throng units. Plus you'll get access to the Blessed Sledgehammer relic which makes it AP -4! Oh and naturally you'll get to pop other stratagems on that unit – like Devotion Till Death: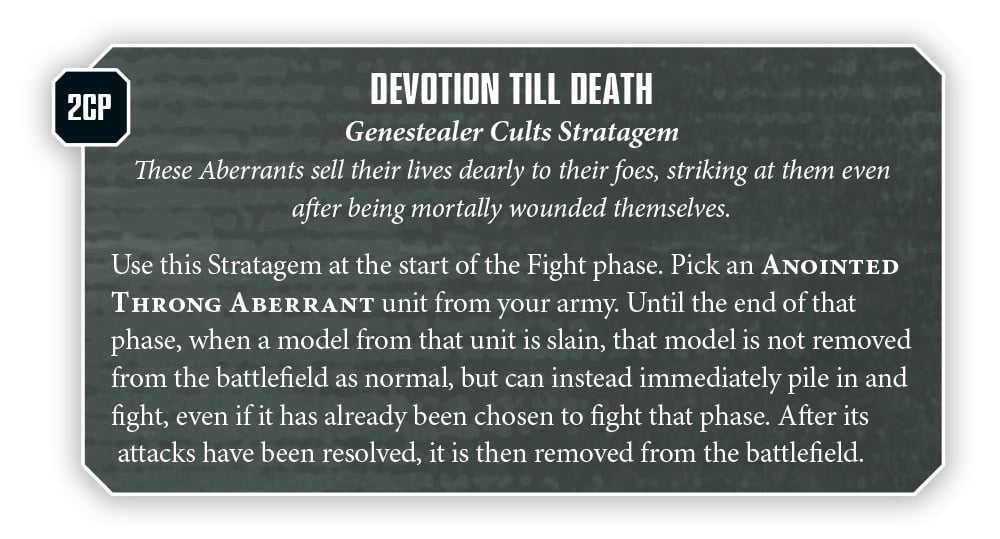 Hey – this is a pretty nasty ability that ensures those Anointed Throng Aberrants will get to swing at least once in the Fight Phase, possibly twice! There will be another Special Detachment for Genestealer Cult players called Deliverance Bloodsurge. That particular Special Detachment has a focus on Goliath Trucks!
Craftworlds: Wraith Host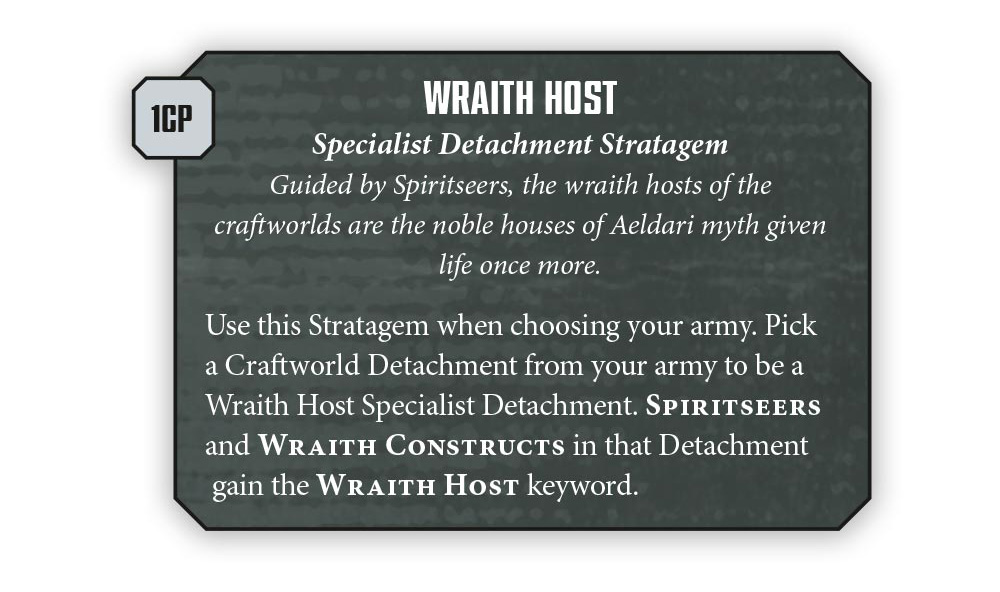 Wraith Host is doubling down on those Wraith Constructs in the Aeldari Army. Wraith Host opens up the Warlord Trait Revered by the Dead which enables Wraith Constructs to re-roll charge rolls. There is also the new stratagem Wrath of the Dead: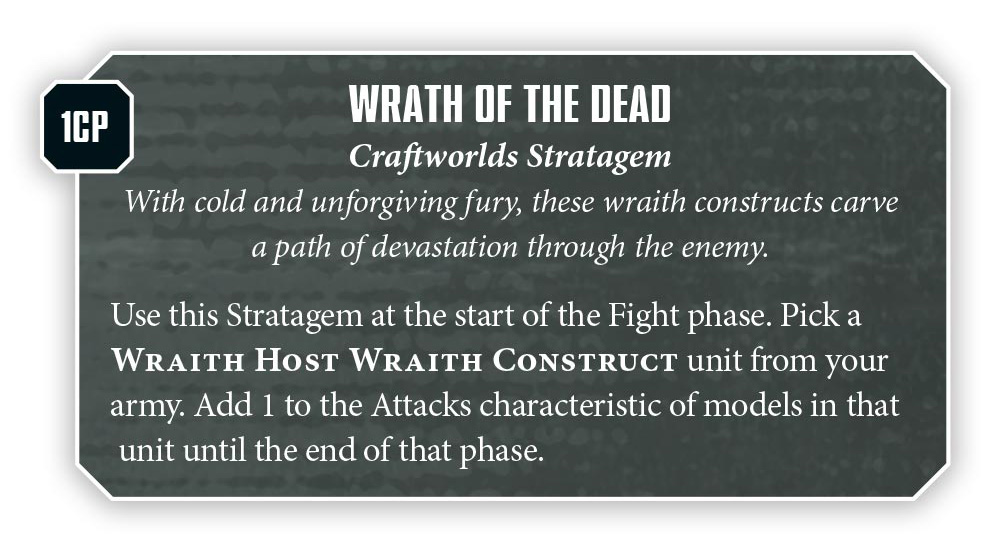 Wraith Blades with a re-roll to their charge and an extra Attack per model? Yeah that could be pretty scary. But if you're more of a Saim-Hann "I want Jetbikes" type of player there is another Specialist Detachment – Windrider Hosts. That one targets jetbikes and Vypers and gives them a nice set of boosts.
Orks: Kult of Speed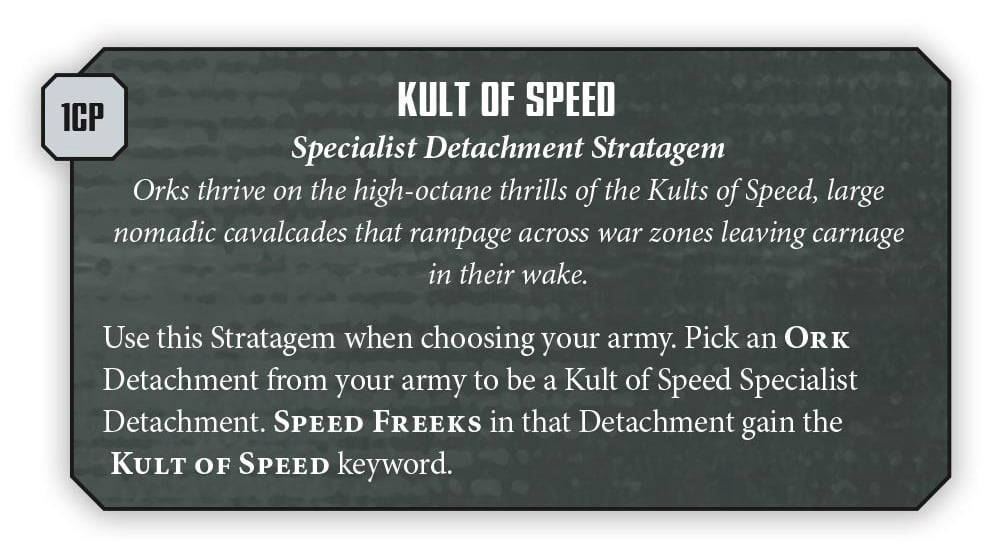 Yep – Kult of Speed is getting a Specialist Detachment! Here's just a bit of what they are getting:
"…all of the associated rules benefit your adrenaline-fuelled Speed Freeks, from a trait that renders Kult of Speed units within 12" of your Warlord immune to Morale tests provided they Advanced (that's your Warbikers sorted!), to the Turbo-Boostas Stratagem that enables a unit to double its Move characteristic instead of Advancing for 2 Command Points!"
That's not all! They also have this sweet Relic for those fancy Deffkilla Wartrikes:

Now if you're thinking "Didn't we just get a bunch of Speed Freek stuff?" Yes – you did! The good news for the rest of the Ork players is that there is a lot more coming your way with THREE other Specialist Detachments: The Dread Waagh!, Blitz Brigade and the Stompa Mob. I'll let you ponder what those could be…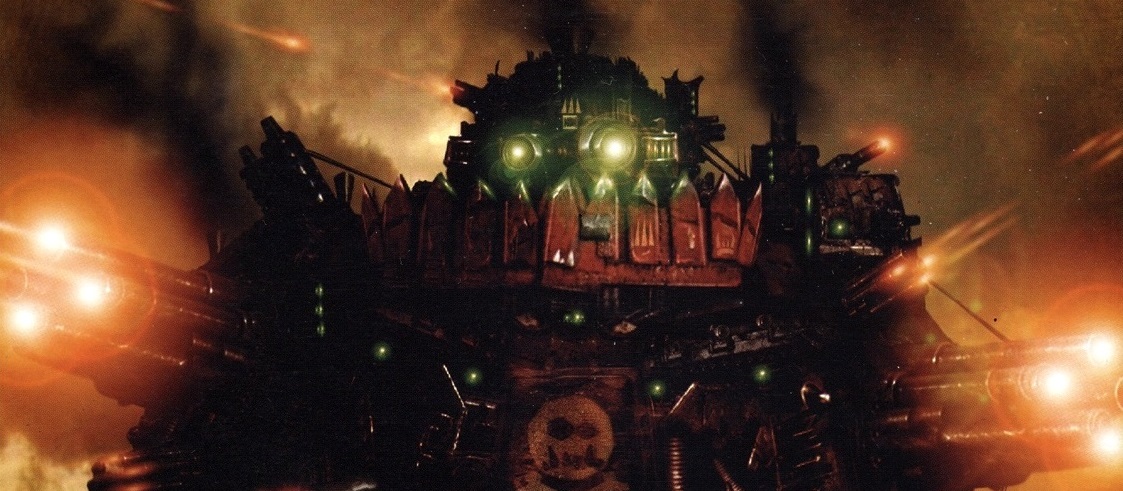 Are you ready for these New Specialist Detachments? What do you think so far? Are you interested in using them or are you still terrified of Formations 2.0?