Fantasy Flight Games previewed two more investigators coming in the next deluxe expansion for Arkham Horror: The Card Game. Meet "P.I." and "The Millionaire" aka Joe Diamond and Preston Fairmont.
The Circle Undone is the next expansion coming to Arkham Horror: TCG and we've gotten a look at the first two investigators already. But now we're getting a look at the next two investigators and they really add some new tricks and mechanics to the investigator side of the house. So let's dive in and meet the crew.
Preston Fairmont, aka "The Millionaire"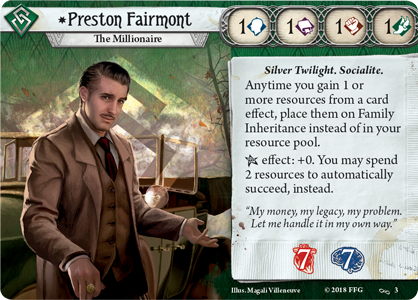 Right off the bat that stat line should grab your attention. It's TERRIBLE. "1's across the board? What does this guy even do?" Yes, I know. But keep reading. That "Family Inheritance" should also stand out – but it would be more helpful if you actually knew what the card said, right?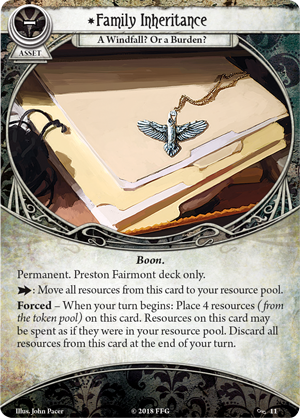 Family Inheritance is Preston's signature card. It's an asset that is permanent and that means you start the game with it in play. The ability he really has is that every turn Preston here gets access to 4 EXTRA resources that are placed on this card. Those resources can be spent as if they were in your resource pool as well. And for 1 action, you can move all those resources off this card and into your "actual" resource pool.
Now, this ability to effectively shuffle money around can lead to some very interesting play. There is very little he can't afford in the game – but you're going to need to spend that money on cards and allies to get the best effect. The down side to running a Preston Deck is that you can't run ANY Illicit cards. Considering he's a Rogue, that could cause quite a few issues. But he does have access to up to level 2 Survivor cards. That also opens up a very interesting play style as well.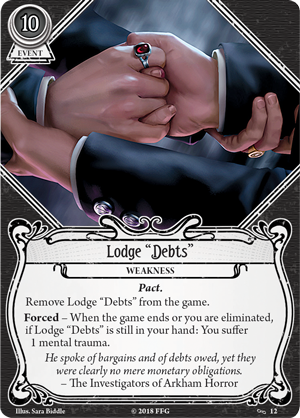 Secret Lodge Handshake or really weird game of Thumb-War? You decide!
His signature weakness is Lodge "Debts" and it's actually not too terrible to handle. It DOES cost 10 resources to play so it's definatly a hit to your action and money economy. And the downside is that you'll suffer 1 mental trauma if it's unpaid by the end of the game. But as far as weaknesses go, that's not the worst.
Joe Diamond, aka "The Private Investigator"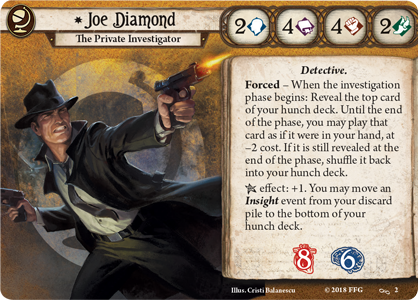 Joe Diamond is another Seeker – but he packs a punch! His unique talent is that he starts the game with an extra 10 cards in his standard deck. When the game begins you take 10 insight cards from your deck and shuffle them along with his signature weakness into a side deck called "the Hunch Deck" which is used separately.  Then at the start of each turn, you reveal the top card of that hunch deck and you can play it as if it were in your hand at -2 cost!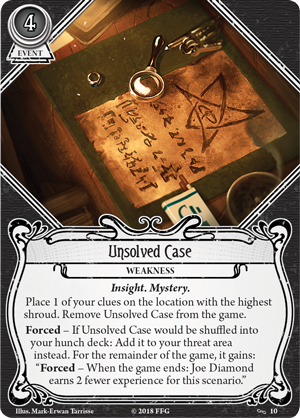 Joe's weakness is another hit to your XP if you don't meet the requirements. When it pops up on your hunch deck, it still benefits from that -2 to play, but you have to have a clue to drop on the location with the highest shroud. Getting hit by this in a campaign will slow down your progression for sure, but it's not the end of the world.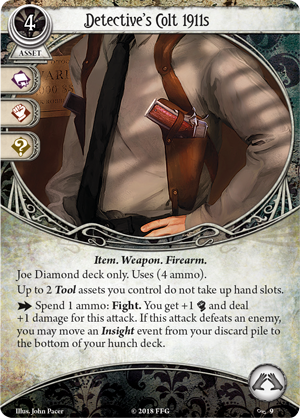 Remember how I said he packs a punch? Well Joe Diamond's signature card is his Dective's Colt 1911s! This makes him yet another investigator with dual .45s in the game. But what these weapons do is allow you to ALSO use up to 2 tool assets at the same time. Magnifying glass is a great option for Joe to run around with. Plus defeating enemies with these guns also allows you to restock your Hunch deck. Pretty handy for avoiding that weakness.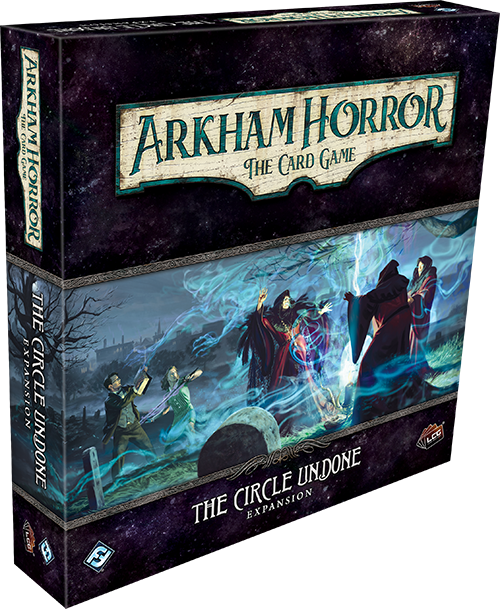 Judgement. Temperance. Justice. The Tower.

The soothsayer's tarot wove a tale of a grim future, hard to put out of your mind. But when you learn that four people have disappeared without a trace from an estate in French Hill, you begin to wonder if this cruel fate is meant only for you, or for the entirety of Arkham…

The Circle Undone is the fourth deluxe expansion for Arkham Horror: The Card Game. Here, your team of investigators delve into the mysteries of Arkham's past, uncovering its macabre history and the motives of those who dwell in its shadows. This expansion contains a playable prologue, first two scenarios of The Circle Undone campaign, as well as new investigator and player cards to further customize your investigations in the world of H. P. Lovecraft's Mythos.
The Circle Undone is up for Pre-Order today!