What happens when you take the play style of Puerto Rico, with the world building of Race For The Galaxy? I'm not sure, but I'm sure we'll be reaching New Frontiers.
The Weekly Board Games Top 10
"The Hotness" on BoardGameGeek is a list of the currently most popular games, as based on views. This week brings us these winners:
It's pretty interesting that Scythe and Azul have jumped up on the Hotness this week. I'm not sure what's going on in the world of Scythe or Azul, but I didn't see a whole lot that would have made either of them jump up this week. Maybe lots of new copies sold for the holidays. Who knows? Maybe people taking a closer look at the expansions to these games in light of the various Game of the Year reviews that are popping up everywhere, including here as well. Stay tuned tomorrow for the winner, by the way!
Beyond that, good mix of old and new this week. We've already looked at Tainted Grail and Architects of the West Kingdom and everyone already knows about Gloomhaven and Terraforming Mars, so no need to go over them again. And, as much as I will take any opportunity to discuss how great Mage Knight is, I've done that too much already.
So, let's just dive right into our features game this week…
New Frontiers
New Frontiers is a strategy game with resource management and simultaneous player actions set in the world of Race For The Galaxy. The goal for each player is the have the most victory points at the end of the game. Victory points are gained in a huge variety of ways.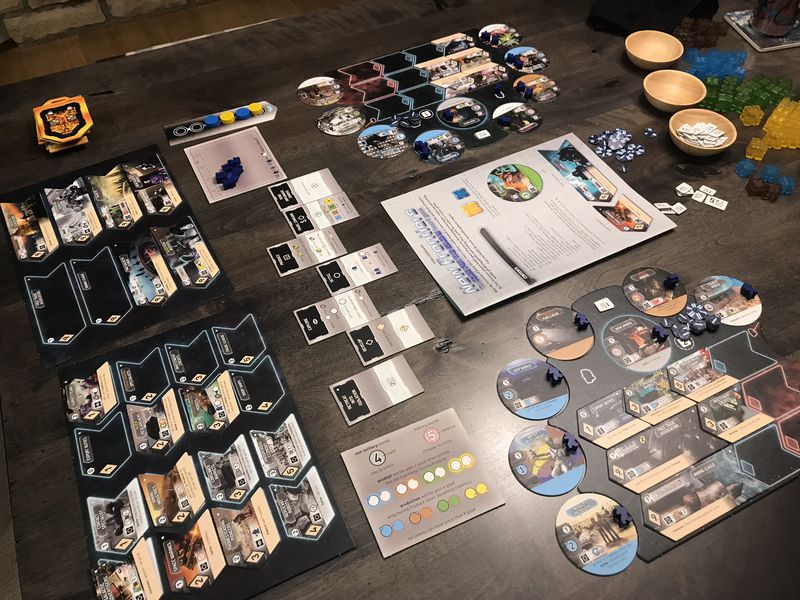 The main core mechanic of New Frontiers is based on the action tiles in the center of the play area. Each of the 7 action tiles represent one of the actions players can choose to take on their turn. These tiles are shared among all players, so when one player chooses to do that action, that action can't be repeated until the tiles are reset. However, when a player does an action, all players also get to perform that action, with the active player usually getting a small bonus advantage over the others.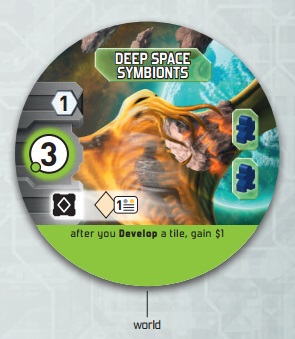 Despite the variety of actions available, colonizing planets is likely more core to a player's strategy than others. Colonizing planets grants players additional resources, goods and new abilities. The game comes with dozens of planets to ensure that no game will play out just the same. Perhaps the second most important action is collecting developments.

Developments are really where a player's strategy will take hold. With each game having a different combination of developments right from the start, which ones are available will drive the course for your tactics. This builds on top of the unique player ability you start with from your homeworld.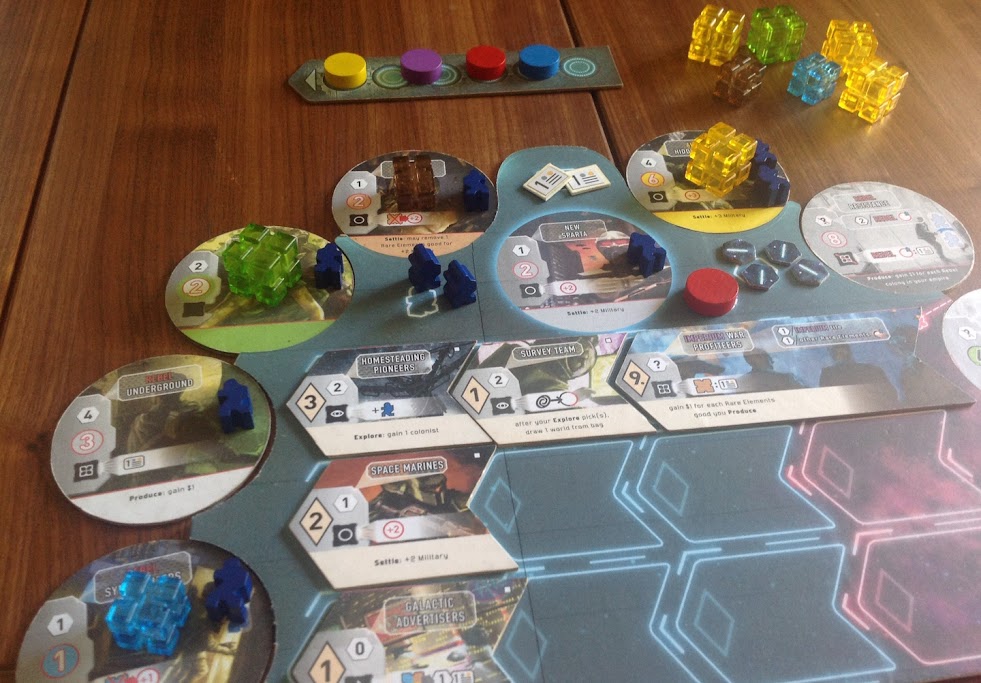 Once one of several endgame triggers have been reached, the game ends and players count up their VP. Whichever player has the most points wins!
What is really nice about games like New Frontiers is that the core mechanics are very straightforward. The depth and strategy come from finding planets and developments that play well off of each other and seeing how that can really get your empire running. Honestly, I think you could adequately explain the rules and stat playing within 10 minutes, with a fair bit of "just play and you'll see how it works". Which is honestly my favored way of learning a new game.
If you've enjoyed games like Puerto Rico, then New Frontiers is going hit all those same notes.
From Rio Grande Games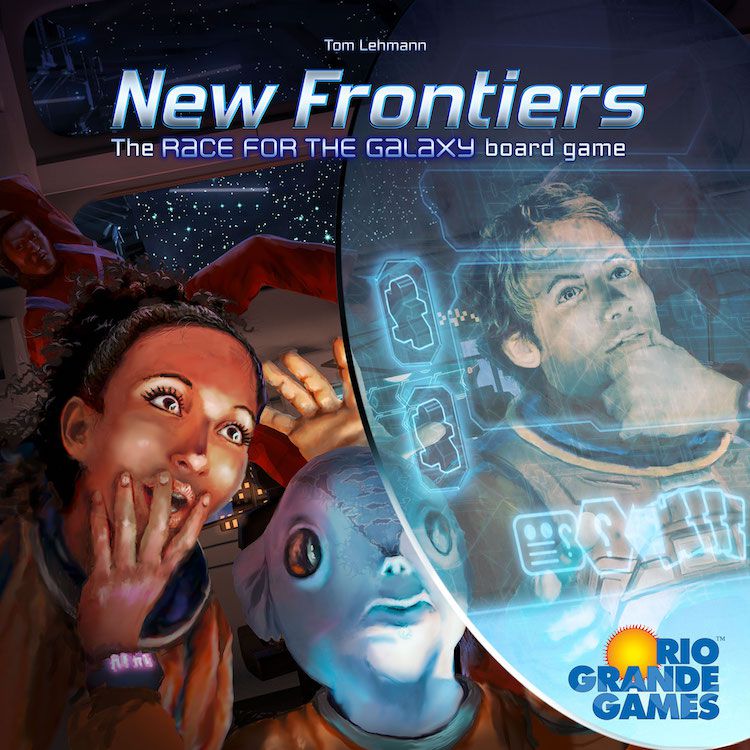 Build space empires in the Race for the Galaxy universe.

In New Frontiers, each game is different, based on the developments selected during setup and the worlds drawn during play. On your turn, choose an action that everyone may do, but only you will gain its bonus. Choose wisely, to avoid helping your opponents too much. Can you build the most powerful and prosperous space empire?

Contents:


8 empire mats, numbered 1-8

60 goods cubes in four colors:

19 cyan, 17 brown, 13 green, 11 yellow

60 colonist pieces

2 development mats

56 development tiles

60 world tiles

7 action tiles


8 goal tiles

5 stockpile mats


1 setup summary/colonists mat

1 world summary tile

40 victory point chips

56 credit chips


1 priority track

10 player disks, 2 each in 5 colors

1 bag

rules
2 – 5 Players
45 – 90Minutes
Ages 14+