Urban Conquest is up for Pre-Order today and we've got a firsthand look inside at this new City Fighting Campaign – in a box!
Have you or your friends in your gaming group ever wanted to run a "Map Campaign" but just never got around to it? Maybe you got distracted by the logistics of it. Perhaps you got wrapped up in trying to come up with the "right scenario" to run or mission design. Maybe your printer was just out of ink and you never got around to printing that map out…life happens! But you know what – Games Workshop has you covered with this new boxed set:
Urban Conquest really is a Map Campaign in a box. It's got everything you need to run a map-based campaign with almost infinite replay value. How? It all starts with that map we've seen pictures of: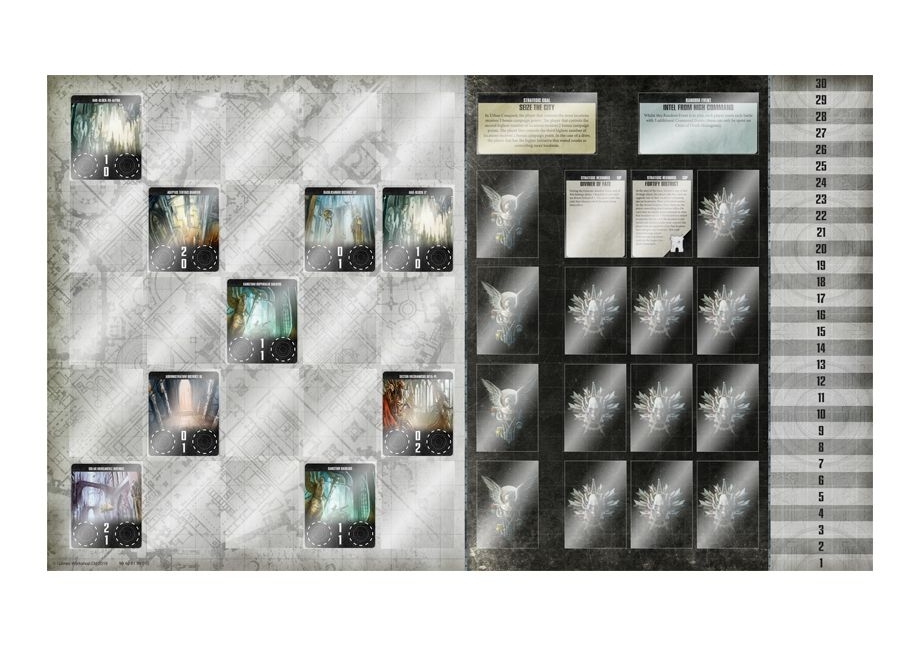 This map is 100% modular and modifiable because all those slots are plastic sleeves. The box comes with a custom deck of 57 locations – including 6 unique locations – that you can deal out to create a city on the left of the map. In the middle section, you can track up to 4 players (or factions)along with special rules or assets they might have gathered. Plus the top of the middle section also allows you to place the objective for that session (which could be for that game, day, or week) and any other special rules. The right side of the map is a leader board that can help you track points or whatever else you want to use it for.
It might seem like a pretty simple design, but it's very functional. Creating the city is usually the biggest chore and GW makes it as simple a dealing out 25 cards. I can appreciate that! This map, along with the reusable sticker to mark which player/faction owns what city zone, really is the right tool for the job.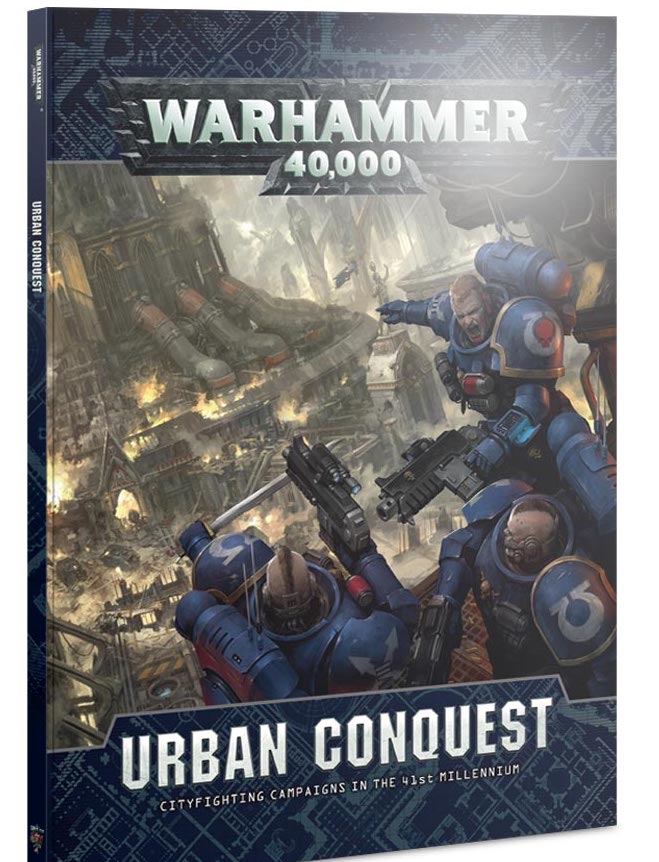 Also included is this book which contains all the rules, missions, stratagems and extras you'll need for reference. It's 97 pages of good stuff as it even has a ton of lore – all of which you can read through to inspire you to try an Urban Conquest campaign.
While this book might feel like it's directed specifically at Open and Narrative players, there are still missions in here for Matched play, too. It's got something for everyone!
The last thing I'm going to get into is the terrain. This stuff is perfect for "scatter terrain" to place on your board. If you need objectives, the smaller stuff makes for some cool options. Plus it's all themed like the Sector Imperialis which I've already sung the praises of – it's my favorite set of terrain GW has ever produced.
It's a new year and it's about time you stopped putting off that "map campaign we've always talked about" – GW has everything you need in a single box! And if you're a store looking to build a community or get a league going, this could be the answer to that problem. So what are you waiting for? Check out Urban Conquest and get that Urban Map Campaign started!
Could this be the year of the Map?