Goatboy here and there has always been a weird undercurrent to lists full of Terminators. – Can the Death Guard pull it off and win?
I remember a buddy years ago during 5th edition days was messing with a 30 terminator list.  It was an odd one and better set up for a team tournament environment where you could control its match ups.  Of course this type of weird list idea has always stayed with me and almost made it to the table top in the initial days of 8th edition.
I originally wanted to try a 20 terminator list with Khorne terminators coming down, getting Warp-timed, and hitting an opponent with so many crazy bloodthirsty bodies that I would win the game through brutal action.  Of course this doesn't work anymore so I have to look at other things to use all those damn Chaos terminators.  Thus comes to the idea of using some of the Plague Based ones as they have some built in staying power due to their armor, damage potential, and stratagems if needed.

Hello Blightlords
Let's look at the Blightlord terminator to see why this guy might be good.  He has a better basic weapon when compared to other terminators.  The Blight Axe is pretty snazzy as it is a Plague Weapon which grants it some useful abilities like reroll 1's to wound or reroll all wounds when mixed with Arch-Containmator Warlord trait.  It already gets a+1 to its Strength so most of the time on tougher foes you are wounding on a 5+ and when mixed with a spell plus a stratagem you start to throw out a lot of wounds to most things.  It is still pretty cheap and comes standard with a Combi-Bolter that can throw out 4 shots at 18″.  They get a plethora of options if you want and while slow they can be affected by some very powerful Chaos based powers like Warptime and Prescience.  This all leads me into building the following list that is made up of 30 Blightlord Terminators mixed with some helper characters to ensure the damage potential is high enough.
Now this list is a pretty big copy paste affair due to the nature of trying to use 30 Blight Lord Terminators.  I have 10 of them and trying to find 20 more is a daunting thing – especially when I think this list is more of a niche design versus something you should take to a Matched Play tournament.  Of course this list will probably kick the crap out of me if I saw it but hey – that's the life you play when you try to survive in a dice game.  Let's get on with this list and start building.

BlightLordpalooza
Vanguard Battalion – 1 CP – [94pl, 1587pts]
Faction: Death Guard
-HQ-
Daemon Prince of Nurgle, Wings, Malefic Talons X 2, Plague Spewer – Warlord – Arch Containmator – Relic – Plate – [9pl, 196pts]
-Elites-
Plague Surgeon, Balesword – [4pl, 60pts]
Blightlord Terminators X 10, Bubotic Axe X 10, Blight Launcher X 2, Combi-Plasma X 2 – [27pl, 444pts]
Blightlord Terminators X 10, Bubotic Axe X 10, Blight Launcher X 2, Combi-Plasma X 2 – [27pl, 444pts]
Blightlord Terminators X 10, Bubotic Axe X 10, Blight Launcher X 2, Combi-Plasma X 2 – [27pl, 444pts]
Supreme Command – 1 CP – [23pl, 410pts]
Faction: Thousand Sons
-HQ-
Ahriman on Disc of  Tzeentch – [9pl, 166pts]
Sorcerer, Force Sword, Bolt Pistol, Jump Pack – [7pl, 122pts]
Sorcerer, Force Sword, Bolt Pistol, Jump Pack – [7pl, 122pts]
Total – 117pl, 1997pts – 5CP

Nurgle Tips
This list is all about having tough bodies to try to control the board.  You will use your superior casting to push forward with your multiple wound termys, try to heal any you can with the Plague Surgeon, and hopefully get some decent spells off with Ahriman and friends.  Warptime, Prescience, and targeted removal will be key to the this list being effective.  You can even boost up the Daemon Prince with Diabolic Strength and other options to try and cause as many wounds as you can.  I expect Veterans of the Long War and Cloud of Flies to be used at times – at least to protect yourself.  On heavy terrain tables having a ton of guys with a +1 to their Armor save from terrain mixed with a 4+ inv save will be a pain in the butt to remove.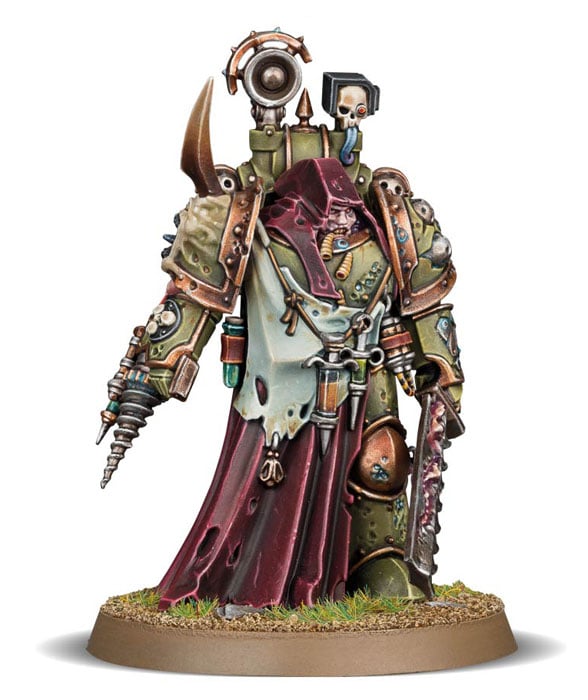 I do wonder if you just go normal Chaos Space Marines as your supreme command to get some cheaper options and maybe add another Surgeon or two.  Again you can drop the Nurgle Daemon prince, grab a cheap HQ with the Plague Relic weapon and have another heat seeking missile if you want.  Or you could play an army that isn't a ton of slow moving terminators.
~Until next time – roll those 5's and 6's and ignore all that pain if you need too – my blighted brothers and sisters!