Goatboy here again and I wax poetically on my favorite units currently in the game as I write this out the day before my Birthday (Turning the most exciting age of 41…)
These are for sure not the best units in the game – but they are the ones I always think about whenever I try to think of a list to play.  They range from the good choices to just something I enjoyed painting whenever I found time to throw some paint on my own figures.  With that let's get mixed in and write out a list of my go to plastic dudes men.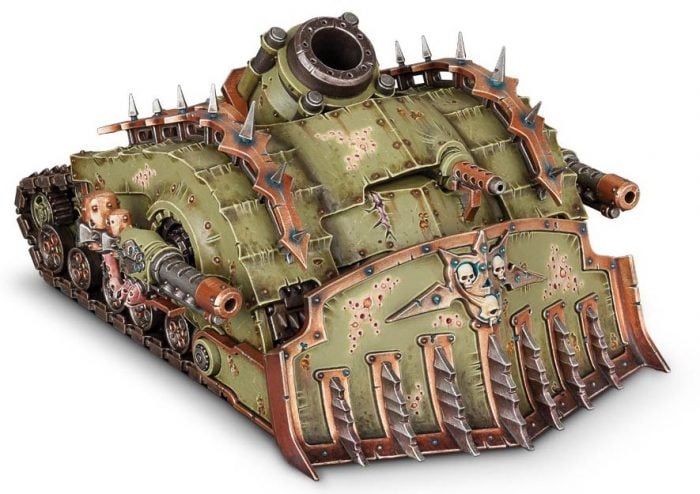 1 – Plagueburst Crawler My current favorite figure I always seem to find room for whenever I build a Chaos based list is the Plagueburst Crawler.  I think originally I reviewed it as a weird model that as too expensive, couldn't hit for crap, and just not very good.  Boy was I ever wrong with this one.  This gross little tank is the cornerstone of most Death Guard based lists.  I does so many weird things that whenever you randomly hit with its cannon its just the bonus of extra toppings on your already awesomely gross pizza.  This model is a pain in the butt to remove, does some decent damage with Flamers, and loves taking some overwatch in the face.  I am most likely playing 3 for LVO if I continue with this DG list I am currently planning.  I expect a ton of Orks getting covered in gore and grossness during any tournament where a DG player is infesting the tabletops.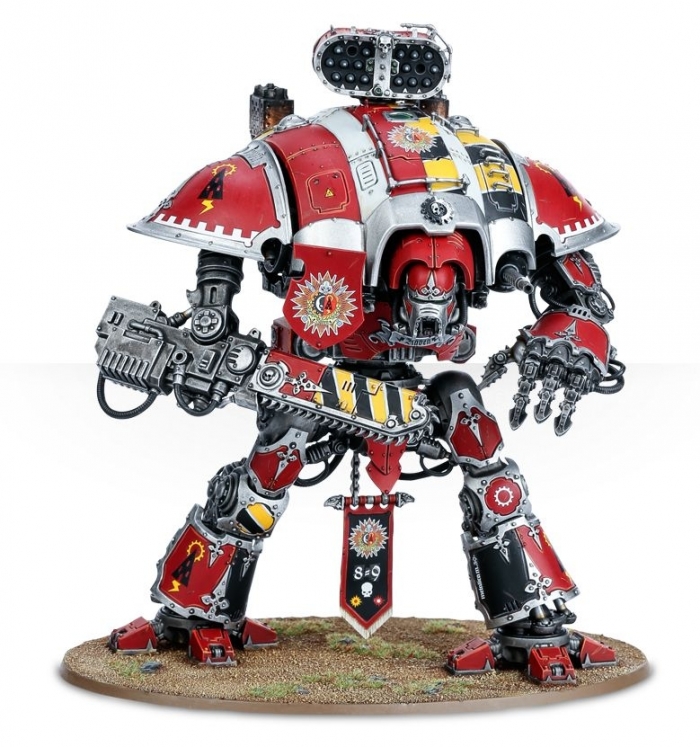 2 – Knight Gallant The next model I love whenever they originally came out is the Gallant.  I loved the idea of a Close Combat based Knight and this new edition has given me a superstar of a unit.  I would have been happy with this guy hitting on a 3+ like other knights in close combat – but getting a 2+ to hit with extra attacks is just great.  I built 3 of the guys as soon as the kit initially came out and have always tried to play one or two in any Knight based list.  Heck if it wasn't the threat of an entire board of enclosed buildings I might look at flying the skies with 3 Evil Close Combat turd faces.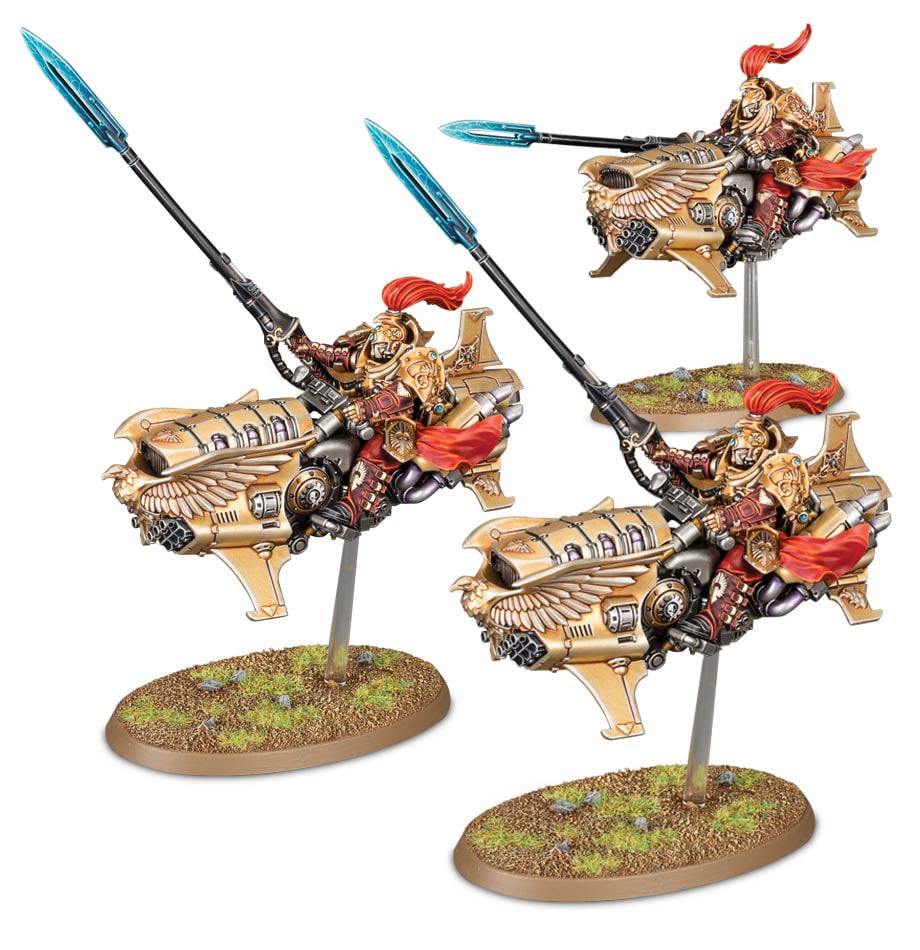 3 – Dawneagle Jetbikes are one of those ridiculous GW models that I just love.  It is so big, beefy, and goofy looking that you can't hate it.  It is the epitome of the Emperah flying the skies and bringing a world of pain to all the enemies of the Imperium.  I think the fact it is a pretty simple model to built and paint that it made for a quick return of game play awesomeness and satisfying hobby time fun.  Layers of metallic gold and then a nice brown wash lets you quickly get a neat model on the table top.  Plus there is really only one weapon choice so you don't have to worry about being left behind the curve with superglued incorrect choices.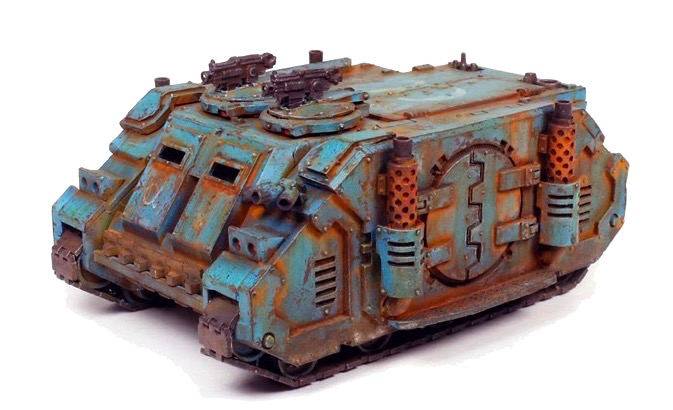 4 – The FW Horus Heresy Deimos Rhino is a pain in the butt model to build – but I really like how it looks.  Beyond my Daemon Prince addiction I did have a Rhino problem for awhile.  I've been playing for awhile so the parking lot problems of 5th edition have stuck with me – thus a ton of Rhino models in my collection.  The FW ones with the goofy doors, the tiny bolts on top, and the beefy front ends are really neat to look at.  I just finished a few of them for my Death Guard army and it was a model that I didn't like building but enjoyed painting.  Plus I think it just looks good and bridges that gap between the old style tiny tanks with the newer style boxes we have today.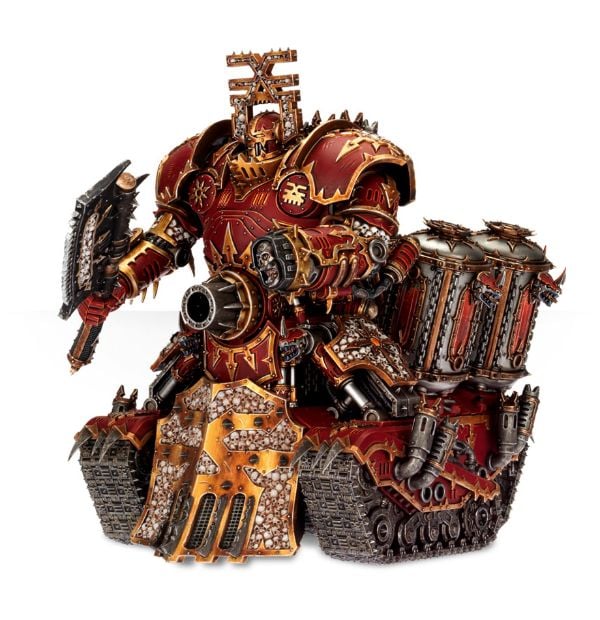 5 – The Lord of Skulls is a pretty dumb kit.  It is big, brass, and can only work in a game where you have bad guys who worship someone who wants their blood and skull as the final sacrifice.  I remember building the first one for a client and taking it out for a test game.  I ended up getting into a car accident while having the guy in the front seat – he flew off and hit the rest of my models (a bunch of Daemon Princes).  He proceeded to break 3 of the princes into a few parts and survived with just missing one shoulder pad.  This should have told me that the Lord of Skulls is a fellow madman for the powers of Chaos and I should have one in my army.  I have played him in a lot of events where most games he has dies – but he dies in a way that is always spectacular.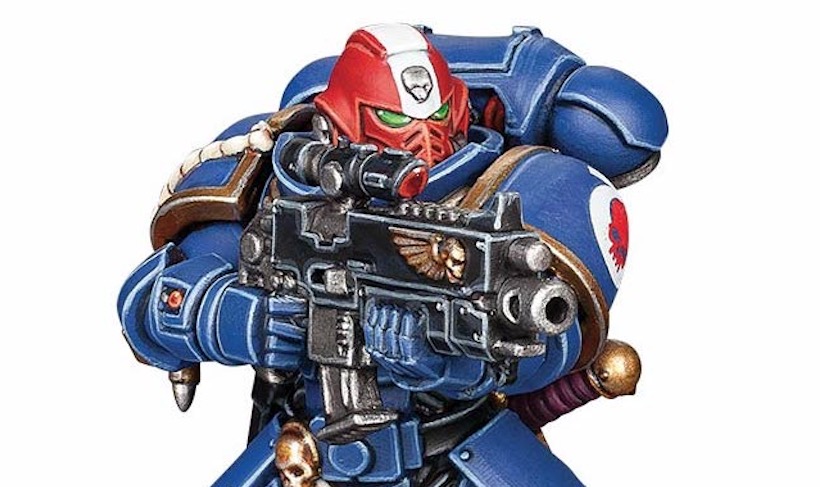 6 – Primaris I really do enjoy painting those Primarus Marines.  There is something neat about the larger marines that makes painting them a heck of a lot easier.  I currently don't own any for my own armies as I have only really delved into the Loyal 32, some Blood Angel Jump Captains, and Custodes.  I am sure if they finally release some Close Combat based monsters that I might show some interest.  Currently I found the army rather lacking in the things I like about 40k – the bloody assault phase.  Still they are a fun model to throw some paint on.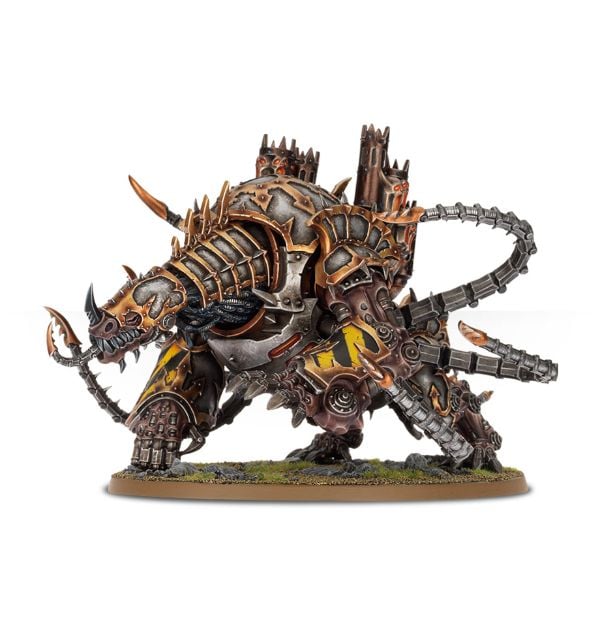 7 – Maulerfiends I really wish the Maulerfiends were good again.  I have a ton of them and I loved them in the older editions.  Koolaid man through a wall, get a charge off, and make someone upset that the dirty Daemonic Engine got to close.  I have hopes will see something making them good again (updated CSM that gives these guys actual Legion Traits maybe?).  It is one of those goofy models that somehow works for me.  The crazy arms, fused daemonic flesh, and grinning face is something only an evil Chaos Lord would love.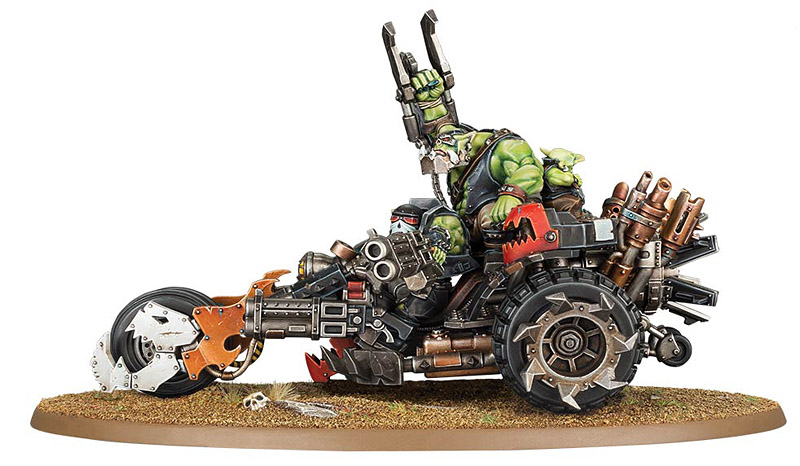 8 – The Deffkilla Wartrike is a pretty nice looking model.  There are so many weird details on the model from the shock absorbers, crazy engine design, and rather beefy warboss.  It is one of those kits that push Orks into this bruiser style design that is both interesting.  The fact the models rules are decent and it was fun to paint make this a home run model for myself.  What sucks is I don't think I will play with two so I can't really justify buying another one.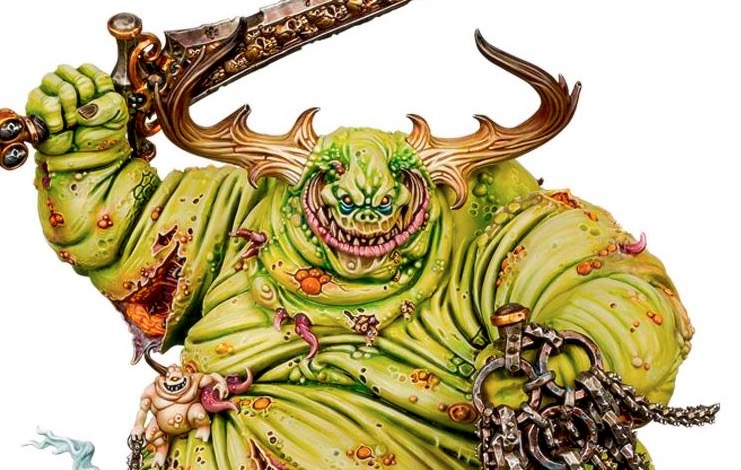 9 –  I will throw all 3 current Greater Daemons here (even though I a sure will see a new one soon…).  These guys were such a big hit with their bigger bodies, cooler shapes, and just an overall better design.  I have only not painted the Lord of Change but who knows what will happen in my paint queue in the coming year.  The Thirster I painted up was a lot of fun but the Great Unclean One was relaxing to build, fun to paint, and looks cool as hell on the table top.  Who knows what body horror madness will see for the Keeper of Secrets but I am sure it will kick butt.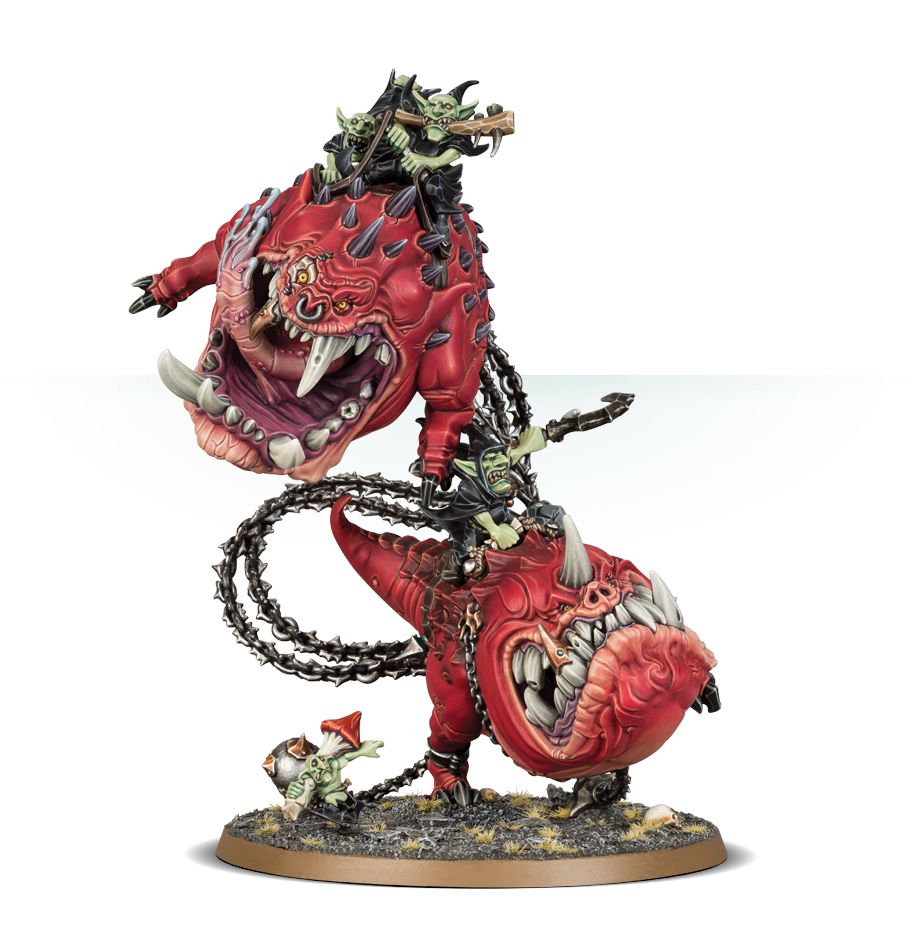 10 – All the new Gobbos from the Gloomspite Gitz are pretty dang amazing.  It is so hard to keep me from grabbing some of those Mangler Squiggs.  Those models look nuts and has me so hopeful for the future of any rumored Chaos bits and pieces to come out in the coming months.  I have a buddy playing these guys and I can just hope I don't get bit by the crazy moon nutty gobbos.
There are a ton of models I love to paint.  There are also a heck of a lot of other things out there that are actually good and don't look to terrible on the table top.  What are you favorite models to build and paint lately?
~What new thing has you obsessed with making cool looking on the table top?