In a new push towards transparency Games Workshop has announced that there will be price increases coming soon for Paint Pots and the Start Collecting box deals. Time to stock-up.
Nobody enjoys price hikes and Games Workshop has decided to jump in front of the bad news by announcing this one a month ahead of time. It seems that the price of paint will be going up and those sweet Start Collecting deals are also shifting to a higher price point.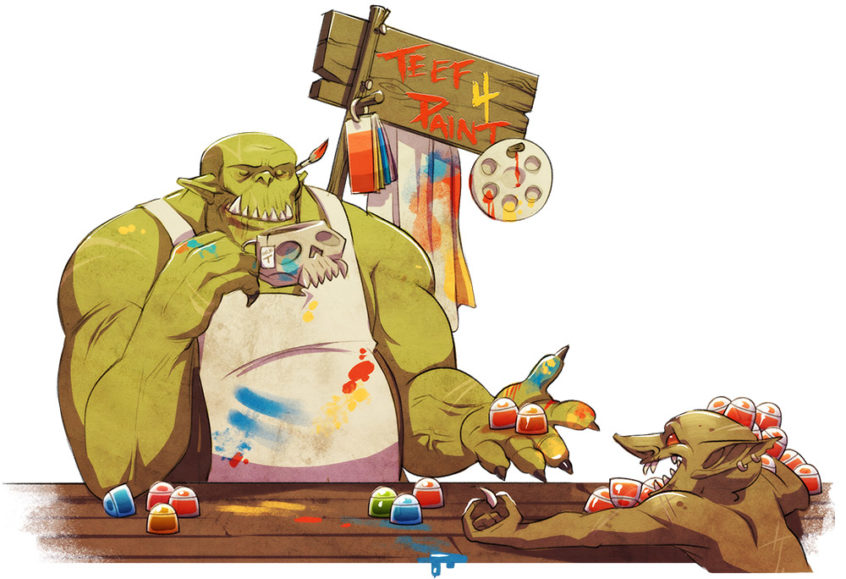 Paint pots will have a small increase of 20 pence per pot (or local currency equivalent). The paint sets, though, will have no change, making them an even better way to round out your painting arsenal.
"20 pence per pot (or local currency equivalent)" – that doesn't sound like a huge price hike. Currently the prices per pot varies from ­£2.55 for basic paints on up to £4.55 for the larger Shade/Technical pots. What that means for the rest of the world in terms of pricing is a little loose. Games Workshop doesn't use a dynamic currency conversion rate. Maybe that means paint pot prices will go up in the US by $0.20 or maybe it might be a $0.50. I guess we'll find out when the price change goes into effect February 4th, 2019.
Alternatively, if you are wanting to retain the current prices, the announcement makes it sound like the paint bundles will not be impacted by the price change. So I guess that is one way to make those more appealing in terms of price.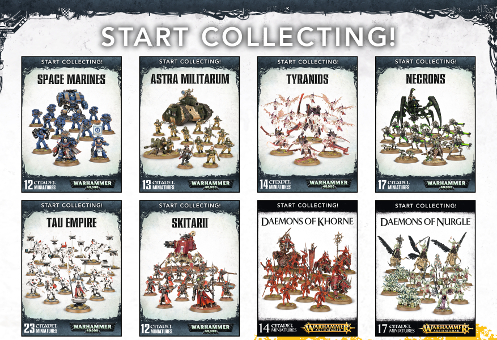 The Start Collecting boxes are another product line that is getting a price change. Unfortunately, GW didn't make this change as explicit:
The Start Collecting! sets are going up a little too, but you'll still save at least 20% over buying the contents individually and in some cases more like 40%!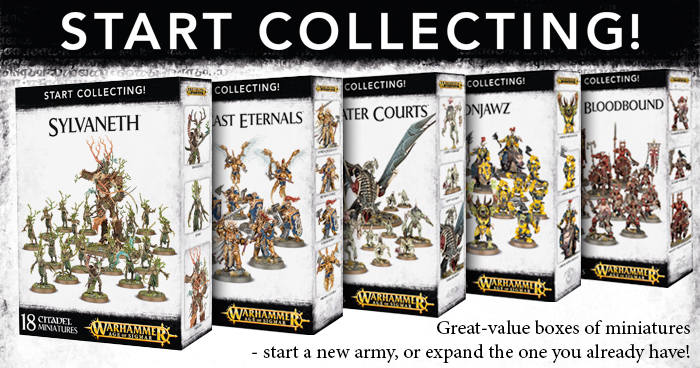 Well that is unfortunate as the Start Collecting deals are probably the best and most cost effective way to start a new army (or add extra units to an existing one). Most of the boxes have pretty useful units included and are typically ones you can always find a use for. Currently, most of the Start Collecting deals are anywhere from 30%-50% off the MSRP. So increasing those by a 10% price hike would put them inline with the new 20%-40% range GW is touting.
Even if the new price point is $90-$95, these boxes are still pretty good deals – but we've been "spoiled" by GW with the current price point and so any change to that is going to cause some grumbling. But hey – at least they gave everyone a month to stock-up.
An Era Of Price Hikes
There was a time not so long ago that GW used to have a yearly price hike. The last time we saw GW actually do that was back in 2012. In 2013, they announced they would not be increasing the price of miniatures, but would be increasing the price of paints and sprays. For the past ~6 years GW has kept the model prices in the same range for (at the time) current kits while all the new kits have seen an increase in pricing.
Now it seems instead of increasing the prices of those kits, they are simply going after the "discount" options to bring those up. In essence, their model prices are at their ceiling, but they are bringing the floor up.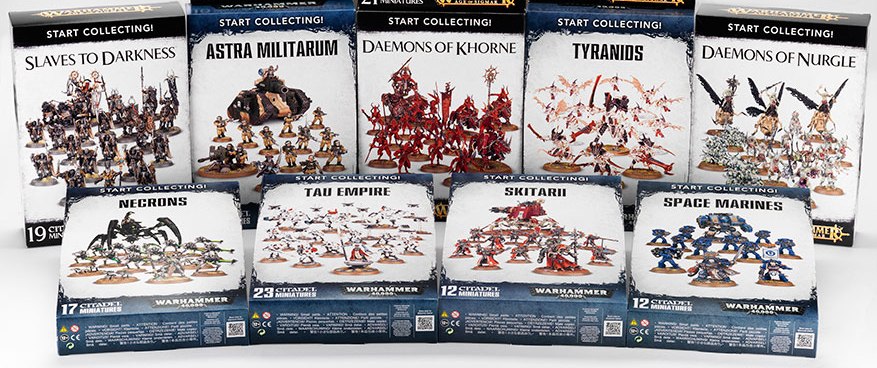 Hey – at least they warned us…
If you were on the fence about getting one of the Start Collecting boxes, you might want to move quick. In February, the price IS going up.