Collecting nearly 20 years of Privateer's artwork from the Iron Kingdoms, the Art of Privateer Press is a new book, Kickstarting now. Grab a piece of Warmachine history, and exclusive rewards within.
Privateer Press has a history of creating fantastic artwork. Their blend of fantasy and science-fiction wrapped up in a steam-driven aesthetic has pushed them to a distinct corner of the world. Their books have won awards for their art, while their games have generated pages and pages (and years) of stories in the company's 20-year-history. Now that history–and the gorgeous art–has been collected in one book, which is up now on Kickstarter. Find out what you can grab when you back: The Art of Privateer Press.
via Kickstarter/Privateer press
Privateer Press was founded by artists with a great love for fantasy and science-fiction artwork. The worlds they created and the games that grew out of them have always been driven by a passion for visual creation. The very first book Privateer published—Book I of the Witchfire Trilogy: The Longest Night—received the EN World gold awards for Best Interior and Best Cover artwork for an RPG product for the year it released, establishing the company as a visionary creative studio.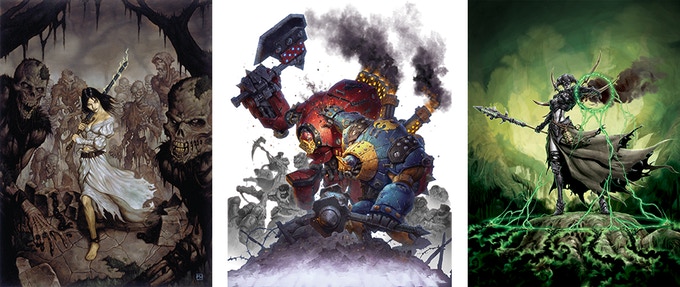 After nearly 20 years and literally thousands of illustrations later, the images that have adorned the games and novels of Privateer Press will be collected into a long-anticipated beautiful art book, sure to become a favored gem among any art lover's library…but only if this project funds by January 25th.
Here's just a taste of some of the artwork that awaits you within:
And on top of that, the book will be massive, with a minimum number of 144 pages in length. Add to that the perks of the Stretch Goals, many of which have already unlocked. You can get your hands on a new J.A.I.M.s. miniature, or a canvas print for you to call your very own.
Some of the backer rewards include things like an exclusive peek at the upcoming Infernals sketchbook, or a couple of sketch books that outline the rise of both Hordes and Monsterpocalypse from humble beginnings to the awesome games they now stand in command of. But you can see them before they made it to the big time in the Kickstarter. Or grab a print for your very own home.
Adorn your wall with one of these gorgeous 32˝ x 24˝ canvas art prints featuring your choice of images from the gallery below. Image choice will be made in the post-campaign pledge manager. Domestic U.S. shipping for the canvas print is included in this pledge and will ship by April 12, 2019. Unfortunately, due to the high cost of shipping such a large parcel, the canvas prints are only available in the United States, Canada and UK where we can print and ship from facilities within those countries. (Please see Shipping Section for full details.)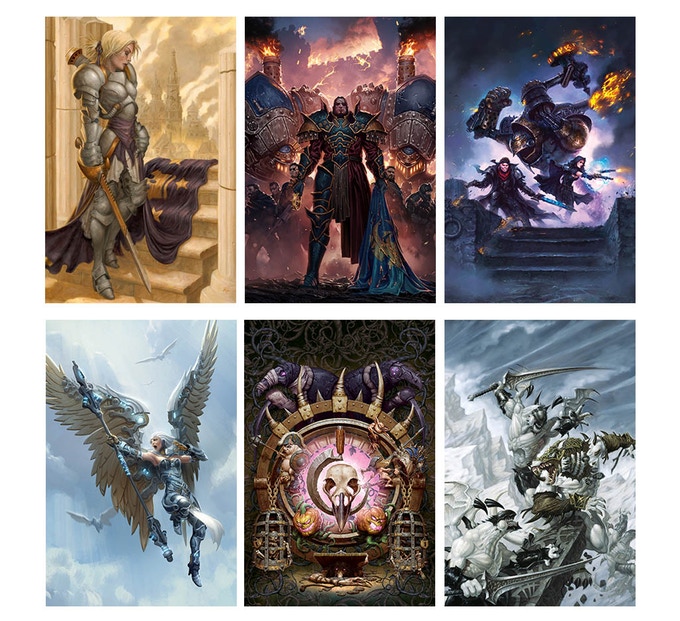 If you're looking to have a specific image put on a print that you don't see in the gallery below, send us a message and we may be able to add it as an option. The final list of available prints will be posted in an update before the end of the campaign, and selections will be made in the pledge manager.
At press time, the Kickstarter has already raised 30K+, so if you're looking to own some exclusive minis or the next big thing from Privateer Press, along with the amazing artwork on display in this book, back now while the getting's good!
Good luck folks!