Game Workshop is previewing a trio of Endless Spells from the Battletome of the Skaven and also the rules for their new Gnawhole. Look out for the rats in the walls and the ones much, much deeper!
It's almost time for the Carrion Empire to rise–all manner of unpleasant things are crawling out of the woodwork (and everywhere else). Today we're taking a look at the new Endless Spells out of Battletome Skaven. As you'd expect from a bunch of warp-crazed murder-rats who want nothing more than to strap warpstone to things to see if it makes them better (it never does), these spells are chaotic and powerful and will kill you quick-quick. Let' take a look.
via Warhammer Community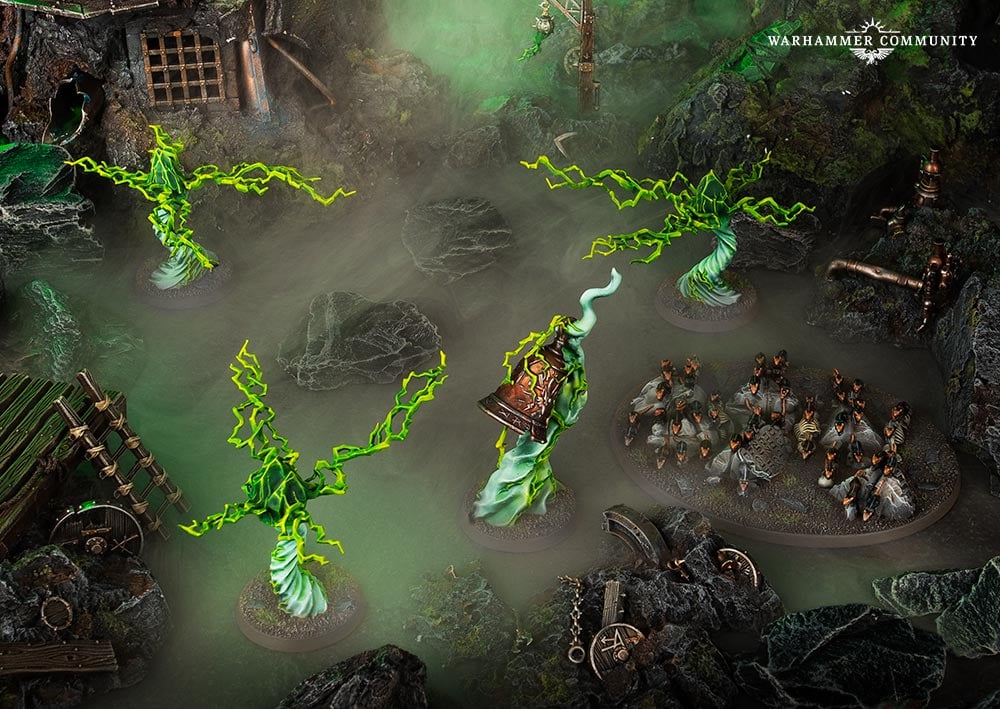 You can see them all right there–the Vermintide, Warp Lightning, and Bell of Doom, and will find all the rules for them in the Warscrolls below, so let's just get right to it. First up, Vermintide: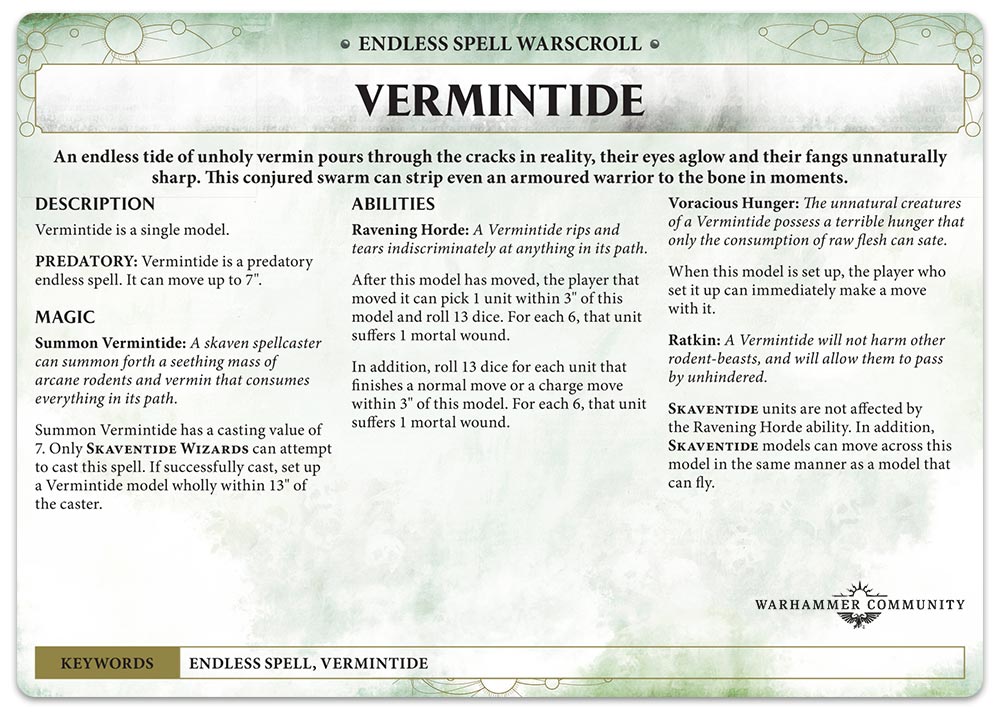 Not only is Vermintide a pretty fun game, it's also an Endless Spell that will ruin your opponent's day because unlike most other Endless Spells, this one won't result in Friendly Fire. Well, technically, if your opponent is playing Skaven then this one will do nothing–but it's interesting to see a spell have selective targeting like that. It sets an interesting precedent for these rats, potentially offering you a screen as you move up–though with only 13 dice, you'll only take out two or three models on average.
Next up is a chaotic whirlwind of lightning and pain, the Warp Lightning Vortex.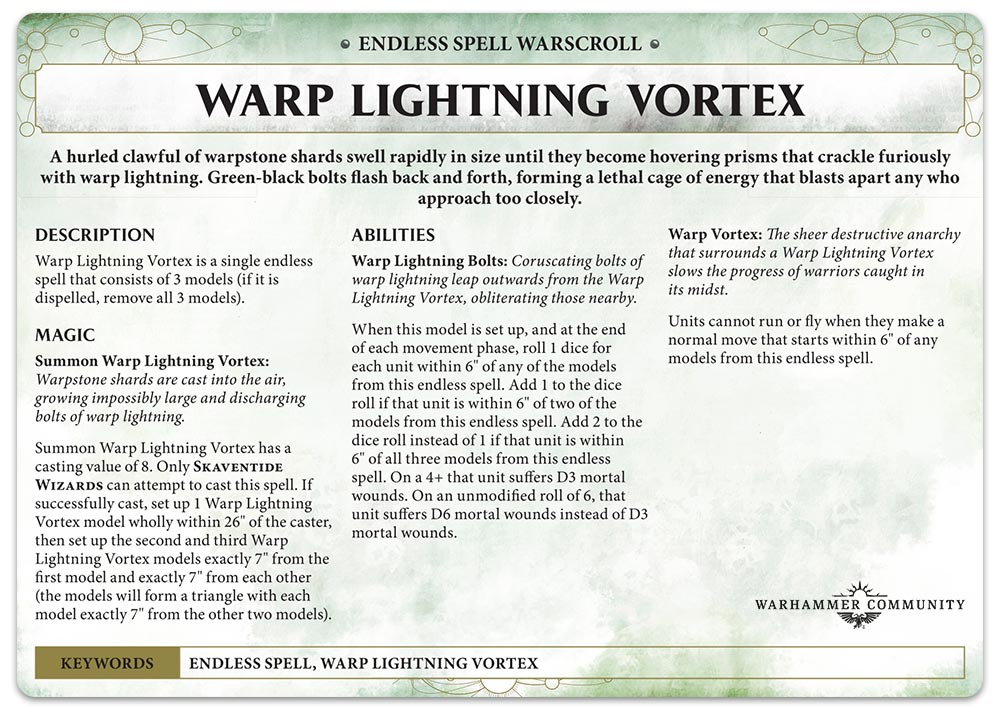 This spell is one of those 3-in-1 Endless Spells that lets you spit out three Storms that will start flying around the battlefield. These ones can be devastating if used correctly, either wreaking havoc on your enemy units that get caught between them, or taking control of a significant chunk of the board with its Warp Vortex ability. Keeping your foe from running or flying can be clutch for holding onto those objectives when you need them.
Finally there's the great Bell of Doom, which we have considerable respect for.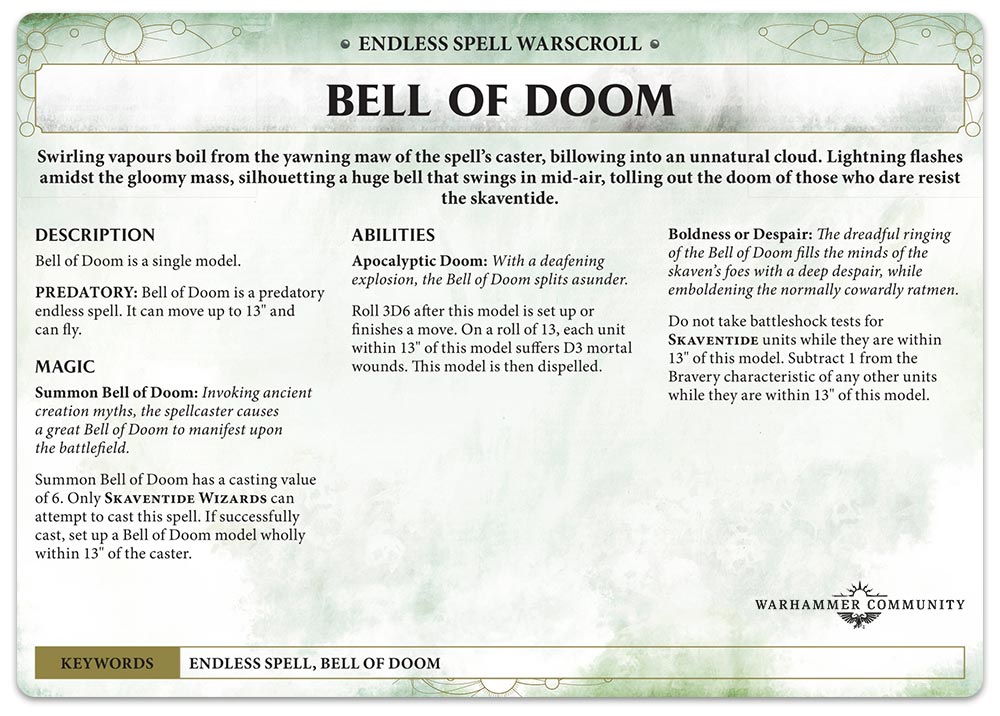 The Bell of Doom is a buff/debuff spell that is Skaven specific again. It flies around preventing your cowardly rats from running away and making it so that others feel your panic instead. It's probably one of the more common ones you'll see as Skaven need all the help they can get, Battleshock-wise.
But that's not all friends. Today we're also looking at the Skaven's unique terrain feature, the Gnawhole, which is exactly as horrifying as it sounds.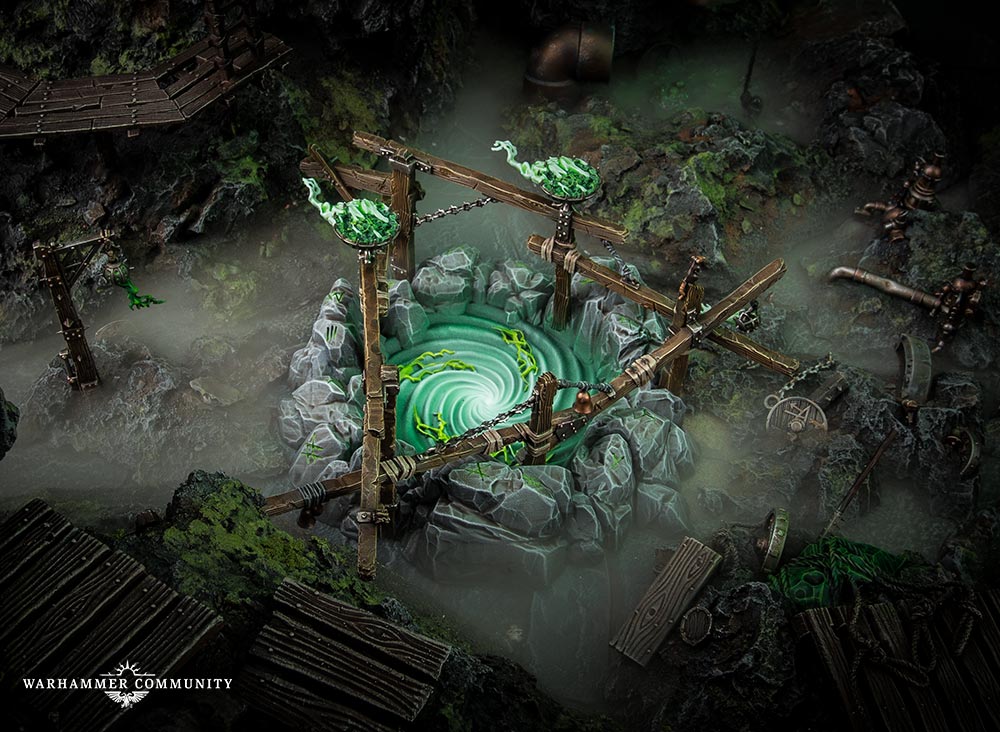 The Gnawhole is a swirling warp vortex chewed through reality itself. The Horned Rat is constantly on the move, insisting to the others that it's a Chaos God too and wondering why it never gets invited to parties, company picnics, happy hour at Brandathans where they have those flaming drinks that always look so fun–and the Gnawholes are the result of the skin of reality being torn open and flooded with ruinous energy.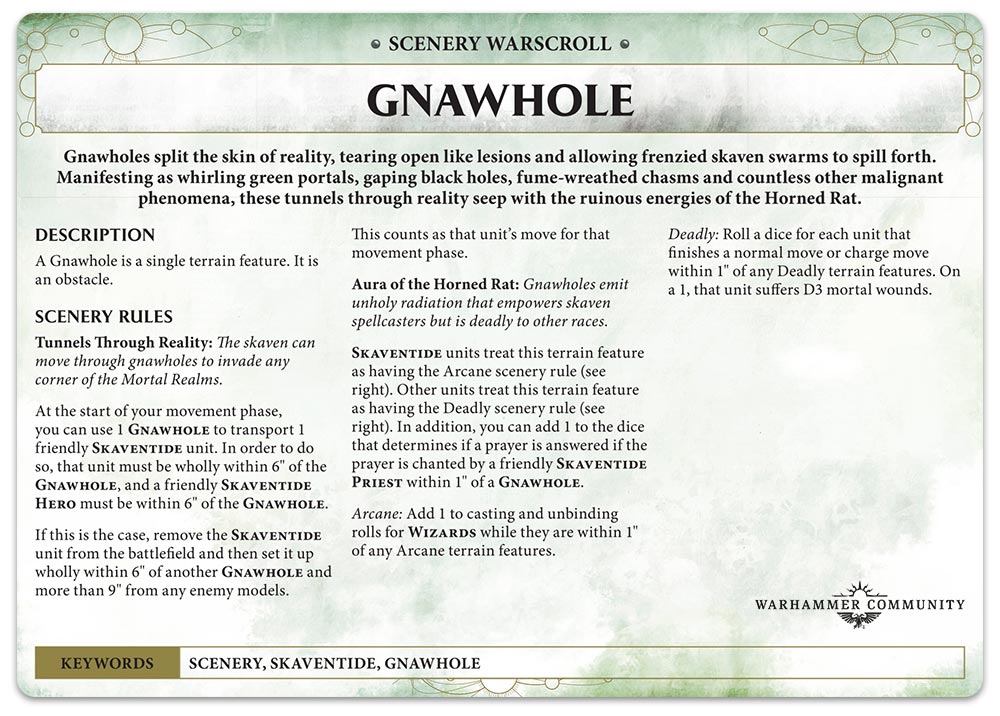 Set up a couple of Gnawholes on the board, and you can teleport between them. All the usual rules apply when taking models off the board and setting them back up, but with your Skaven being outside of 9″ is often a good thing.
At any rate, that's the Skaven, stay tuned for more–and don't forget to check back tonight for coverage of LVO's studio preview!