Geekery: Jim Henson's 'The Storyteller' is Returning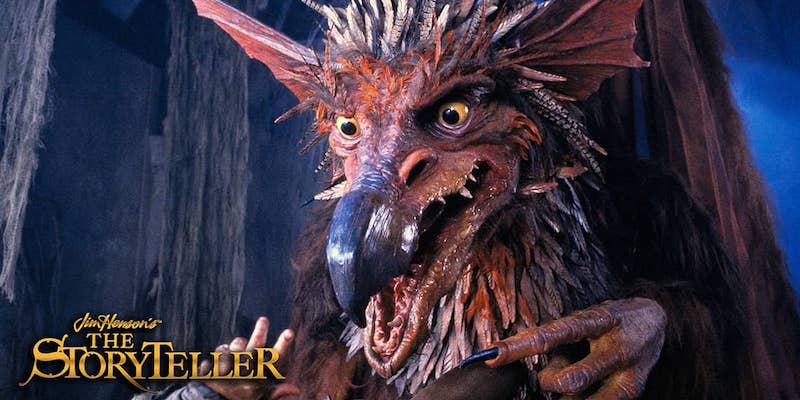 This news will be either totally awesome (likely) or something you know nothing about, depending on what year you were born.
Inspired by his daughter's studies, Jim Henson created an anthology show that told obscure folks tales and myths. The 9 episodes were acted out using a mix of human actors and puppets like Labyrinth – there are even a few crossover puppets between the two. Most of the episodes were directed by Henson, and written by Oscar and BAFTA winner Anthony Minghella. Each episode was introduced by the storyteller himself, played by John Hurt. The first 9 episode run won a BAFTA and an Emmy; it was followed by a Greek Myths short series.
All of the episodes are currently on Starz if you're feeling nostalgic, or didn't have the chance to watch it on VHS.
The Henson Company is bringing the series back with FremantleMedia, and some help from fantasy writer extraordinaire Neil Gaiman. It sounds like the author has some ideas to update and dig more into the characters of the show; he told Deadline:
"Part of what fascinates me about The Storyteller is the stuff that we don't know. Who was the Storyteller, why was he telling these stories, was he a goblin, what kind of creature? What I'd love to do is an inside story that's as long as the outside story. We're going to find out a lot about who the storyteller is, we're going to find out things we don't even know that we don't know. We're going to begin in a Northern kingdom where stories are forbidden and where the act of telling a story is liable and can get you imprisoned or executed. If you put a storyteller into that situation, things would need to start getting interactive."
That choice may not please long time fans that fell in love with the series as children, but I'm willing to try an episode given it's Gaiman and Henson Company is involved. I think reviving the series is great, and it'll be in good hands. The production company is also reviving The Dark Crystal in a series that uses puppets and a minimal amount of CG – that's being released on Netflix. I'm hoping that this gets the same type of treatment that harks back to the work Henson did in the 1980s.