Geekery: Peter Weller is Colonel RoboCop – Protector of the KFC Secret Recipe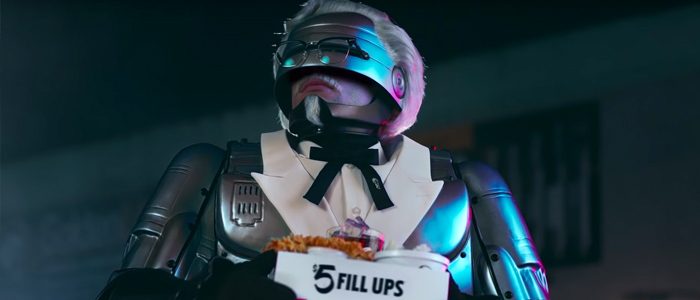 I have no idea what's going on here or why it's happening – what I do know is that it's slightly terrifying.
The actor is back as Robocop in a bizarre advertising campaign for Kentucky Fried Chicken. The cyborg's armor is now paired with a white wig and facial hair, and the KFC founder's black string bow tie. The company has been outfitting random folks in colonel get up for awhile now… but this… this is just weird.
Eat my chicken, or die…
Computer guided chicken tender throwing…
Ha ha ha… ?
They've gotten their money's worth – the campaign's oddness has made it go viral as it's been the talk of entertainment blogs this week. I, obviously, couldn't resist sharing it. Neill Blomkamp is currently working on Robocop Returns, for which he's said he wants Weller to don the suit again. Let's hope he doesn't take any ideas away from these ads, so this will not be coming to a theater near you…