GW New Pre-Orders: Genestealer Cults Arrive En Masse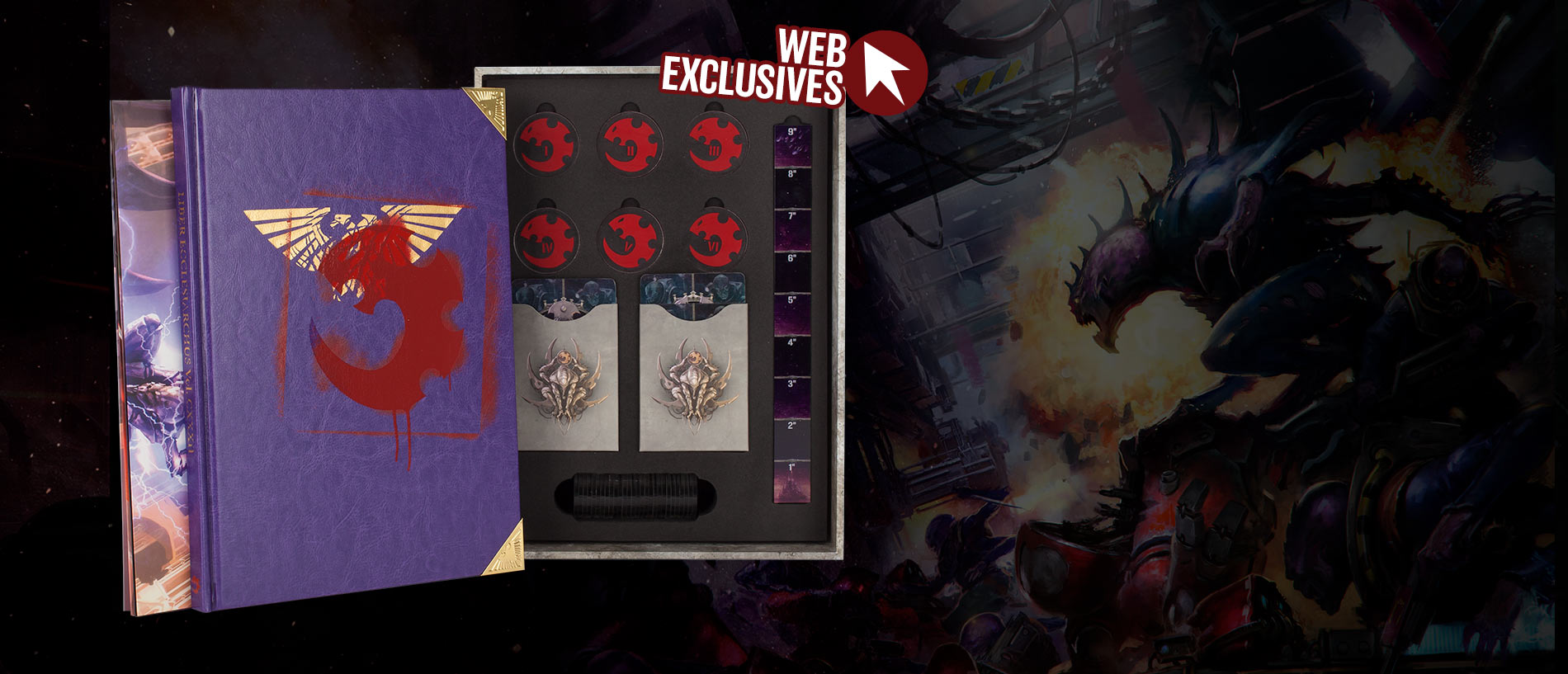 All hail the Four-armed Emperor – his children has arisen to take the planet! Time for a meet and greet for the Genestealer Cults.
via Games Workshop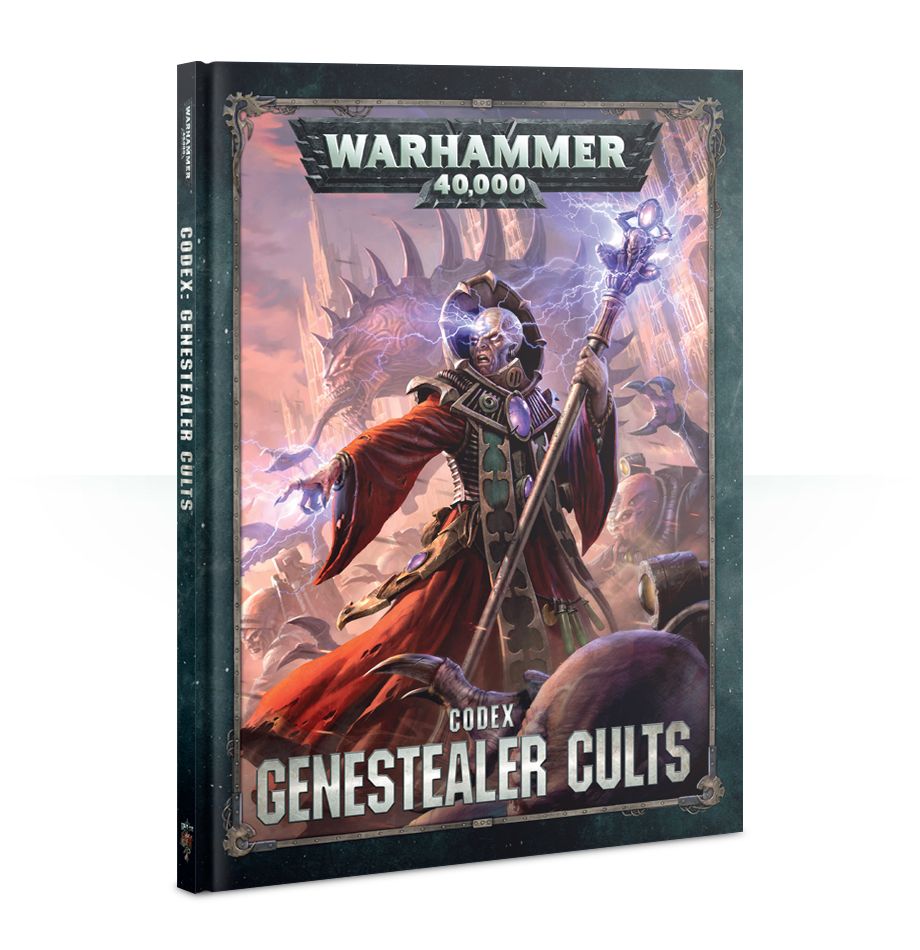 Undermine the Imperium and strike from the shadows with Codex: Genestealer Cults – your complete guide to the 41st Millennium's most cunning insurrectionists. Inside this 120-page codex, you'll find everything you need to add the Genestealer Cults to your games, plus thrilling lore and art to inspire your own collection.
Inside the book, you'll find:
– The history of the Genestealer Cults, with a look at how these warriors use stealth and subterfuge to topple planets from within
– A Genestealer Cults bestiary with background details for every unit and character
– A showcase of stunningly painted Citadel miniatures
– Rules for every Genestealer Cults model
– Stratagems and sub-faction rules for customising your army
– And more!
Able to ally with the Tyranids, or even include corrupted Astra Militarum Detachments, the Genestealer Cults are a rewarding army and a worthy addition to your collection of codexes.
This codex comes with a token sheet for keeping track of the Cult Ambush rules. Rather than deploy your army, you'll deploy the included Ambush markers, allowing you to tailor your deployment and prey upon the weak spots in your opponent's line. Additionally, you'll find a range ruler for setting up units from reserve.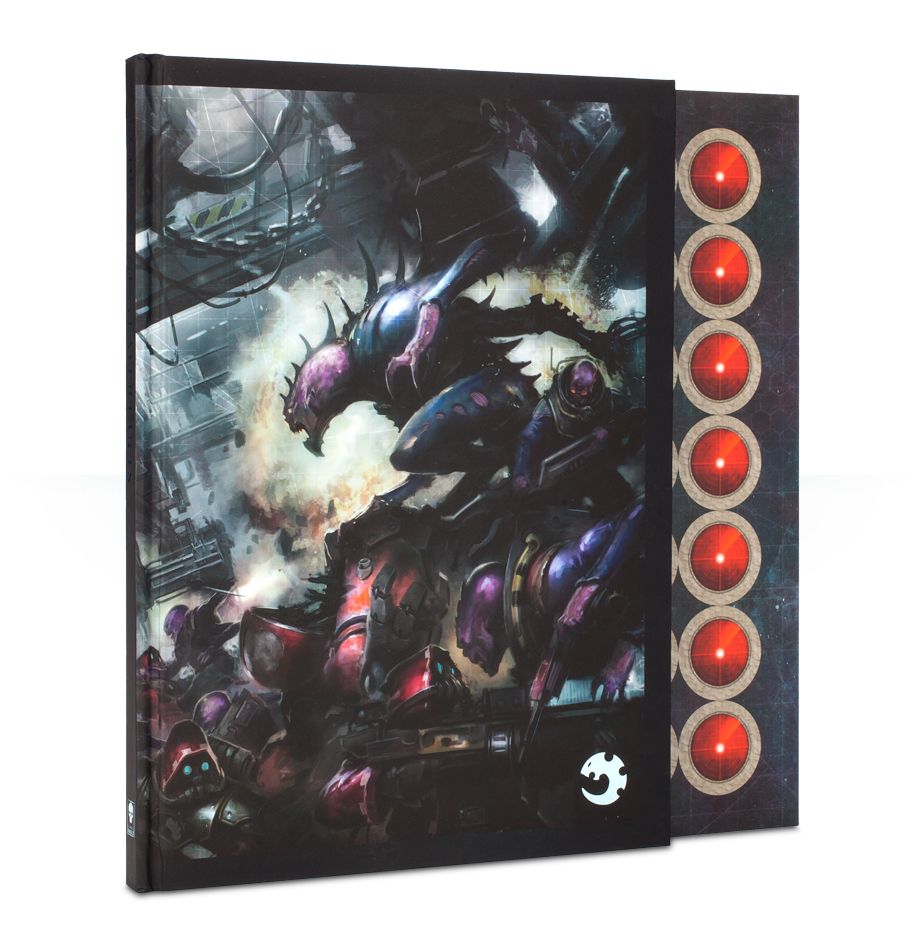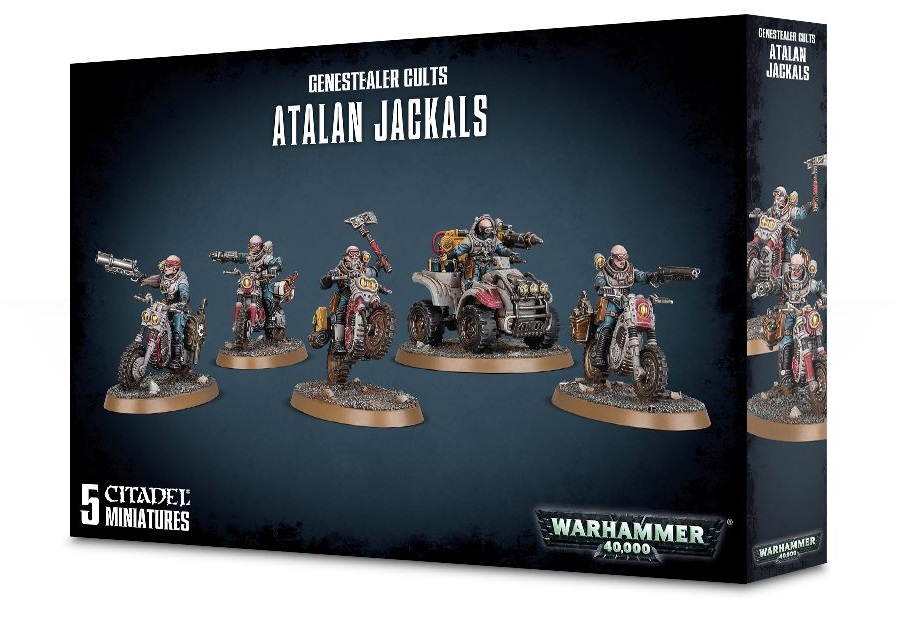 Atalan Jackals are fourth generation Neophytes who form the outriders of their gene-sect. They roam the corners of the host planet in search of new regions for their cult to infest.
Atalan Jackals provide fast-moving firepower and rapid assault support for your Genestealer Cults army. Capable of traversing the battlefield with incredible speed, they're great for exploiting weak points in your opponent's line or snatching key objectives.
This set builds one squad of 5 Atalan Jackals – four on dirtcycles, accompanied by an Atalan Wolfquad. You'll be able to customise your squads with a host of melee weapons, blasting charges and ranged weapons, letting you kit the unit out for a range of battlefield roles. Likewise, the Wolfquad features options for a mining laser, Atalan incinerator or heavy stubber, offering you even more flexibility. All arms in the kit are interchangeable with one another, and you'll have a huge choice heads and accessories to individualise your models.
Subscribe to our newsletter!
Get Tabletop, RPG & Pop Culture news delivered directly to your inbox.
This kit is supplied in 89 plastic components and contains 4x 60mm oval bases and 1x 60mm round base.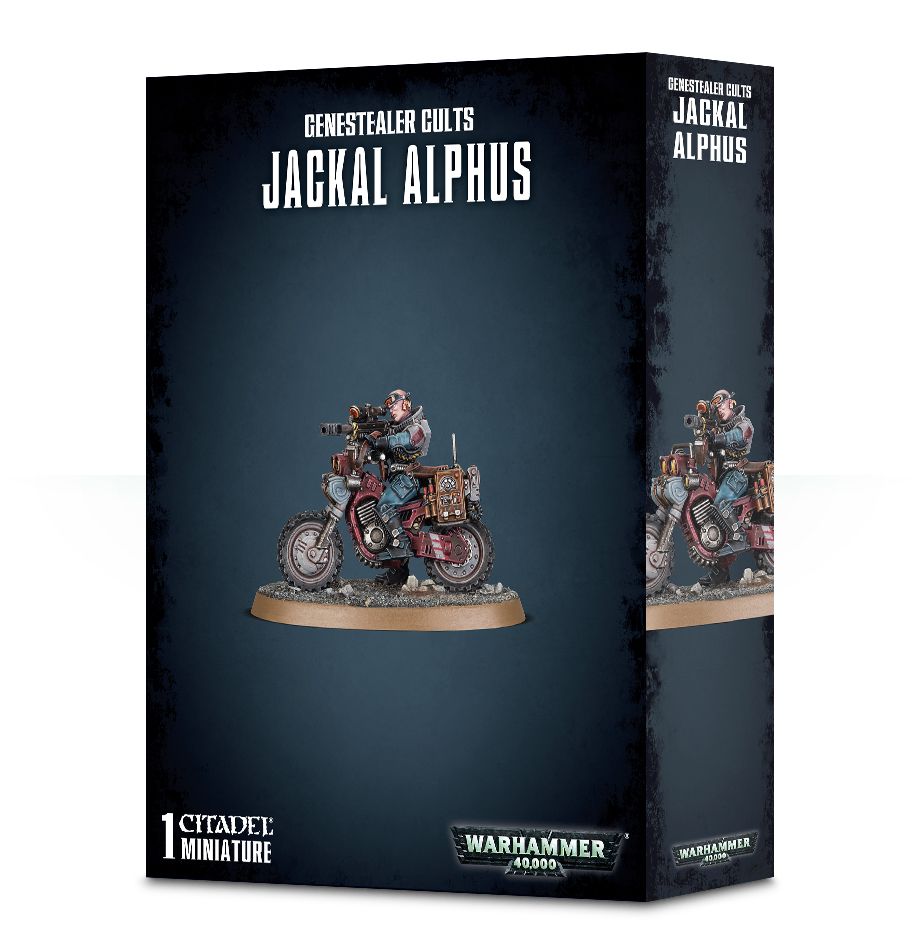 The Jackal Alphus is the undisputed leader of their pack. Not only are they the deadliest and fastest of their kin, they possess nerves of steel and a mind so focused that those of the Ordo Xenos who have seen them work have compared them to Imperial Assassins.
The Jackal Alphus is the perfect leader for an armoured Genestealer Cults army, spearheading columns of Atalan Jackals or Goliath Trucks on her dirtcycle. Armed with a jackal sniper rifle, this character is great for chipping away at enemy champions, while her Priority Target Sighted ability allows you to nominate enemy units for destruction, making nearby Genestealer Cults more accurate when firing on them.
This kit lets you build one Jackal Alphus – a fantastic model that'll be a rewarding one-off to paint or the perfect accompaniment to the rest of your Genestealer Cults army.
This kit is supplied in 13 components and contains 1x 60mm oval base.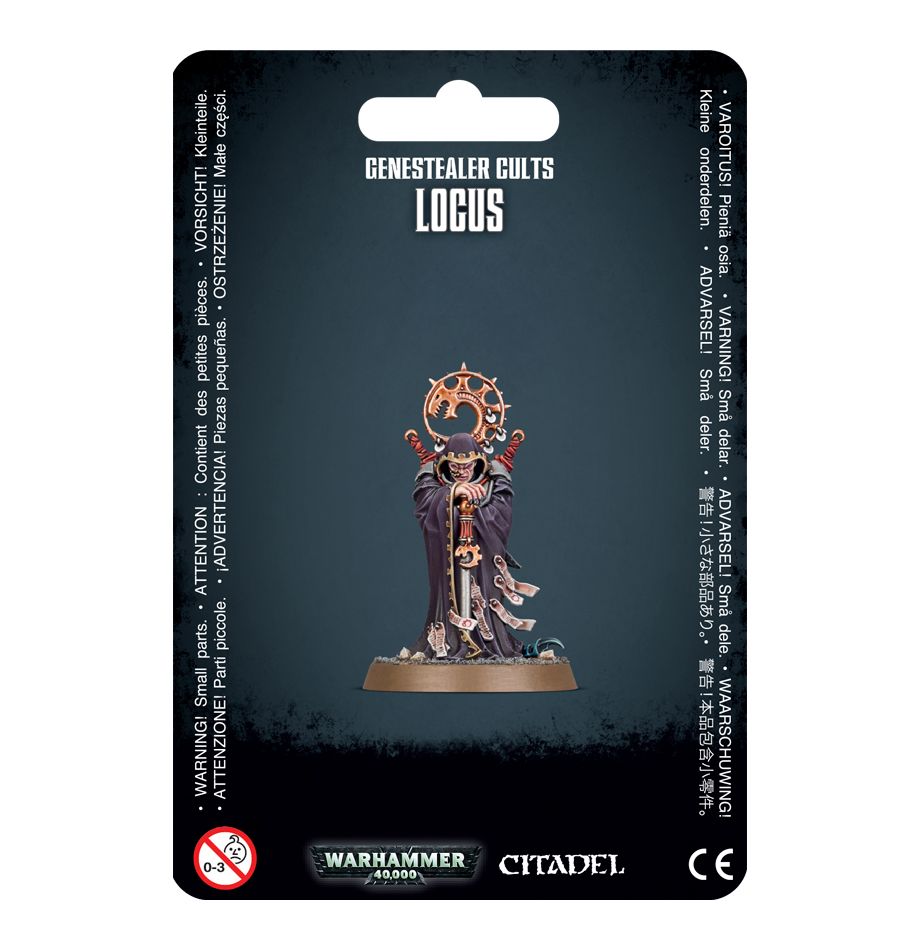 Stoic and inhumanly patient, the Locus can go from sombre stillness to a blur of motion in an eye-blink. This sudden eruption of violence is as startling as it is deadly. Like a Lictor jumping from the shadows, the Locus makes a lightning-fast decapitating strike, their twin sabres flashing through the fog of battle to take the head of their foe.
If you want to keep your Genestealer Cults leaders safe, you want a Locus. This unit is the ultimate bodyguard, capable of intercepting wounds and striking down enemies before they've even had the chance to get at your Patriarch, Magus, Primus, or champion of choice!
This kit lets you build a Locus with a choice of four different heads – one with a hood down, one with a hood up, and two unhooded. These are great for personalising your models, while the spares are compatible with a host of other Genestealer Cults models.
This kit is supplied in 11 plastic components and contains a 32mm round base.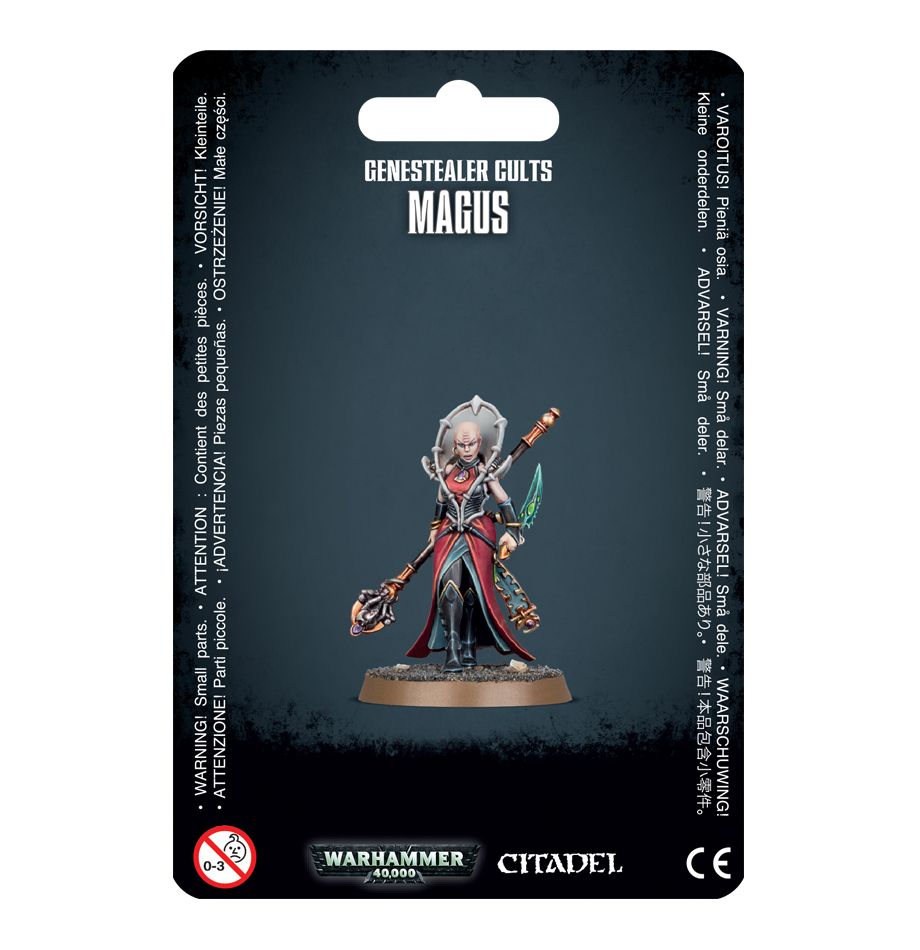 Maguses are psychically gifted and possessed of a supernatural charisma. Their control of the hybrids around them is total. As a prophet of their Patriarch, the word of a Magus is law, and their telepathic abilities are more than powerful enough to enforce it.
A Magus is a vital psychic unit for your Genestealer Cults army. With one on your side, you'll have access to a huge host of powerful abilities, allowing you to seize control of enemy units or drive your own to greater heights of carnage. Defensively, you'll be able to shut down enemy psykers by providing nearby units with the ability to deny their powers.
This set builds one Magus, and features options allowing you to build yours with a knife in one hand, or a skull. If you've already got a Magus and need another, or want to grab one outside of the Broodcoven set, this is the perfect option for you.
This kit is supplied in 11 plastic components, and contains a 32mm round base.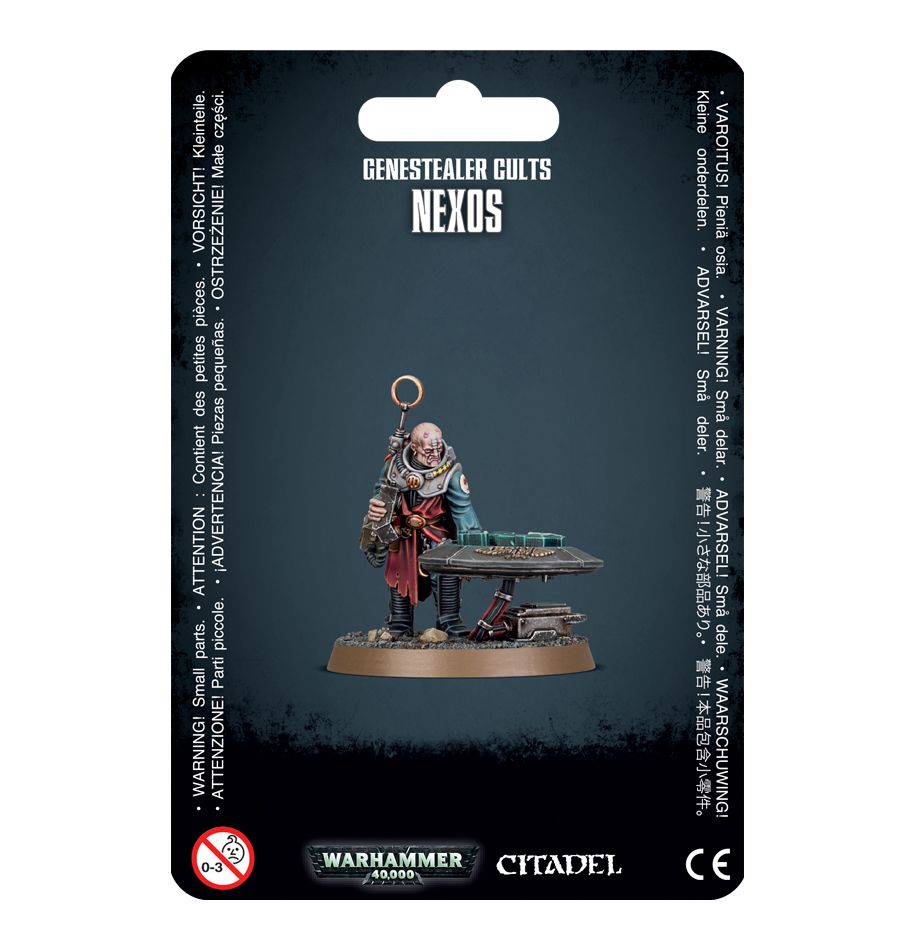 Nexoses act as each Genestealer Cult's central nervous system. They are granted psychometric powers that allow them to absorb the memories and consciousness of indoctrinated organisms, processing that sensory data into a steady stream of strategic instructions and deployment orders.
The Nexos is a tactical lynchpin for the Genestealer Cults army – a strategic unit who rewards careful planning. WIth him, you'll be able to re-deploy your Ambush markers, letting you get the jump on the foe, while there's a chance he'll grant you additional Command Points, giving you even more tactical options!
This kit is supplied 10 plastic components, and contains a 40mm round base.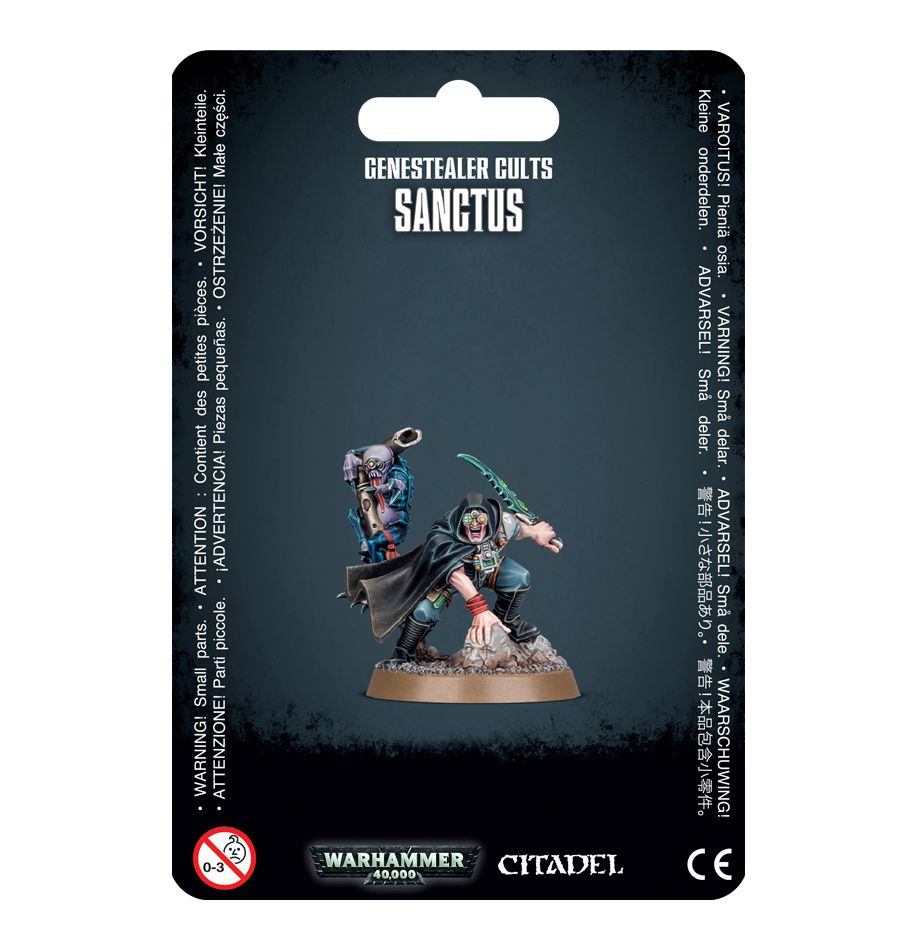 Sanctuses are the favoured blades of their Patriarch, assassins whose task it is to eliminate any who oppose the cultists' ascension to glory. Like creeping shadows they slip into the most heavily guarded facilities, seeking out their targets and eliminating them with merciless precision.
The Sanctus is a specialist assassin in your Genestealer Cults army, capable of appearing from nowhere and slaying your enemy's favourite characters. Incredibly difficult to pin down or hit, he's a fantastic disruption unit.
You'll be able to arm your Sanctus with your choice of silencer sniper rifle or Sanctus bio-dagger – the former is superb for killing psykers, while the latter makes the Sanctus into a brutal close-combat fighter.
This kit is supplied in 10 plastic components, and contains a 32mm round base.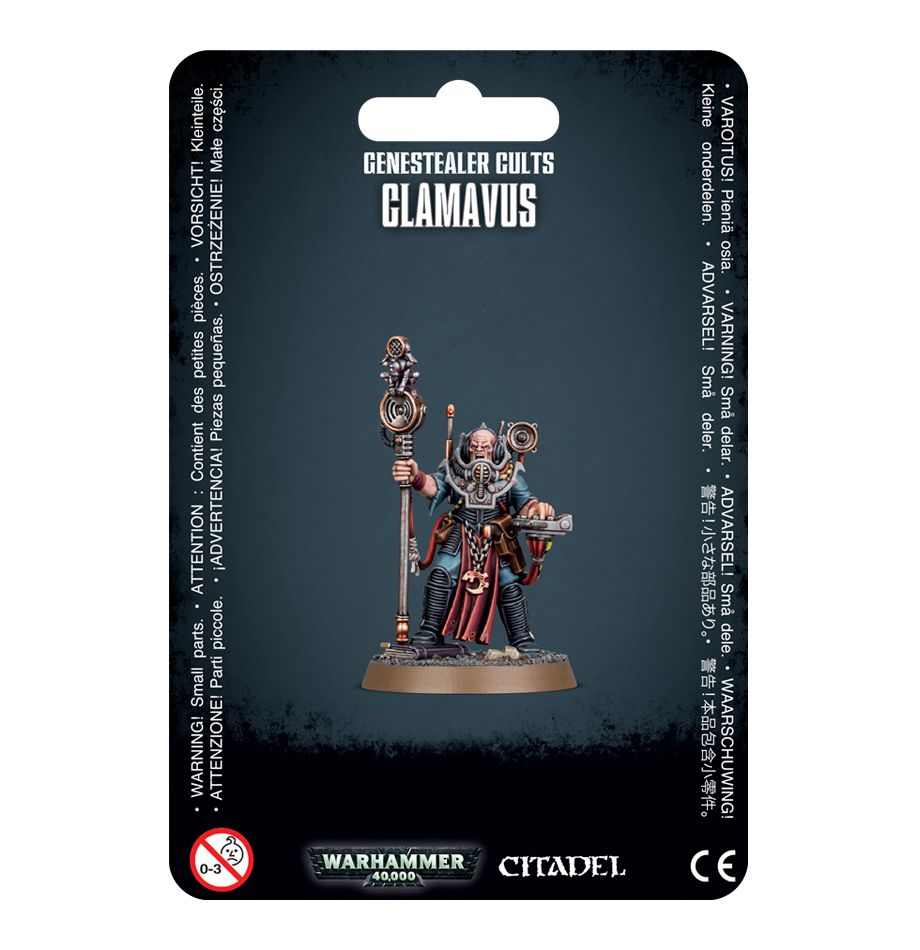 The Clamavus is an information assassin supreme, seeding audio-viruses into the planetary vox network and dismantling communications. It is their role to create an aura of fear and confusion that their kin can exploit.
The Clamavus is an Elites choice for your Genestealer Cults army. You'll find your nearby troops benefit from better Leadership as well as improved advance and charge rolls, making him great when paired with close-combat units. Meanwhile, you'll be able to deny your enemy reinforcements and deal mortal wounds with the Clamavus's scrambler array.
This kit lets you build one Clamavus, and includes a choice of heads – one with goggles, one without. Perfect if you're looking to put your personal stamp on the model, or want to include multiples in your army!
This kit is supplied in 11 plastic components and contains a 32mm round base.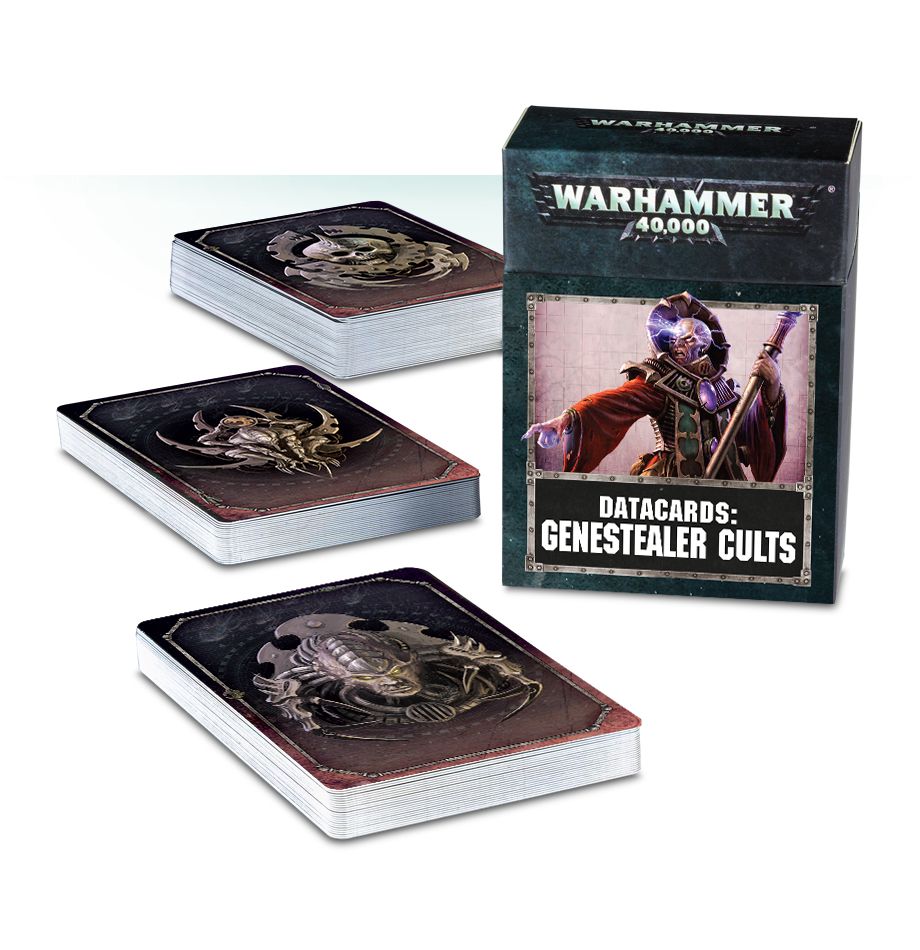 Plan your day of ascension and manage your insurrection with these handy reference cards! This pack contains 36 Tactical Objective cards, 7 psychic power cards, and 28 Stratagem cards. Each set is great for quickly referring to your rules, making sure you'll pick the right Stratagem or psychic powers for your battles with ease.
Please note – you'll need a copy of Codex: Genestealer Cults to make full use of these cards!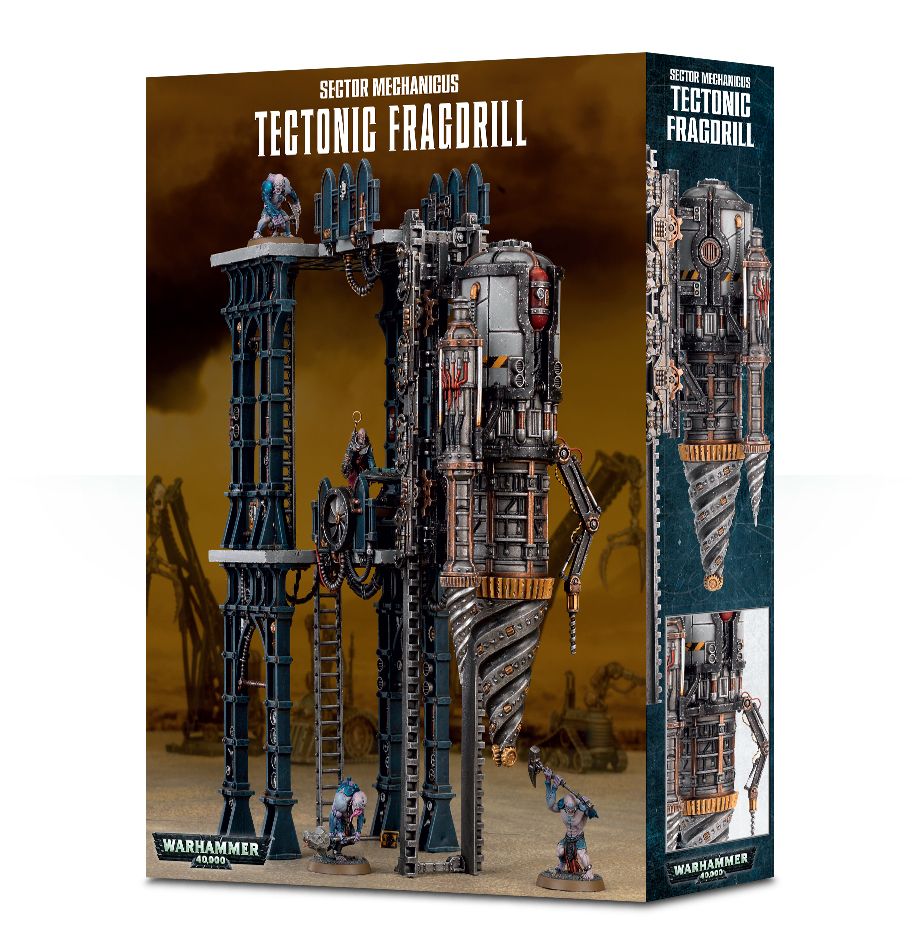 It is common for a Genestealer Cult to thrive on industrial worlds. When the cult rises up to overthrow its oppressors, they employ all manner of improvised industrial equipment from their arsenal. Among the largest and most impressive of these is the Tectonic Fragdrill, a huge piece of mining gear often found in a Sector Mechanicus that can cause targeted earthquakes.
The Tectonic Fragdrill is a massive scenery piece particular to the Genestealer Cults. You can use the gigantic drill in a variety of ways in your games. It allows units to be removed from the table and redeployed closer to the enemy, and its immense power can also be harnessed to cause tremors that slow down nearby units, or a mighty quake that can split the earth in a straight line across the battlefield, causing mortal wounds to units in its path.
The Tectonic Fragdrill is designed to fit in with the range of Sector Mechanicus scenery, and boasts many of the same design features and components. The rails included with it are also compatible with the Galvanic Servohauler kit.
This plastic kit consists of 63 components, including walkways, legs, a floor, chimneys and the drill itself.
The datasheet for the Tectonic Fragdrill can be found in Codex: Genestealer Cults, as well as in the included construction guide.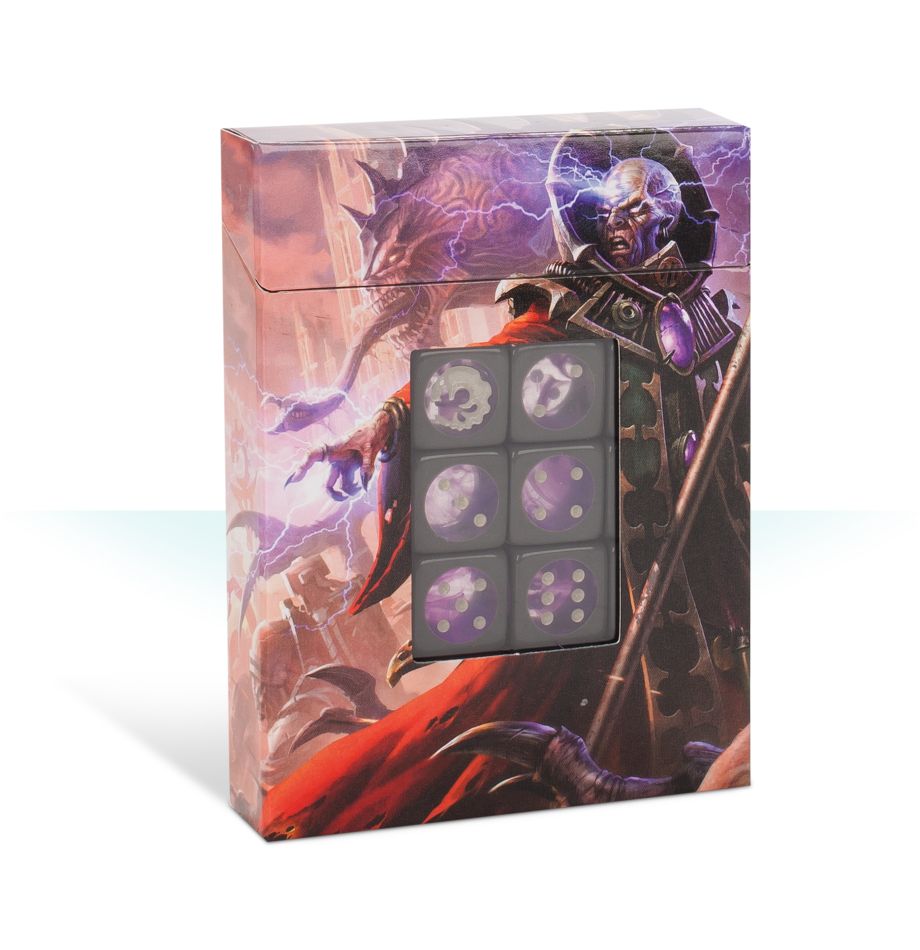 When ascension day comes, no chances can be taken by the forces of the Genestealer Cults. And with this dice set, themed around the cults, there will be no chances, and no failure…
Okay, we can't promise these dice will always succeed, but they will indicate your allegiance to the Genestealer Cults, and come complete with the faction's icon on one face.
This is a set of 20 6-sided 16mm dice. Designed with square edges, these dice have grey bodies with a purple gem swirl effect on each face and the pips picked out in red. Each dice features the icon of the Genestealers Cults on the '1' face – this matches the original Genestealer Cults dice set, so if you have the original set you can use both together without any confusion.
They aren't the invaders – YOU are!