It's a race to kill Doctor Lucky without any witnesses, but what did he ever do to you?!
It's always great to discover a community surrounding a single game. Maybe I'm the odd-one-out here, but I didn't really know anything about Kill Doctor Lucky. I'd heard of the game some time ago, when it was originally released in 1996 by Cheapass Games. But never knew anything about it beyond the title. Imagine my surprise when I discover a whole community supporting this game and its many expansions!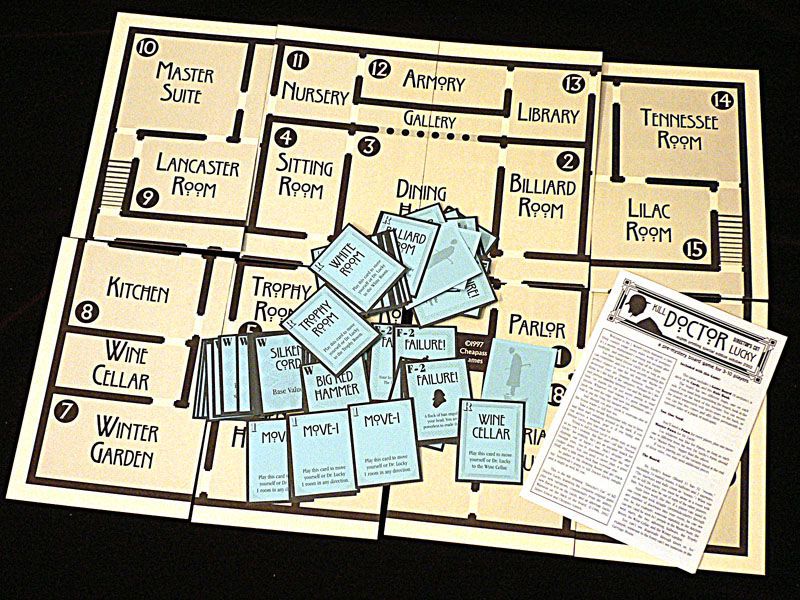 The visuals of the original 1996 board is….. not great. So we'll be using updated versions for pictures from now on.
Everyone who plays this game describes it as Reverse Clue, which I'm not sure is super accurate, but that's not important. The general goal for every player is to… you guessed it, kill Doctor Lucky. You you can't do it when someone is watching, and you have to watch out for everyone else foiling your attempts.
The overall gameplay is simple. Each turn, Doctor Lucky moves along a set path through the numbered rooms. Each player can move 1 space, or play Move or Room cards from their hand to move better and faster.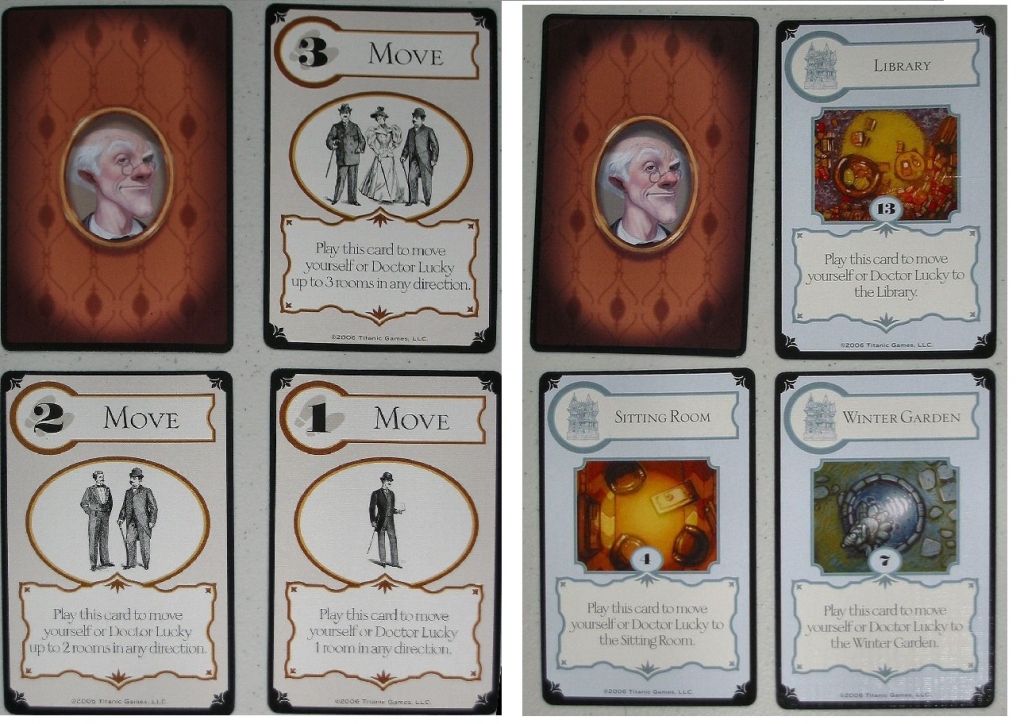 If a player is in the same room alone with Dr. Lucky at any point, they immediately go next. So long as they are not in line of sight of any other players, they are allowed to attempt a dastardly murder! If a straight orthogonal line can be drawn from a doorway of your room to a doorway of a room another player is in, they can see you and you can't attempt the murder. Once you're alone, you can use the weapon cards in your hand to attempt the killing blow.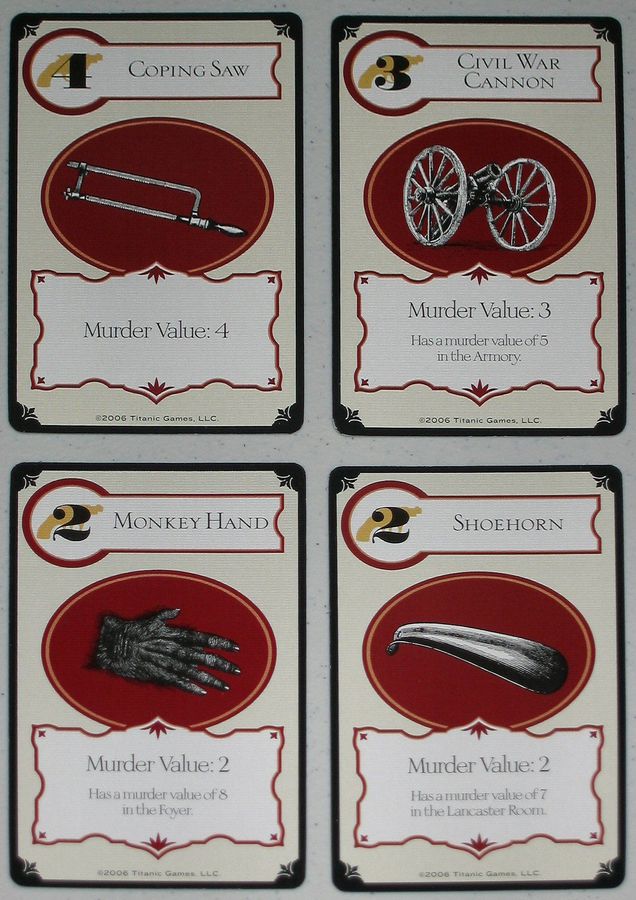 Some of the weapons are more obvious than others.
But that's not the end of the game. During each murder attempt, the other players have a chance to foil the deed. By playing Failure cards, the other players can stop the attack. If the sum of the Failure cards equals or exceeds the strength of the weapon attack, the murder is thwarted.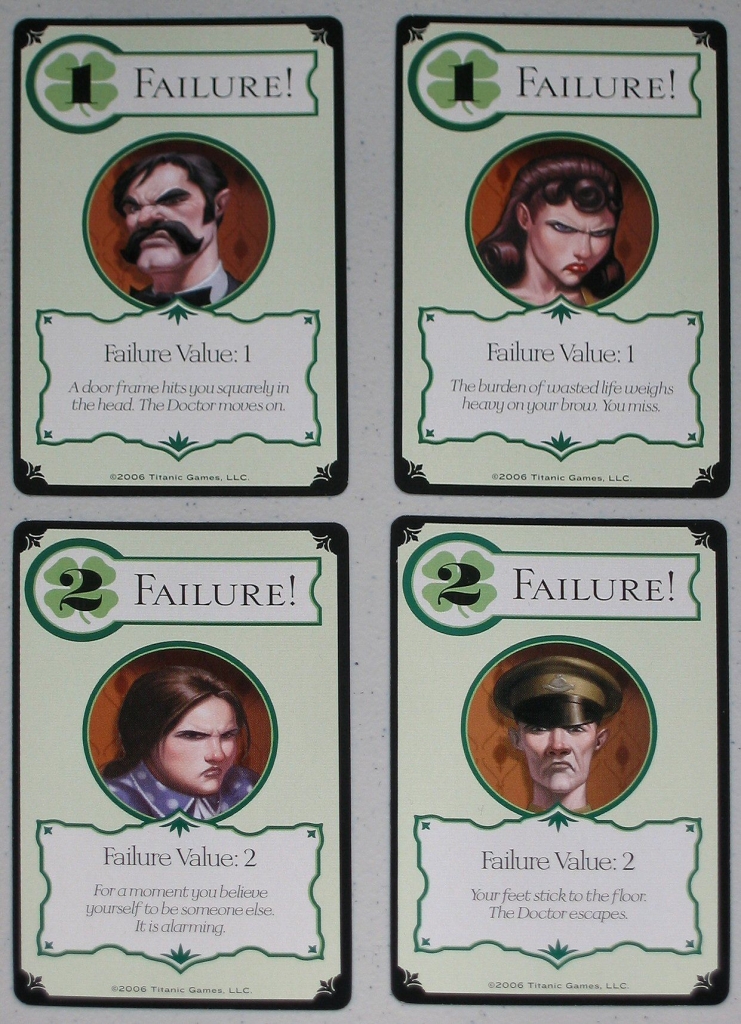 Here's the kicker though. Failure cards are played in turn order, with only 1 chance to play the cards at all. So, once you pass or play, you're done. This opens up a really fun bluffing and forced diplomacy mechanic. Suppose I'm certain you have a Failure card in hand. I play enough Failure to bring the sum to 1 less than is needed. So now, it's up to you. Either play the card in your hand, or lose the game. I lose too, but so do you. It's like the prisoner's dilemma, in a way.
The first person to get away with murder wins the game!
But while this game came out over 20 years ago, it has so many official expansions and re-releases and even lots of fan expansions and custom made boards, minis and cards.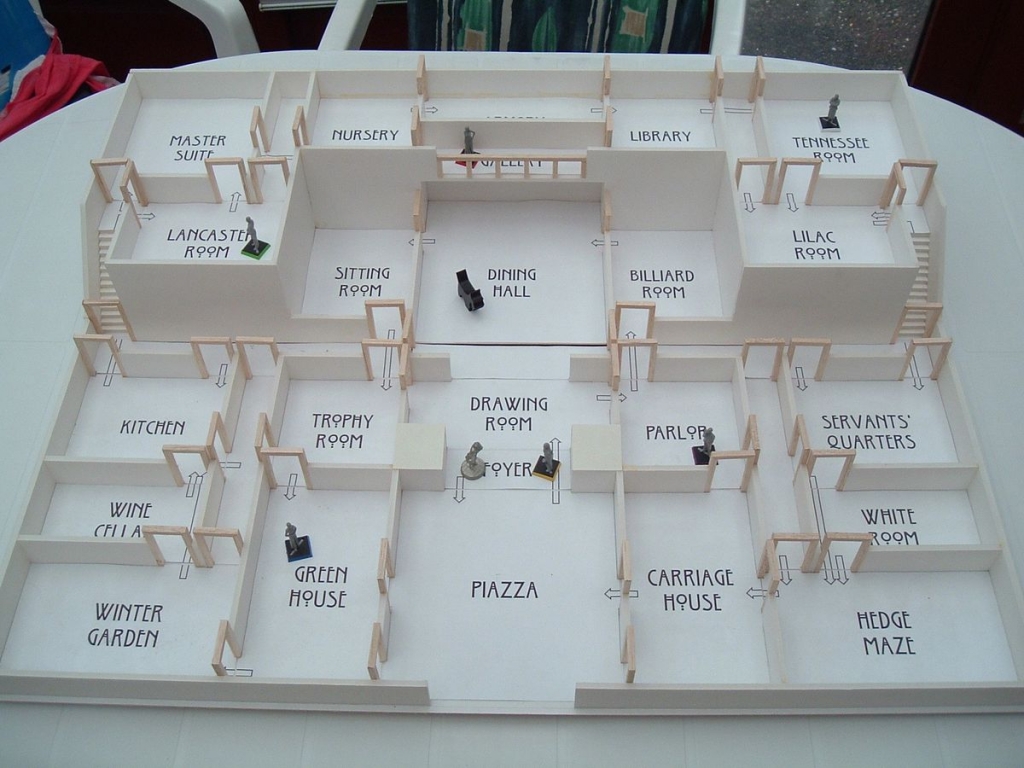 3D game board courtesy of myronf from BGG
The expansions add all kinds of new weird rules like Dr. Lucky's dog (or cat) or being ghosts or having to save Lucky from a sinking ship instead. It gets pretty wild.
I would be shocked if this isn't some super well known classic game that I just totally missed, but from all the fan creations I've seen for this game, it seems like a pretty rad community.
Thanks for reading!