When it comes to Stratagems few things can shut them down. It's time for a Generic 'Counter Stratagem' option for all.
This is not a new concept but it's long overdue in Warhammer 40,000. Stratagems need a hard counter and it's time to bring back the idea of a Dispel Scroll to Warhammer 40,000.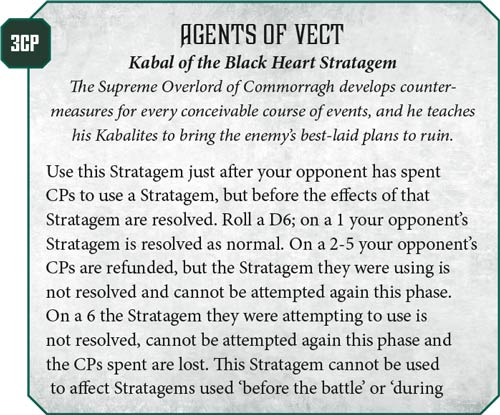 The Drukhari already have Agents of Vect, so this isn't even a new thing to the current edition. However, it's about time everyone got a generic version of this ability. I propose something with a similiar slant and CP cost to go along with it.
Corrupted Signal – 3CP
Use this Stratagem just after your opponent has spend CPs to use a Stratagem, but before the effects of that Stratagem are resolved. Roll a D6; On a 3+ your opponent's CPs are refunded, but the Stratagem they were using is not resolved and cannot be attempted again this phase. This Stratagem cannot be used to affect Stratagems used 'before the battle' or during the first turn of the game.
It's 3 CP so the price is STEEP. And it's only on a 3+ so there is a chance that it won't even work. And even if it DOES work, your opponent gets their CPs back anyhow. This is clearly intended to mimic a lot of what Agents of Vect does but I also want to keep that power as unique as it is – I don't want to make the generic version more powerful than this specific version.
That said, there are some cases where I will GLADLY spend the CPs at just the chance to stop a Stratagem from going off. There's a particular Knight one that I'd really love to use this on…
Is this the final form of this stratagem? No – I'm sure the Game Designer Studio at GW can tweak this and playtest it to make it right for the current state of the game. I do question why they haven't already created one of these type of Counter Stratagems yet. Maybe they didn't expect Stratagems to grow so big? Or maybe they just didn't think it was necessary to do. But with each codex we've seen another 20ish stratagems get added to the game. It's a LOT to take in. Why can't we have just one generic Stratagem to prevent them from working?
What do you think? Would you want some type of Counter Stratagem for 40k? Is it too powerful? Should it be once per game? Put on your game Designer Hat and let us know in the comments!