Goatboy here again with my thoughts on what the new Daemonkin mean for Chaos Marines… and a confusing GW armylist.
 This week sees the start of the month of the Goat as new Chaos Space Marine stuff is finally being birthed out of the maw that is GW.  Overall I am pretty excited – even though I am very confused by the sample GW list they showed us.  Let's start with that and see what we can figure out.
Sample GW Shadowspear Lists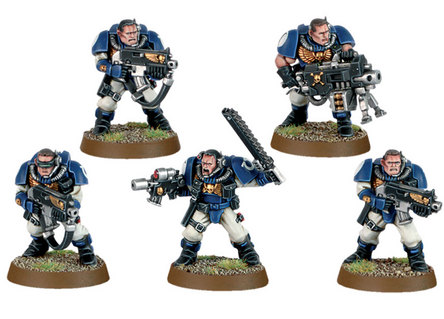 Not going anywhere…for now.
First of all – the Marine one feels like an ok list.
It has enough bodies, bullets, and tricks to do ok. I think I am more annoyed with the fact the army is using classic Scouts instead of all Primaris – but when you make the scout unit so points efficient – it gets hard not to take them.  Also with the added lack of "fast" transport for the Primarus to use it just makes sense to add to the default Marine troop choice.  Still it looks like a list you can bring to a store, have some fun, and even with a game or two by following the mission.  Overall it is decent.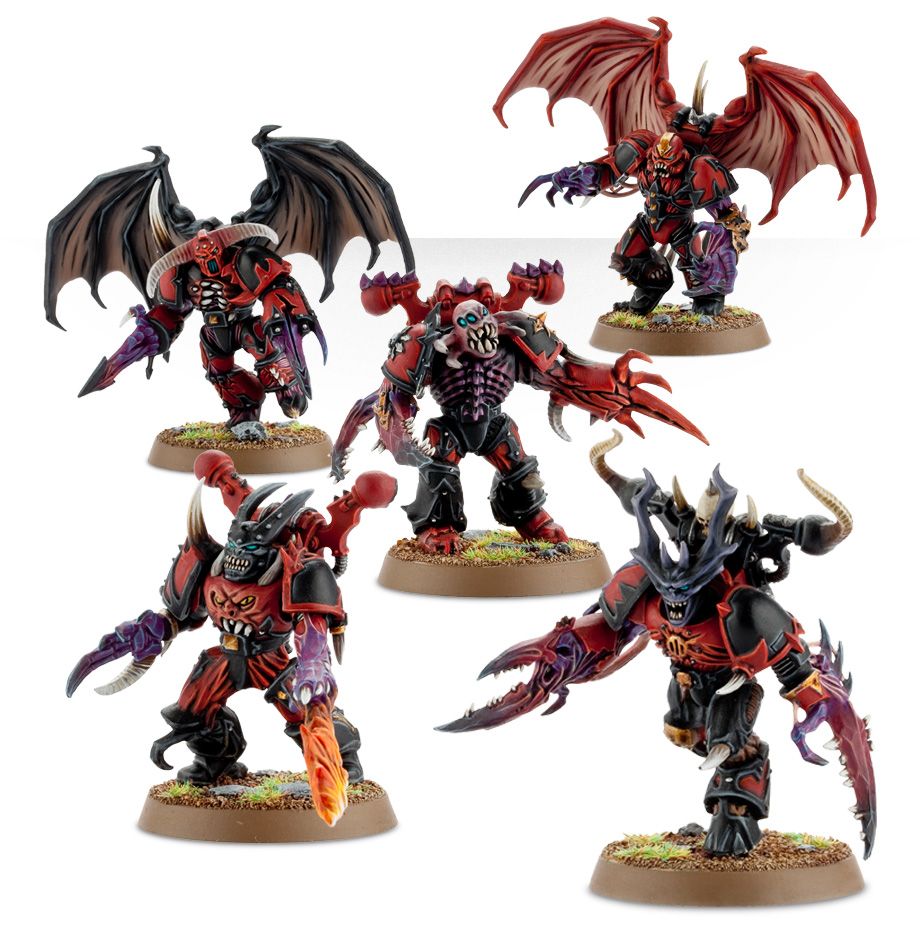 Feel the burn!
Now on the other hand – the Chaos Space Marine list has me scratching my head.
They obviously know something is coming because who in their right mind would take 20 Possessed.  Now let me begin that there is a cold hard place for Possessed in my heart.  I love the idea of them.  I think they are actually decent looking models with a whole lot of customization, bits to use for other models, and a lot of cool stories in the books.  I like the Word Bearers – so learning about those first possessed is something I enjoyed delving into.  But they are not that good right now.  In fact – unless you had to take them for some reason they are just going to sit in your collection.  So why the heck did they put in 20 of these guys?  Is there something beyond the little spells from Daemonkin coming that might make them good?  Maybe they revamp their random nature?  Maybe they get so cheap you have to take them?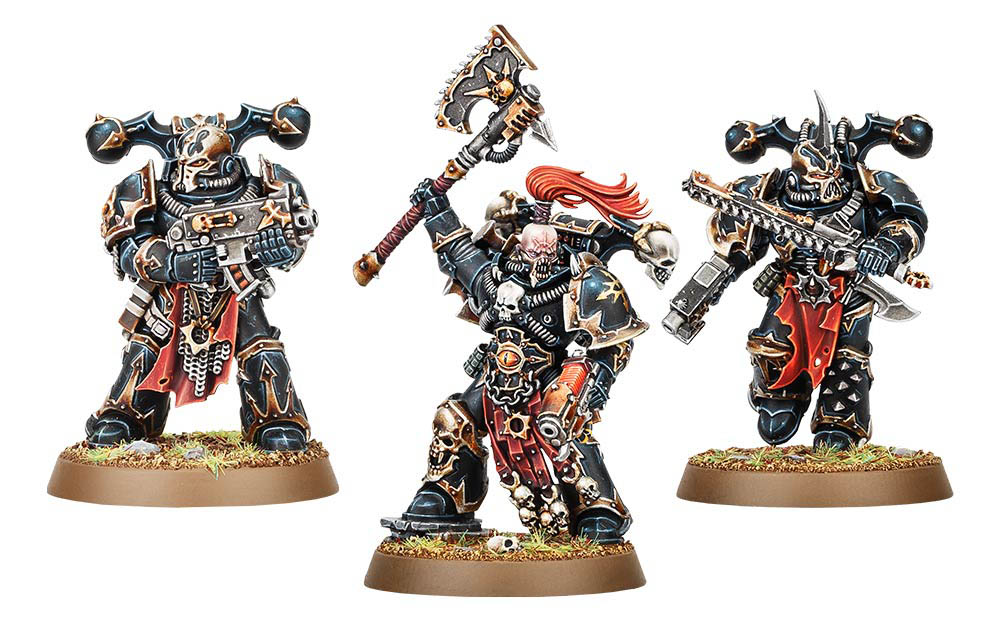 AHHH – this new armor feels so good!
Its odd to see so many of these guys as while the kit is old – it isn't too old and still looks good.  Then of course the whole 30 Chaos Space Marines for troops.  I do have some ideas on how Chaos Space Marines could be good – but that is for another article.  We all know the default CSM troop is Cultists or your taking T. Sons with Tzaangoos.  You would think the list would have added more Oblits, maybe another Spider and then something else interesting.  At least the HQ's are ok – with Master of Possession and a Daemon Prince helping things out.
Daemonkin Warlord Traits
Let's look past the list shown and break down the new Warlord Traits.  They are not too bad and since you can take them if your Warlord is a Psyker (cough cough Daemon Prince) then its pretty easy to add to your list.  The first one I like is the Devourer of Magic as it gives you another Deny and you heal a wound after you Deny one of the Powers.  That isn't too bad as both abilities can be usable.  Reader of fate gives you another way to regain CP.  Too bad this little codex doesn't have any new Stratagems (very weird if you ask me) so while the CSM are decent still – I expect things to change if a new book comes out.  Infernal Gaze is not nearly as good as the default T. Sons abilities but it isn't terrible.  Warp Lord lets you reroll 1's of your Psychic tests so that can be helpful sometimes.
Daemonkin Stratagems
I was pretty unhappy with the lack of Daemonkin Stratagems.  There are so many things they could have done that isn't just rehash of Chaos Space Marines.  There could have been some healing powers, some better assault options (double assault with Daemon Engines), and heck add in some protection abilities.  There was a lot of Space to add things and it just has me really thinking will see a new book.  Just something to make Daemon Engines better.

Daemon Engines
Speaking of Daemon Engines – what are the good ones we can maybe see utilizing some of the new Malefic powers?  I love the Lord of Skulls but there are others that might be good.  I always thought a big Slaanesh army using Maulerfiends and Slaanesh Daemons could be good.  Using the ability to Advance and Charge and cause some damage.  Mix in some Greater Possessed, some Heralds of Slaanesh, and whammo you got a huge cake of gross Slaanesh goodness.  I think Decimators could be good too with some Cursed Earth goodness, abilities to reroll hits and other fun stuff.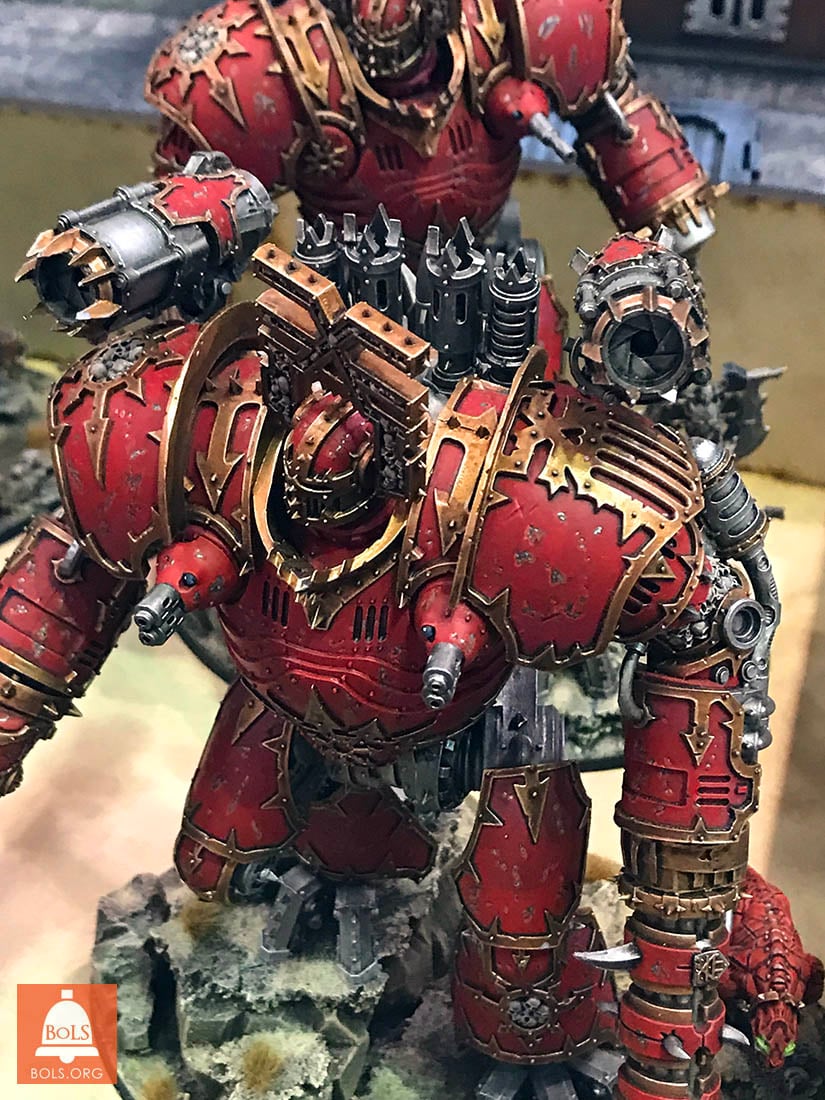 I remember seeing this 3 Kytan looking army at LVO.  I was thinking they were just used as Renegade Knights (man wouldn't it be cool if they were in the new CSM with Evil Houses?) but with the new Daemonkin rules they could be fun to play.  Those Kytan looked so good on the table top and it is one of those models I am really finding a hard time saying no to right now.  Will see if I bite the bullet, find some extra cash lying around, and get those digitigraded legged robots of death and destruction.  I also think the Blood Slaughters mixed with some Khorne Daemons and other bits could also be a really neat list.  Heck throw in some Maulerfiends and just put the peddle to the floor and have a good ole time.

Chaos Verdict?
This release is cool but we all know some other stuff is coming.  This can't be just the rules to make Chaos Gud again.  Most likely will see a new book, points will be updated (probably dropped), and a whole slew of new rules.  I just hope Veterans of the Long war stays the same, we get a few other neat abilities, and Abbadon gets rules to rival Roboute.
~What are you guys looking forward to using from these new Shadowspear releases?