The mysterious Shadow Sun Syndicate has unveiled new battlefield technology. Their new monster Zor-Raiden and the new Sun Industries Building have arrived!
Let's take a look at what these new Shadow Sun Syndicate releases can do!
Sun Industries Building
A very cool futuristic looking design.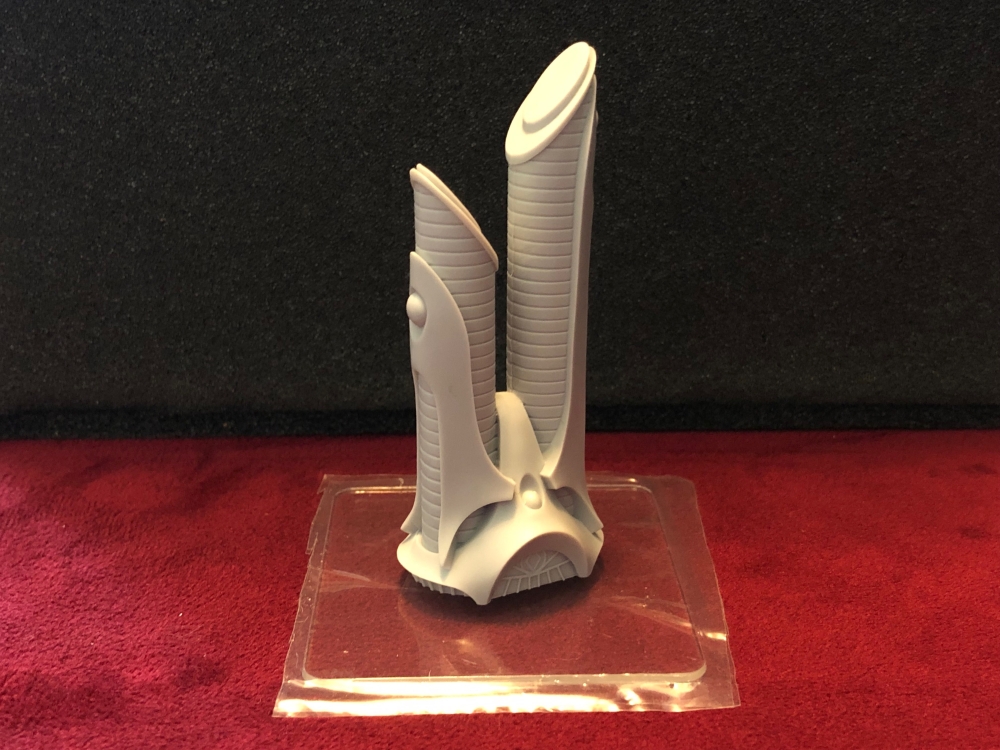 Now onto the rules!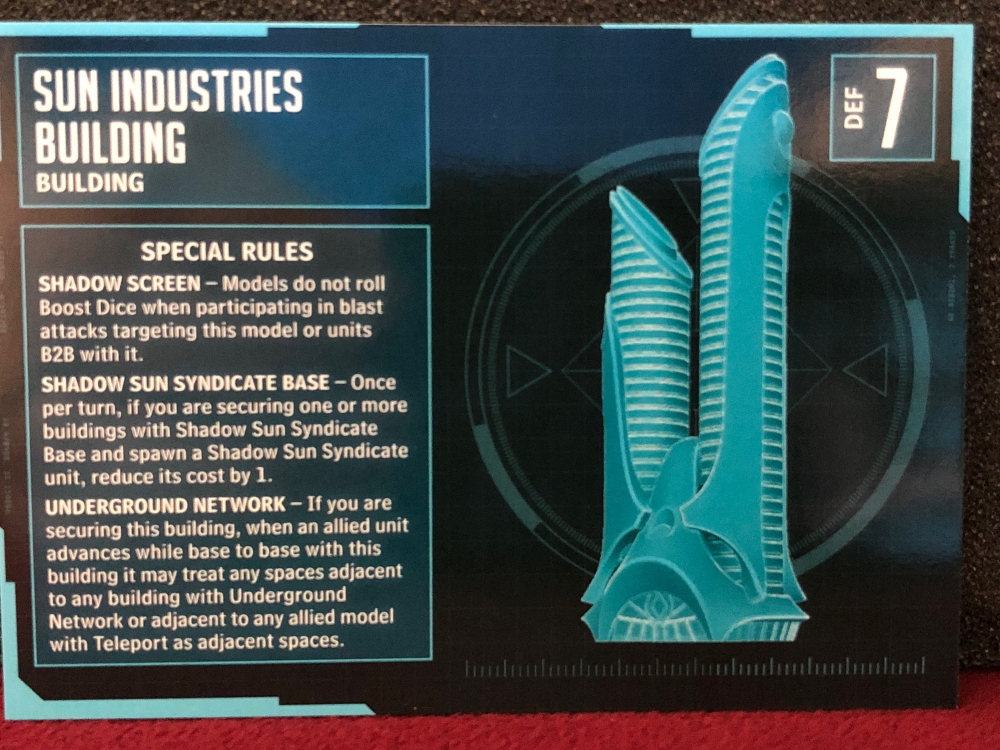 Shadow Screen – This building provides some excellent protection against ranged attacks. Removing Blue dice from enemy blast attacks with make your DEF 3 or 4 units very resilient to enemy shots. At DEF 7 an enemy monster is going to need to dedicate a decent amount of power dice if they want to shoot this thing down.
Shadow Sun Syndicate Base – The standard Faction based discount that all Faction buildings have had so far. Always nice to get a unit discount.
Underground Network
Hello movement shenanigans! If you are securing this building an allied unit can treat spaces adjacent to this building as being next to any other building with Underground Network or any friendly model with Teleport!
If you bring multiple of these buildings you might try to place one towards the enemy side of the board. But be warned, the Underground Network goes both ways! If your enemy controls an Underground Network building they could pop up in your base unexpectedly. Having an Explodohawk or Taskmaster appear in your back lines can be problematic.
Zor-Maxim is a big fan of the Underground Network because of his Teleport ability. This allows you to easily screen Zor-Maxim with units to prevent an enemy monster alignment. Another good option is the Interceptor + Shadow Gate unit combo. The Interceptor can move up the table, use it's Transport Action to call in a Shadow Gate. The Shadow Gate has Teleport so now you have another exit to your Underground Network.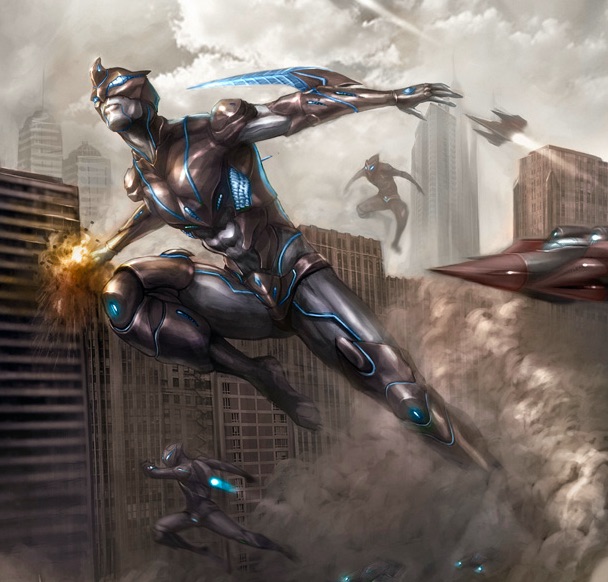 Zor-Raiden
A straightforward assembly, only 5 parts in total and everything is very obvious as to where it should go.
Alpha Form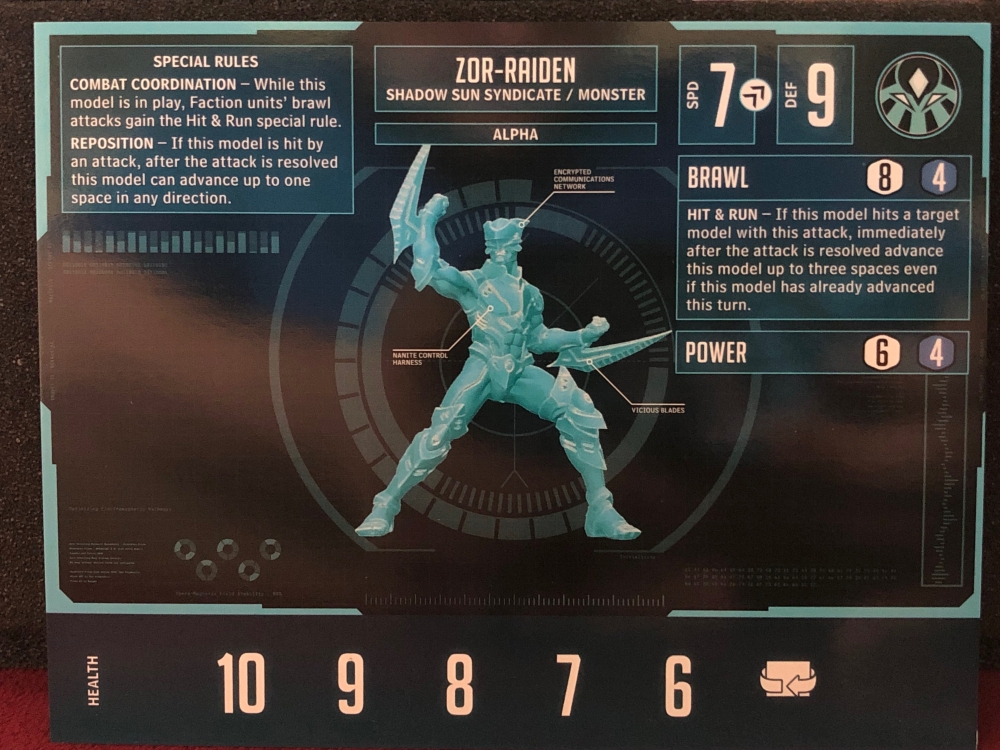 DEF 9, SPD 7 and High Mobility makes Zor-Raiden another nimble monster, very much like his counterpart Zor-Maxim. 10 hit points is on the low end of the scale, luckily he has some tricks to try and keep him out of trouble.
Reposition lets Zor-Raiden move after an enemy attack hits. This will make it pretty difficult for an opponent to get multiple power attacks on him in a single round. If Zor-Raiden is thrown into a building, 3 movement is often enough to get behind a different building or models to prevent a 2nd monster from being able to align.
Hit & Run on the Brawl attack is interesting. It would imply that Raiden should use his Brawl attack more, but against enemy monsters it's almost always better to Power attack for more damage. When you do want to Brawl, moving an extra 3 spaces will allow you to make sure Zor-Raiden isn't left out in the open. This might also be useful versus a monster like Armodox, who doesn't take damage from buildings. Armodox is SPD 6 with no mobility rules, so Brawling for 1 damage and then Repositioning + Stepping can keep you out of retaliation range.
Combat Coordination gives all Shadow Sun units Hit & Run on their Brawl attacks, which for now is just the S-Type Shinobi. Being able to destroy an enemy unit, then move to nearby key location(Power Zone, contest a building, etc…) is awesome. While this is nice when it happens, the Shinobi aren't melee powerhouses and often will struggle to hit DEF 2+ monsters on their own. You'll probably want to combine Brawls with another model or make sure an Elite is nearby for an extra Boost die.
Hyper Form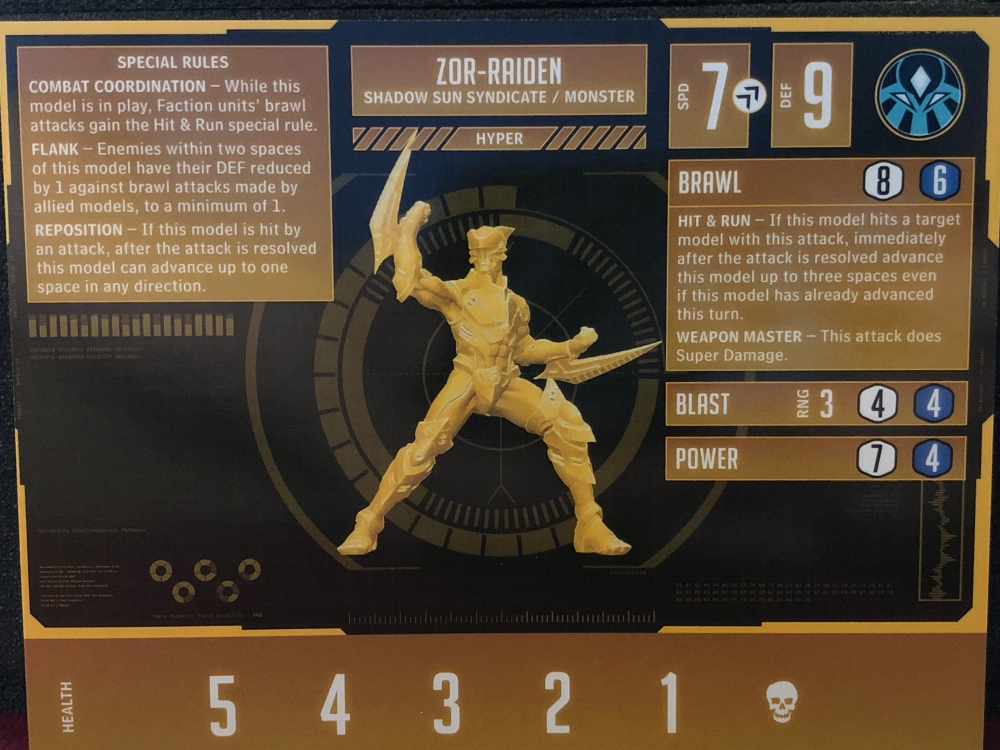 In Hyper form Zor-Raiden picks up Flank, Weapon Master on his Brawl attack, a Blast attack and a few extra dice. I'm not sure how the Shadow Sun technology works, but apparently it you hit them hard enough a gun appears.
Flank will help those nearby Shinobi hit their targets. Don't forget Zor-Raiden also gives this benefit to himself, and with the extra Blue dice he should be able to easily hit a monster with little/no Power dice. Weapon Master makes Brawling enemy monsters more appealing and in the late game if building are scare this is a great way for a guaranteed 2 damage.
Wrap Up
With 2 Monsters and a Faction building, Shadow Sun Syndicate have a lot of tools available. The Underground Network opens up a ton of interesting plays, I particularly like the idea of sending Carnidons through the tunnels. Zor-Raiden's movement tricks and Brawl abilities make him a solid melee monster. While the Shinobi's aren't bad in melee, if Shadow Sun ever gets a melee powerhouse unit the Hit & Run will be amazingly good.
What unit do you think would be the best to send through the Underground Network?