Star Wars X-Wing: 'Battle of Eindhoven' System Open Top 4 Lists

The System Open Series continues with the results of the Battle of Eindhoven – come see the top lists and changes heading your way!
Last week, the X-Wing System Open Series continued in Beursgbouw Eindhoven in the Netherlands. This event had lots of tough competition and we saw a the trend of the Imperial Squadrons performing well. 2 of the 4 squads that made it to the semi-finals were Imperial, plus we had the First Order along with Scum and Villainy in the mix. Let's take a look at all the top lists!
Eindhoven, Netherlands System Open Champion – Benedikt Link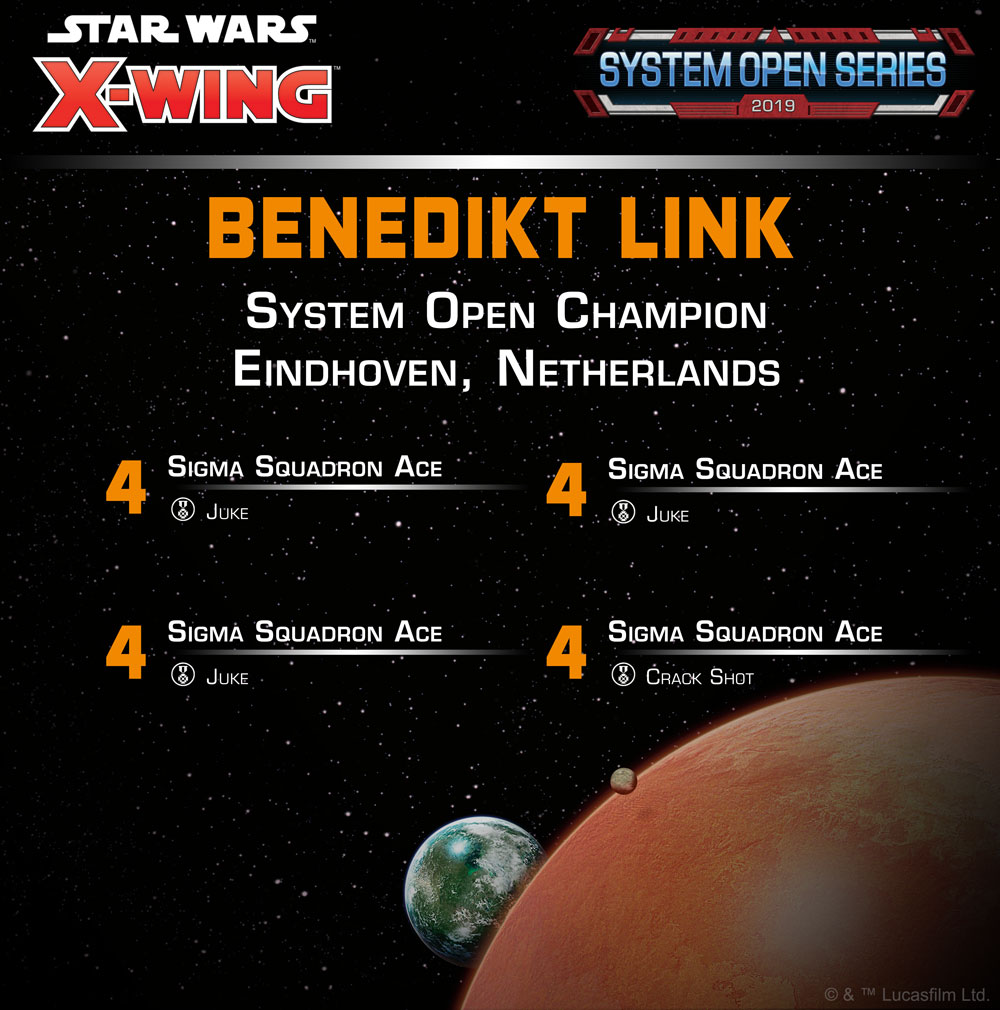 Congratulations to Benedikt Link on the win! Running a Quad-TIE/ph Phantom list, featuring 3 Jukes and 1 Crack Shot upgrade, this does not have a ton of fancy gimmicks. However each ship packs a punch. Plus, with all of the ships running at Initiative 4, that allows the player to choose which order to activate them.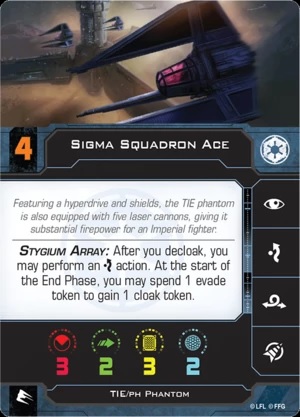 I'm sure it took no small amount of skill to fly this list successfully – so again, congratulations to the Champion Benedikt Link!
Runner-Up – Lukasz Golonka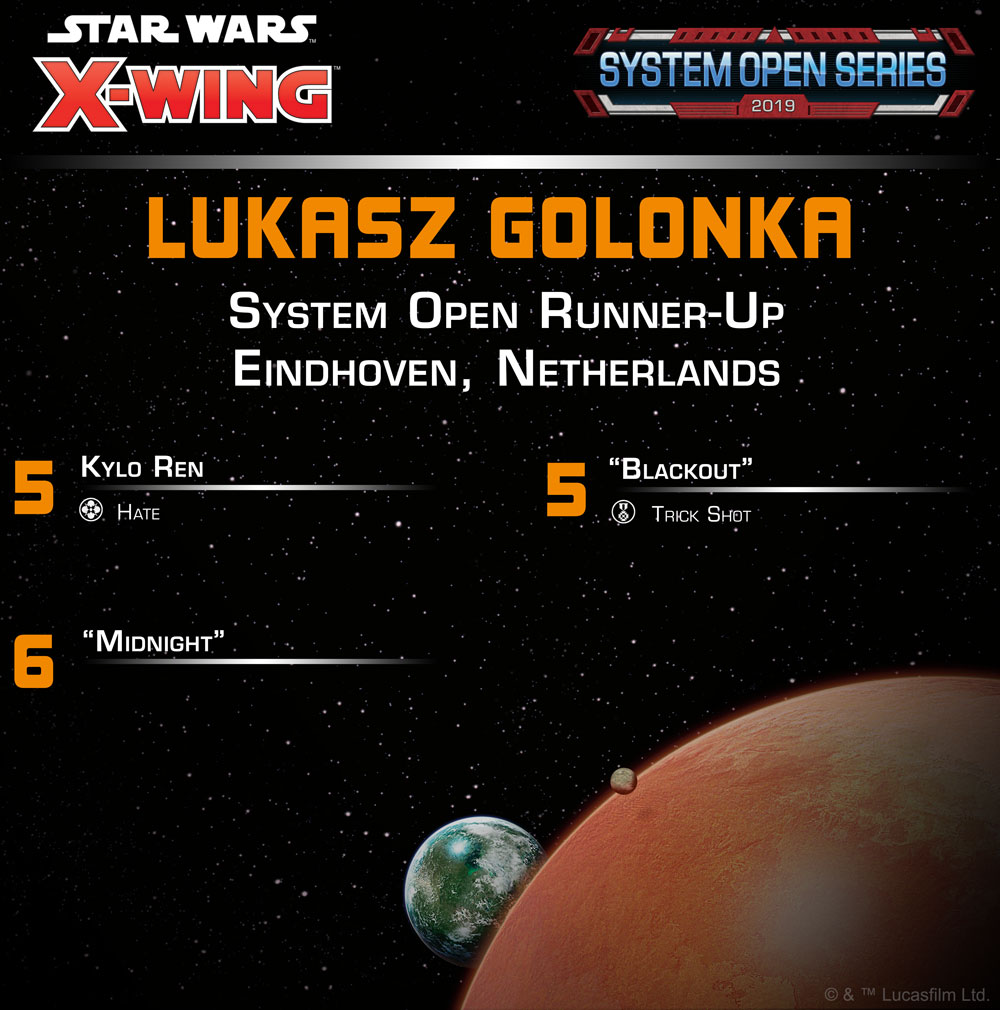 Flying a First Order lists that wasn't triple Upsilon-Class Shuttles,  Lukasz Golonka managed to land as the Runner-up. With the 2 TIE/vn Silencer Aces, this list really tapped into a very versatile ship and the high initiative values. With "Midnight" also in the mix, all three ships are going early in the combat phase to get those shots in quick! Again, not a whole lot of "bells and whistles" here – just high initiative and great maneuverability to carry the day.
Top 4 – Matthias Konrad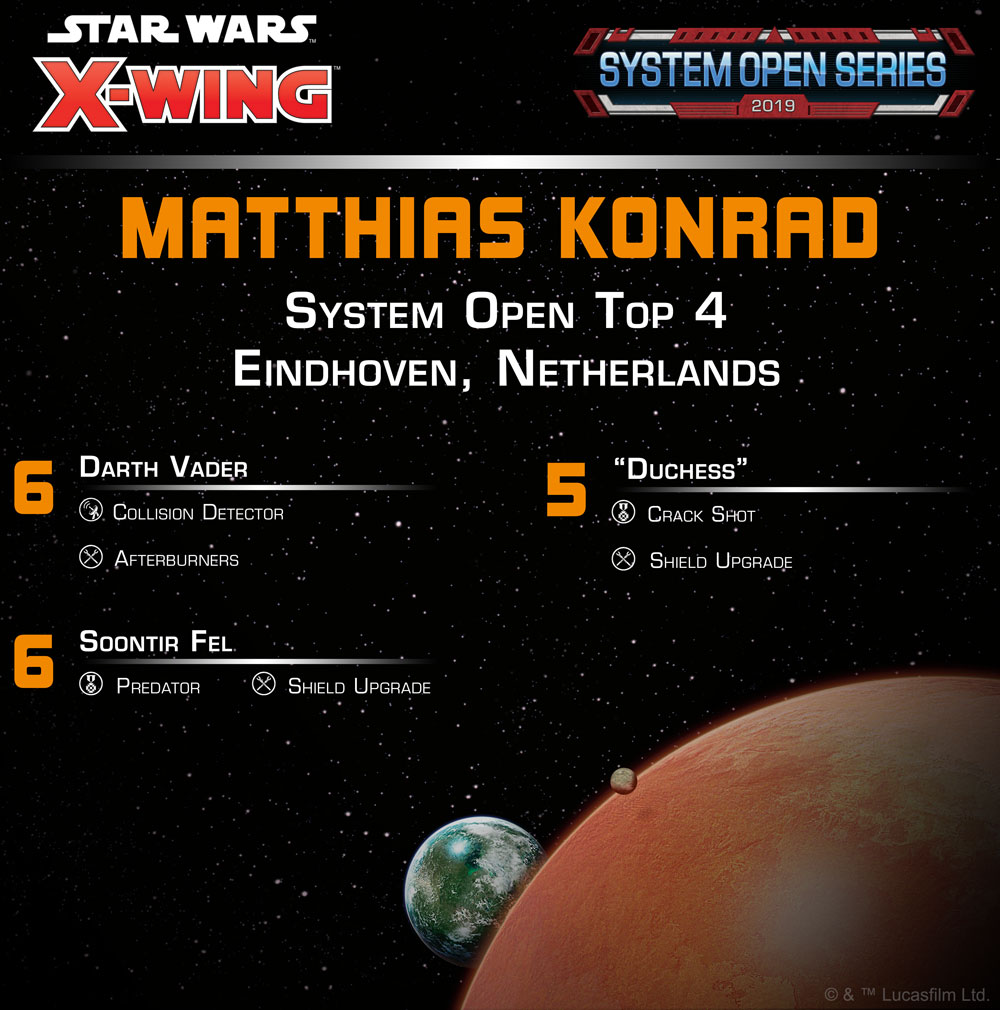 Also in the Top 4 we have the other Imperial list. You can see that this list looks very different from the Champion's list. It's got a lot more points in upgrades along with some high-end Aces. While it might not have made it to the finals, it performed well enough to land in the top 4 AND it fits the themes we're seeing of high initiative/maneuverable ships. This list could be a consider a "Classic" Imperial Aces list and you should always respect the classics.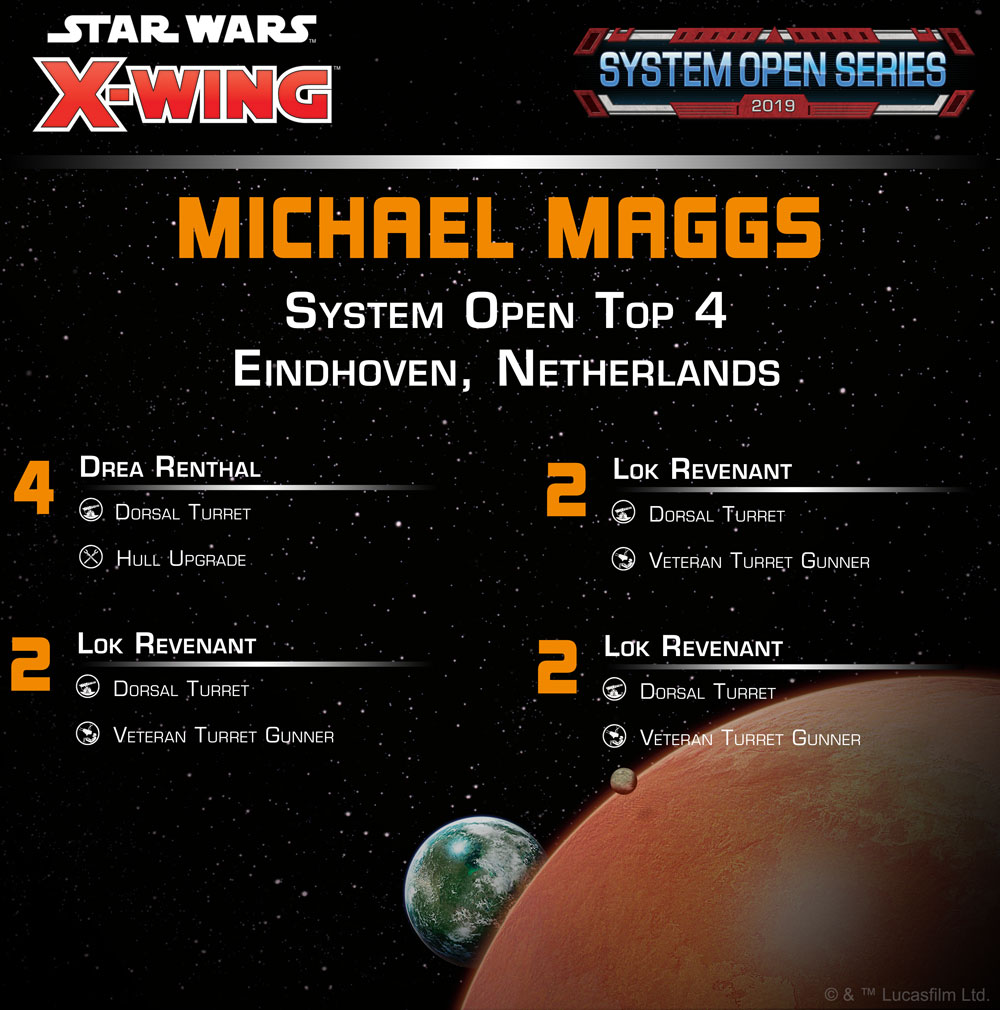 Rounding out the Top 4 we have an appearance by a Scum and Villainy list. This list is very different from what the meta would consider a "standard" Scum squadron. In fact, FFG had a pretty good break down:
Subscribe to our newsletter!
Get Tabletop, RPG & Pop Culture news delivered directly to your inbox.
Michael's squadron more closely resembles the squadron of Rebel Y-wings that Brendon Osmann-Deyman used to go undefeated at the Toronto Hyperspace Qualifier and earn his seat to the World Championship. With one fewer ship, Michael's Scum squadron sacrificed a slight bit of durability for more consistent offense—fueled by the Scurrg's higher primary attack and the fact that Drea Renthal allows her allies to reroll attack dice while firing at targets in her primary firing arc.
Other Observations
FFG also had a few other notes on the trends that they have picked-up on in the System Open Series which is a reflection of the over-all meta within the game currently. You can read their full list here but some of the key takeaways include:
The game's emphasis remains firmly set on skillful maneuvering
The increasing aggressiveness of initiative bids for lists with pilots at initiative 5 and 6
TIE/ph Phantoms have placed in the Top 8 of all three Stystem Open Series events in 2019
If you are planning on attending any events moving forward, you are certainly going to want to take those factors into consideration.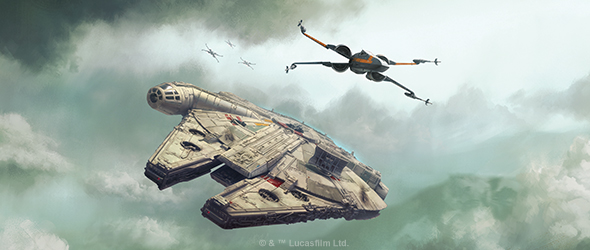 Hyperspace Changes Ahead
Finally, there is an update to the X-Wing app that has been rolled out that impacts the Hyperspace Format. There are some new changes to what is legal in the format:
Generic Upgrades: Barrage Rockets, Jamming Beam, Tractor Beam
Rebel Alliance: A/SF-01 B-wing, RZ-1 A-wing, all U-wing pilots, Baze Malbus (crew), Cassian Andor (crew)
Galactic Empire: TIE Interceptor, TIE/sa Bomber, Ciena Ree, Darth Vader (crew)
Scum and Villainy: Z-95-AF4 Headhunter, Star Viper-class Attack Platform, Virago, Dengar (gunner)
First Order: Biohexacrypt Codes
Also, if you're planning on playing in the AdeptiCon X-Wing System Open Series event remember that because Wave III is launching today, March 21st, the Galactic Republic and Separatists Alliance ships will not be legal for the main event! You can expect those ships to be integrated to the SOS in later events.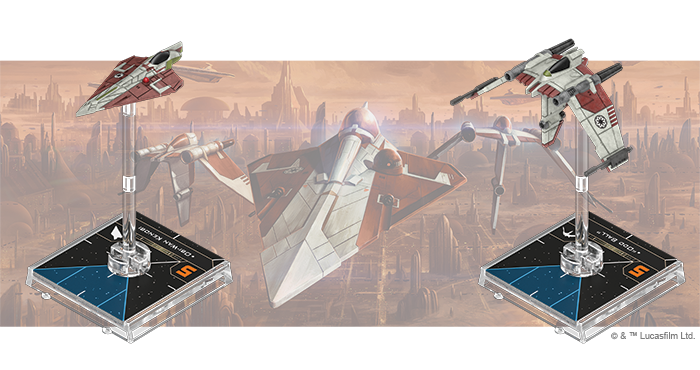 Congratulations to all the Semi-finalists and Cheers to Benedikt Link for the win! Good Luck X-Wing Aces and may the force be with you!