I have a funny feeling that GW is looking to kill two birds with one stone – recapturing the magic of the Horus Heresy and kicking off a new edition with a bang.
If there is something GW is very, very good at, it is studying and replicating past successes.

The Most Successful Heresy
The entire Horus Heresy franchise has been a monster hit. Probably close to 100 novels, an entire side game, separate miniatures range, and multiple spin-off games. All from some cast-off fluff (Realms of Chaos) and side-games (Adeptus Titanicus) that had been languishing for almost 20 years. But after almost ten years – it's finally lurching to its galaxy-shattering conclusion in the next year or so.
But the overall arc of the Emperor's primarchs tearing each other and the galaxy apart Greek-tragedy style has legs. GW would love to start over and recreate that magic if they could.  Too bad all the primarchs are all long dead…. oh wait.

Kicking off New Editions with a BANG
Do you remember how 7th edition ended?  It seems like ancient history, but it was only two years back. 2016 started with the Rise of the Primarch series, and GW did what no one thought they could. They destroyed Cadia, birthed a new Eldar god, and brought back a "dead" loyalist primarch – Mr. Guilliman. Oh and that little minor thing about Cawl, and the army of super-marines he had been hiding for 9000 years.
Fast forward to the kickoff of a new and reimagined 8th Edition, with an all-new type of Primaris Marine, and Guilliman is running around all over the galaxy putting out fires. Mortarion fluttered on over to high-five Magnus, and here we are – in the middle of 8th.  I think that 8th has about a year left on it – and GW will want whatever comes next to have a proper kickoff.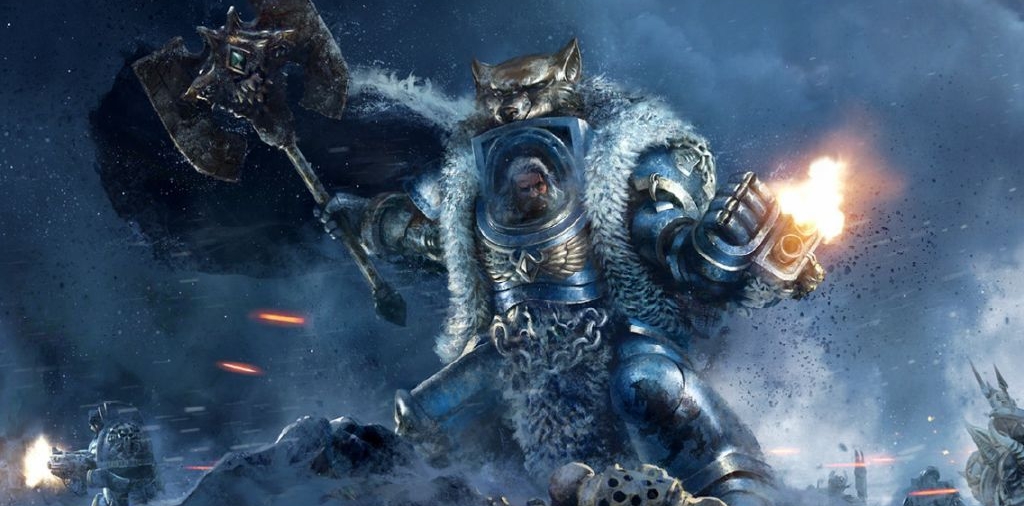 I saw Russ – really!
Space Wolves
Now let's take a step back to 7th and some of those narrative books that came out.  You will recall that at the end of Rise of Magnus, a critical thing occurred – Logan Grimnar was granted a vision of Leman Russ and told the Wolf time had begun. And when the Wolf Time begins – Russ told his children he would return.
"I shall listen for your call in whatever realm of death holds me, and come I shall, no matter what the laws of life and death forbid. At the end I will be there. For the final battle. For the Wolftime." ~Leman Russ

I have no idea where Luther is… oops.
Dark Angels
The Dark Angels are themselves facing a true challenge – Luther has escaped, Cypher is at large (escaping captivity by the Adeptus Custodes), and a legion sized force of The Fallen is mustering in the Imperium Nihilus. Lion E'Jonson is fully healed and sleeping in the deepest chamber of The Rock awaiting his son's time of challenge to awaken and return to them.

Putting It All Together
I see some obvious parallels here. If GW wants to recreate the magic of the Horus Heresy all over again, and kick off a new edition with a big shakeup – all the pieces are there. The gasoline and the piles of kindling are at the ready – they only have to throw the match.
It would seem that the return of one or both of Leman Russ and Jonson would be a perfect cliffhanger for 8th. It would be especially perfect as neither of those two is particularly fond of Roboute. Guilliman has adapted to the reality of the 40th Millennia and tried to keep the Imperium working as best he can – compromising where he must – ruthlessly in many cases.  It is entirely unclear if either of his brothers would approve.  Russ is at his heart a force of good, who would want to see the Emperor's dream of a secular Imperium free of idolatry reinstated. Jonson just doesn't trust Guilliman and thinks he is a popinjay; ever empire-building for his own pride and power. He might be very unimpressed with Roboute's course of action.
If either of these two return and doesn't like what they see – you have the making for a second civil war – with the various forces of the Imperium forced to take sides – while the Chaos Primarchs revel at the madness and fan the flames of war. With a 200-year gap between 7th and 8th edition as a precedent – a grand war breaking out would give GW all the leeway they needed to make 9th edition very different from a background perspective.
Just imagine what an Imperium torn in two would look like AFTER two centuries. What would the Eldar have become? Chaos, the Tau?  You get the point.
~And now you choose – if either or both of those primarchs come back, how would you have it all go down?