Games Workshop is showing off the rules for the new Endless Spells coming in Forbidden Power. How will you harness them?
When we first got a look at the Endless Spells from Forbidden Power they looked very Death-like – as in for the Death Alliance. But, good news everyone, they are actually available to all the armies in the Age of Sigmar. Turns out folks are still feeling the reverberations of the Necroquake so you can thank Nagash for that.
Anyhow, let's dive into the new preview from Games Workshop. We've got 4 new Endless Spells and they have some pretty funky abilities that armies are going to get to use.
Lauchon the Soulseeker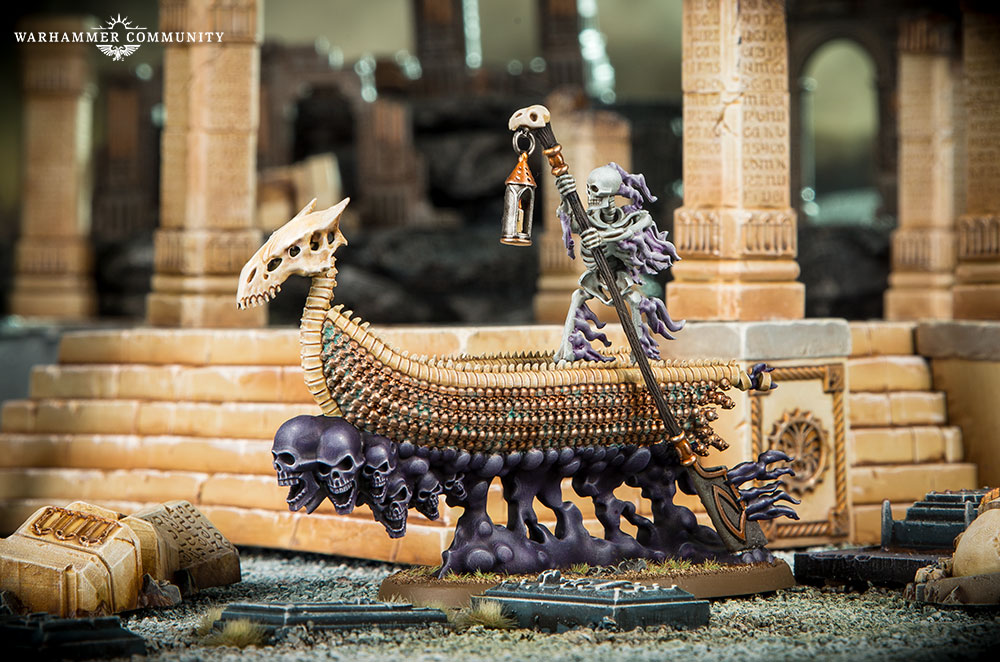 Lauchon the Soulseeker is clearly a take on Charon, the ferryman of Hades from Greek mythology. The in game lore from Games Workshop says:
"[Lauchon the Soulseeker is] formed from the fragments of a deity drawn from one of the Mortal Realms' many underworlds!"
Furthermore, he actually WILL ferry your units closer to the enemy. In many ways, he's very much a transport option to get your slow moving units into the fray much quicker. However, no one rides for free: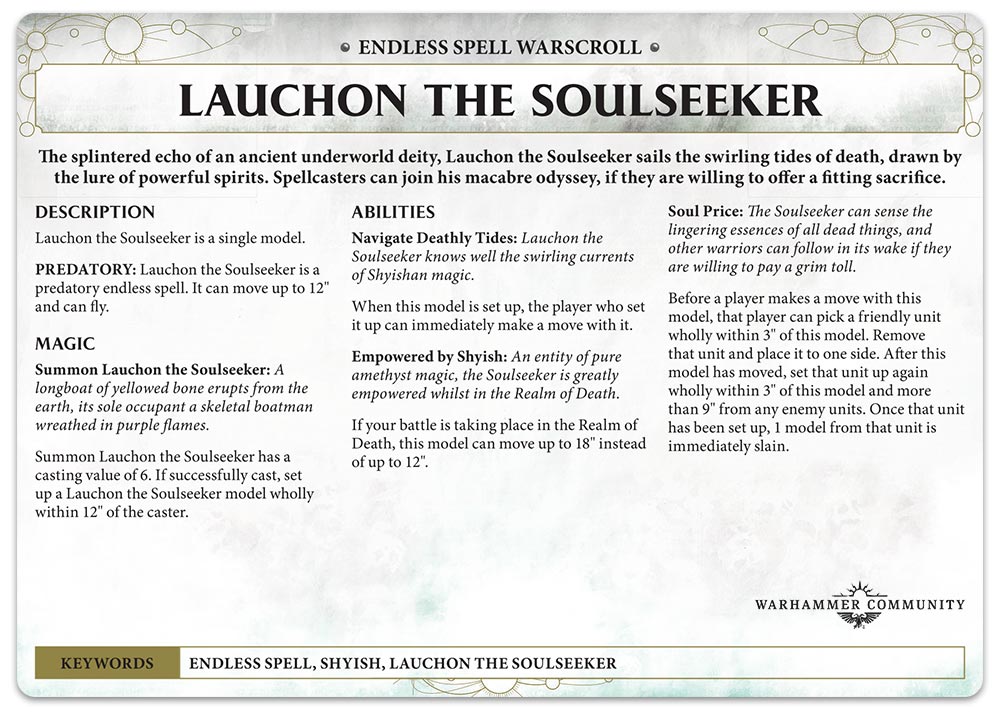 If you want to use this spell, you've got to pay the toll. A unit can ride with him but they will have to sacrifice one of their own! And that's not just a single wound – that unit looses a model!
Soulscream Bridge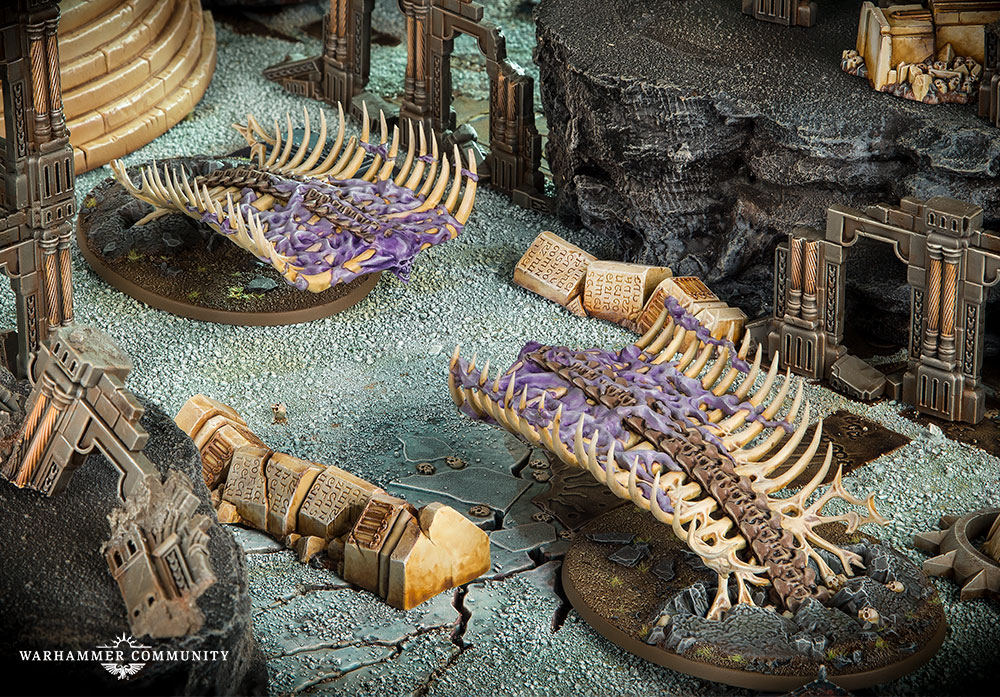 The Soulscream Bridge isn't just a magical spine protruding from the ground – it's magical BRIDGE spine protruding from the ground. This Endless Spell is another way to really send units across the battlefield. Just be mindful of the placement as your enemies can use it too…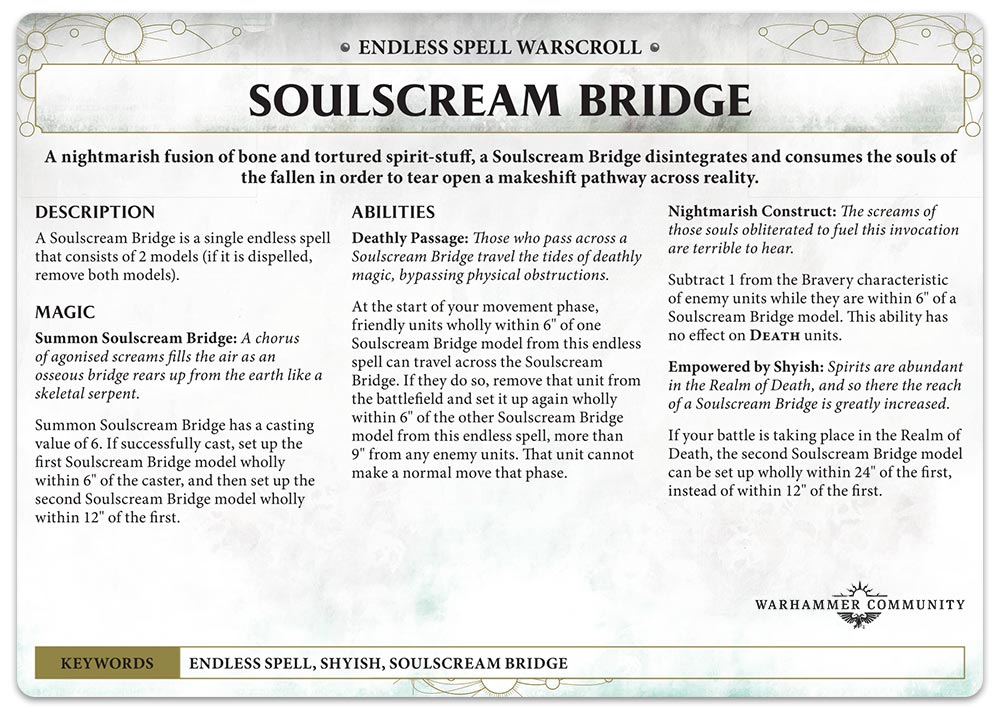 The two ends to have to be placed wholly within 12″ of each other. However, a unit wholly within 6″ of one end can be placed wholly within 6″ of the other end. That's quite the jump. And if you're playing in the Realm of Death, that initial 12″ jumps up to 24″ – take the leap!
Horrorghast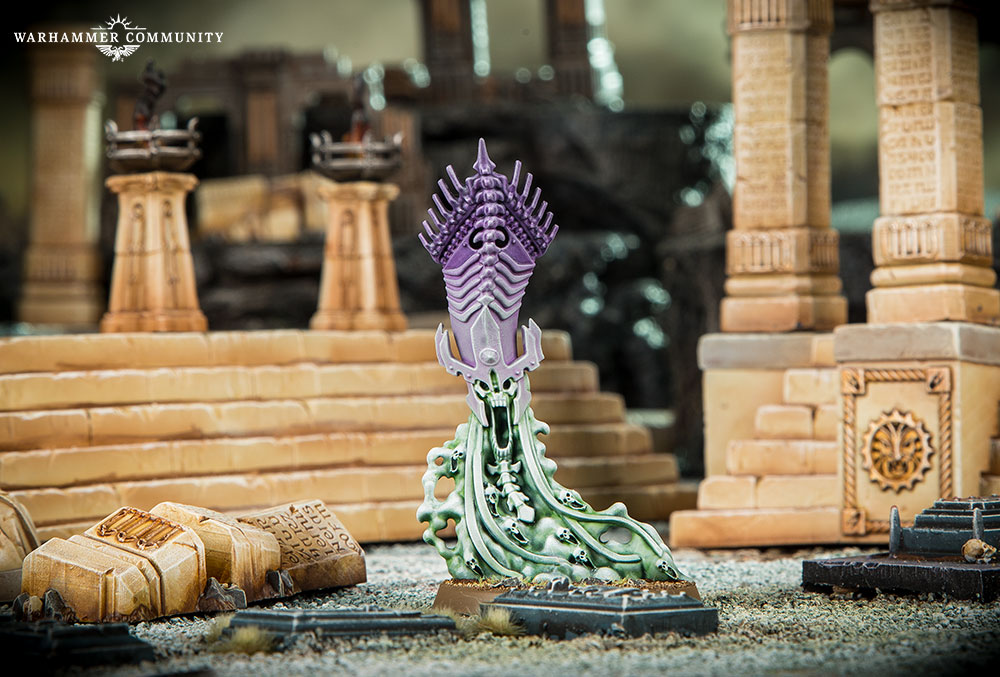 Nagash, is that you?! Not quite. It is his face but it's actually a Horrorghast – an arcane being able to take the shape of various terrifying forms. It just happens that this one chose to look like Nagash which, to be fair, is one of the more terrifying visages in the Mortal Realms. Rules-wise, this thing really hammers bravery: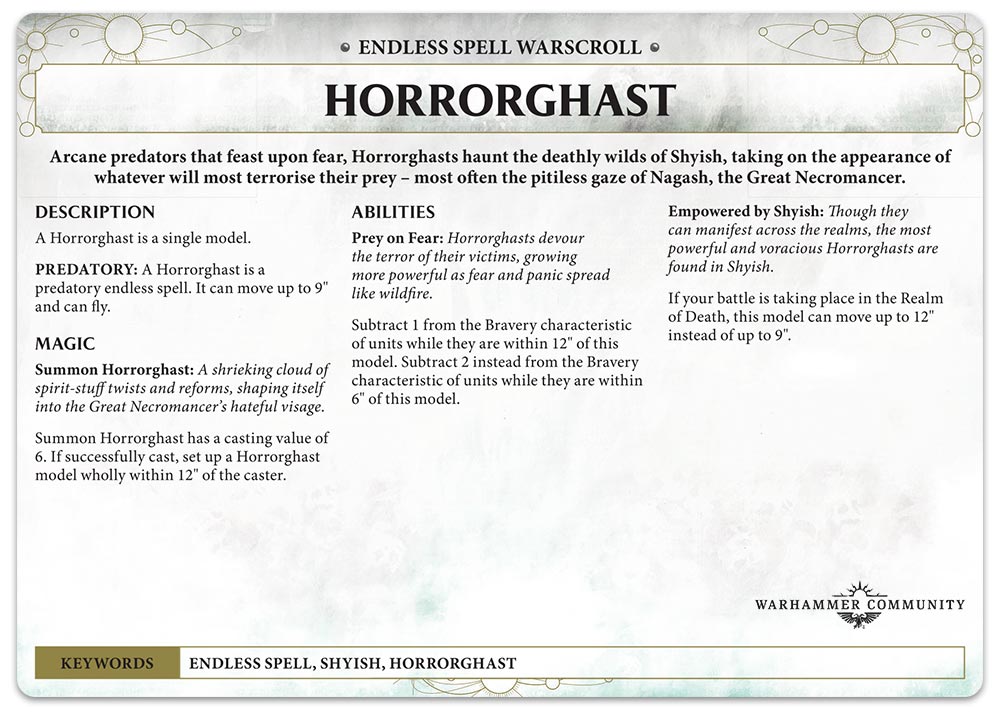 Applying a -1 Bravery at 12″ to units (ie, not just enemy or friendly) and -2 to units within 6″ is might not sound that bad…but for some armies that can drop bravery even lower, this can lead to some crushing battleshock tests!
Shards of Valagharr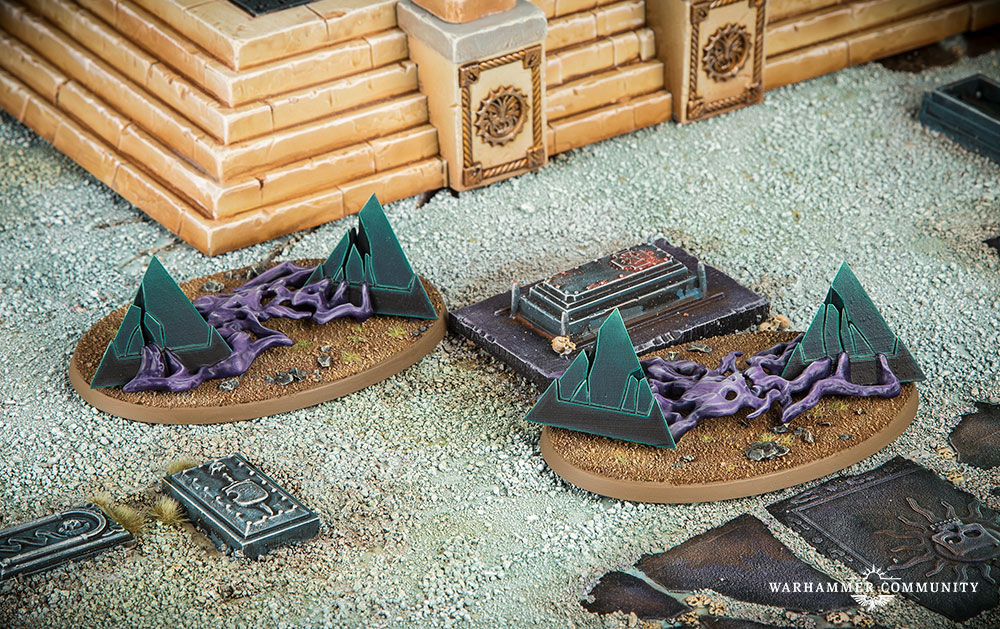 The Shards of Valagharr are kinda weird – but that's not a bad thing! Units caught between them have their movement halved and their hit rolls reduced by 1. That's a great counter to fast moving units or if you just want to mess with shooty armies.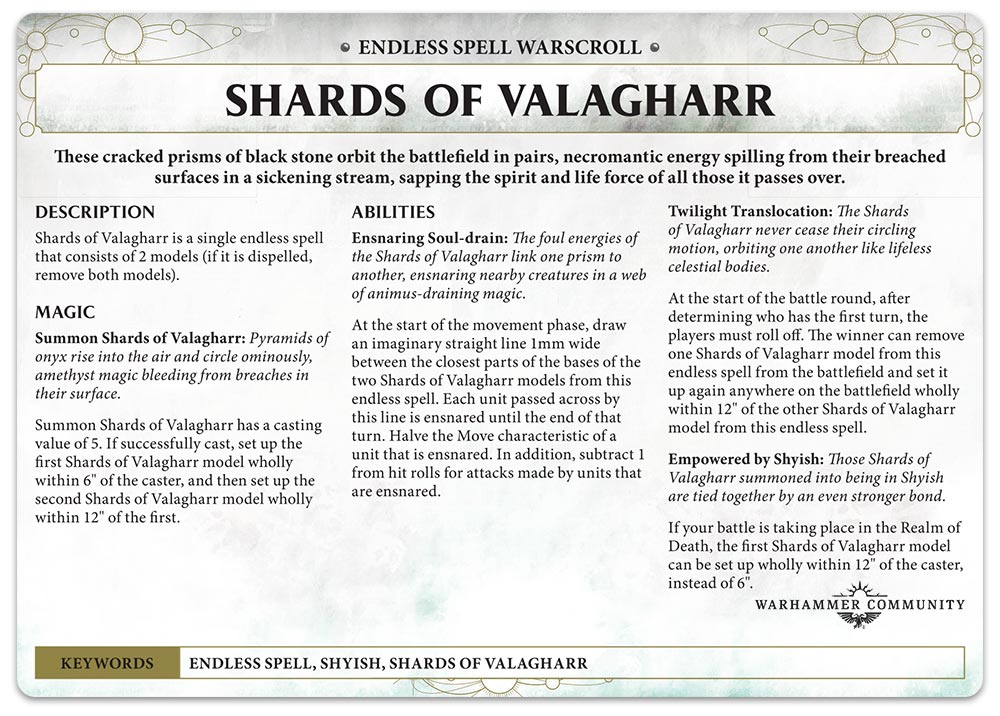 Keep in mind that this one can be flipped and used against you as the Shards will move around at the start of each battle round. Endless Spells can be so fickle.
These Endless Spells and more are coming in the next boxed set expansion for Age of Sigmar! Get ready to access Forbidden Power.