BREAKING: 40K Action Figures – GW & BANDAI Team-up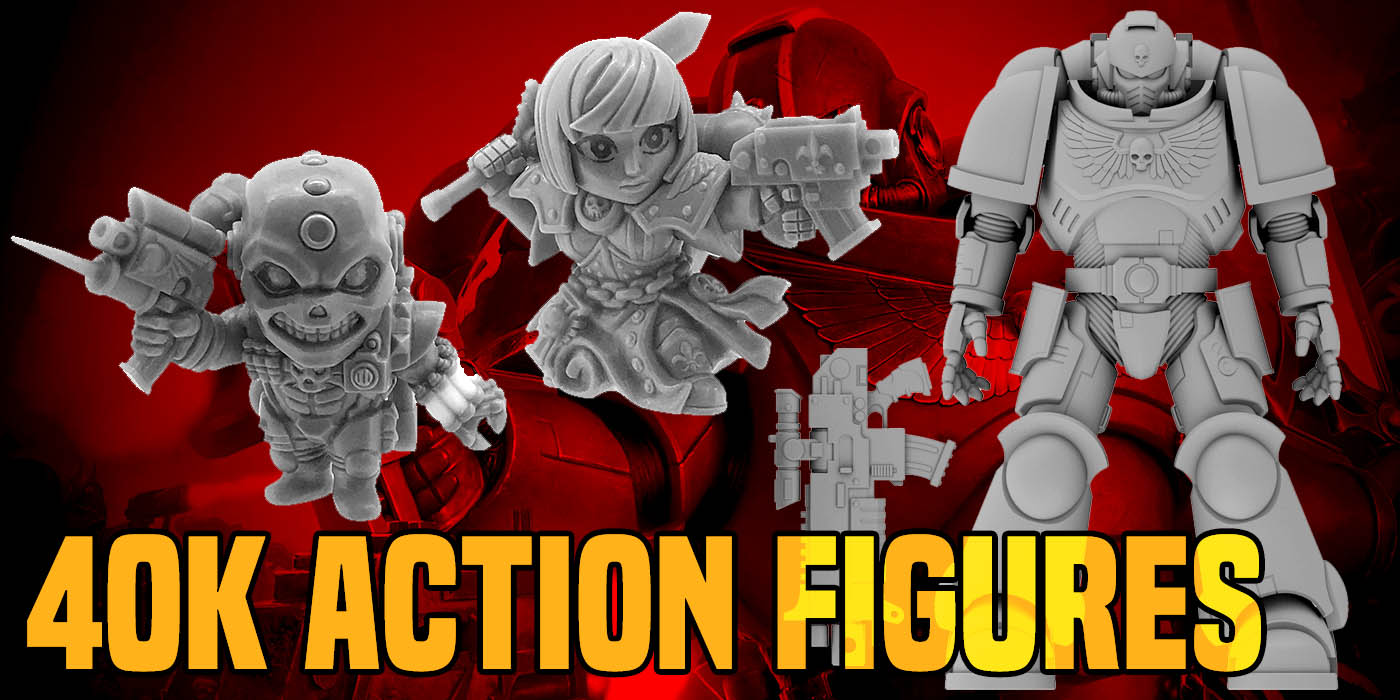 Get ready for a Desktop Invasion of 40k as Games Workshop and Bandai teamed-up for a pair of new Action Figure lines!
If you've been a fan of 40k for as long as I have, there has always been one thing missing from every collection: Action Figures. Well now that dream is finally coming true thanks to a new partnership between GW and Bandai!
Today, we can show you some of the initial designs for the first-ever Warhammer 40,000 action figure! It's a fully painted, 7-inch-tall Primaris Space Marine, featuring multiple points of articulation, exchangeable weapons, and all sorts of other cool details, brought to life on a new scale.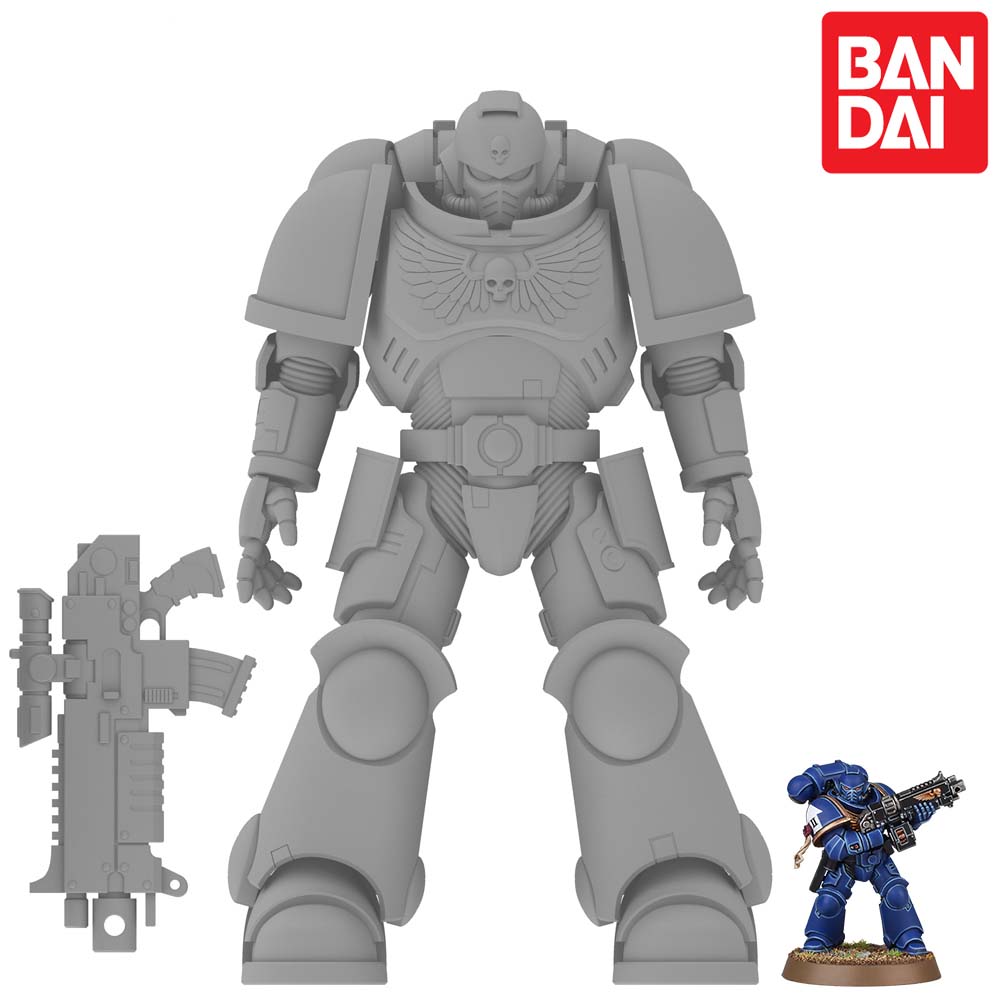 That's right – 7″ tall, fully painted, with multiple points of articulation! It's a childhood dream come true. I can't wait to see these in real life and if you're going to Warhammer Fest, you're going to get to see them in person first. And that's not all – if you're looking for something a bit smaller to collect, then check out these 2″ Chibi figures: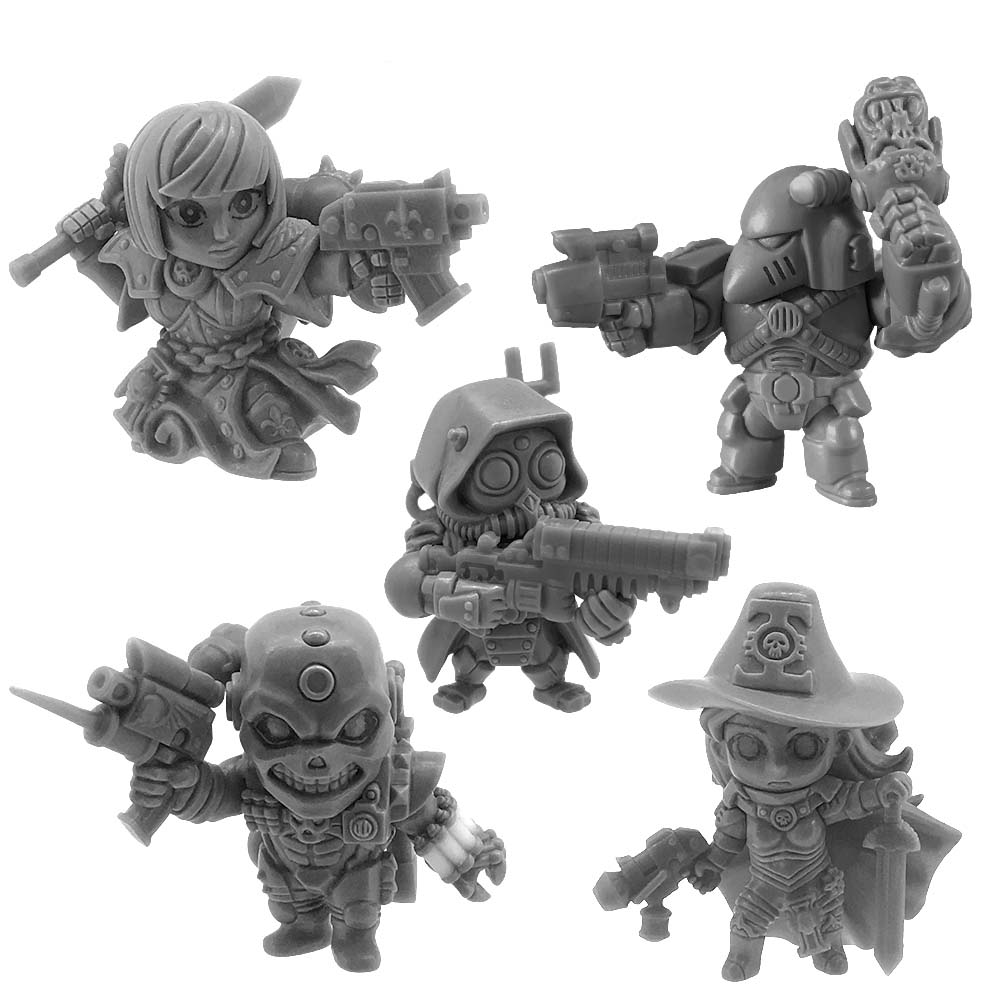 The Chibi figures might not be your thing, they are certainly popular in Japan and other parts of the world. Plus they are just so darn cute they make a fantastic way to introduce non-40k fans to the game!
From The Official Press Release:
Subscribe to our newsletter!
Get Tabletop, RPG & Pop Culture news delivered directly to your inbox.
Company Name: Bandai Co.,Ltd.

Description:
Announcing a brand new collaboration between Bandai and Games Workshop.
Bandai, one of the most respected and widely known Japanese manufacturers of action figures, will be developing 2 types of figures for worldwide distribution in cooperation with Games Workshop.

Product 1
WARHAMMER 40,000 SD Figure Collection is a painted 2-inch stylized figure. The first series will have 5 styles as blind purchase. In Japan these will be released as "Gashapon", a popular brand of capsule toy vending machines from Bandai. Distribution outside of Japan will be a similar blind box style.

Product 2
WARHAMMER 40,000 Space Marine Action figure is the first ever Warhammer action figure. It is a 7-inch painted action figure with several points of articulation, exchangeable weapons and parts. The first series in this product line will be based on Space Marines.

This exciting new partnership between Bandai and Games Workshop promises to deliver an incredible new range of high quality action figures for Warhammer fans across the world.

Release dates for both products will be announced soon.
No word yet on the official release date – but we are going to follow this one for sure!
7″ tall Space Marine Action Figures? Whelp, there went my hobby budget.