It's time to dive into the Alternate-Dystopian-Retro-Road-Warrior car game of Dark Future: Blood Red States!
Last week, we covered the announcement that the game had officially launched. Well, I've gotten to take a fair shake at the game and here are my thoughts.
Cars, Cars, CARS! This game is all about the visceral action of battling your car vs a multitude of enemy cars. Yet, while this game certainly has an emphasis on those cars, it's not a traditional driving game. Sure, you control the speed of your card (there are really 6 speeds you can go including reverse – (does "stop" count?)) and you can control which lane your car moves into – but that's about it as far as the "driving" goes.
Come to think of it, it reminded me a lot of the Drag Racing sub-games from the Need For Speed Series. If you're familiar with those – the concept is basically the same. You control the speed of your car and which lane you're in. The key differences are that in Need For Speed there was a lot more traffic. Oh and the Guns. Did I mention you have guns?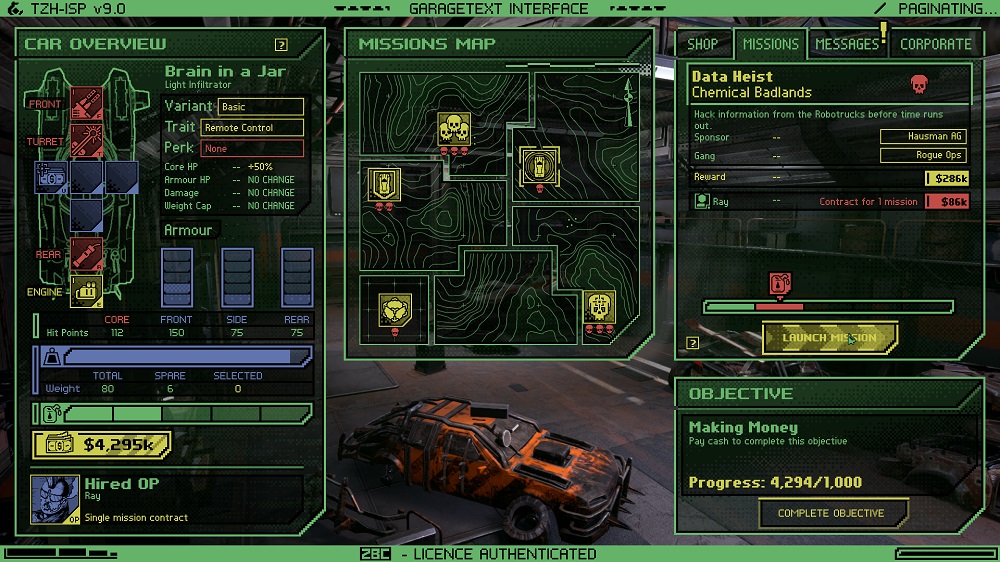 This picture is of the "garage" for your car. On your left you've got your car's load out. As you play through the game you unlock new drivers and their respective cars. Most cars have at least a couple guns and a couple mod slots. Now, I haven't unlocked every car and/or driver (more on that below) but I've unlocked enough to have some variety. The starter car is driven by "A Brain In A Jar" – no, really! That's the character you play at first. You've got the Light Infiltrator and it's got 3 weapons – a Front, a Turret, and the Rear.
As far as the "gun play" in this game it's also pretty easy to understand. The Front weapon (shockingly enough) attacks cars to your front. Duh. But it's actually more specific – it only shoots cars that are in your lane (and sometimes others if you catch them on a turn). The Turret is pretty neat – it fires 360° which is pretty handy! However, you have to pick your target. The rear weapon is pretty fire-and-forget. It's typically some type of bomb, mine, or road spike. Drop in your lane and watch the cars behind you take the hits.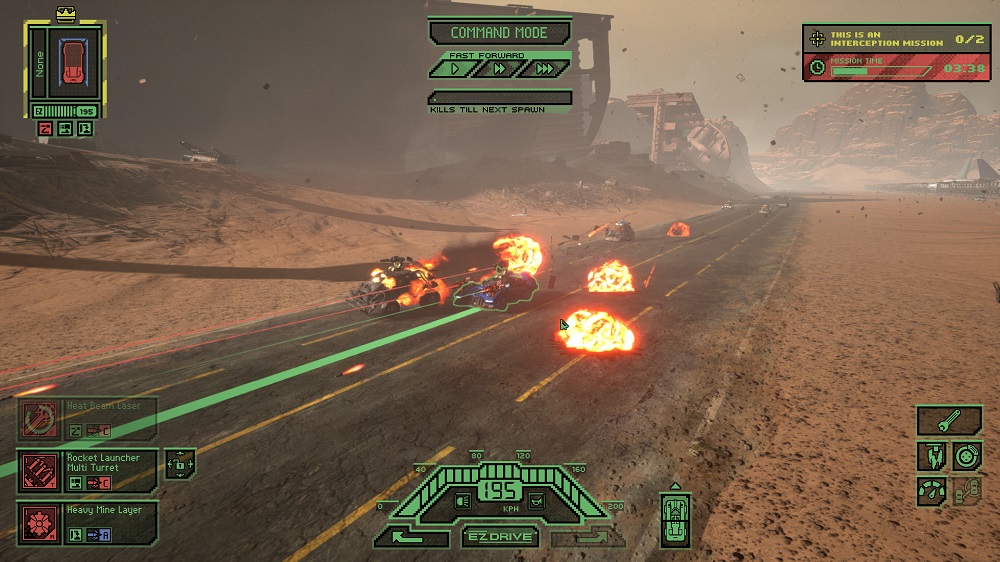 The camera is free-floating. You can control that with your mouse. You also manage the action in two ways, there is the obvious real-time speed of the game and the "Command Mode" – this is where you can slow down the game and give orders to your car or others you might have riding with you. Did I mention you can have a hired-gun driver? Yes, you can! They can be super handy in the tougher missions.
Your car can also get upgrades to things like weapon damage, engines, armor, and other various mods. That's part of the charm. These mods are only available in the store/garage in between missions and that's what makes this game so re-playable. It seems like each time you play with a new car your experience will be different based on the available options and upgrades.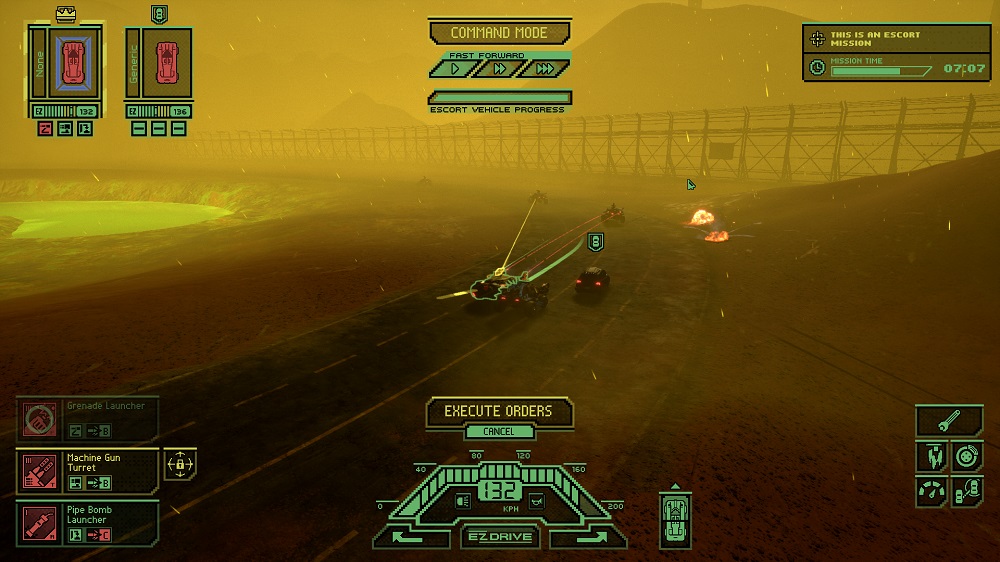 There's a lot more going on in the shop/garage – but I'm going to skip over that. I want to talk about the missions that make up each play through. At the time of launch there are really only a handful of mission types. One of the missions will have you drive around and blow up enemy cars. While another will have you attempt to "hack" a truck trailer by driving next to in and staying in a green "bubble" to download data. Another will have you blast through barricades. There is another mission where you have to kill enough enemies to draw the ire of a boss car – so you can take that out. Pretty much all of them have you shooting cars though.
Now, about the track and the map. Each map is basically a really, really long track. Since you don't really have any control over the map/track I didn't really pay much attention to it. The world is a wasteland with some green-yellow haze over everything or it's sort of smoggy. And it's either day or night. That's pretty much it. There is the occasional bridge or overpass, but there isn't much to break up the background. This was perhaps the weakest part of the game as the environment, while bleak, was also somewhat bland. I mean, you're driving through the wasteland that is the future, so I get it…but maybe a deserted town or ruined building in the background would have been nice.
The Campaign Mode is how you play this game. It's entirely a single-player experience. The whole concept of the game is you pick your driver and their related car and you take these missions that get you paid. You take that money and upgrade your car so you can take on better paying missions. Repeat – until you can't afford gas. That's right, you have to pay for fuel which gets more expensive over time – the longer you play the campaign, the more costly the fuel gets. Eventually you have to retire your driver and the campaign ends – which typically unlocks more cars/drivers/perks down the line.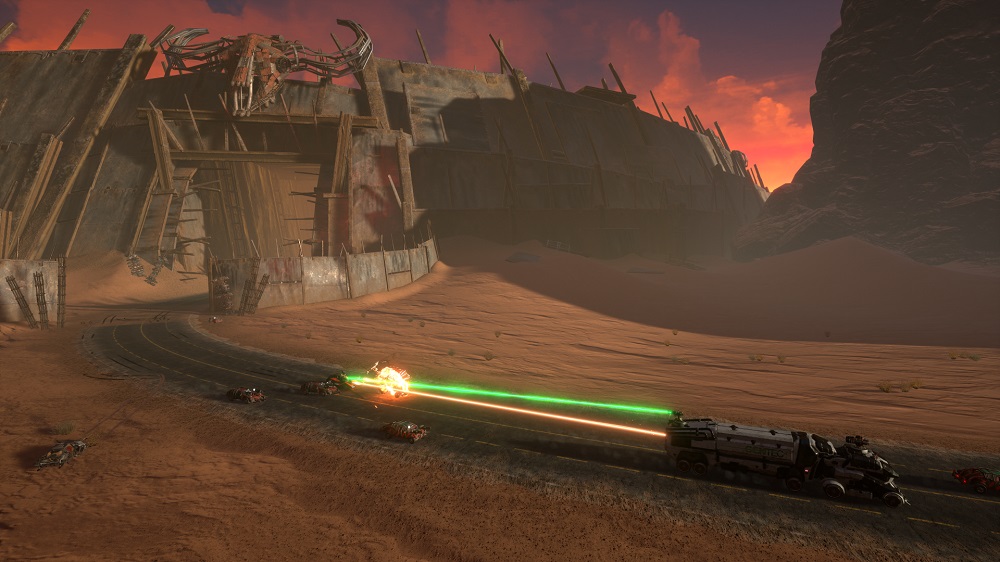 Final Thoughts
Overall, I liked my time with this game. The action is good and tactical. You have to adjust your plans on the fly and based on the mission. The "driving" doesn't distract from the combat and yet you do have some control over your car. I can see this game being something you pick-up and play for a few missions and then put down. But you'll probably want to come back to it an unlock more cars/drivers/perks. The graphics use the Unreal engine so they aren't terrible and they have an intentional retro look to them. If that's your cup-o-tea you'll really dig this game.
If Speed Racer (the cartoon) had a baby with Death Race (the Rodger Corman versions) and it ended up in a Mad Max future, I think you'd end up with this game. It can be repetitive as there are only a handful of mission types. Once you unlock all the cars there isn't much else to do either. But the basic game-play loop (do missions, get money, spend money on loot/upgrades, do more missions) is still satisfying. This isn't a deep RPG and it's not a driving simulation – it's something lighter. It's the video game equivalent of going to an action movie and enjoying some pop-corn – and I think that's what they were going for. It's fun, it doesn't take itself to serious, and you can put it down and come back to it again and again.
Personally, I think this game has earned a permanent spot on my hard drive. I think it's going to be one of those games I play when I'm in the mood for something light and quick. Not every game has to be a 1000 hour epic. I just don't have the personal time bandwidth for those any more. This game fits perfectly into those bite-sized chunks of time I have between things and I'm perfectly happy with what it is. As far as GW PC adaptations go, this FAR from the worst I've played – it's enjoyable for what it is and I appreciate that aspect of the game.
Pros:
Fun Action and Gameplay
Retro-interface
Light and quick (10 minutes or less per mission)
Customizable cars
Rogue-like experience, every time is different
Check your Z-mails!
Cons:
Bland Background on the track
Repetitive Missions
Limited Enemies
TL;DR – It's fun and light – don't expect this to be a massive open world car racing game. Hop on, blow some cars up, and enjoy the bite-sized tactical action.

Dark Future currently has a "Mostly Positive" review status on Steam.