Mark your calendars for October 16th-20th for Star Wars World Championships for X-Wing and Destiny!
Alright Star Wars fans, get ready for a weekend of adventure in galaxy far, far away – Star War: X-Wing and Star Wars: Destiny's World Champs are coming to Saint Paul, Minnesota. The Events are so large that Fantasy Flight Games had to move it from their Gaming Center to the Roy Wilkins Auditorium at the Saint Paul RiverCentre! How big will the events be? Hundreds of players – check this out.

"For those X-Wing players who have yet to score an invitation to this year's World Championship, there will be a Last Chance Qualifier event (Extended format) taking place on site on Wednesday, October 16th. There are 400 seats available for the Last Chance Qualifier, and the Top 64 players of the Last Chance Qualifier are guaranteed to qualify for Worlds! Even if you're unable to qualify for the World Championship, participants in the Last Chance Qualifier are free to play and participate in all side events throughout the weekend. Tickets for the Last Chance Qualifier will become available for purchase on June 28th at 2:00 PM CDT (UTC -5)."
Did you catch that – The Last Chance Qualifier will have 400 seats available! The Top 64 are guaranteed to qualify for Worlds.
But that's just one part of the show. Here's a quick breakdown of the events:
October 16: X-Wing Last Chance Qualifier, Coruscant Invitational
October 17: X-Wing Day 1A
October 18: X-Wing Day 1B, Star Wars: Destiny Day 1A
October 19: X-Wing Day 2, Star Wars: Destiny Day 1B
October 20: Star Wars: Destiny Day 2
"2019 Coruscant Invitational, a team event featuring the winners of the System Open Series."
This is basically for the players that already have a spot for the Worlds Champs and are looking for something that's just as challenging but still fun. It's as a team event, players are going to be split up and factions will be represented. There will also be the reveal of Star Wars: X-Wing Epic play, too!
The Main Event is an extended format event starting on the 17th. This is the one for all the marbles as players will have to fly their best to make the cut to Day 2. Obviously, with this many players and the different player pool sizes, FFG is looking to split the event up just a bit. But fear not, even if you're not "Active" for flying that day, there are TONs of other side events planned so you can keep your ship-flying skills sharp.
In addition, there will be Hyperspace side events and on-demand pods to keep up the non-stop X-Wing action. We'll have more detailed information on side events soon.
Having a split day means that everyone will get a shot at participating in the side events which actually sounds kind of nice.

Similarly for Star Wars: Destiny, the "Day 1" event is split over two days with the "Day 2" event culminating on October 20th.
"The main event for Star Wars: Destiny(Standard format) will be starting on Friday for Day 1A and Saturday for Day 1B. Use the Force and strike down your enemies in order to clear a path to the Day 2 cut on Sunday. There, only one competitor will rise to the top and earn the title of World Champion."
This is the first major Post-rotation World Champs so it's going to be exciting to see how that shakes out as well. And fear not, events and activities will be happening for Star Wars: Destiny the entire time as well. Infinite and Trilogy format side events plus "on-demand" Draft pods will be an ongoing thing, too.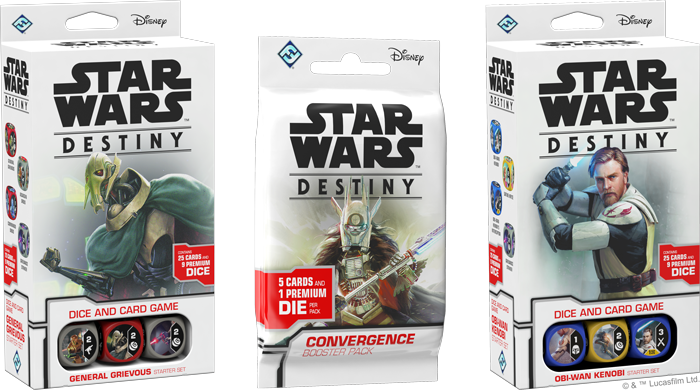 For more information check out FFG's full article HERE.
Good Luck players – and may the Force be with you!