If you're enjoying the last season of Game of Thrones, this may come as good news. If not…. sorry?
Disney included three new Star Wars feature films in their revised schedule – in 2022, 2024, and 2026. We don't know what they're going to be about, but we do know who will be making them: David Benioff and D. B. Weiss, the duo behind HBO's Game of Thrones.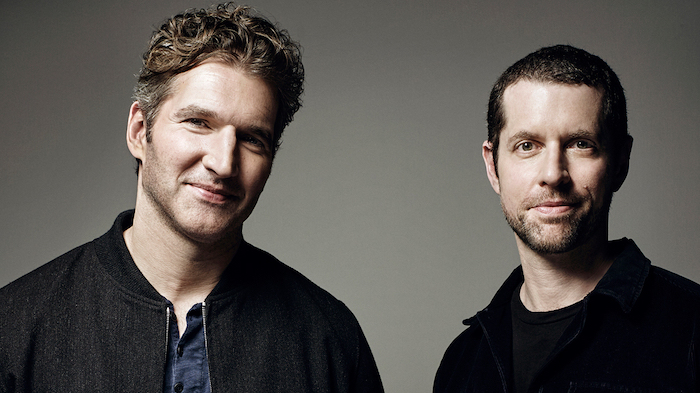 The choice was announced by Disney CEO Bob Iger at the MoffetNathanson Media & Communications summit yesterday. He would not confirm if the trio of films will be anthology movies, or another trilogy. They will, however, be separate from the Skywalker Trilogy, and Last Jedi director Rian Johnson's trilogy (which is not on the schedule at all – maybe they're hoping we'll forget they offered).
In other Disney news: the company has made an agreement with Comcast to buy out the communication company's share, and now controls Hulu. This will give them an ability to bundle the two services for consumers, use any tech they're developing for Disney+ on Hulu, and take Hulu international.
This move should surprise no one.

In an interview with CNBC earlier this year, Iger was clear that their purchase of Fox had everything to do with becoming a streaming behemoth as quickly as possible.
"We would not have done that transaction had we not decided to go in this direction. Because — if we hadn't, we would have been looking at that business and through a traditional lens: 'Oh, we're buying TV channels. We're buying more movie-making capability, et cetera. But by the time the acquisition opportunity came up, and we knew we were going in this space, we evaluated what we were buying through this new lens of: 'Wow, what could National Geographic mean to us?' What could it mean having access to [Fox's] library, not to monetize it through traditional means, but to do it through this? Bam! I mean, the light bulb went off."
The Fox merger was approved in March. 20th Century Fox and Disney combined have made 38.9% of the box office take this year. The rest of that is shared by 155 other studios. Now they're aiming to dominate the streaming market. We'll have to see what the market share Disney+ has when it comes out – right now Hulu has 26.8 million paid subscribers in the US. Netflix has 150 million subscribers internationally. It's pretty obvious that Disney is looking to topple them.
This, if it wasn't clear, isn't a good thing for anyone beyond share holders and studio big-wigs.
Note: I expect the comments to be filled with GoT spoilers. You've been warned.