Goatboy here again and if I had to play an Imperium army that wasn't Knights based I would most likely playing the following Custodes/Blood Angels build.
I had some decent luck beyond falling into the Dark Eldar trap twice in one event with a similar list that tried to use and abuse CP regeneration.  With that thing long gone and the return of flying over jerks again – the idea of throwing out a ton of Custodes bikers might be good.  Mix that in with having access to much better anti tank options on the Beta Bikers and you have a mix for an seemingly powerful army.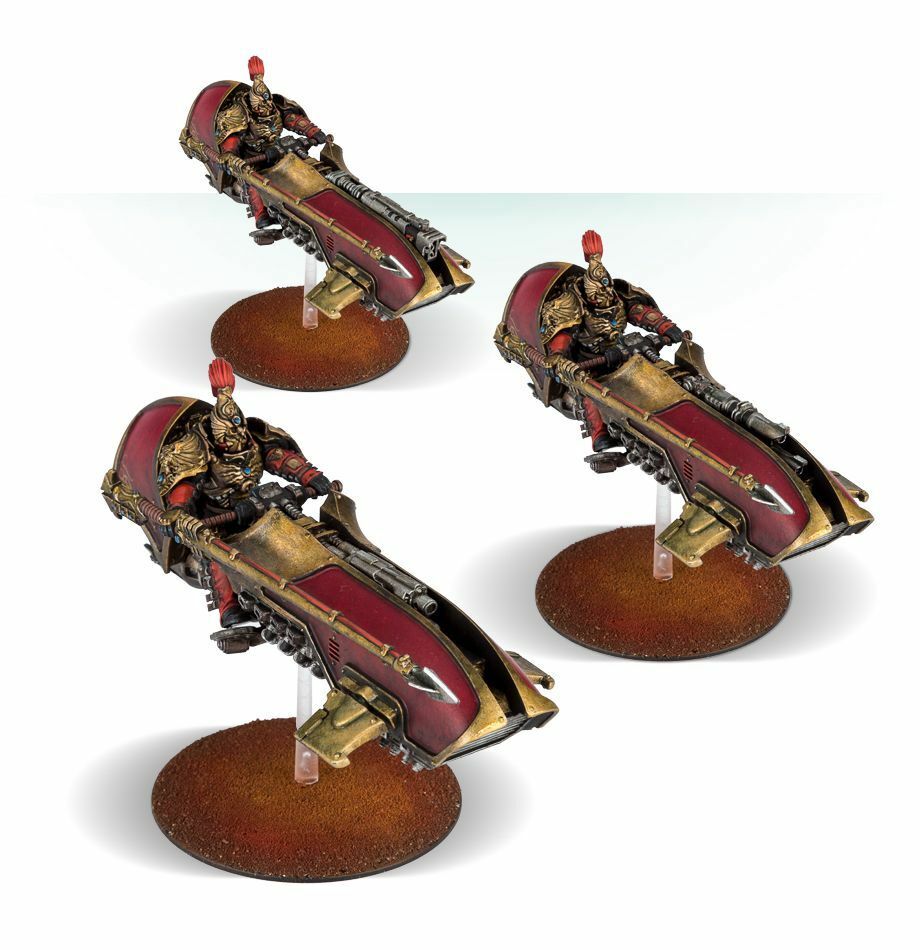 For those not in the know – GW/FW gave us a Beta codex for the FW custodes.  There are some interesting things in there but I really thought the "updated" bikers were a pretty neat choice.  I am not the biggest fan of the bikes themselves – too long – but their rules are pretty dang sweet.  Plus they finally have a decent anti tank gun that shoots enough shots to make it valid to take.  It is a bit expensive – but we all know gold is a very expensive metal to paint.
So with that in mind the idea is to build a list that you don't have to think too much, just roll some shooting and hopefully get some guys into assault.  That seems to be the motto most of the time for my lists – make it easy to play, not a ton of models to move, and look cool on the table top.  Plus I get to make pew pew sounds with bikers.
It's Raining Bikes Hallelujah! V1 (Don't know where to put the Warlord)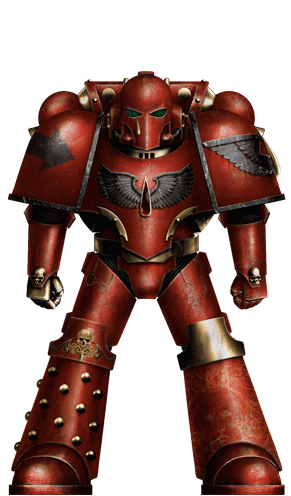 Blood Angel Battalion – 5CP
-HQ-
Captain – Jump Pack, Thunder Hammer, Storm Shield (could just get rid of this but its only 20 pts at most) – 124pts
Chief Librarian Mephiston – 160pts
Lemartes – 100pts
-Troops-
Blood Angel Scouts X 5 – 55pts
Blood Angel Scouts X 5 – 55pts
Blood Angel Scouts X 5 – 55pts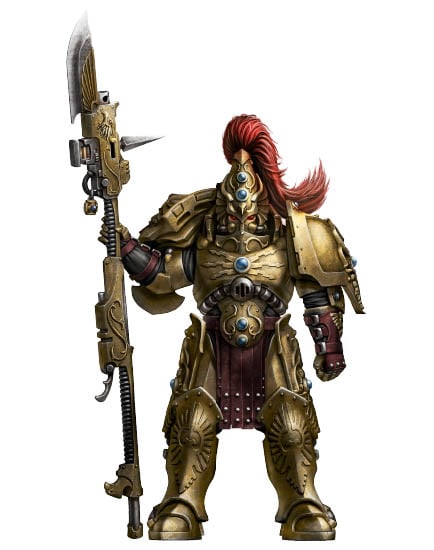 Adeptus Custodes Outrider Detachment – 1CP
-HQ-
Captain on Dawn Eagle Bike – Misercordia, Hurrican Bolter – 160pts
-Elite-
Vexillus Praetor – Misericordia, Vexilla Magnifica – 114pts
-FA-
Agamatus Custodians X 3 – Twin Las-Pulsar X 3 – 360pts
Vertus Praetors X 3 – Hurricane Bolters X 3 – 270pts
Vertus Praetors X 3 – Hurricane Bolters X 3 – 270pts
Vertus Praetors X 3 – Hurricane Bolters X 3 – 270pts
Pts 1993 – CP 9

Tactical Issues
One issue that comes up is who do you make the Warlord? I think the Dawn Eagle Shield Captain sounds good with 3+ inv save relic, 5+ FNP, and then maybe burn 2 CP to gain Victor of the Blood Games.  Or you could look at the Blood Angels Captain, give him the Jump Pack or the Hammer, and then burn another CP make him Death company with the 5+ FNP from a Warlord trait.  If you make him the Warlord you can set up a turn where your Warlord jumps to the Dawn Eagle captain when the Blood Angel dies.  It just starts to become a little nutty with all the CP you have to burn.
To think about it – let's write it out.
Blood Angel Captain = Warlord – 1 CP for Death Company upgrade – add Relic and warlord Trait – Spent – 1CP
Custodes add Relic – 1CP – then victor of the Blood Games – 2CP = -3CP
Total used – 4 CP left with 5 CP to use etc and leaves us a way to make the Custodes character become Warlord if the Blood Angel Option dies (which he probably will as he is a sacrifice unit) – so that means in reality you have 4 CP to use.
Custodes = Warlord – Relic for 3+ and then FNP 5+ to make a tough guy.  Add in Victor of the Blood Games for – 2CP
Blood Angel Captain takes -1 CP for Relic and then -1 CP for Death Company.
Total used – 4 CP left with 5 CP you can fully use.  This lets us have a few attack in death options as well and an extra reroll for something if needed.
What do you guys think?  Is it worth it to get the Reroll for the single Shield Captain with Victor of the Blood Games?  I like the 2 Special Character options this army has as Mephiston can basically work himself and Lemartes seems like a fun little cheap Captain X 2 – that doesn't need CP to burn before hand.
~Who would you pick to lead the army?