Goatboy here again and if you've read my articles you know, I love to play competitive 40k. Here's the method to my madness.
There is just something in how I like to the table and try to win.  Sure, I play for fun and look to do something goofy – but in the end, I desire to try and bring my A game to any match I play.  It is just how I roll and built upon my competitive nature.
Of course, with life getting in the way of practice, I end up not always doing as well as my poor little competitive heart desires.  This is ok because playing the game gives me enjoyment too – win or lose.  It lets me get out of my reality and into a grimdark world of Chaotic monsters, crazy heroes, and tons of chainsaw bullets.
I normally only get to play a few games a month if I am lucky.  Kids are getting older, my wife likes to see me sometimes (crazy right), and finding time with friends gets hard to do.  This usually means I get games in when I go to a bigger event.  Some kind of GT that lets me come up with something crazy and throw a big monster across the table top.

Building the List
The lack of 24×7 game playing means I can't easily change from the type of list I normally like – or get into something much more complicated.  I am not a bad player.  It's just that having too many layers to this onion of doom is not always the best for my fragile little mind.  I need help – and this can range from always playing the aggressive, low model count list I am known for, to building cheat sheets to help me remember all my rules.
Army lists used to be helpful when we were not living in a world of keywords, datasheet abilities, and multiple detachments. Now I need to build out a basic stat sheet list, all basic rules, and any weird combos.  You should see the ones I throw out for my lists (if you want to see it at some point shoot me an email).  I don't want to forget an attack type, levels of interactions, and something that could let me win a game.  Or at least not lose terribly.  This preparation is the easiest as it really depends on you locking our list, your choices, and making sure you leave it easy enough to read.

Master the Missions
After that, the other thing I like to do is try and prepare based on the missions at hand.  This goes from what choices you need to make for ITC to the choices your opponent needs to make.  I am always willing to help because these events are timed, so having as much time to throw dice as possible is important.  I usually work out with my opponent on things that are easy to pick – things like which ITC missions to look out for in case of gotcha moments.  I remember reading a post in one of the 40k Facebook groups by someone being upset that player asked what missions to take.  It isn't like this game is about winning pink slips or large amounts of money.  Heck, I am sure if you remove all the travel time, cost, etc. it would still be less than any model you might have won from the event.

Being a Good Sportsman
This is part of the bigger problem I'm starting to see – even though we play in a competitive manner; we don't need to play like a competitive jerk.  It doesn't do you any good – especially bamboozling your opponent with something.  Sure, some people feel that is how you use all your skills as an advantage but, man, it is just toy soldiers!  The game can be competitive, but still not crappy for your opponent to suffer through.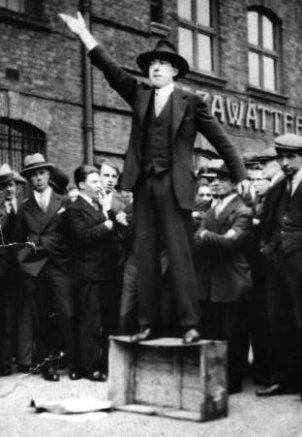 FUN I say – HAVE FUN!
Soapbox Fun Time
Let me step up on another soapbox a bit as I really haven't had a bad game in a long time. I am sure I have cheated at some point.  I am sure I forgot a rule or two (sorry, Jeremy). I am positive, not everyone was on the up and up, but I remember my game as fun.  No matter how hard I got crushed in the teeth, I had a good time. That is what is important in this game. Beyond the love of giant stompy things doing something neat – this game is about having fun!
And having fun means both sides of the table have it.  It isn't about getting your rocks off because you are the bests at war dollies.  This isn't about taking advantage in a somewhat shady way.  As I prepare for my event this weekend, I just have a thought that I hopefully win more than I lose and that the games were fun.

Also… Chaos
Alright, this has rambled on enough.  I am hoping we see some Chaos Knights soon so I can chew on some new 40k nonsense.  I will see if I can get a battle report together of my games at the Alamo GT later on this week as I wrote this a few days before the event.  Until then – throw some dice, get some 6's, and maybe destroy that false emperor.
~How do you prepare for your big games or events? Do you have a special mantra that works for you, or do you just wing it?