Codex Chaos Knights is built differently, and while it does mirror the Imperial Knight book, it is its own unique thing. Here's what I think.
Thank goodness we got some 40k stuff – it has been a few weeks of lackluster updates and a storm of new paint.  Let me tell you; I have been waiting for these guys for a long time. I have a set of three Chaos Knights, and thankfully, the book is set up in a way that the three different paint schemes don't ruin me from playing a cohesive army.  This book is built differently, and while it does mirror the Imperial Knight book, it is its own unique thing.

Iconoclasts & Infernals
This is probably the most interesting aspect of the book, which is straightforward in its overall structure. You have two households to pick from – Infernal Machines and Iconoclast. Games Workshop calls them Ambitions, but I prefer to think of them as Fallen Households.  Both have benefits and are unique in their playstyle. This army feels very set up to have each model be its own unique thing.  This lets you have a lot of room to paint and convert – it is pretty refreshing.  When you build your army, you pick a type of detachment, burn some CP for Relics/Warlord Traits/Vows/etc., and then see if you can rule the world.
Thankfully, nothing in this book has the Daemon or Mark keyword.  This is good because we don't need a book that has overlaying auras and abilities due to the nature of the Daemon keyword. These models are fallen nobles, so they are full of snark/sass/attitude, and thus, they work as separate engines of war and destruction.
The Iconoclasts are the fallen Knights from different Households. Maybe their fealty to the Traitorous legions caused them to go mad, or just the sheer brutality of war made them turn to Chaos. These are the fallen Knights, and thus their rules and abilities fit in this way.  The Infernal Household are the guys who really dig the Dark Mechanicus, and we will most likely see some more evil mechanical tentacles in the future.
I am not sure which one I like better. The Relics are where I get excited with the army, especially the Warlord traits. Chaos is one of the few armies that doesn't need specific warlord traits to get the army to work beyond maybe getting a +1 to cast for another Thousand Sons Character.  This lets you have ample room to get a ton of Warlord traits into the army – as well as Relics and other fun nonsense.  It's this design aspect that has me very excited as I will definitely use some of the Red Corsairs to feed this army full of CP and other fun nonsense.
If you are playing a very heavy assault army, I think the Iconoclast at a base ambition level is very powerful.  The whole army gets a +1 to attack if they were charged or charged that turn, as well as having their melee weapons gain an extra point of AP.  This is as huge as Titanic Feet – it can become extremely brutal with a 6+ attack model throwing out 18 attacks.  There are a few other ways to gain even more attacks, as well. When mixed with some charge nonsense you can have a full head of steam and barrel in and cause a ton of damage.  They also make an extra model run if someone fails a leadership check within 12-inches of them.
Infernal Household Ambition goes the opposite direction with a daemonic surge ability that lets them take some mortal wounds to gain some abilities. This can be pretty nutty as you take d3 mortal wounds and add 2″ to their move and a 1 to their advance and charge.  There are some interesting combos there because you can get a model with 14-inch move plus d6 + 3 advance and then Full Tilt into their goodies.

Relics, Stratagems & Warlords
The army starts to get unique in the Relic department. A ton of the options here matches the Household traits for the Imperial Knights.  This lets you combo up some fun household abilities with mix and matching those lovely relics.  I really like the Helm of Warp-Sight; it gives the bearer the ability to ignore hit roll modifiers.  Thankfully, the Evil Castellan can't take it, but a double Gatling Gun Knight can just murder those pesky Eldar Flyers.  There is a Tzeentch based one called the Tzeentchian Pyrothrone that lets a Knight become a psyker (only knows smite). When used in combo with one of the Warlord traits, you've got a knight that can cast Smite and then get two chances to Deny the Witch.  There is also a Slaanesh relic that lets the Knight always strike first. Pretty gnarly! It also gives a +1 to your advance and charge rolls.  Overall the relics are what shines for this book, and it is pretty dang exciting because you can build a really unique army.
The big new stratagems are the new Vows. Some weird guess the number attack versus other knights nonsense, and then different versions of the Imperial Knight strats. There is, of course, a get back up strat that is just for the Dark Mechanicus knights. There are the awesome new "all perils" – when within 12-inches of the Infernal household knight the Iconoclast has a reroll the hit roll ability versus one specific unit.  That is a really good reroll and not just the reroll misses. I like the Infernal ability to regain wounds as it kills models.  That could be very interesting with a close combat Slaanesh monster that you throw across the field.
The Warlord traits are also pretty unique; with a few I feel are powerful.  The flat +1 to attack is pretty unique as you can get a seven attack close combat monster without having to work too hard.  There is another +1 attack warlord trait that also gives you a +1 to advance and charge rolls.  You gain the +1 to attack if you're wholly within your opponent's deployment zone.  The model is set to be fast so it can get pretty dang nutty with a +2 infernal to your move, +1 to your infernal advance roll, +1 Slaanesh Relic, and then a +1 for the Warlord trait.  Zoom zoom all in your business.  Warp-Haunted Hull gives you the extra Deny the Witch as well as a 5+ FNP save to Mortal wounds in the Psychic phase.  Not too bad versus those pesky Thousand Sons Armies.  Aura of Terror seems interesting as enemy models are at a -1 to charges within 12″ of this beast.  On top of that, you make opponents roll 2d6 for moral and discarding the lowest.  Pretty nutty.

Odds & Ends
Some fun things in this book – the Avenger Gatling cannon went up by 10 points, and the Battle Cannon went down by 10 points.  I wonder if this is going to show up for the Imperial Knights side –  it is interesting in trying to balance the two.  I have used the Battle Cannon set for one knight in a three double gun Renegade Knight list, so it is helpful to see some point drops.  The Wardog Autocannon went up in points by five as well.  Thermal Cannon dropped too, as well as the Heavy Flamer.  The Evil Gallants are also more expensive, so it is an interesting set up in the book. It makes me think we will see some Knight changes coming in the future beyond the "castellan nerf."
The Dreadblades are interesting in that they are much more useful than Freeblades – they don't remove the Ambition/Household if you make a knight one. This means you can just create a crazy character that still keeps your army working well.  The same rules apply, make a leadership check, and then the model works fine.  You fail, and you've got some issues you have to deal with.  There is one Pact that I think might be worthwhile as it gives you a command point each turn as long as this model is still alive.  It also adds 1 to the model's leadership so you can ignore the Damnations a lot easier.  A relic for Dreadblades only also gives you an extra Pact/Damnation plus a 5+ inv save.  Roll 2d6 pacts, pick one pack, and then randomly roll a d6 for the damnation plus pick the easier one.  I think throwing this guy into a close combat bit of nonsense might be best as they can be combo'd up with some crazy assault ability.  Or you can just give it a dumb name and just choo choo your way into victory.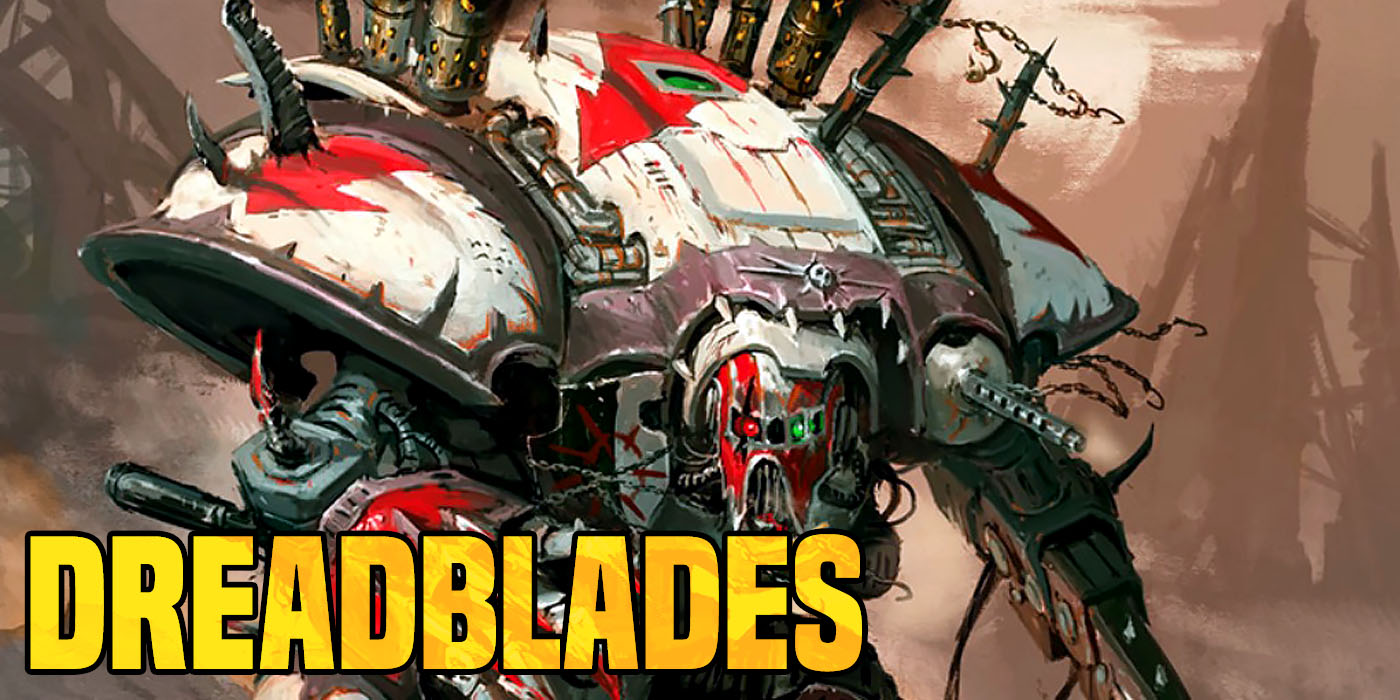 Overall I am excited; I think the book adds a lot to chaos, and expect a lot more Chaos Knight armies to pop up as people figure out their nonsense.  I get the feeling some Lord Discordants are gonna love hanging out with some knights.  If not that, I expect a ton more Monster Mash style lists to pop up – either way, options to throw out some quick bubble wrap via spells from Masters of Possession or some other forms of nonsense.  I wonder if getting the Hard to Kill Lord of Change might be worth it with 2 Smashy Knights and one shooty knight.
~Until next time – Death to the False Emperor!