We're taking a look at the Assault Apes and Rocket Ape, newly released for the Empire of the Apes Protectors Faction. Is the Rocket Ape the best unit in the game? Let's discuss!
The Empire of the Apes are bringing along some pretty powerful unit additions to the Protectors lineup. Let's see what technology these crazy monkeys have got their hands on.
Assault Ape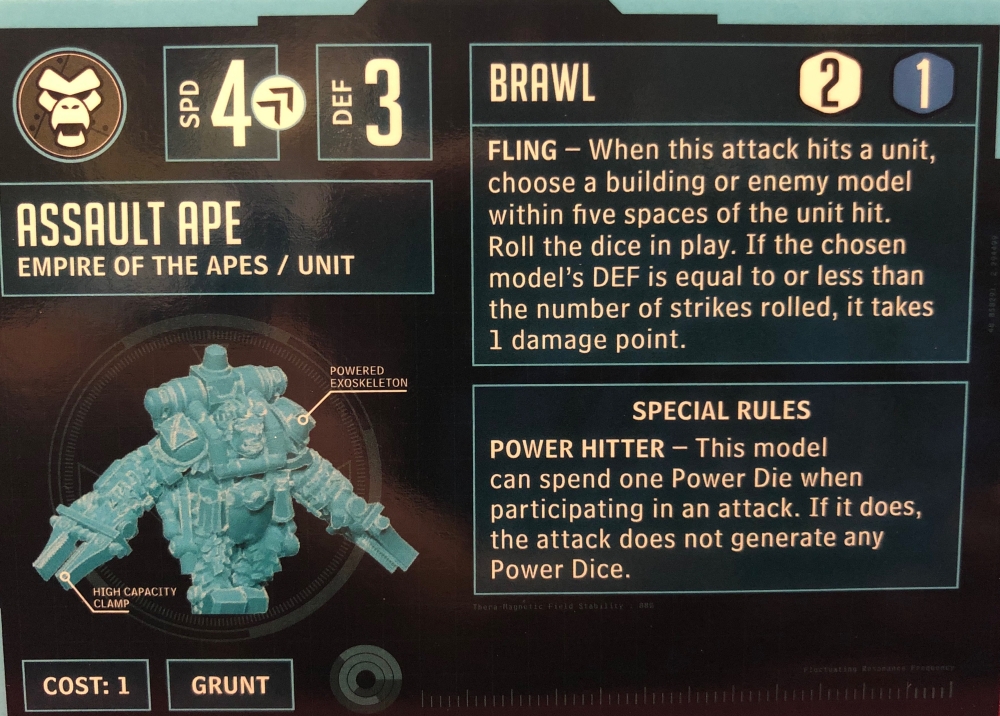 A melee focused unit, the Assault Ape is the first unit in the game that can use Power Dice! However if you do choose to spend a Power Die, you won't get any back for killing models, so it's best to save this ability for important attacks.
Anyone who has seen the Task Master in action knows how versatile Fling can be. The potential to take out 2 units a turn is great and effectively gives the Assault Apes a RNG 5 gun. Fling is especially good when facing Meat Slaves, as you can make your initial Brawl attack on the Meat Slave and Fling it into the newly spawned unit. Fling also works on Crawlers as it's not a 'Swat' attack and therefore they aren't immune to it.
Assault Ape Elite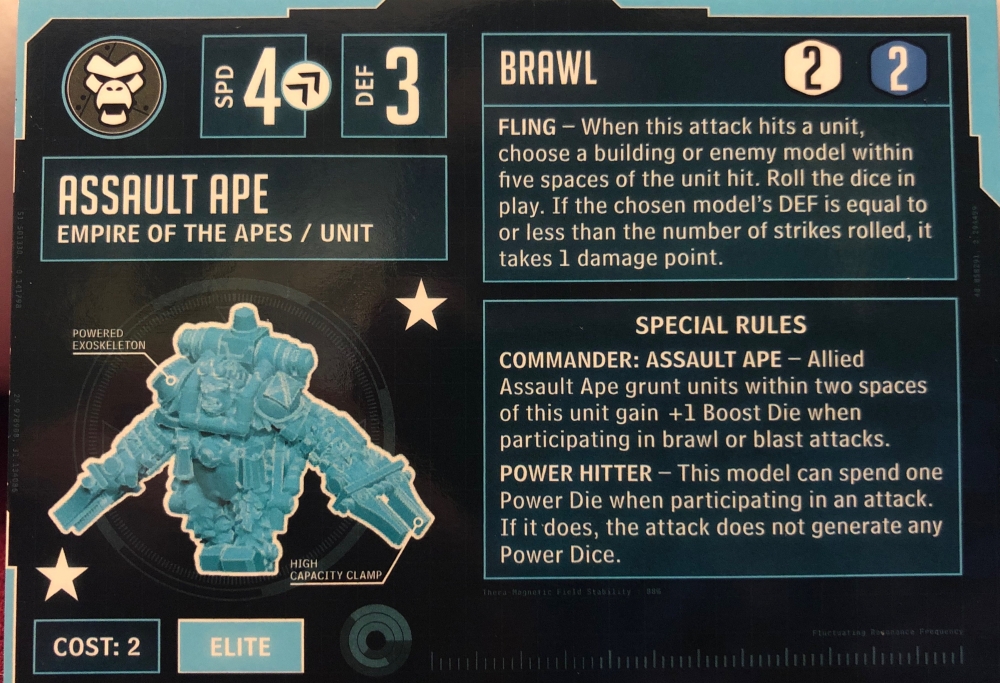 Pretty standard Commander rules, the Elite is essentially the same as the Grunt but has 1 extra Boost die. The Elite also buffs nearby grunts, passing out Blue dice to Assault Apes within 2 space.
Monster Hunters?
The Assault Apes ability to put Power Dice into their attack means that they can start reliably putting some chip damage into Monsters. 2 Grunts and an Elite can get you an attack with 3 white, 4 blue and 3 red dice. This gives you a 64% chance to hit a DEF 8 monster. You can get buff this in a variety of ways, Kondo gives Ape units an extra Boost die, the Elite Carnidon lowers an enemies DEF with Flank, or a re-roll takes that same initial attack to an 87% chance to hit.
The real question is, is it worth spending the Power Dice for units to do a point of damage? You'll have to make that decision yourself during the game. Are you loaded up on Power Dice? Does that one point of damage let your Monster potentially finish off the enemy Monster? Even if you don't spend the Power Dice often, having the option opens up some interesting plays.
Rocket Apes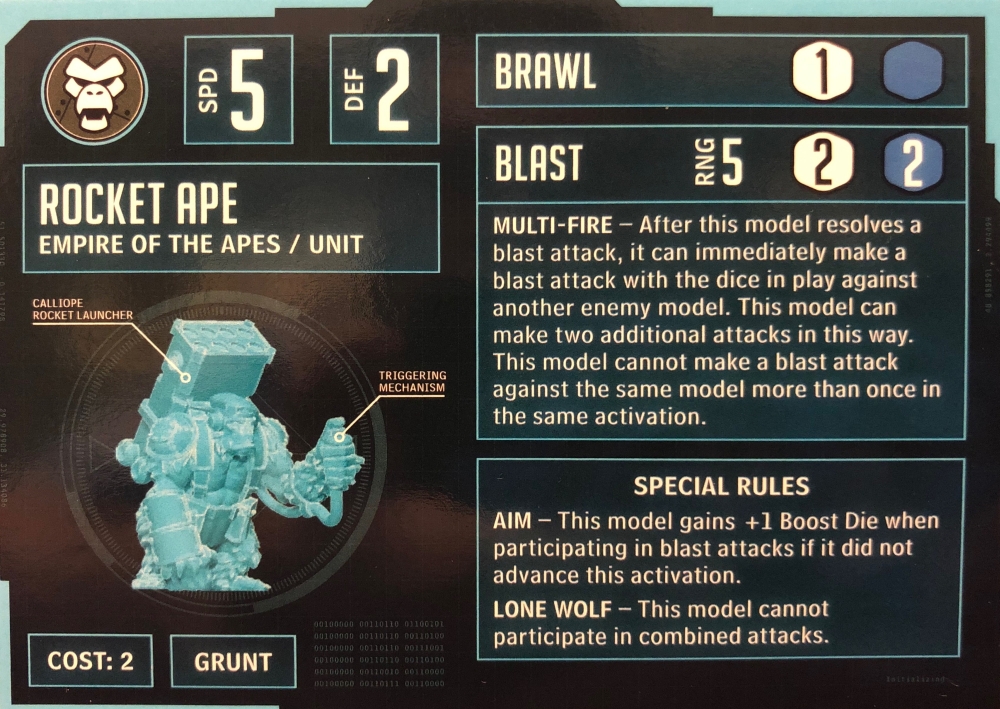 For quite a while I've believed the Task Master was the best unit in the game, but the Rocket Ape is now definitely in that discussion.
Multi-Fire – For the cost of 1 Action die, the Rocket Ape can attack 3 different models potentially earning you 3 Power Dice.
Aim – This brings the Rocket Ape up to an excellent 3 Blue dice for each of it's attacks!
Lone Wolf – The Rocket Ape isn't likely going to be shooting Monsters by himself. This rule solidifies his role as a unit hunter, which is perfectly fine.
The Rocket Ape is going to be unit hunting, looking to turn 1 Action die into 3 Power dice by destroying units. Strike Fighters, Vanguards or anything else with DEF 2 or lower are prime targets. Add in the Spotter rule from a Rocket Chopper or Ape Infiltrator and almost no unit is safe.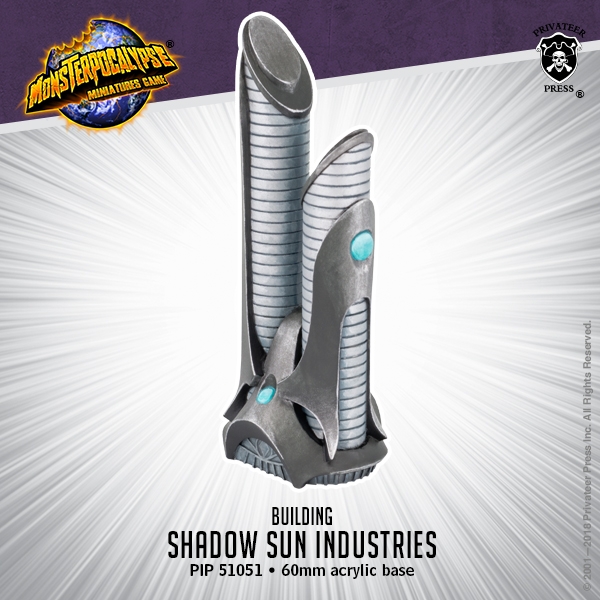 Locally our game nights have already seen Rocket Apes being sent through Sun Shadow Buildings into the enemy back-line to wreck opposing power bases. With RNG 5 it's possible to send the Rocket Ape to stand next to an enemy building to prevent them from securing it. Then with 3 shots kill multiple units so that the opponent is now suddenly securing 3 less buildings or power spots. The end result being your opponent is down 4 Power dice when they go to power up. Pretty powerful stuff.
Wrap Up
This unit pack for Apes is full of good stuff, Protectors players will definitely want to add these units to their force.
What do you think is the best unit in the game? The Task Master? Rocket Ape? Or something else entirely?