It's Hellweek here at the Bell of Lost Souls and today we're learning what a freshly caught, market-priced soul can get you in Avernus.
They say the devil is in the details… and when we're talking about making infernal bargains, that statement is often quite literally true. Baldur's Gate: Descent into Avernus is out in stores everywhere now, and players will soon find themselves dragged into a web of intrigue, deceit, and radical magic Mad Max-ish dune buggy style combat (don't ask). But surviving on the plane of Avernus can be tricky–fortunately, a number of helpful and COMPLETELY HONEST devils with no ulterior motives are more than happy to make a bargain with you. Don't even worry about the fine print for a moment.
Seriously though, one of Descent into Avernus' biggest strengths are the ways that the rules reinforce the themes that abound in the adventure. And since a devilish bargain gone awry is one of the big elements of the adventure, of course there are rules for bargaining with devils. They're fantastic at that–Descent's devilish deals have a lot of incentives and provide aspiring dungeon masters with a guideline for tempting players that you might use in any campaign to great effect. Nothing like a little bargain to let your players get themselves into–and potentially back out of–all kinds of trouble. Here's how they work.
Diabolical Deals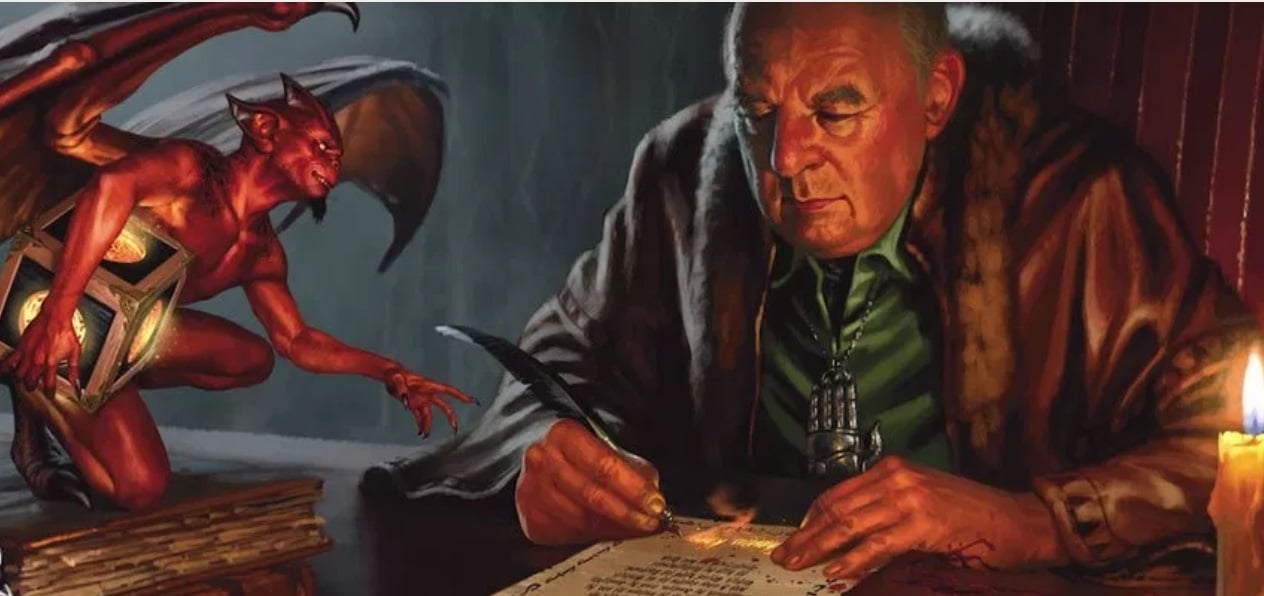 One of the biggest pieces of D&D lore that kind of gets handwaved to the background is that devils like to make deals to tempt mortals. As you can see from our imp friend up there, this is something the mightiest and lowliest do–canonically it's a great way for a devil to earn some advancement and get promoted to a more powerful devil. Nobody wants to be a lemure, after all.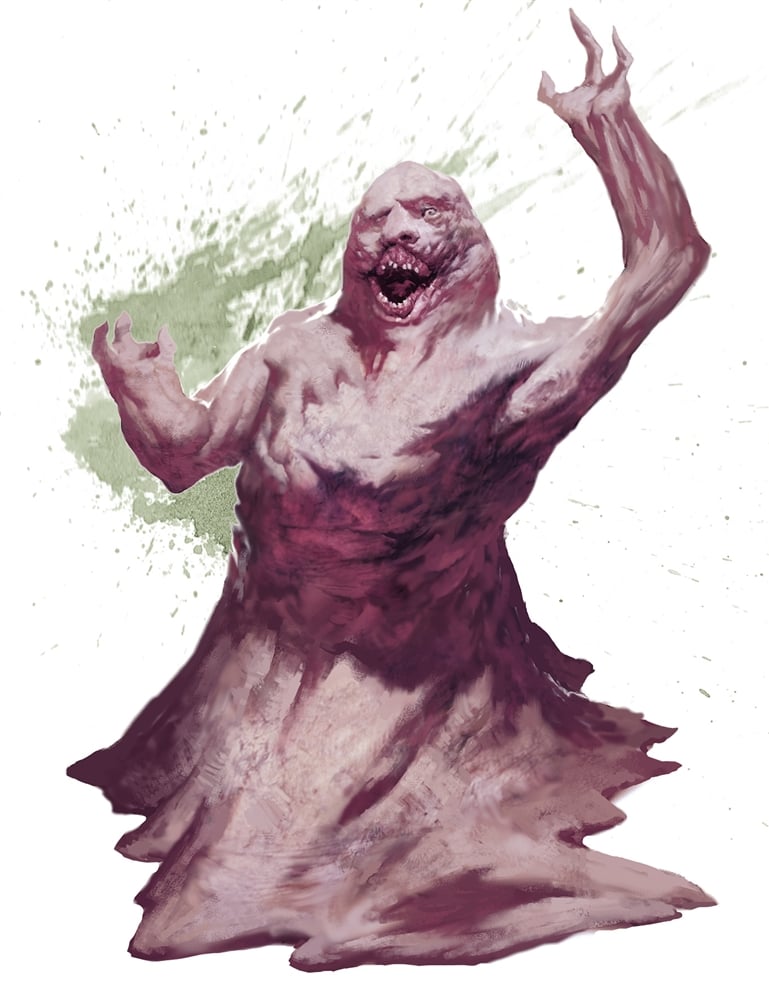 In Descent into Avernus, specific mechanics are laid out. First things first, you'll have to find a devil willing to make a deal. The easiest way to do this is by getting on one of the Nine Hells, where devils can more easily use their power–otherwise, you'll have to be a little more creative. Outside of the Nine Hells, devils are restricted from using their full power and can't enter into binding deals without some preexisting condition. So, kind of the opposite of American Health Care. Lesser and Greater Devils can gift their talismans to summoners (or their true name can get out) and mortals of varying degrees of sense can create a special ritual circle to forge a deal rather than summon a monster into service. Archdevils can act through intermediaries, so you just have to find someone in the know.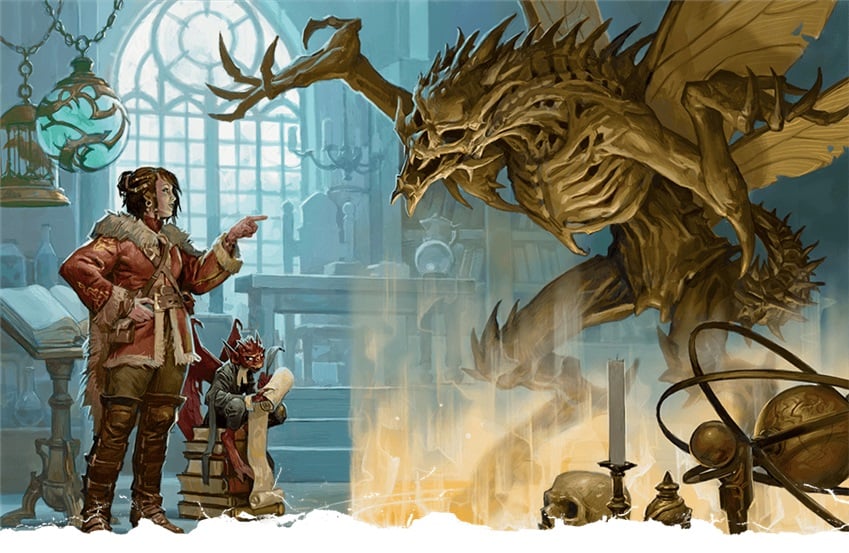 Once you find a devil who is in a bind, because they're way behind, and looking to make a deal… you have to know what you want. Devils can offer you something in exchange for a price–the biggest prize is your very soul, which is a pretty good deal because you don't have to give it up until you die. But you might also be able to get away with doing a service or swearing fealty (which is just as juicy to archdevils who can grant fabulous secret powers as a result). In exchange, you can get some pretty cool prizes, depending on the kind of devil you're dealing with.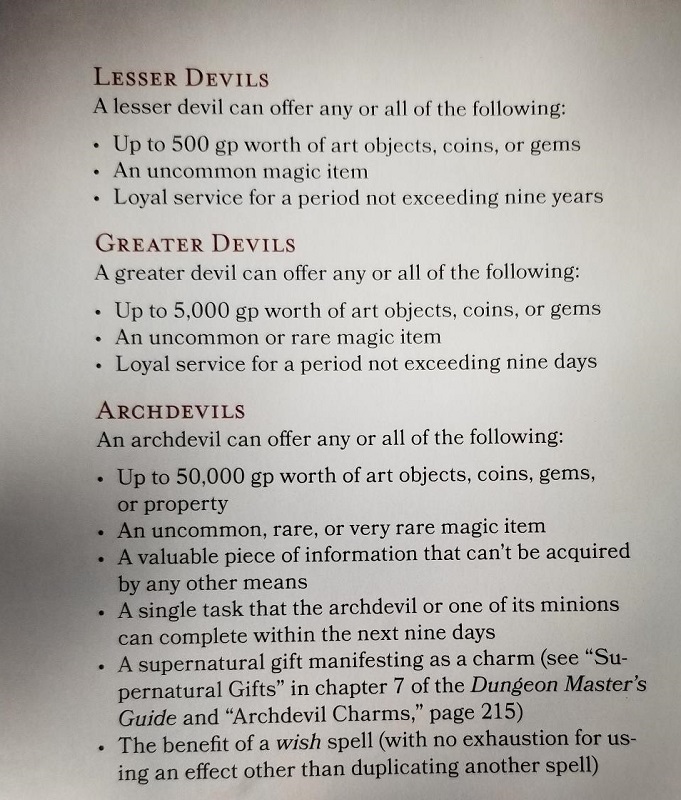 Or my favorite–if you fail a death save in the Nine Hells, an Archdevil can contact you telepathically and offer its friendly assistance…all you have to do is agree to do a favor, perform a task, really, for the archdevil and then you automatically roll a 20 on your next death save, getting back up and into the fight. You are, of course, subject to a geas spell and if you break it, you drop to 0 hit points and are dying….but all you have to do is some simple, straightforward task to the benefit of an archdevil and you're good. And after two failures…it starts to look pretty good.
Before you sign on the line, in blood or ink or that strange glowing ichor that burns hotter than a flame for a moment, before vanishing and leaving you feeling…empty, you'll have to come to terms with the deal you're making. And we mean that literally because you'll have to establish a formal contract which then exists as a physical object that the devil can summon as an action.
You'll have to establish the terms and be careful that devils don't insert some deceptive clause into the contract that leaves you open to getting hosed, legally. Speaking of which, you'll also have to establish what happens if you're in breach of contract
Forfeit your soul (meaning that instead of serving as a devil with some semblance of who you are, you are reborn as a lemur after you die)
Lose all monetary wealth and property or powerful magic item to the devil, giving them some free real estate
Marked by devilish powers: you grow horns or a tail or some other thing that cannot be removed and makes you seem fiendish
Gain a new flaw and whenever you act out of character with the flaw, you are at a disadvantage on all attack rolls, ability checks, and saving throws until your behavior matches the flaw
This last one is my favorite, instituting a mechanical incentive to act the way your character is compelled to act.
Of course, once you sign such a deal you might want to weasel out of it. You might be able to get your contract voided… but it's hard to do. You might have to give up a soul coin which is basically trading in a soul or three, or nine, for yours, pay some gold and sacrifice some creatures in the devil's name….or go get an artifact (hey there are a bunch in Descent into Avernus) and give it to the devil.
---
Now you know how to make a deal with a devil.