Fantasy Flight Games has a new expansion for Armada and a new Mythos Cycle Arkham Horror: The Card Game available now!
Take command of the farthest reaches of the galaxy with the Rebellion in the Rim Campaign Expansion for Star WarsTM: Armada! Imperial and Rebel forces clash in the galaxy's most lawless regions, where the spark of rebellion has grown into a flame that threatens to destroy the Empire. These distant reaches are filled with vital allies and resources that may mean the difference between victory and defeat in the war for the galaxy.

Rebellion in the Rim allows two to six players to participate in a campaign spanning multiple fleet battles in which you will create a custom commander to lead your task force. Victory depends on developing your commander's abilities and working closely with your team to determine which side will control the fate of the Rim!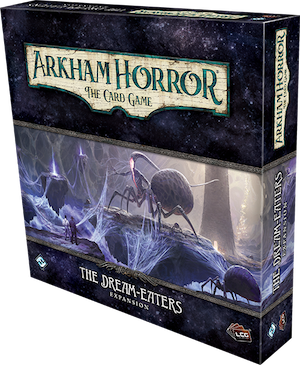 There is a hidden realm outside the world of the waking: a realm of wonder, imagination, and nightmares. After occult author Virgil Gray writes about his adventures in these "Dreamlands," you decide to set forth and learn the truth for yourself. What is real, and what is fiction? And what secrets await in the dark, forbidden places beyond the gates of sleep?

The Dream-Eaters is the fifth deluxe expansion for Arkham Horror: The Card Game. In this expansion, 1–4 players take on the roles of either a group of investigators venturing into the Dreamlands or their companions who have been left in the waking world. This expansion contains the first two scenarios of The Dream-Eaters cycle; one scenario for each of these two groups. This expansion also contains new investigator and player cards that increase the customization options for the game.
What are you going to be playing this weekend from FFG?