With all the Aeldari excitement over the upcoming Phoenix Rising Campaign we thought it was time to rank the Aspect Warriors!
Aspect Warriors are some of the more elite elements of the Craftworld forces. These are the warriors who dedicate their lives to a path of war and become masters of it. That said, not all Aspects are created equally. In fact, some of them could use some help. Today, we're taking a look at the Aspect Warriors and ranking them based on current the current competitive meta trends.
A Quick Note: We realize that the Aeldari units get more dangerous when you apply buffs/debuffs from their psychic powers. We're trying NOT to take those into account because those buffs/debuffs hold true for pretty much ALL the units on the list. So before you start sending us messages about how much better "X unit" is with "Y buff" – we know. But that's true for ALL of them.
#9 – Howling Banshees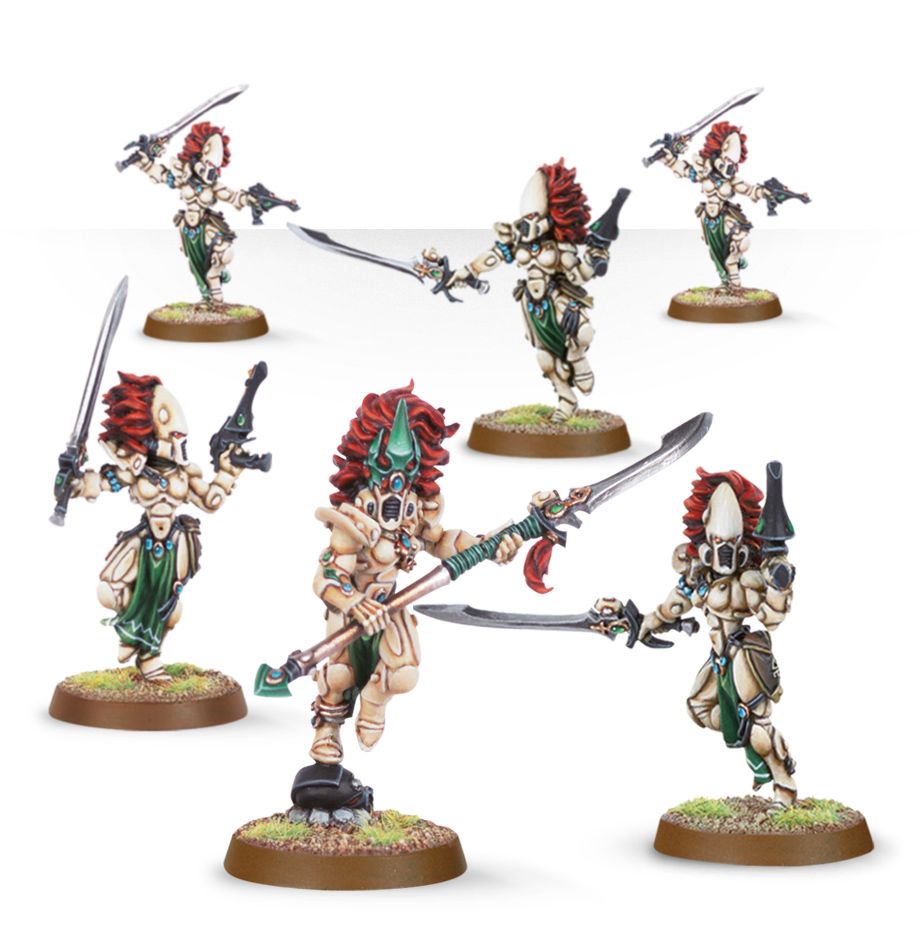 Howling Banshees are just too slow and don't have any "bite" in combat. Sure, you could put them in a transport to get them there – but then you've got to spend points on that plus the movement restrictions out of a transport make it a risk. And then you've got the problem of strength 3 power swords just aren't that scary due to how the change in AP works in 8th. Sorry Banshees, you're just not that scary right now.
#8 – Striking Scorpions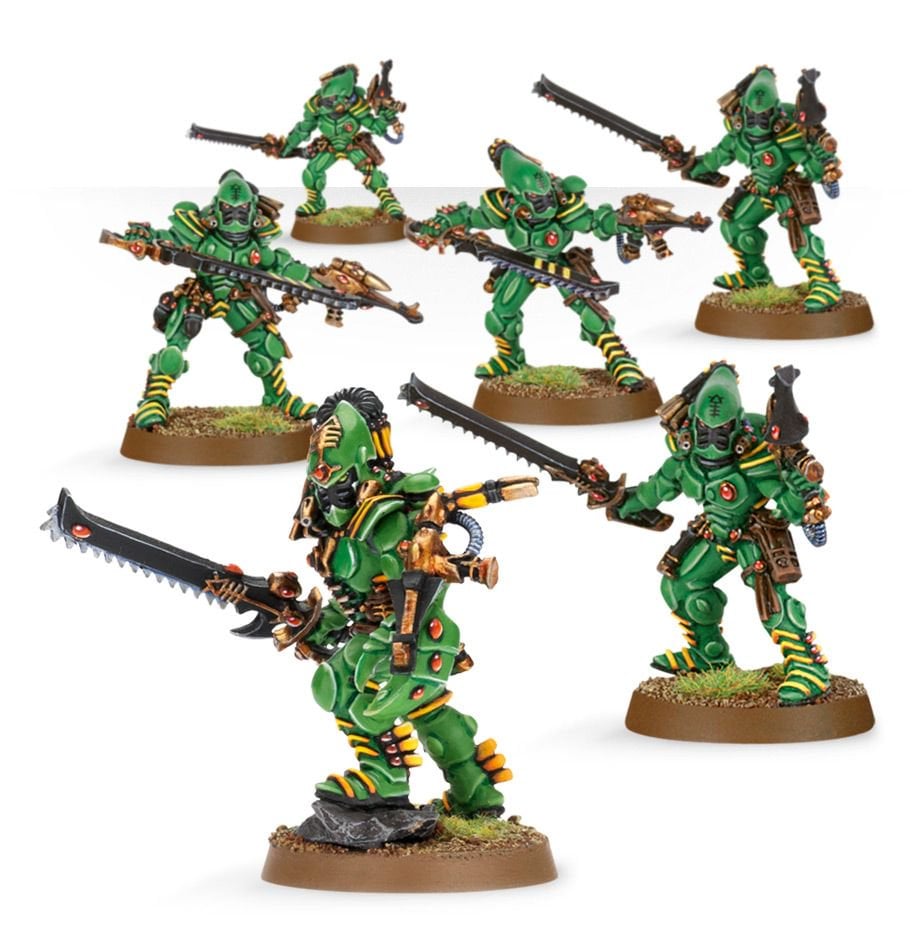 Striking Scorpions at least have some cool anti-cover stuff over Howling Banshees but ultimately fall into the same trap. They have a lot of attacks that just don't wound. They seems like a cool concept that needed to get another iteration or two to make them truly effective in modern 40k. They do get better if you can buff them and debuff their target – but that goes for everyone on the list, too.
#7 – Fire Dragons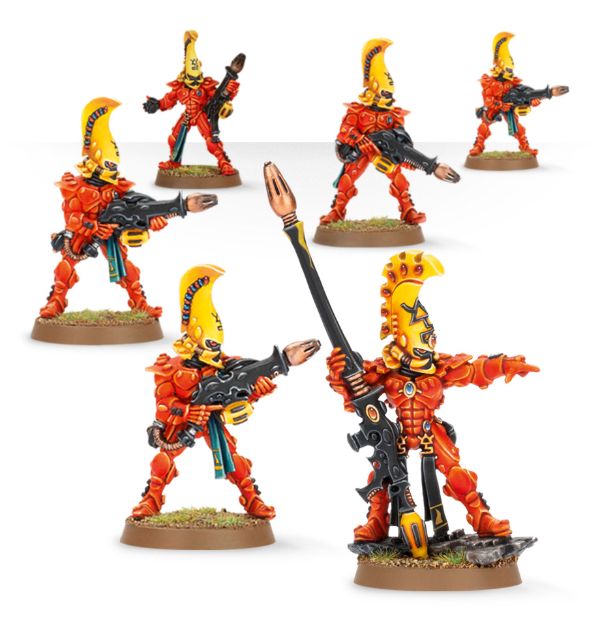 It really seems like 8th edition did a number on Melta-style weapons but the Fire Dragons got a double hit due to the change with grenades as well. You've got the option to sacrifice your 12″ shot for a 4″ grenade attack that has almost the same stat line. The trade off is you've got a better chance to wound vs vehicles…or you can roll 2D6 damage and pick the highest. The worst part about them is that everything they do, the Wraithguard do better.
#6 – Dire Avengers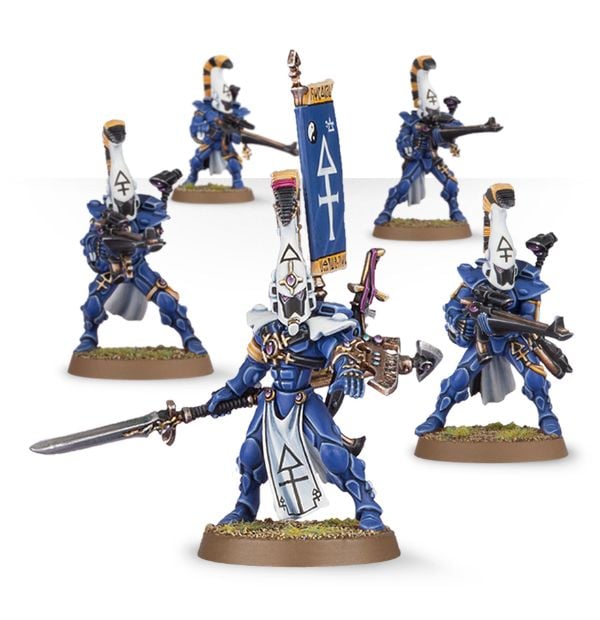 These guys are extremely…even. They aren't great. They aren't bad. They ARE Troops so that's nice. But there is probably a reason you don't these super often at the top tables. Guardians are cheaper if you want Troops and you'll probably end up with more wounds on the board vs Dire Avengers. Again, they can put out some decent shooting and with buffs/debuffs they can be effective. But without them, they are just kind of "fine."
#5 – Swooping Hawks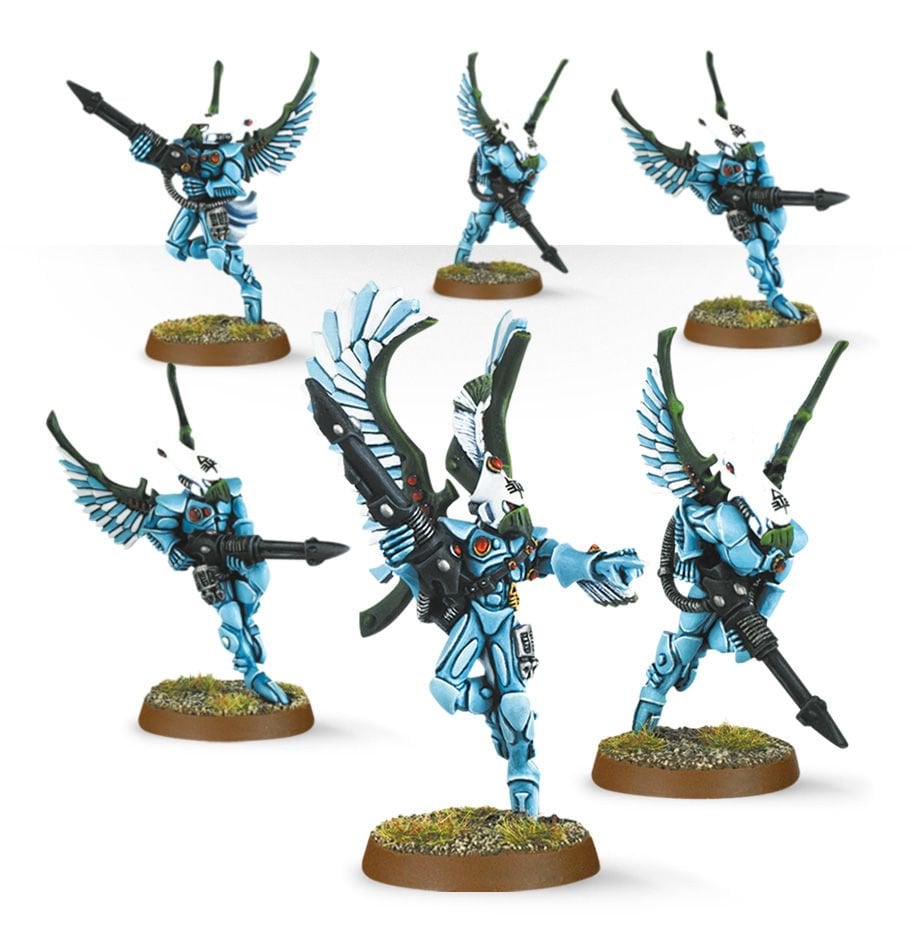 Okay, so these guys are surprising useful. They are fast, are great late-game objective grabbers, can yo-yo around the battlefield attacking units, and have a lot of shots. Sure, they are only strength 3 shots, but unlike Howling Banshees, they do their shots at range and not up-close so they don't have to worry about getting hit back. It's debatable if they are better at warping around than Warp Spiders – but I'll leave that to you to argue in the comments about.
#4 – Warp Spiders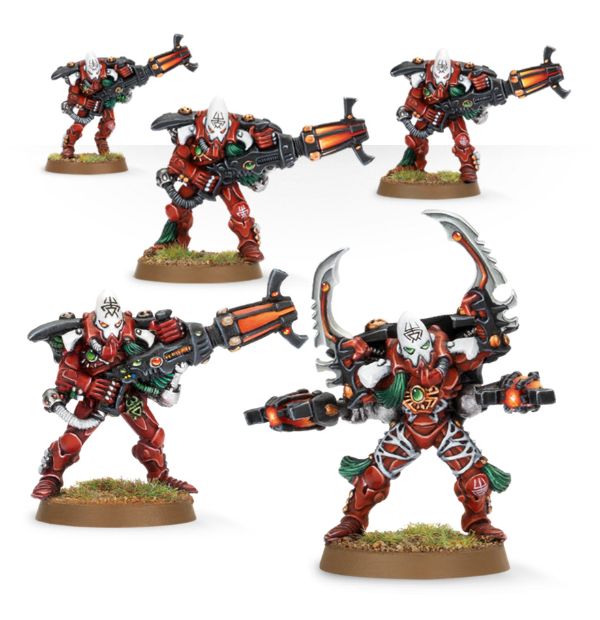 With their ability to hop around the board and pump out a fair bit of strength 6 shooting, they can be pretty effective. Filling a similar role as Swooping Hawks, they might not have as many shots, but they DO wound more often – without buffs/debuffs needed at least. Plus, they have heavier armor and can flickerjump for extra defense.
#3 – Shining Spears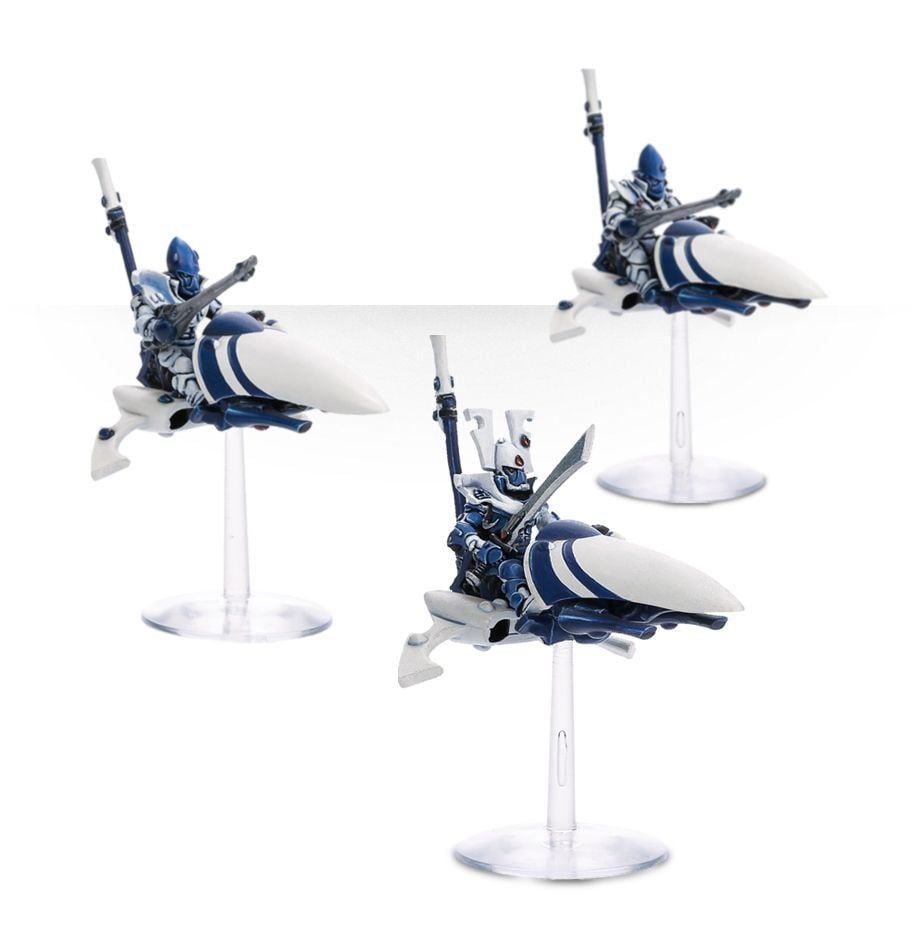 These guys were at the top of the list for a hot minute back when the Ynnari could help them do some dumb stuff – but they can't do that anymore. Fortunately, they are still lightning quick and hit really hard. They are one of the few assault elements that can actually close the gap and get into combat. And once they slam into the fray, they hit hard enough to actually kill stuff. Don't underestimate the Shining Spears!
#2 – Dark Reapers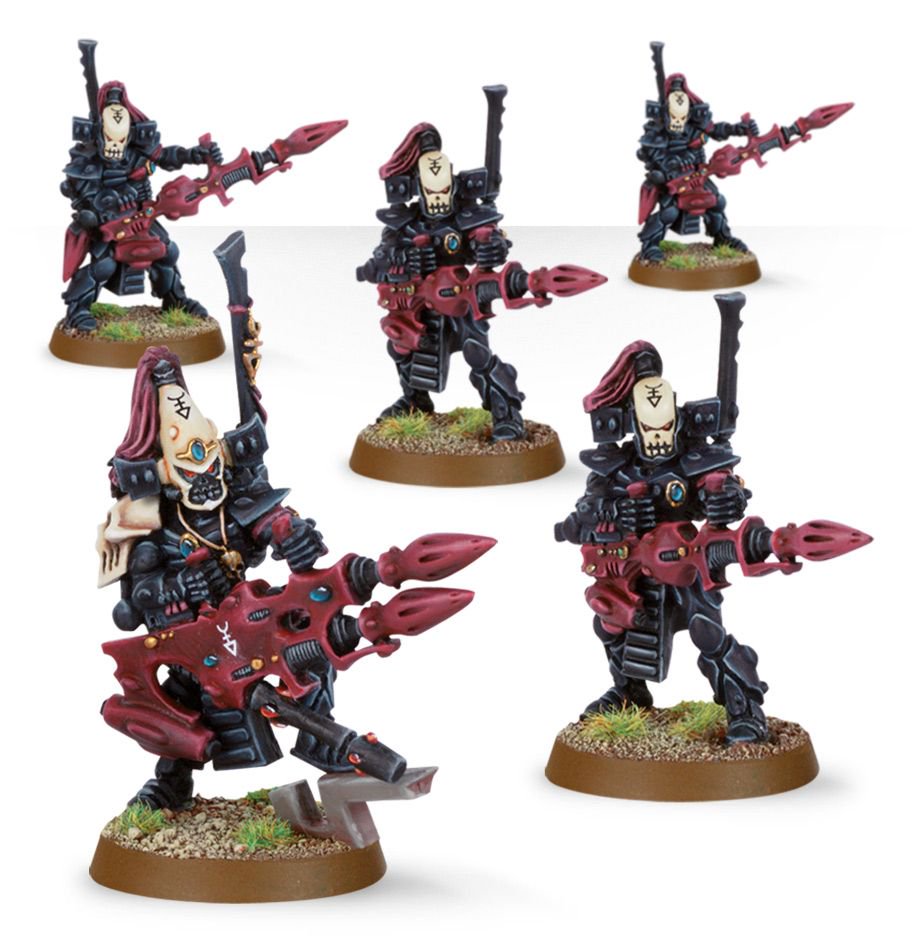 Here is another unit that got hit pretty hard when the Ynnari nerf came down. They went from "Game Breakingly Good" back down to "Still Pretty Good." The Dark Reapers are what Space Marine Devastators wish they could be. Lots of shooting, high strength, good AP – they are Marine Killers and can pop large vehicles, too!
#1 – Crimson Hunter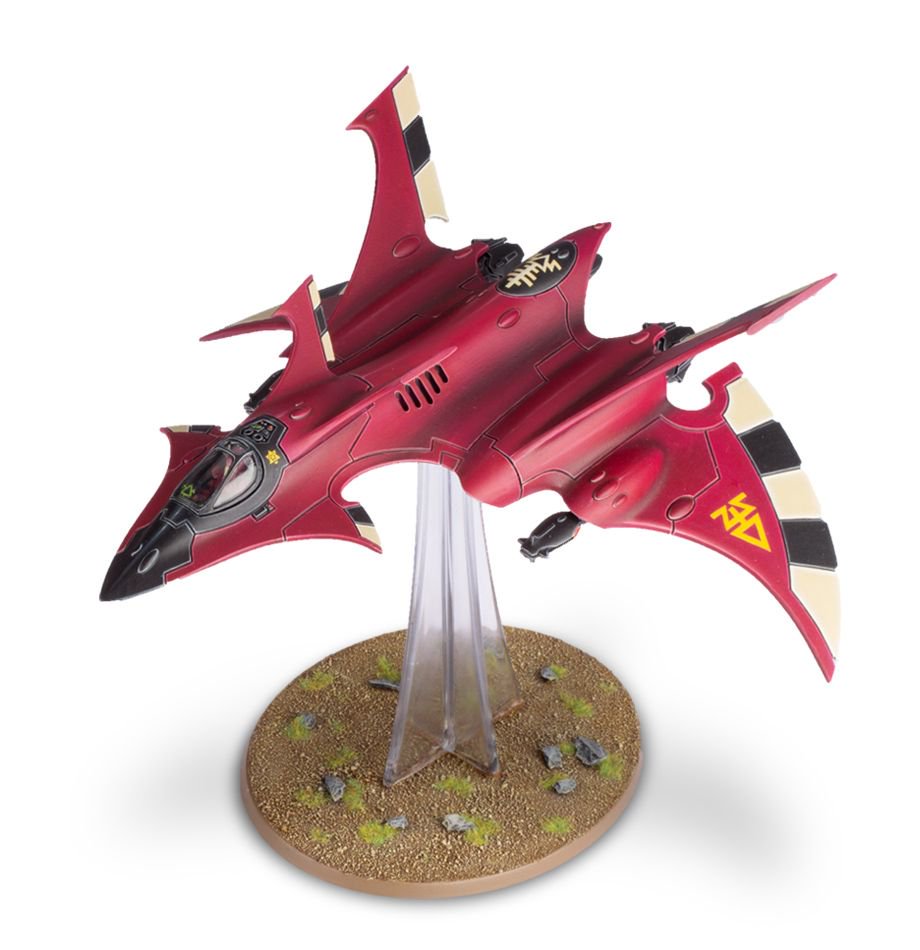 Why yes, the Crimson Hunter IS an Aspect Warrior! They just happen to have a really BIG Aspect Warrior Suit (because it's a jet fighter). Regardless, these guys are currently popping up all over the meta thanks to how powerful the Aledari Air Force list can be. They are the heart of the Aeldari Flyer-heavy meta lists after-all. And it makes sense: They are super sonic fast, hit hard, and are also really hard to hit in return.
So what do you think? How would you rate the Aspect Warriors of the Aeldari?