The Howling Banshees need a new deadly song to get them onto the tabletop. Let's take a look as what the Aspect needs.
Howling Banshees have had the standard mercurial path throughout the editions of the game. They have always had their hallmark power swords as standard equipment making them HIGHLY feared in distant past editions.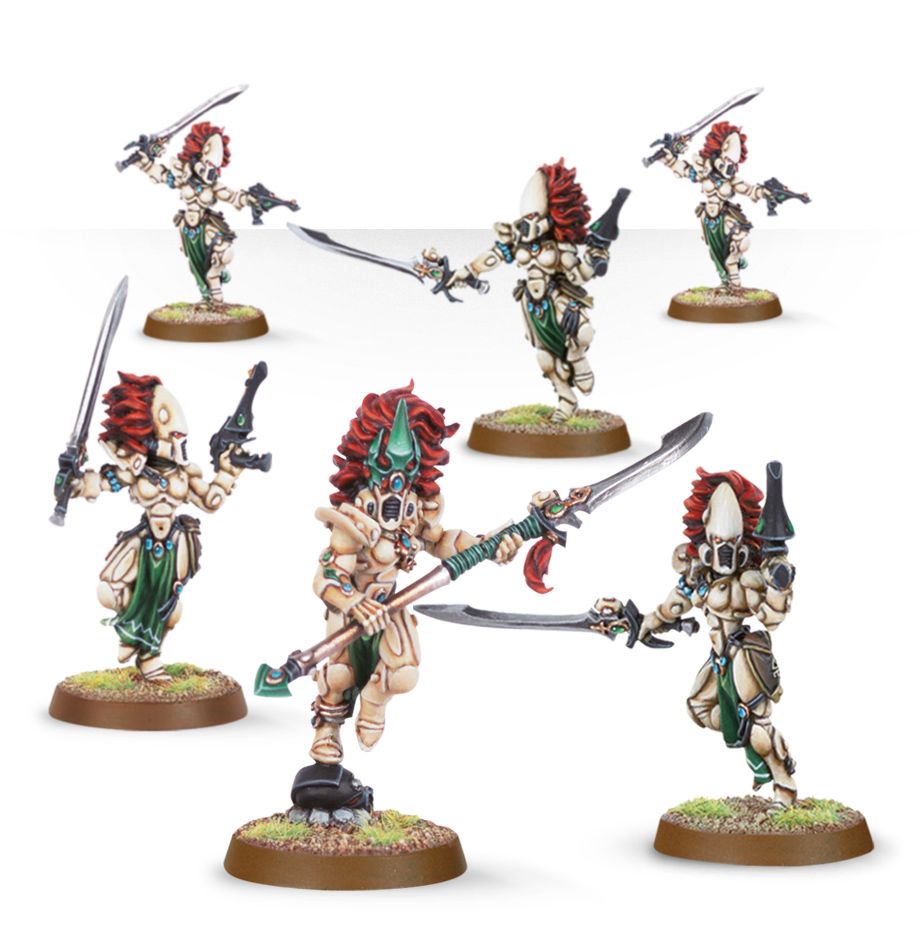 In 8th they are probably the worst of the Aspect Warriors. The scions of Jain Zar are hit cruelly from multiple angles.
They don't have the speed to get anywhere.
They die if you look at them wrong.
They aren't lethal if they manage to get into assault.
That is not a recipe for tabletop success, so as you would expect Aeldari players look elsewhere among the Aspects for their army needs.

Banshees 101
The Banshees clock in at 13pts a model. That puts them on par with Tactical Marines. While the -3AP of the Power Sword is potent – that's about it. A S3 T3 4+ save statline just isn't going to cut it on the modern battlefield.
In particular, they are no more difficult to kill than say Tau Fire Warriors or Tempestus Scions, and they have no ability to kill outside of 12″.  Foes know Banshees can make an above-average charge, but can easily keep them from ever getting to pull that off. 9 times out of ten, a smart foe will block them, bubblewrap key targets, or just gun them down punitively.
Even if they make it into combat – each Banshee has 2 S3 attacks. Even with the Power Sword the damage potential isn't there and if the squad has taken any casualties on the way in (usually) opponents will survive then strike back ruthlessly (again the Banshees are as easy to kill in assault as Fire Warriors).
Making Banshees Sing
We need to attack the problem from multiple directions. GW is clearly thinking of helping them out with these two buffs just teased from Psychic Awakening: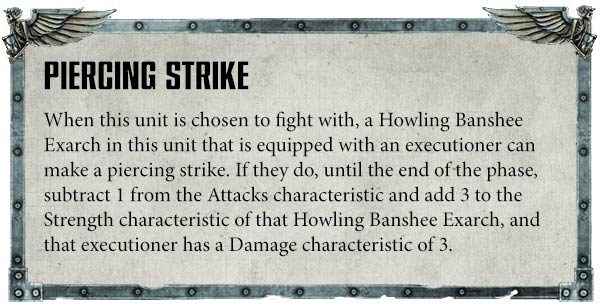 Piercing Strike lets the Exarch make 2 attacks at S7, AP-3 D3. Not bad and a solid way to nail support characters and do something to high Toughness targets.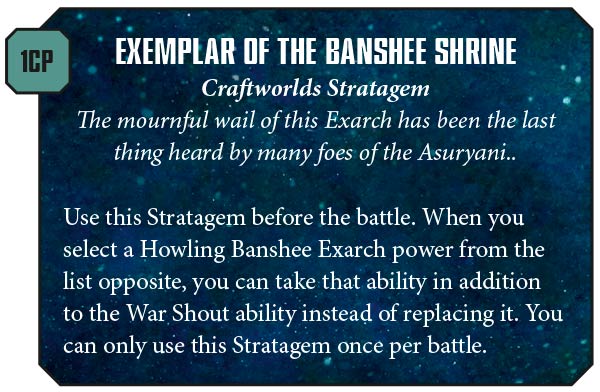 This one lets you make a mini character out of your Exarch – double stacking Exarch powers.  This is needed across the board for all Exarchs who are currently just Veteran Sergeants but should have abilities more on the level of minor support characters.

Getting There
Once the Banshees get within about 15″ they can make assault reliably. Two buffs would help tremendously. Let them disembark out of transports before OR AFTER it moves (uniquely for Craftworlders) representing their dexterity and speed. Additional letting them pass over intervening enemy models while charging as they pirouette around them to their actual targets. This can make them more threatening to key models and complicates the task of bubble-wrapping for foes.
Hitting Harder
This is the real killer. It's hard enough to reach melee intact – so the payoff should be good. GW is hampered by the innate S3 of the Eldar race, so I'd suggest a fix based on the incredible skill Aspects are supposed to represent. I've been a proponent of making All Aspects either WS or BS 2+ (based on their temple), to maximize each attack roll. For the Banshees I would combine this with a "killing strike" where hits of 6 inflicted additional Mortal wounds. That should help up their average damage potential and make the unit threatening to a wider range of targets.
No Durability
Actually, I think GW got this one correct and I recommend no changes. The Banshees always have been glass cannons, they just lost the cannon part. Fix that and let Eldar players and their opponents return to the cat and mouse assault game they have been playing for decades.
~I really like where GW is pointing with these changes and hope that the Banshees and all the other Aspects get an overhaul in the new book. The Aspect Warrior Range is one of the cooler and exotic parts of the game that came out early in 8th – now hampered by lackluster, dull rules.