Let's talk about how to get the most out of your new White Scars.
Marines, long relegated to bottom tier army status, look to be making a big come back. They've got a new Codex, new units, and two new power Codex Supplements – with more on the way. All Codex Supplements promise to bring something cool to the table. Today let's take a look at the White Scars supplement. Despite having a thinner book than their Ultramarine brothers, the Lords of Chogoris can still bring the pain. So let's take a look at what makes them so good.
A Powerful Hero
The White Scars might not have as deep a roster of heroes as the Ultramarines, but they've still got a powerful champion in Kor'sarro Khan. Now, like just about everyone else out there, I'm pretty sad to see the mighty Khan walking around the battlefield rather than riding his bike to glory. Still, he's had a pretty significant upgrade from the last Codex. Since his Primariszation he's added another wound and attack, coupled with shock attack that gives him 6. His sword, Moonfang, also got an upgrade, and with Anzuq he can snipe out wounded characters. The biggest change, however, is his For the Khan! rule. Previously it just added +1S to friendly models in range on a turn they charged. Now it adds +1 to wound – a pretty huge bump. When placed properly he can really up the damage of your spearhead. Speaking of placing him, you know have the option of running him forward in an Impulsor and having him jump out. While he can't charge afterward, you can run him right across the table in one turn to get his aura to needed units.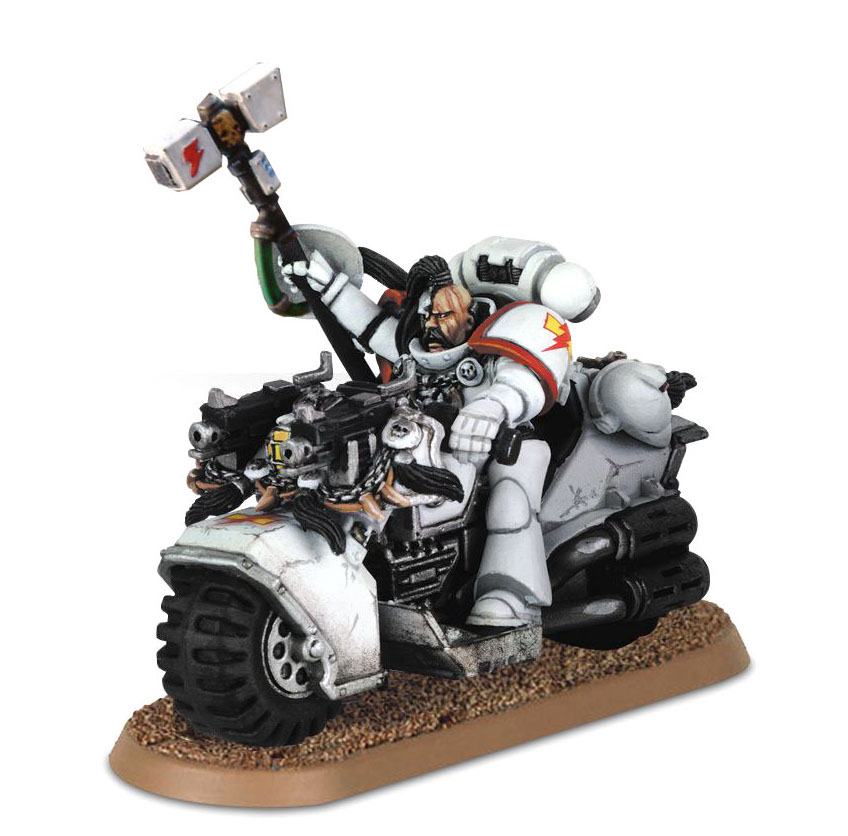 White Scars also get the unique Khan on a Bike. This guy is just a bike Captain with a special weapon and +1 to his save in combat. While it's nice to have rules for the model he's only OK. Most of the time, I'd rather have a regular captain with a Thunderhammer and Stormshield. Or go all out and take Temur Khan, the Titanslayer. Still the Khan is better than most captains at killing light infantry and does let you take six "captains" on bikes.
Devastating Charge
Devastating Charge is the White Scars signature ability, and when able to be used, it can add punch to an assault. Basically, while Assault Doctrine is active, any White Scars unit that charges can increase the damage of their attacks by 1. This is on top of the extra -1 AP the doctrine already gives. While it won't have any effect against some targets, it can make all the difference against hard to kill enemies. A unit of Veteran Intercessors, support by Kor'sarro are suddenly putting out 4 attacks each, with a +1 to wound, -1AP and doing two damage each. It's great for fighting other Primaris or large enemy targets. The big downside is that Assault Doctrine can't be active before turn 3 at the earliest. In 8th Edition, a lot of the key assaults are already going to be over by then, so making use of this ability will be tricky.
Warlords of Legend 
White Scars get some really great Warlord traits; overall I would say they are better than what Ultramarines get. Out of their six traits, only Deadly Hunter is a bad choice, with the rest all having uses. Chogorian Storm is the most fire and forget option, giving you a decent number of extra attacks, which is always good. Trophy Taker has a higher potential then Storm, giving you an extra attack for each character you kill. While this could snowball, most games Storm will serve you better as it's rare you'll get more than one or two character kills. Master Rider is a solid choice for a bike character (combine it the relic Wrath of the Heavens to go where you want, when you want). Hunter's Instincts is my 2nd favorite option, as it's great in the current meta, for hunting knights. Master of Snares seems like it could have some tricky potential.
Relics from the Vault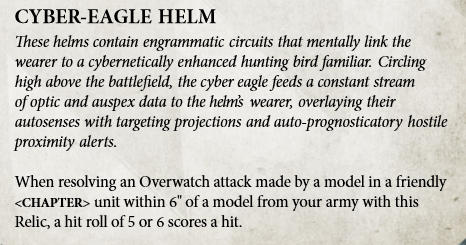 The Chapter also has access to some decent relics. Mantle of the Stormseer gives you a solid +1 to manifest Stormspeaking powers. White Scars can also take the amazing Master-crafted Weapon, which is a great choice every time. The Cyber-Eagle Helm is also a stand out of mine, giving units, infantry, and tanks a like a better overwatch.
Key Stratagems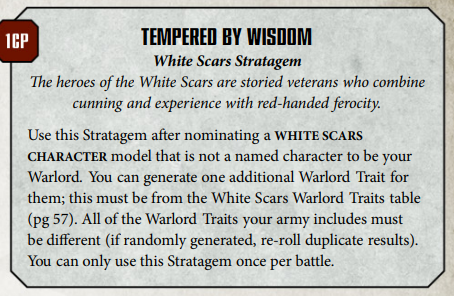 The Sons of the Khan have a lot of great Stratagems at their disposal, here are a few of the ones that stand out to me:
Tempered by Wisdom: two warlord traits are always great, especially given how good the WS traits are.
Wind-Swift: 2CP to move twice, but you can't shot, charge, or manifest powers. It's not something you want to do often but can really come in handy to contest objectives. This is a power that will win you games.
Lighting Debarkation: 1 CP to turn any vehicle into an Impulsor and you units disembark after moving. You can't charge, but it's still great for grabbing objectives or getting units into range. Maybe 5 Aggressors in a Repulsor?
Fierce Rivalries: 1CP to let your first charging unit roll 3d6 and discard one. Great for making those long charges, especially out of Deep Strike.
Encirclement: 1 CP to outflank with a unit, letting them pop on by a table edge later in the game. You can do this for any unit and as often as you want.  Pair with Fierce Rivalries for maximum effect.
Calling the Storm
The Stormspeaking Discipline is just plain great. You've got a pair of nice direct damage spells in Lighting Call and Eye of the Storm. Ride the Winds and Storm-Wreathed are great buff spells as well, giving extra to advance and charge rolls, and making a unit immune to Overwatch. Blasting Gale is a great debuff power, which can slow down an enemy unit (and can combo with Tebebrous Curse to all but shut down a unit's movement). For my money Spirits of Chogoris is the best, as it puts a -1 to hit on an enemy unit. The key here is a lack of restrictions, meaning this can be on a Knight or a large infantry unit. Anyway, you cut it their powers help round out a power set of abilities for the White Scars.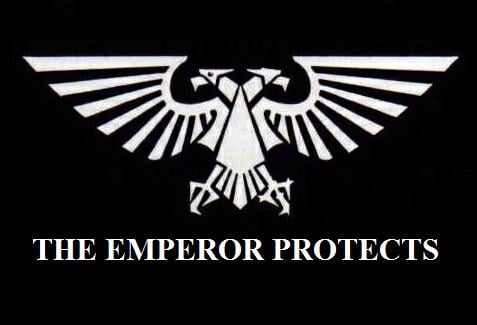 Let us know what you think of the new White Scars down in the comment!