The Knight-Venator is a rare hero on the tabletop, but one that offers powerful ranged support to any Order army. Shoot them with your bow AND your eagle!
Usually in this segment I talk about popular, commonly used heroes that see a lot of time on the tabletop, but I feel that does an injustice to less common but still mighty choices. That is exactly the case with today's subject, the Stormcast Knight-Venator, a fairly powerful ranged hero to support your Order army.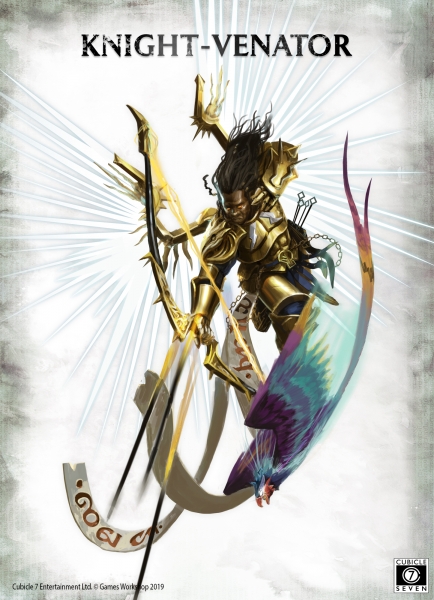 The Venator is a fast model, with a 12" move, and its wings allow it to redeploy rapidly to where they will do the most damage. They have standard stats for secondary Stormcast heroes with 5 wounds and Bravery 9, but the damage they can dish out more than makes up for their slightly mediocre statline.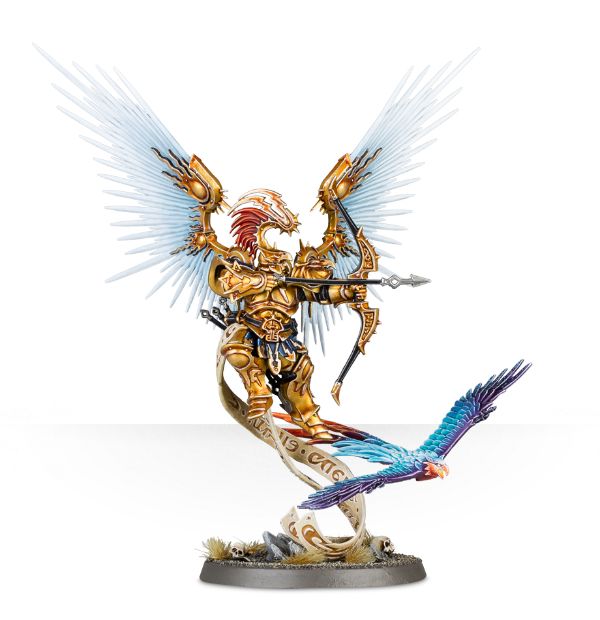 In the shooting phase, they can attack with their pinpoint accurate Realmhunter's Bow, allowing them to lay down a blistering hail of fire from far away, or call down the judgment of Sigmar for a single lethal shot. The bow has a staggering 30" range, so it can hit almost any target from turn one with proper positioning, and has 3 shots which hit on a 2+, wound on a 3+, and deal 1 damage each with Rend -1. In addition, once per battle the Venator can declare that they will be firing an arrow with a blessing of fate to fell a marked foe. Should they fire this arrow, they are only allowed a single shot, but the shot deals d3+3 damage, or a blistering d6+3 should the target be a hero or a monster. Since this still hits on a 2+, the likelihood of this once per battle shot landing is very high, and with the extreme damage it's very likely as well that the ill-fated target will not survive the onslaught.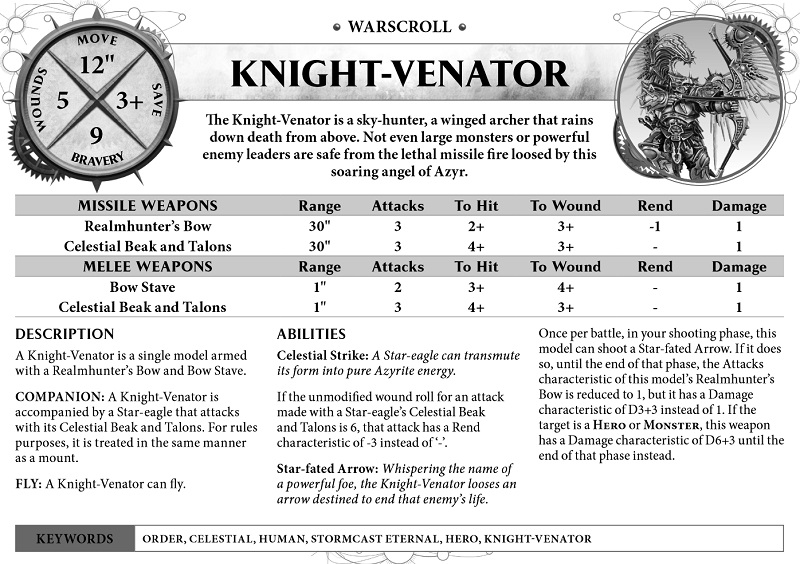 In close combat, the Venator is slightly less impressive, only able to smack their enemies with the stave of their bow for 2 3+/4+ 1 damage attacks, but obviously melee is not where you want it, and with the ability to fly you can usually position it so it never will be.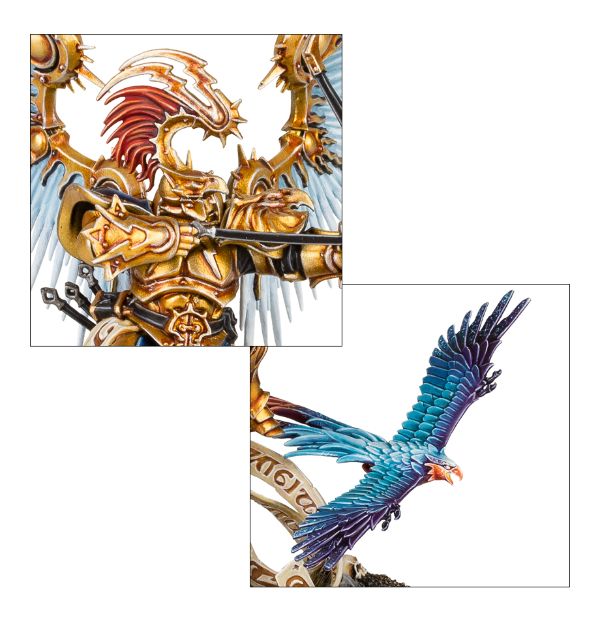 And while the Bow is a phenomenal piece of equipment that will do a lot of work, the real star of the show here is Venator's Star-Eagle companion, who can support its beloved master with its sharp talons and beak. It has the same statline in both close combat and shooting attacks, with 3 4+/3+ 1 damage attacks, and a 30" range on the shooting profile so it can harry the same targets as its master. Don't be fooled by the less than impressive stats, though, because should the Eagle roll an unmodified 6 to wound with any of its attacks, it turns into a bolt of energy and the Rend for that attack becomes -3. With these attacks combined, the Venator is a great assassin model, or a long range fire support to keep your enemies pinned down while your other units march forward.
Defensively, the Venator is fairly bread and butter for a Stormcast hero, with 5 wounds and a 3+ save. It doesn't have many shenanigans other than being fast and flying, so careful positioning is key for keeping this model in the fight. However, should you be smart with how you move and place it, it should stay around for most of the fight, peppering your opponent right where the are vulnerable with unerring skill.
Do you use the Venator in your lists?