After facing backlash for their Wendy's One Shot, Critical Role is ready to move on–and it looks like they're headed for the weird, Wild West.
Folks wondering how Critical Role and, indeed, their community of fans would react after the Wendy's one-shot rpg sparked some controversy will be pleased to know that they are ready to move on. After their official statement earlier this month, and a sizable donation to the farmworker justice charity, it seems like the cast and crew are ready to let the matter drop. Moderators were deleting Wendy's-related comments from last Thursday's stream, and on the Critical Role subreddit the topic is locked down. The only nod to the events of the last week were Sam Riegel's "advertising-injury" induced bandage.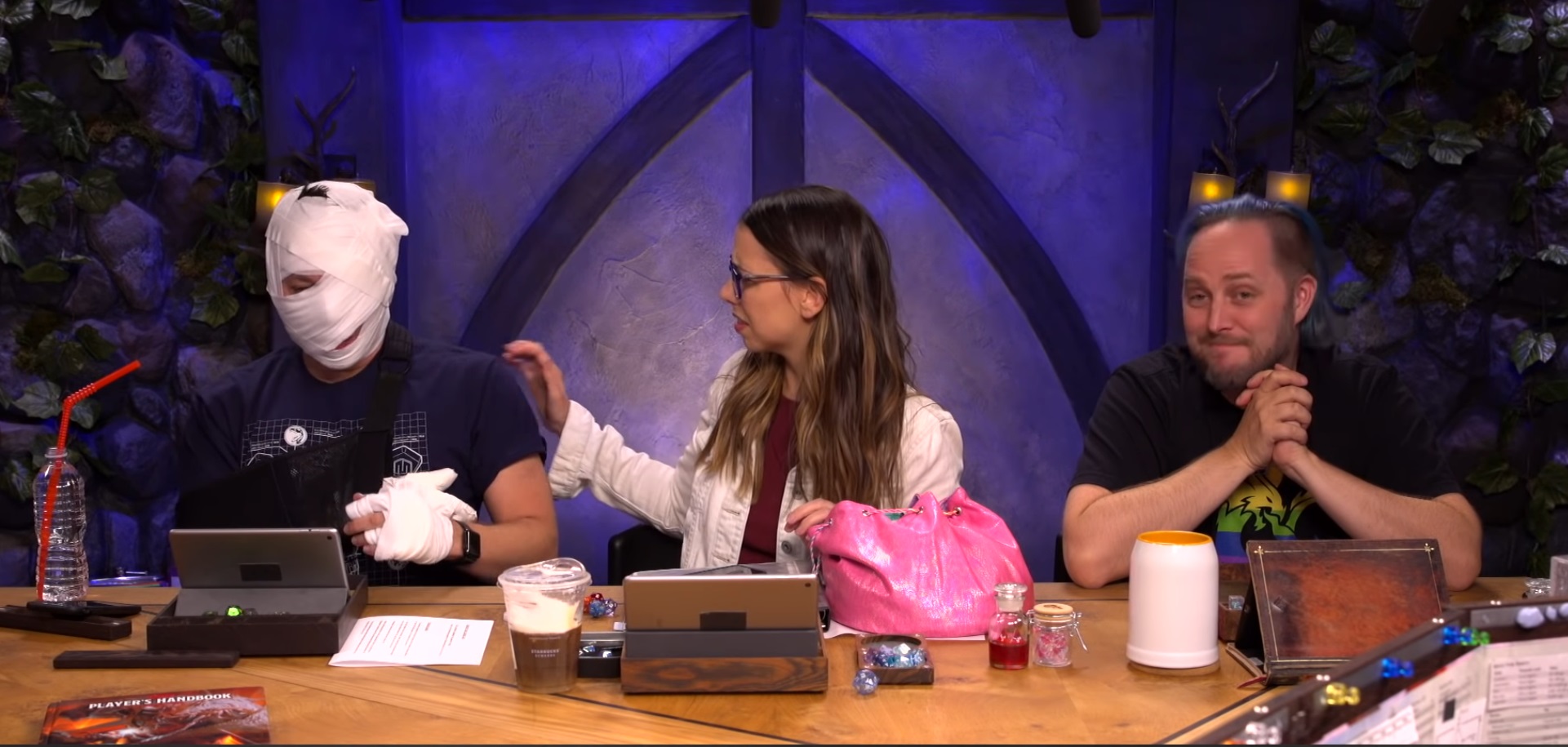 Which seems to be the way most things like this are handled. They're aired out, the cast says their piece, then moves on–much like the controversy surrounding former player Orion Acaba and his departure from the show. The community, with some encouragement, gives the issue space and lets it settle. And the show goes on.
But not only are they going on, they're going west, starting this Friday. Critical Role is premiering a new four-part miniseries taking place in the weird west. Using the Deadlands Reloaded rules, the cast–consisting of  Marisha Ray, Matthew Mercer, Khary Payton, Anjali Bhimani, Travis Willingham, and Ivan Van Norman, led by Game Marshall Brian W. Foster, will be venturing into a dark western fantasy world with UnDeadwood.
via Critical Role
Beginning Friday October 18th, join Game Marshall Brian W. Foster as he runs a four-part episodic saga utilizing the Deadlands Reloaded RPG system set in the not-so-sleepy town of Deadwood, where rumors of supernatural happenings and illegal mining activity have come to a head. An unlucky group of citizens are brought together to fight an evil they've never encountered — and will fight to save their very souls in the process.

UnDeadwood was created and produced by Brian W. Foster and Ivan Van Norman.

Watch UnDeadwood Fridays at 7pm Pacific at http://twitch.tv/criticalrole
VOD available on Sundays at http://youtube.com/criticalrole
In the days since the official announcement, we've started to see some details about the new characters come trickling in. For instance, there's the Reverend Mason, who narrates the trailer linked above and is portrayed by the inimitable Travis Willingham, once again getting to employ a familiar drawl.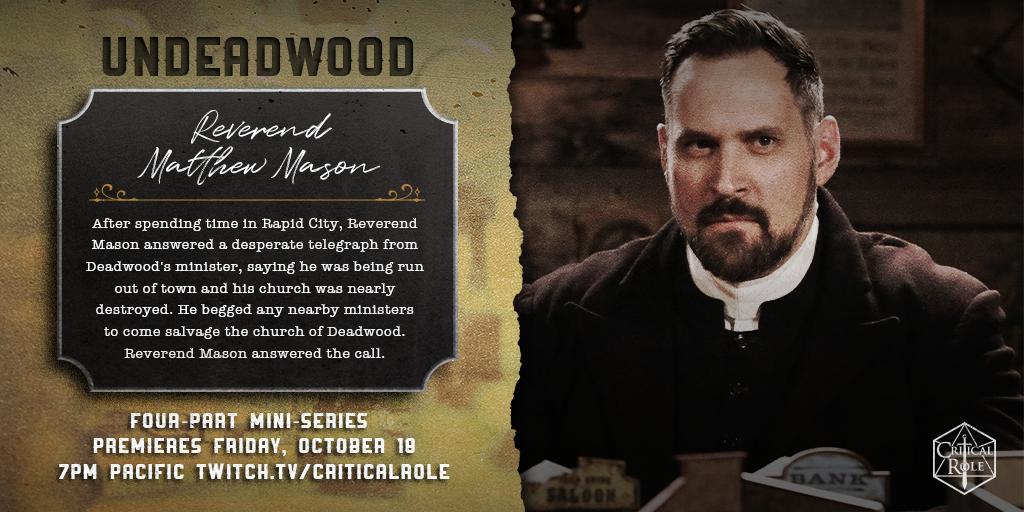 For folks who are unfamiliar with Deadlands Reloaded: it's an updated version of the classic "Weird West" game, Deadlands, that uses the Savage Worlds system to take players into a world where trains and gunslingers fight alongside ghosts and undead and other supernatural nastiness. The Wild West but with pulp magic and a bit of dark fantasy sprinkled in is a good way to think of it.
Savage Worlds is a particularly apt system to set your Western stories in, as Savage Worlds captures the pulpy action that's inherent to the genre and is also incredibly brutal on unprepared players. Gunfights and the like can be lethal, and rapidly. The system uses a scaling dice system, where players will roll anything from a d4 to a d12 depending on their expertise, and will have access to a variety of abilities. Here's a blurb about the game from Pinnacle Entertainment Group:

Pinnacle's flagship product is Deadlands, a horrific journey into the "Weird West." Mysterious beings called the Reckoners have given life to monsters and magic, causing history to divert from July 4th, 1863 forward.

California has shattered into a labyrinth of flooded sea-canyons, and a mysterious super-fuel called "ghost rock" has spawned as much war and strife as it has "steampunk" devices.

Players are steely-eyed gunfighters, card-slinging sorcerers called hucksters, mysterious shamans, savage braves, mad scientists, and more who battle against evil and attempt to prevent the "Reckoning".
You can pick up a copy of the Player's Guide or Marshal's Handbooks right here if you're interested in learning the setting so you can call out all the mistakes they make in chat this coming Friday.
Or, since Matt Mercer's playing, you can see if you can get his character to give you the time of day.